Hamilton's Auto Sales
Specialty Interest Cars
101 North 9th. Street
Cottage Grove, OR 97424
Phone 541 942 8888
Please

US
---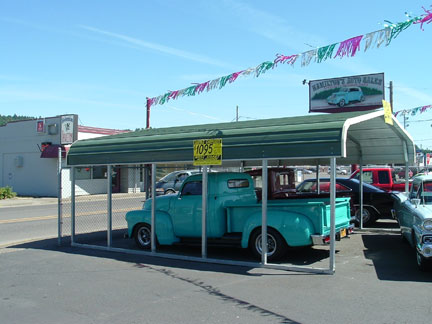 Hamilton's Auto Sales also sells Carports and Enclosed Carports to help you store your vehicle. These are well built West Coast Metal Buildings, with Free installation anywhere in Oregon. Call- (541) 942-8888 for more information.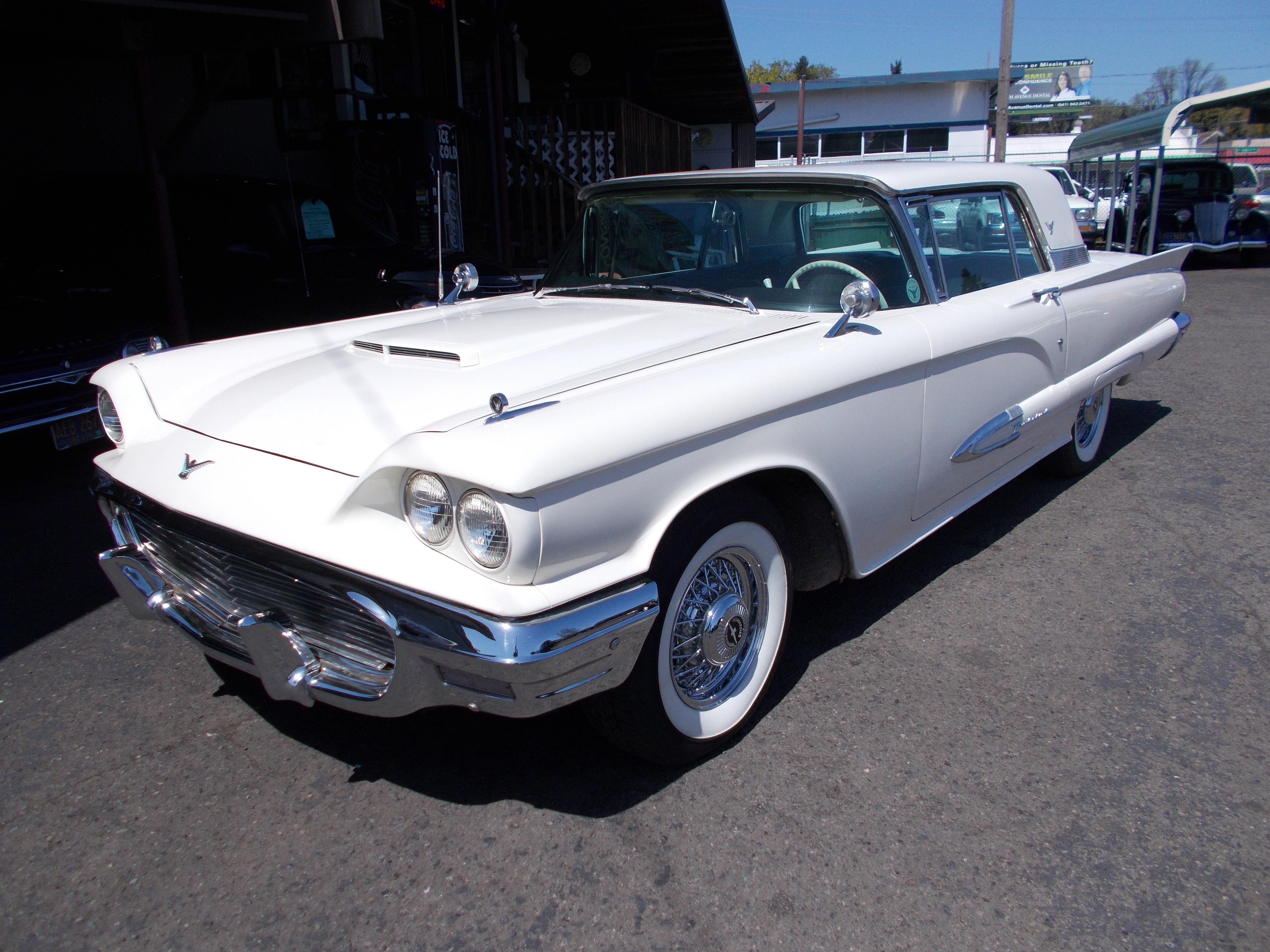 1959 Ford Thunderbird. 352 V-8, auto transmission. A/C works, Power windows all work but passengers rear not working. P.S. 4-wheel disc brakes added. Lots of restoration work done thru the years with paper work. Motor rebuilt at some point runs great no smoke. Newer stock interior. Good straight body with nice paint - it is and older paint job so has some chips but looks sharp. Nice wire wheels with radial tires. Over all a nice car. # A-2052 $13,950 Car dose have reconstructed title.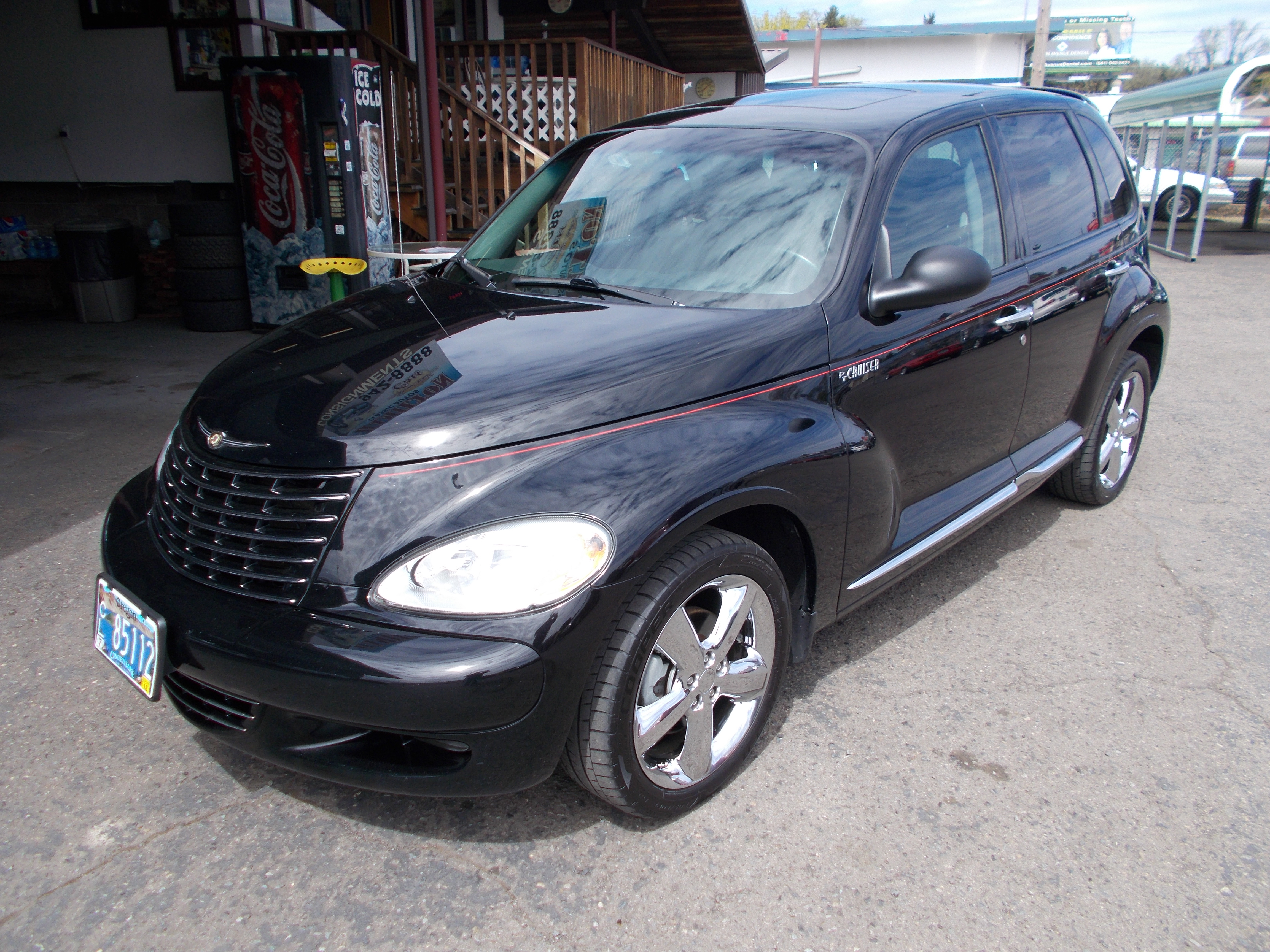 2004 Chryslers PT Cruiser GT Turbo. 2.4L High Output 4cyl. Turbo. Auto transmission. One owner and Loaded with options including, Leather, Sun Roof, A/C and all power. A dealer purchased this car new for his wife and the car has been maintained and cared for meticulously, always garaged. This is as nice of PT cruiser as you will find. 110,552 miles. # A-2053 $7,450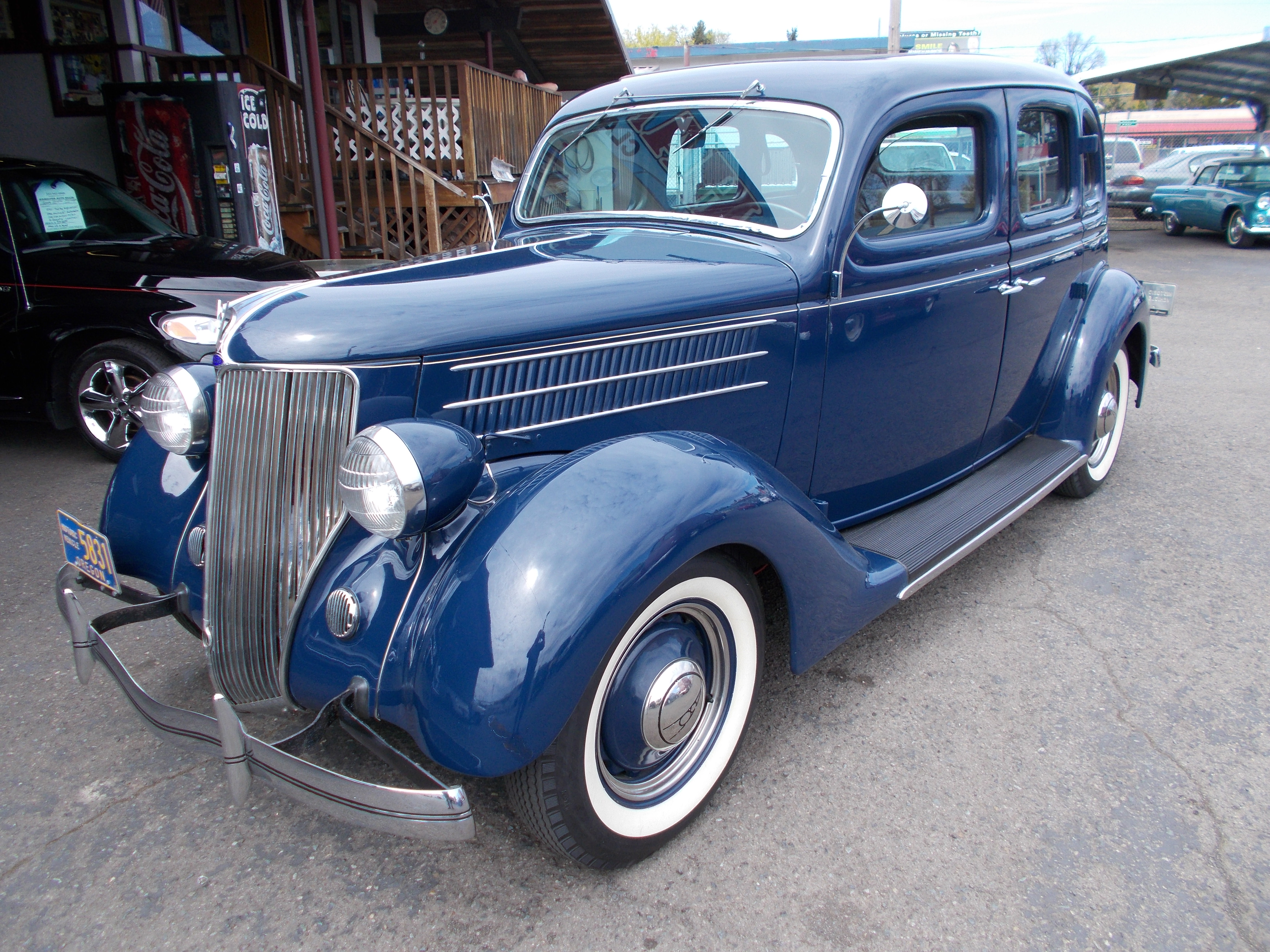 1936 Ford 4dr. Sedan. All Steel car. Nice older stock restoration. Been in same collection many years. Body is solid and straight. Paint still in very nice condition. The interior appears it could be mostly original and good condition. Nice running and driving car. Ready for show and shine and cruising! # A-2048 $18,950
1968 VW Bug. 1600cc 4cyl. 4spd. Nice restoration. Very straight and solid body w/newer nice paint. Interior is newer and pretty much excellent condition, Headliner is original and good condition. Trunk compartment carpeted and detailed. Motor compartment clean. Factory Sun roof, Chrome VW wheels with new tires. Super sharp looking Bug and runs and drives excellent! # A-2050 $7,450 SOLD!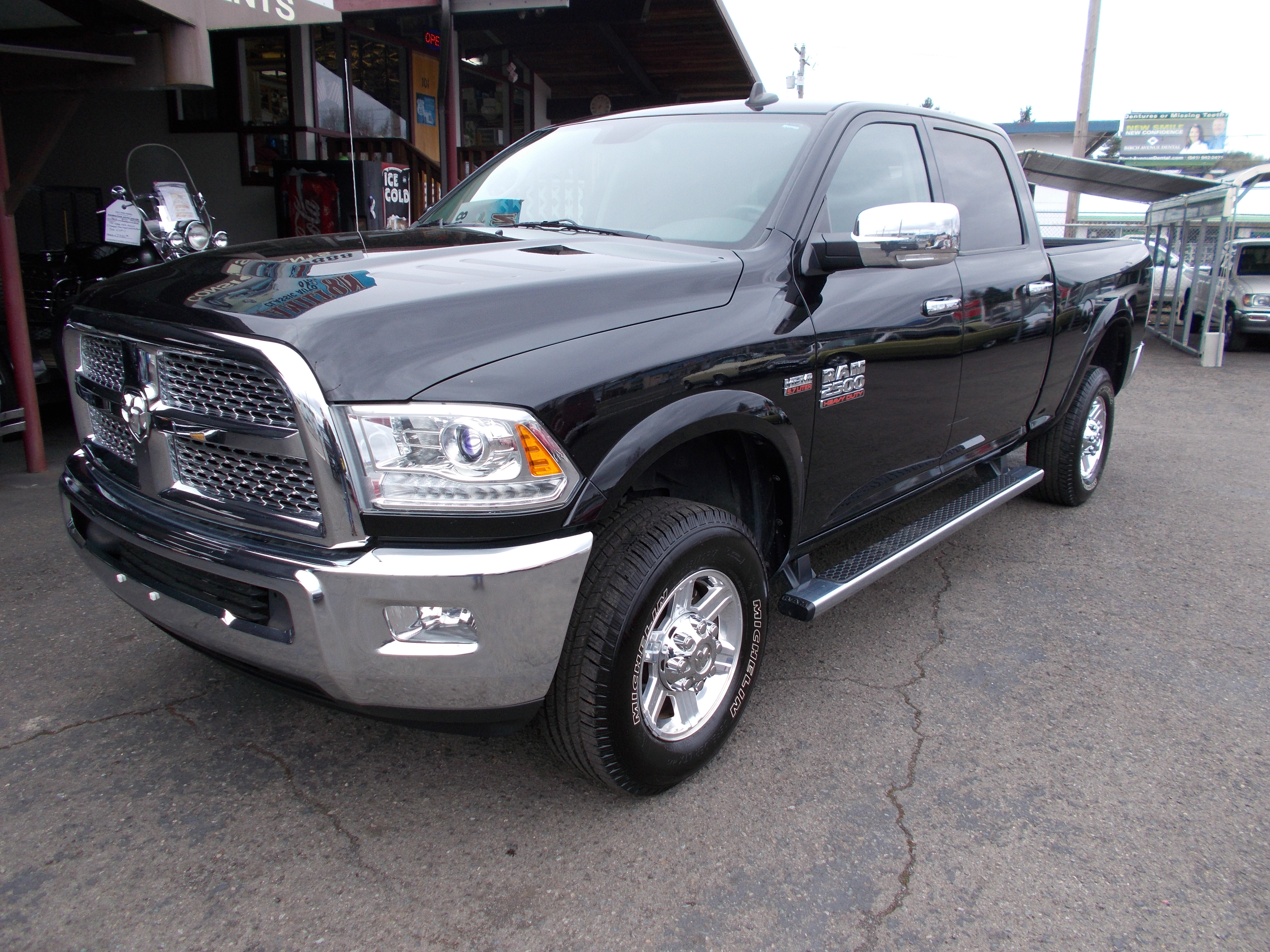 2013 Dodge Ram 2500 Heavy Duty Laramie Crew cab 4x4. 5.7 L Hemi V-8, 6-spd. auto transmission. This truck has 93,380 easy HWY miles and don't have any flaws to speak of. Almost new Michelin tires. All maintenance done at Lithia in Springfield OR. I have the original window sticker posted with the addition pictures for all option on truck. Just click on picture of truck to view them. # B-1784 $28,950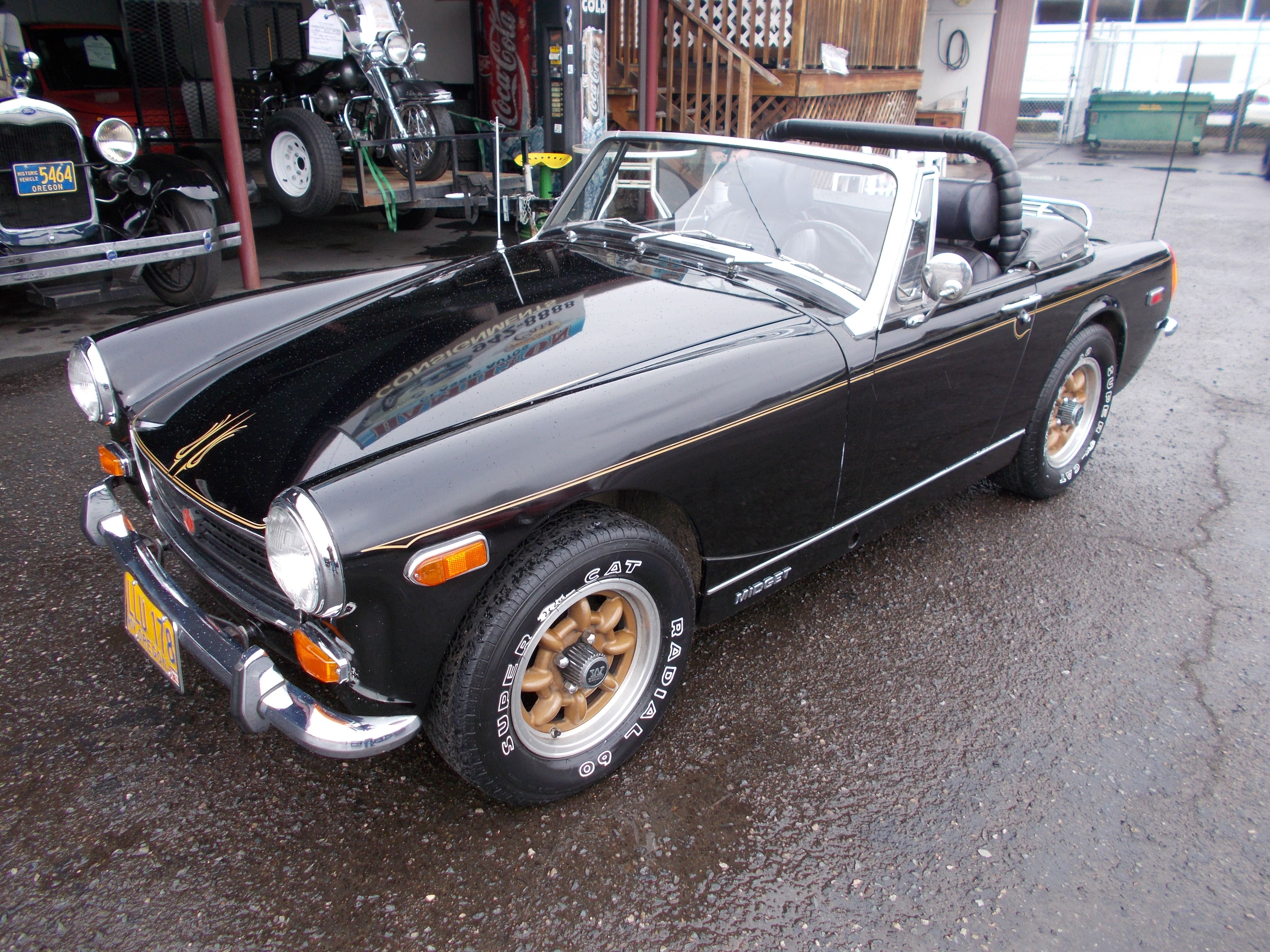 1973 MG Midget. 78 CI 4cyl. motor, 4spd. manual transmission. This car has been in same collection for many years. Car is pretty much original condition, It has been painted black many years ago and looks great. Car was originally white. Body and undercarriage very solid with no signs of rust and is very straight. Interior appears to be all original and great condition including door panels, dash pad, seats and carpet. It has original roll bar w/pad, Soft top good condition, plastic windows turning color, top boot, 2-interior covers and after market hard top. Also after market CD player and 6x9 speakers. Nice wheels with radial tires. All chrome in nice condition. Very good running and driving car ! # A-2049 $7,950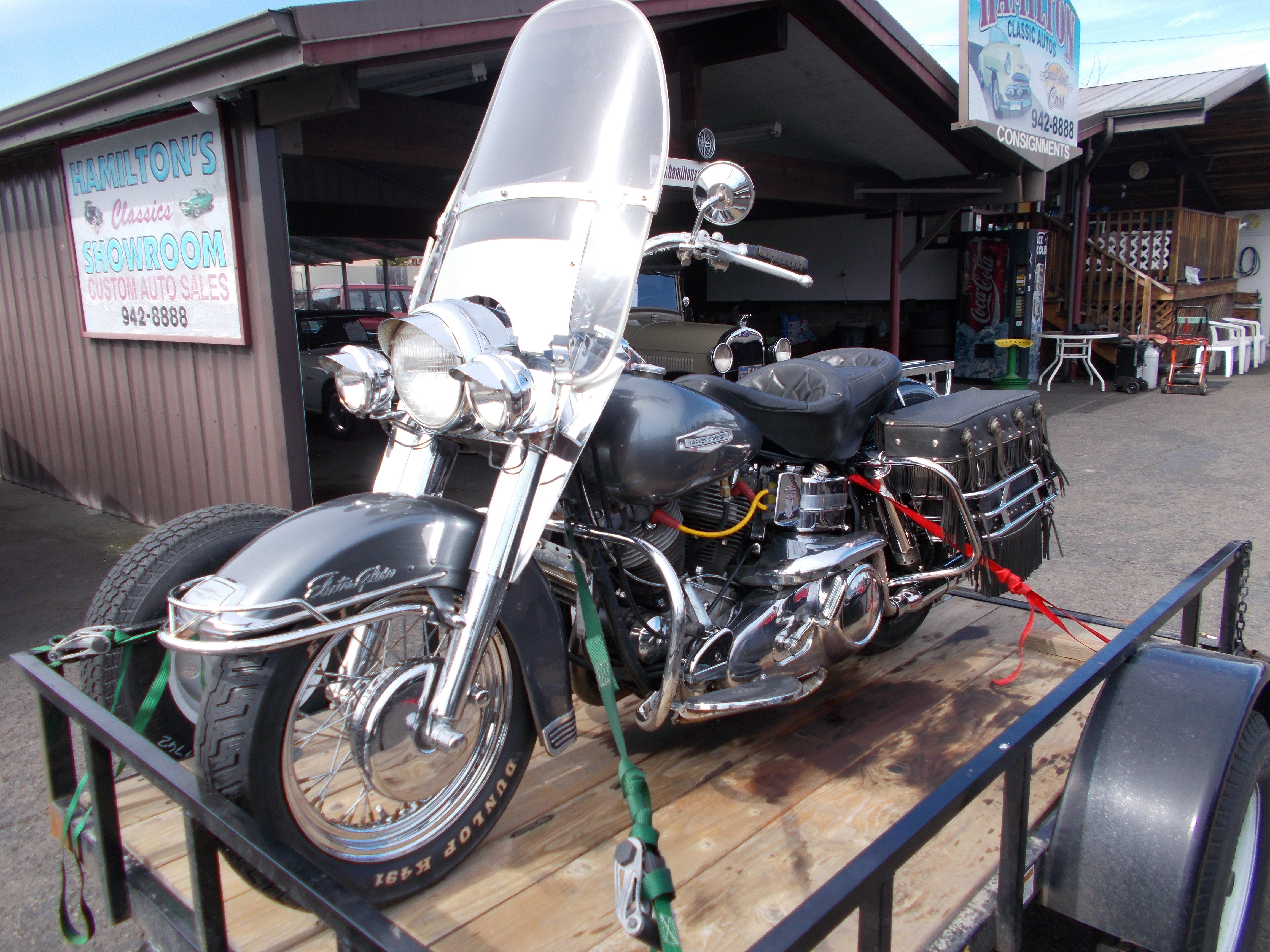 1968 Harley Davidson FLH Electra Glide. I am no expert on Harley Davidson so I am going to describe the condition of bike and when you click on picture of bike it will take you to the rest of the pictures including a write up describing the bike from the previous owner. Bike is in good running and riding condition. It has been changed from hand shift to foot shift. Paint is nice but older with a few flaws. Chrome is all good to fair condition. Tires have good tread. I had a guy who knows some about Harleys and he said it is a pretty honest and stock looking bike with pretty much just the shifter changed other then extra's added to bike. See full description with other pictures of bike. # C-238 $7,950 SOLD!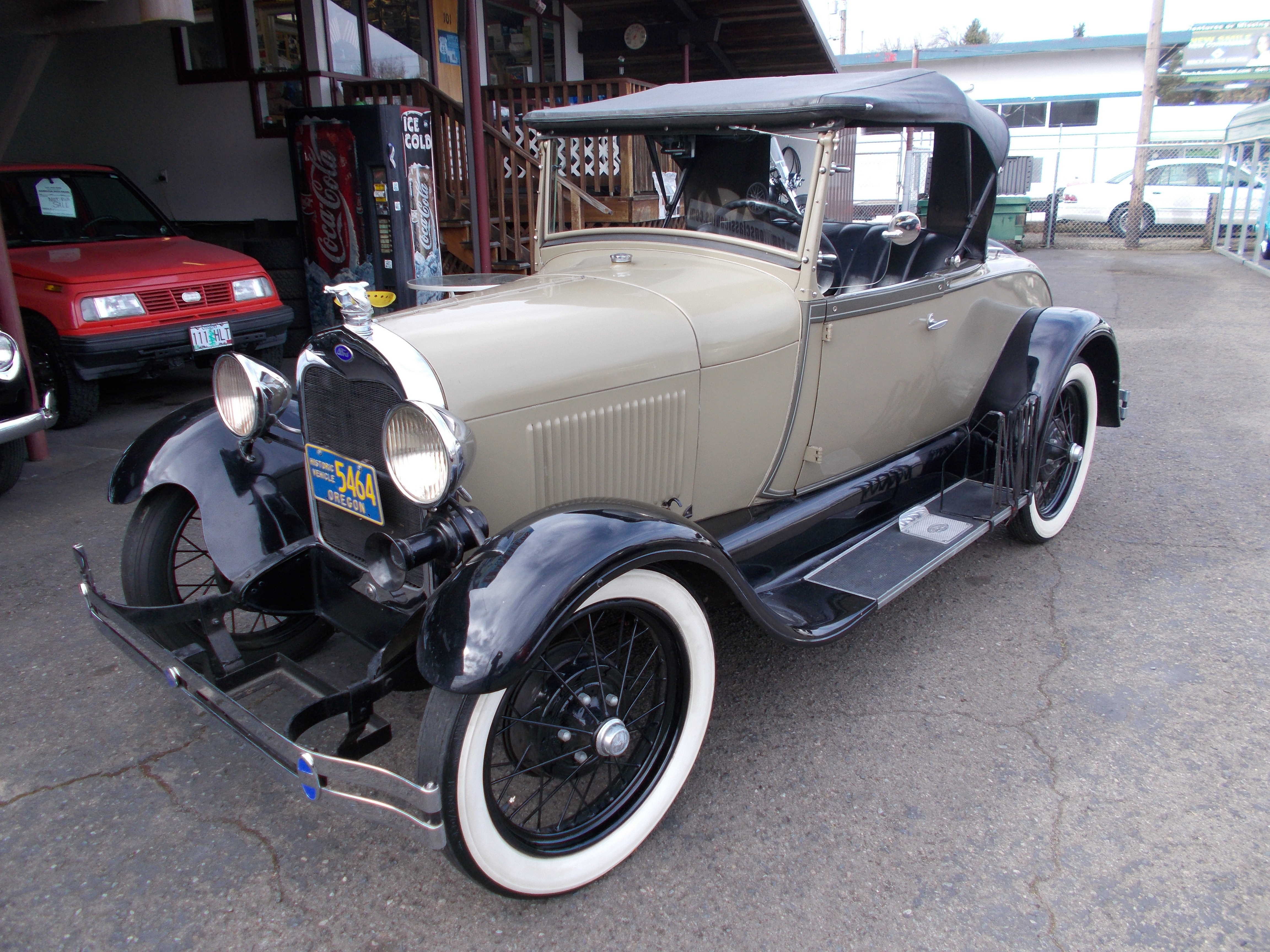 1928 Ford Model-A Roadster, Rumble seat, All steel car. This is a nice older restoration of a Model-A with all the original running gear. 4cyl. runs perfect. 3spd. transmission is not noisy and dose not jump out of gear, Clutch is smooth. Interior, Rumble seat and top excellent. Body is all steel, straight and solid with no rust issues. Paint is not fresh but is nice with good shine. Stainless, chrome and glass all very good condition. This is a very nice Model-A over all. # A-2047 $18,500 SOLD!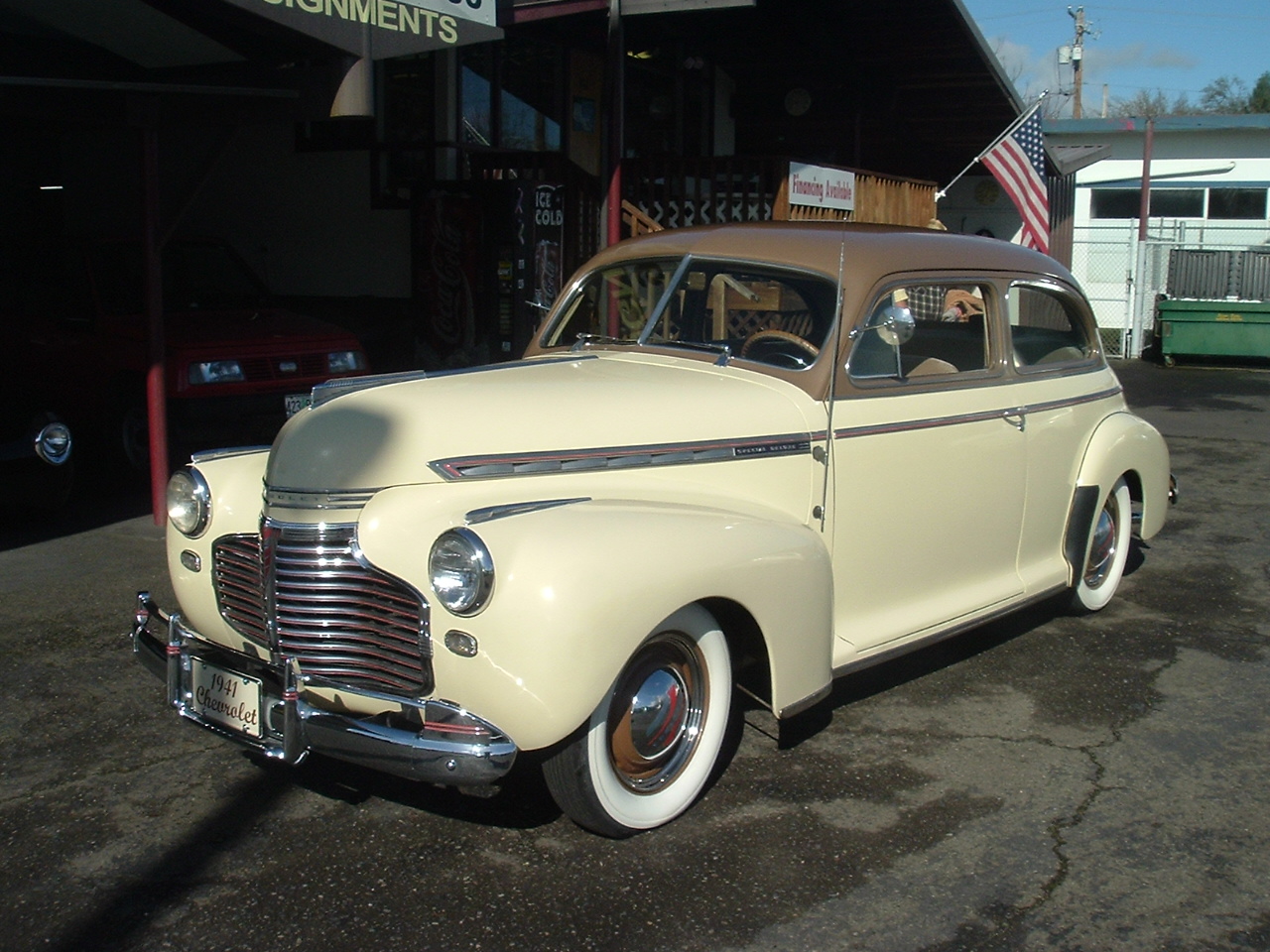 1941 Chevy 2dr Sedan. Original 216 - 6cyl. 3spd transmission. Miles read 56,284 and after looking car over I would guess they are original but have no proof of that. Body lines fit great and is super straight and solid, All rockers and floor pans original and solid. The paint on the car is very nice and shows no signs of bad body work or bubbles. Glass, chrome, stainless all excellent. Interior of car is all original and very good for the age of car, except inserts in seats have been replaced. All gauges, Heater & defrost, wipers, clock work properly. Radio buses but don't play. Like new Wide White tires. Very sharp car, runs and drives nice ! # A-1943 $15,500 Make Offer!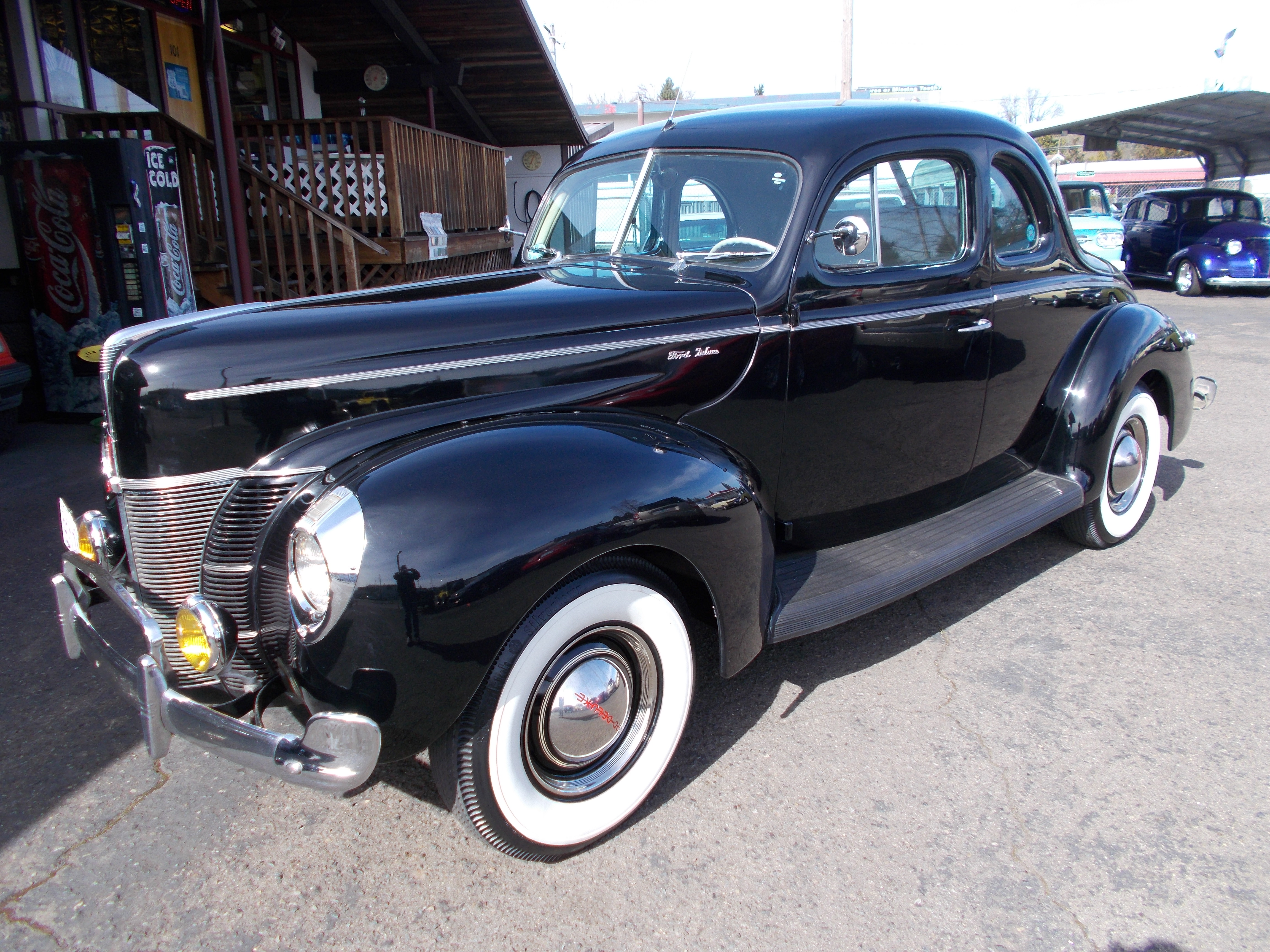 1940 Ford Opera Coupe, Steel car with Columbia rear end. Nice older restoration. Flat Head V-8, 3spd. transmission and Columbia rear end. Fuel tank and lines new. Body is solid from top to undercarriage with no rust problems, Doors fit car at the bottom as good as I have seen. Paint is older but looks very good - not perfect. All chrome and stainless excellent. Newer original style interior very good condition, All gauges, wipers and heater are working. Radio is there but dose not work. This car runs, drives and shifts excellent and Columbia rear end works proper. If you want a nice and solid 40 Ford this car is ready to cruise! # A-2046 $29,500 SOLD!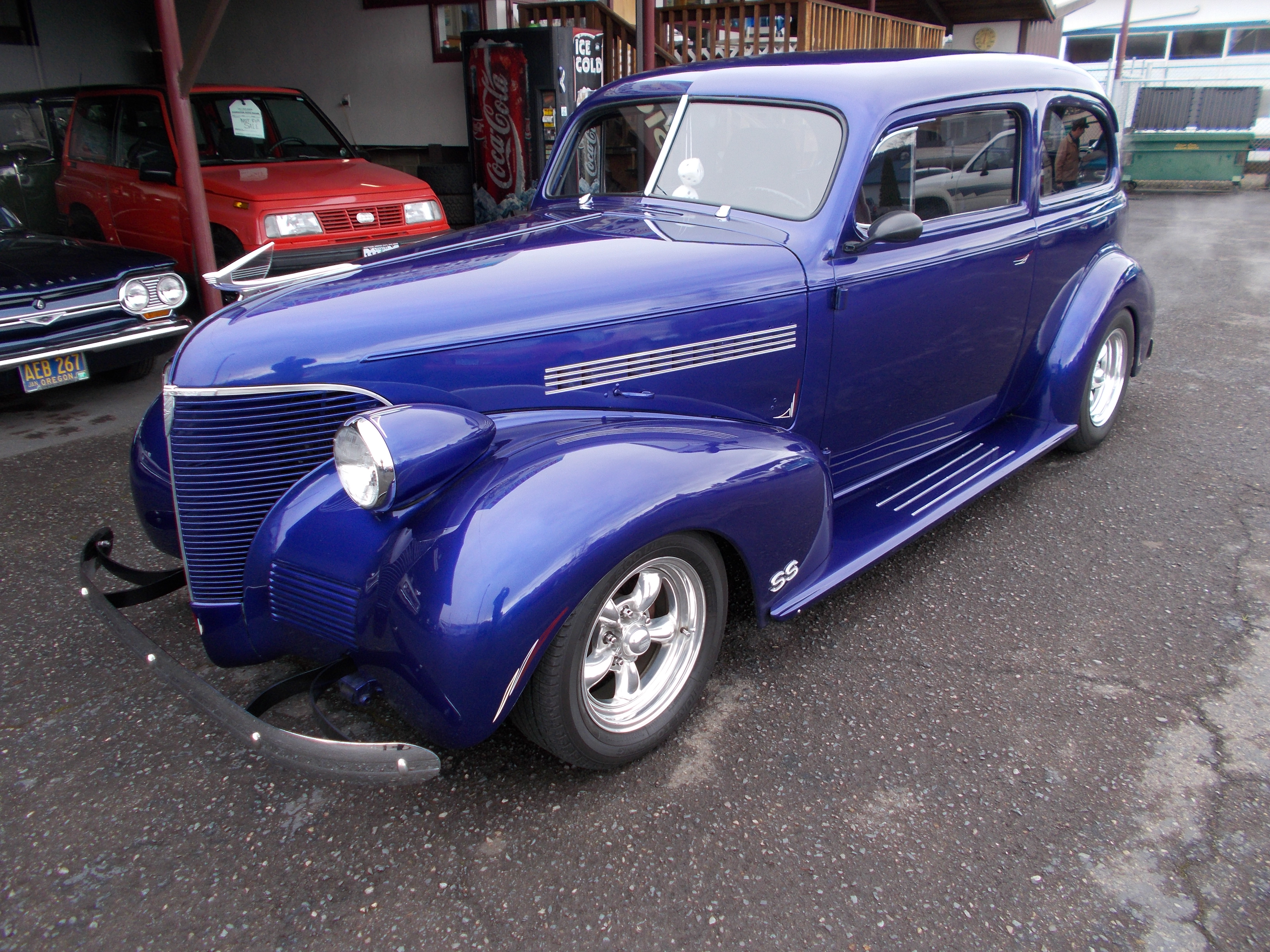 1939 Chevy 2dr. Sedan Street Rod. 350 V-8, Turbo 400 automatic. Drop straight front axle with Vega steering box and power front disc brakes, Rear end is 1980 Fire Bird w/drum brakes. Motor was completely gone through in 2015 (Low miles) and has light cam, Edlebrock carb. HEI ignition and block Hugger headers w/Flow Master exhaust. Body and paint is in great condition, car was taken apart to paint with many coats and some pearl. Fenders are steel with no bondo, Running boards from Summit Racing. Interior is custom from Jerry's Upholstery in Lebanon, Front seats are 98 Explorer and drivers side is power. CD player, Aftermarket gauges. New glass from Bob's glass in Junction city. American Racing wheels with like new tires. This car is ready for cruising and show shines. # A-2045 $19,500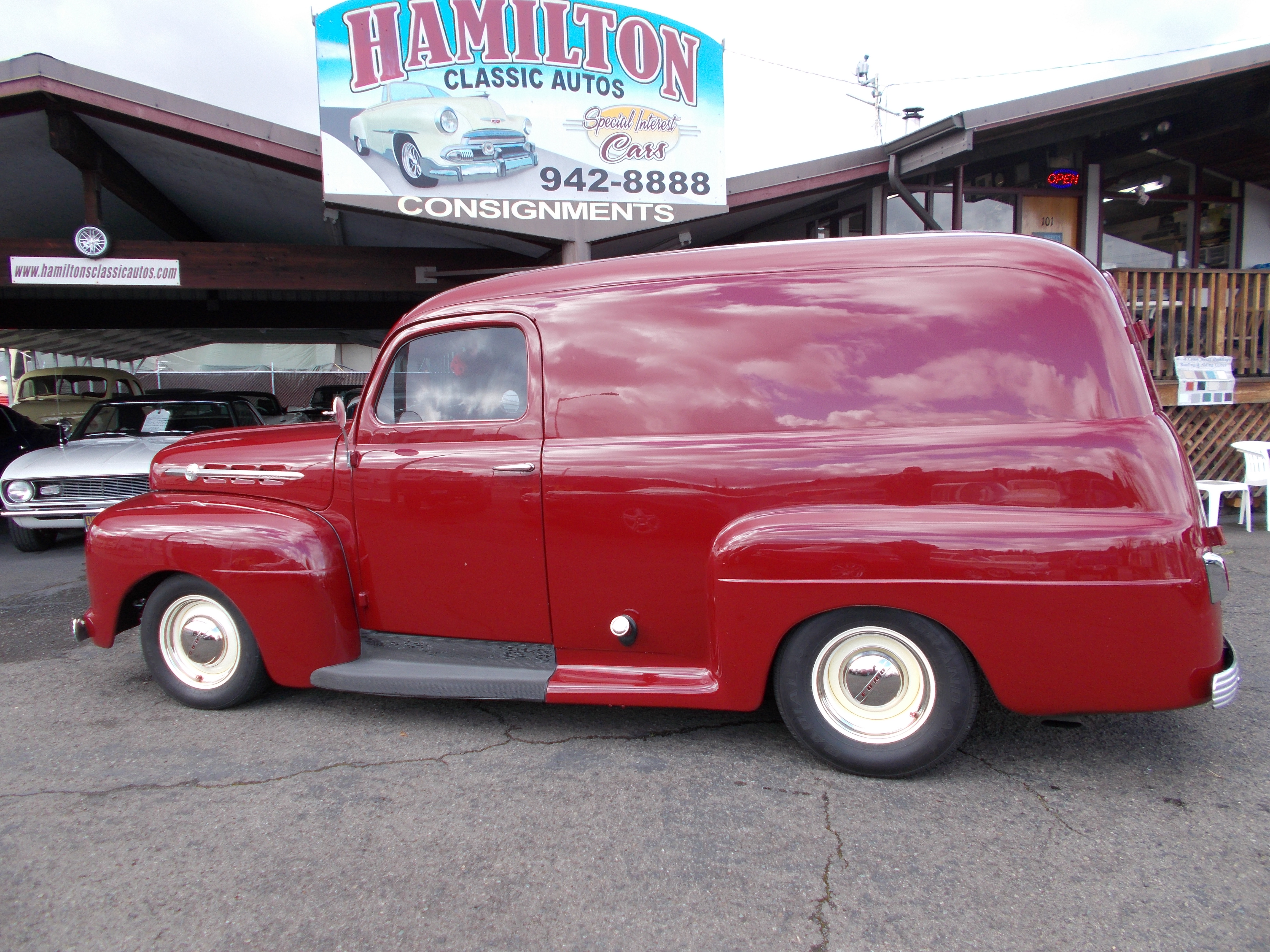 1952 Ford F-1 Panel, Street Rod. 350 V-8, 385 Hp. 700 R-4 auto transmission. 1976 Nova front clip, Ford 9" rear end - 370 Posi. Power steering, Power disc brakes. Old air products - A/C, Power windows, Tinted glass. Paint is Ford Pleasant Red (Acrylic Enamel) Super straight and solid body. Custom interior by - Ron Evans Custom Upholstery. Super nice hard to find Panel. $24,500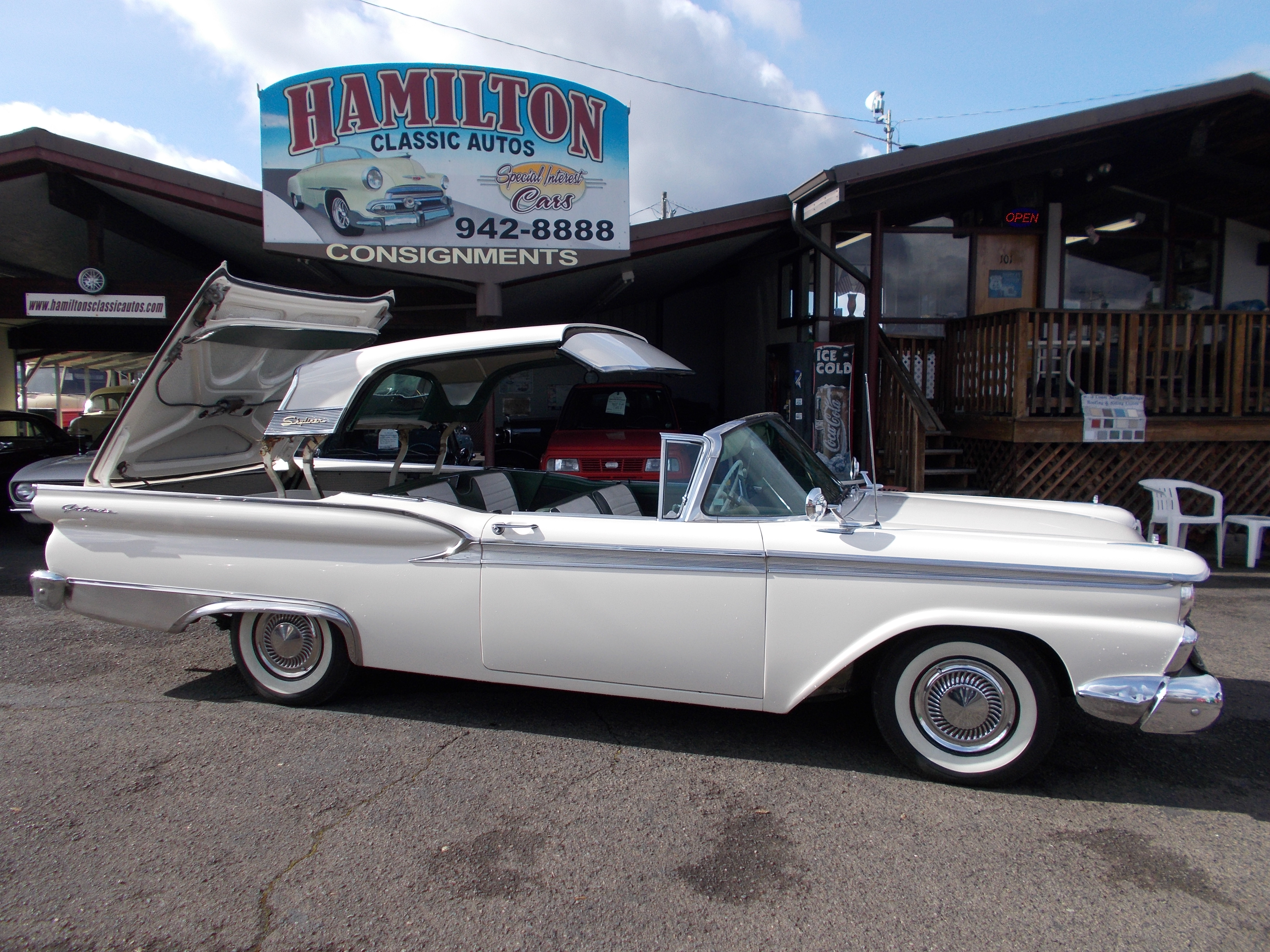 1959 Ford Retractable, Galaxie, Fairlane 500, Skyliner. Nice restoration. 352 V-8, Auto transmission. power steering, power brakes. This car as been local right here in Cottage Grove since new. The car has been kept up and restored through the years. Not sure of the miles on motor but motor has been gone through at some point and runs perfect and dose not smoke, Transmission, Brakes, steering, front end, rear end, shocks and all mechanical checks out great, drive's down the road smooth and brakes like it should. Complete Paint job and some interior work was done in the last couple of years and is very nice. I do have pictures of car from about 5 years ago before paint and interior work was done, I believe it was still the original paint and interior in these pictures. Chrome and stainless very good for original. Top goes up and down great but now uses toggle switches in stead of the original top switch. This is a very nice driver and show and shine car it is don't perfect but priced right for as nice as it is. Also this is a solid car that has not had rust problems and patch panels, all original metal I was told and I am 99% that is true. # A-2043 $24,500 SOLD!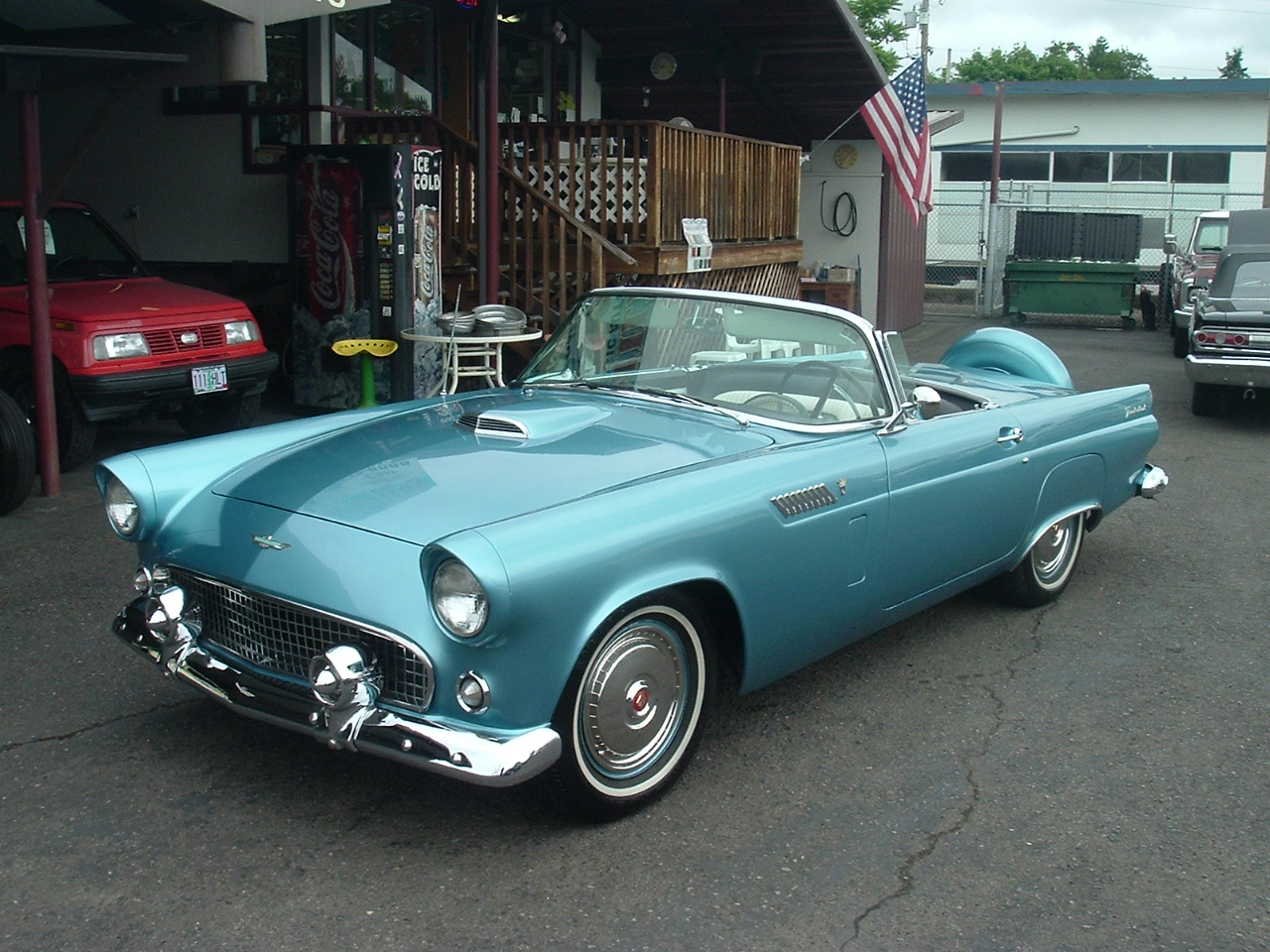 1956 Ford Thunderbird both tops. 312 V-8, Automatic transmission. PS. Car was restored around 15 years ago and still looks fresh and has had many recent things done- Seat covers, arm rests, sun visors and floor mats. New brakes, shocks and rear axle bearing. Chrome front and rear bumpers and parts. Tune up- points, condenser, wires and plugs. Fuel system- Tank, lines, Carb. and fuel pump. Vacuum wiper motor rebuilt. Radio rebuilt. Rebuilt driver door regulator, Car cover. Matching hard top, the soft top is in the car complete but cloth top not in good shape. Excellent interior with power seat. This car has excellent body and paint and stands tall everywhere you look. # A-2017 $39,950 NOW! $28,500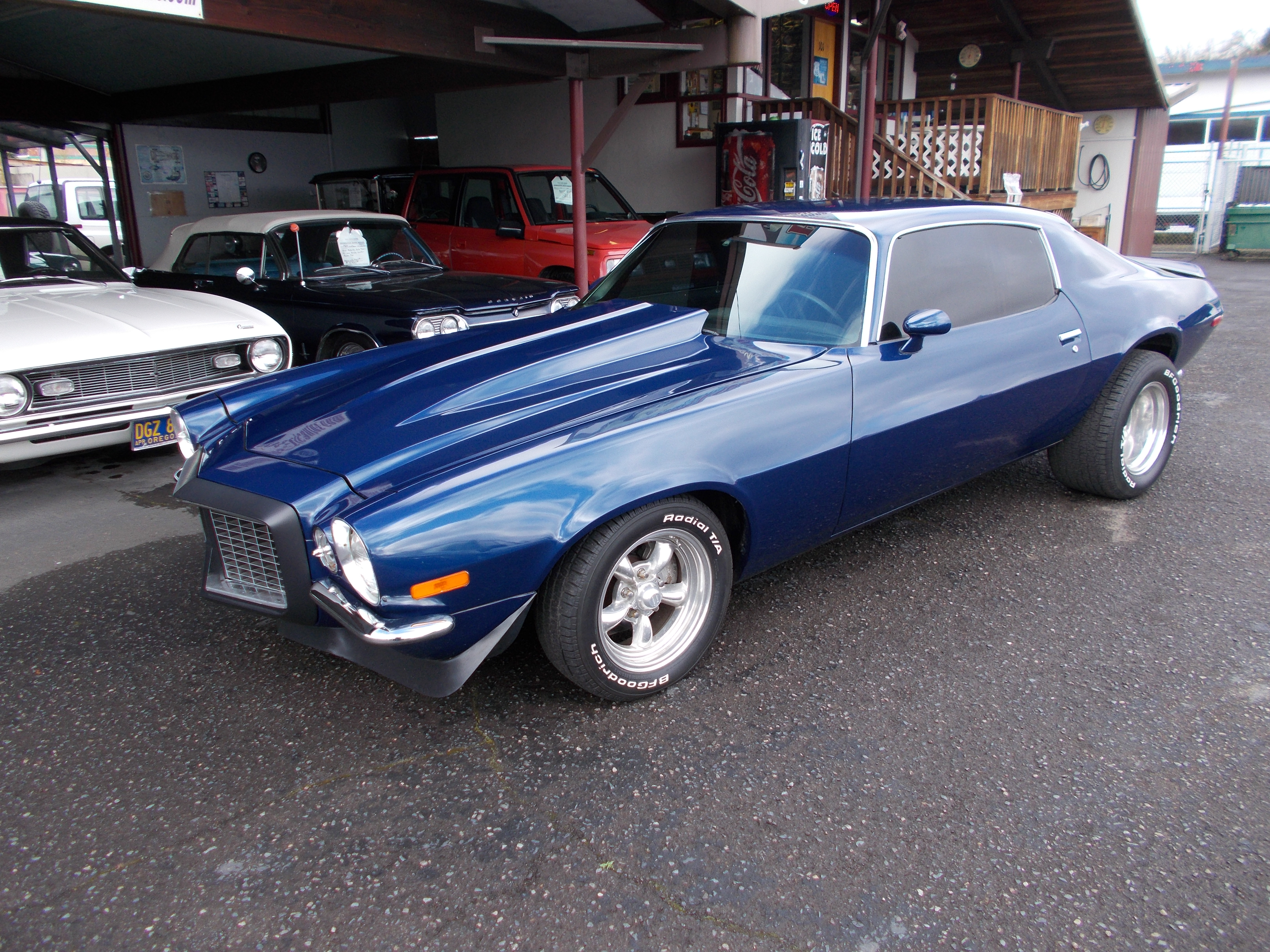 1970 Chevy Camaro Split Bumper. 383 Stroker V-8 w/low miles. Auto transmission w/ratchet shifter. Posi Trac rear end, 4 wheel power disc brakes. New dash bezel and aftermarket gauges. Good straight and clean car with nice paint and interior. Original carpet is good but faded. # A-2037 $15,950 NOW! $13,950 SOLD!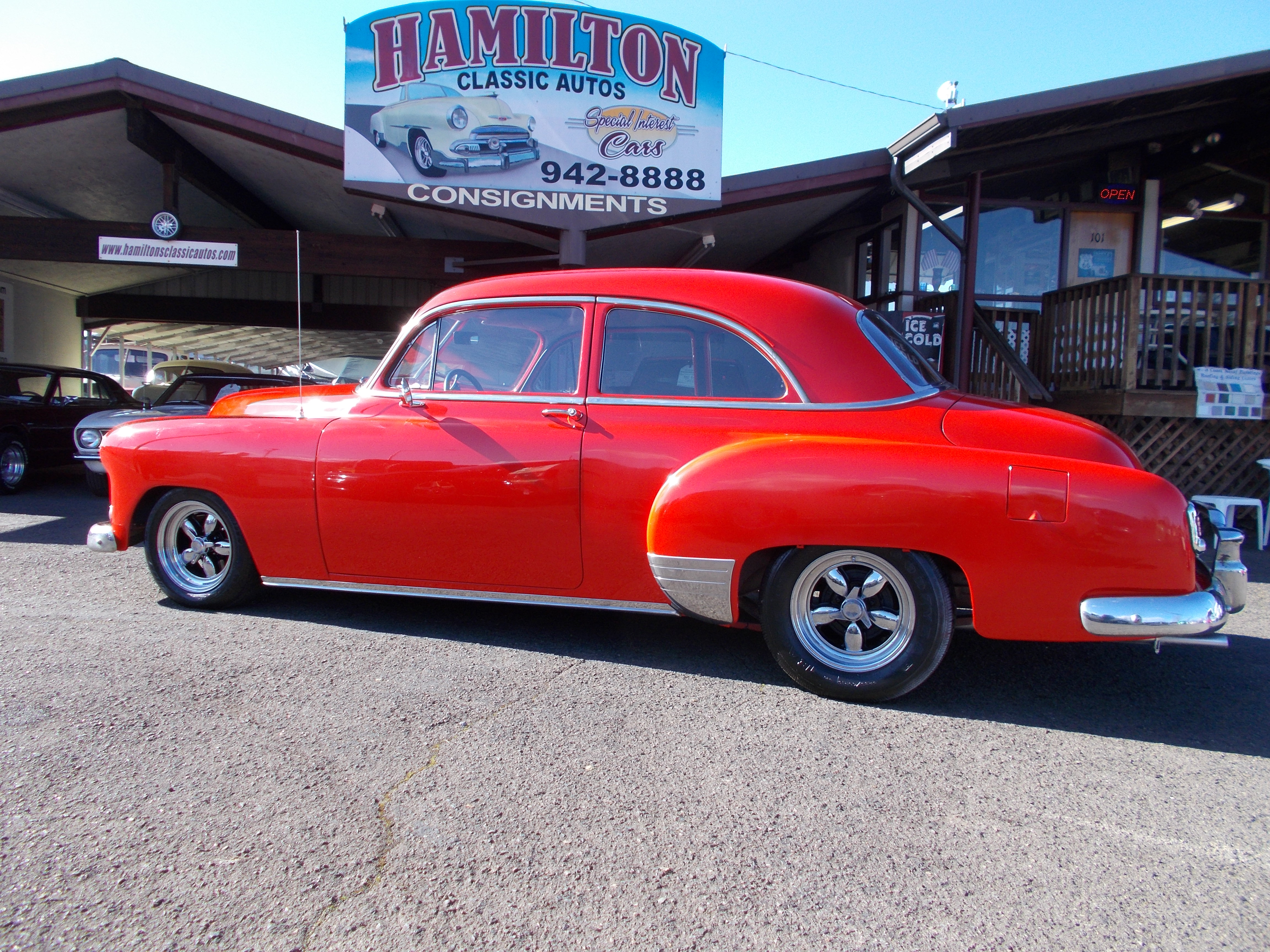 1951 Chevy 2dr Sedan Street Rod. Fresh 283 V-8 and Turbo 350 auto. Mustang II power rack front end. Power front disc brakes. 10 Bolt rear end. Mostly complete restoration just needs some finishing up to be complete. Body taken down to metal and Doors, hood and front fenders chemically dipped. Nice straight body with no rust problems and good quality paint. There is a list of all things done to car in the pictures attached. As far as the rest of the exterior of car the stainless is mostly nice conditions, The bumpers, grill and head light rings should be rechromed. Glass and rubbers good or new. New interior, Tilt wheel, new wiring harness, no stereo, Has new A/C pump - Dryer mounted on front of radiator and switches for A/C and Heat mounted in dash see list to see what else is needed to complete. Carpeted and detailed trunk compartment. Motor compartment clean but pretty basic. Nice wheels and tires. There is much more done to car see list. Nice car with all the hard expensive things done! Priced right for you to finish up or drive as is. # A-2044 $14,950 SOLD!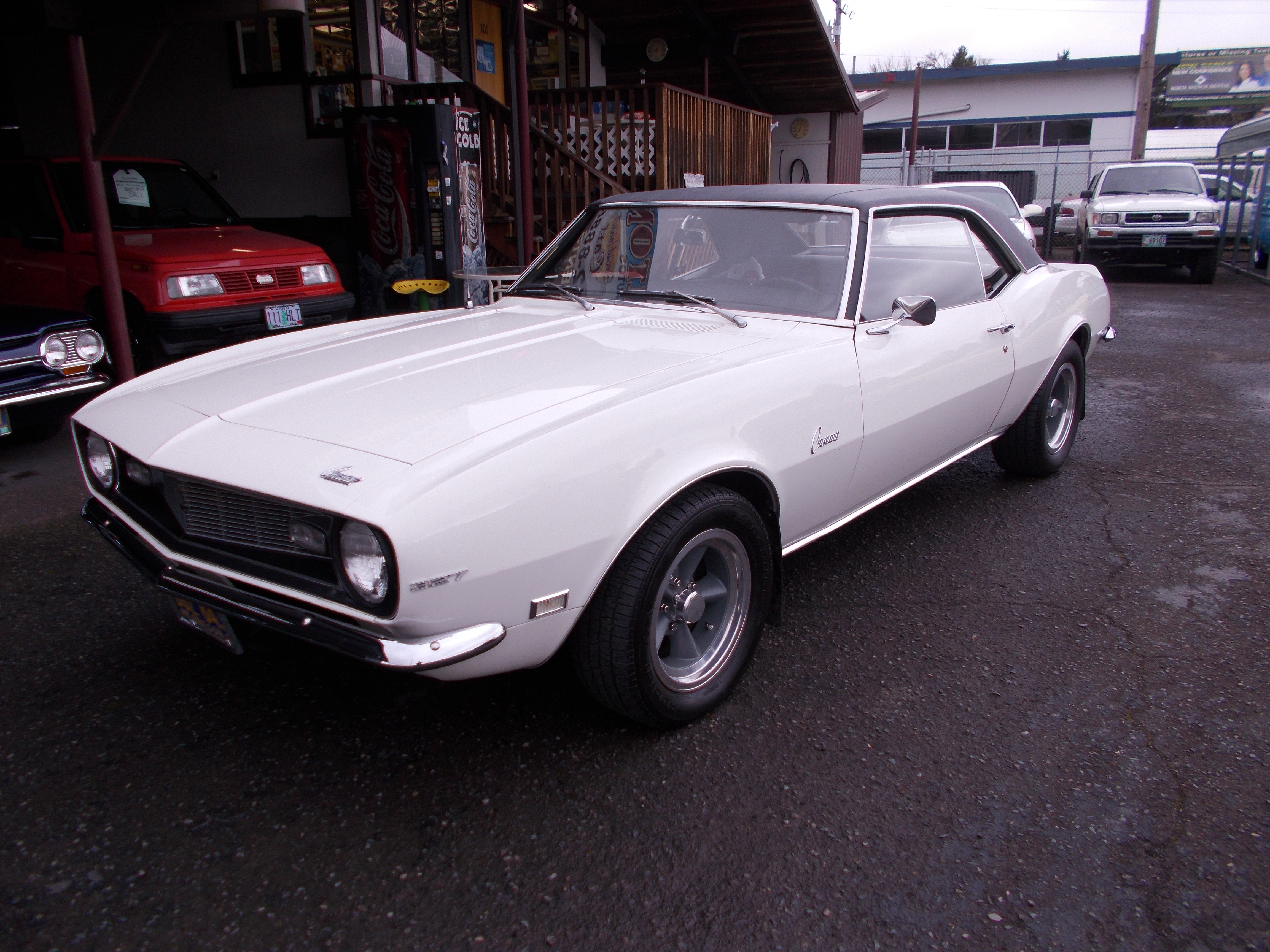 1968 Chevy Camaro. Numbers Matching car. 327 V-8, power glide auto trans. PS, Front power disc brakes added. 40,935 original miles, I do have DMV paper work that suggests miles are correct. Car has been repainted back the original color and is High quality. At the same time as paint it got new black vinyl top, Rubbers, felting. Black interior is original and excellent. Undercarriage looks original and excellent (no rust problems or patch panels) American Racing Tork Trust wheels of the 1968 area restored and excellent. Hard to find and old Camaro this honest ! No disappointments. VIN - 124378N397765 There is a picture of Data tag included. # A-2042 $29,950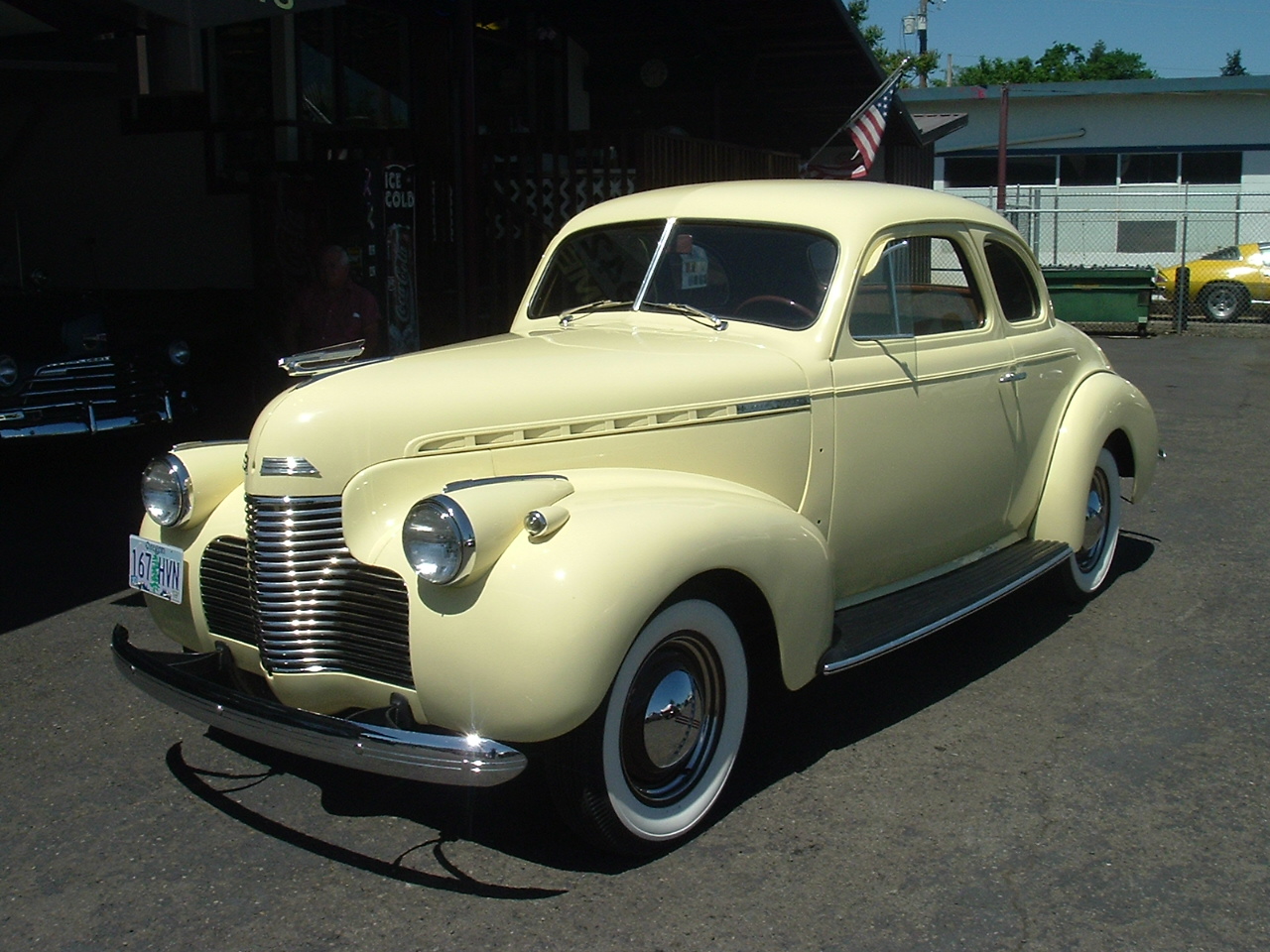 1940 Chevy Coupe. Rebuilt 216 straight 6cyl. with less then 3,000 on it. 3spd. manual trans. Same family owned since new. Restored about 14 years ago. Good solid car with nice paint. Interior looks like new. Recently there was $2,500 spent going through the front end and all the brakes. All chrome, stainless, glass, felt and rubbers replaced. Real nice running and driving car. # A-1957 $15,950 NOW! $10,950 SOLD!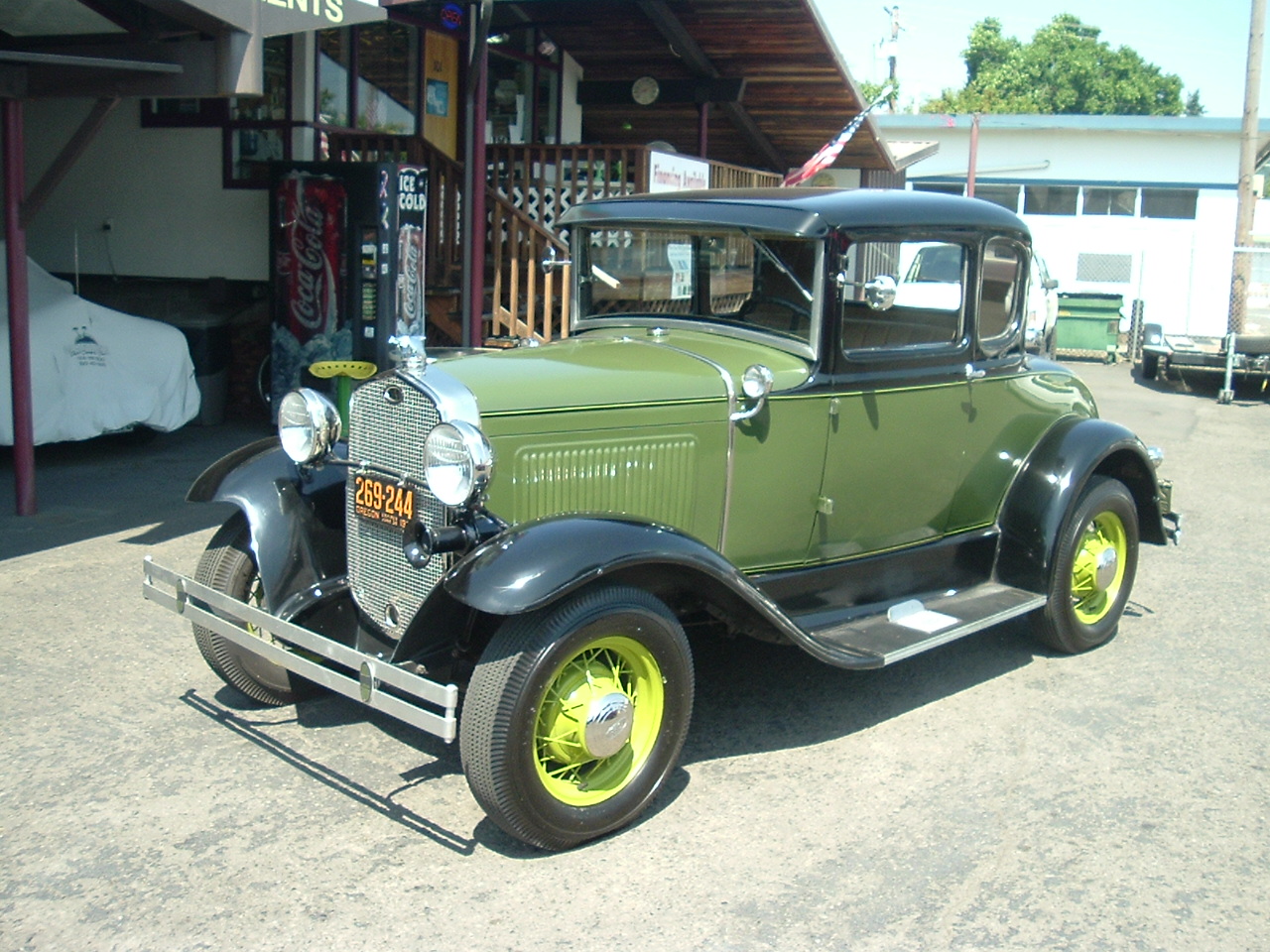 1931 Ford Model-A Coupe. All Steel car w/original running gear. Restored all original with some upgrades including - 12 Volt system w/Alt. and turn signals, Seat belts, Modern 6 blade cooling fan, Modern shock kit, 16" wheels w/600-16 tires. Steel top. Believed to be painted around 10 yrs ago and looks pretty much looks fresh with no rust bubbles or rust problems and is very straight with good quality paint. Nice interior kit that is in excellent condition. Stainless all very good, Painted bumpers. Very nice driving and running original Model-A with some good upgrades. # A-2041 $13,950 SOLD !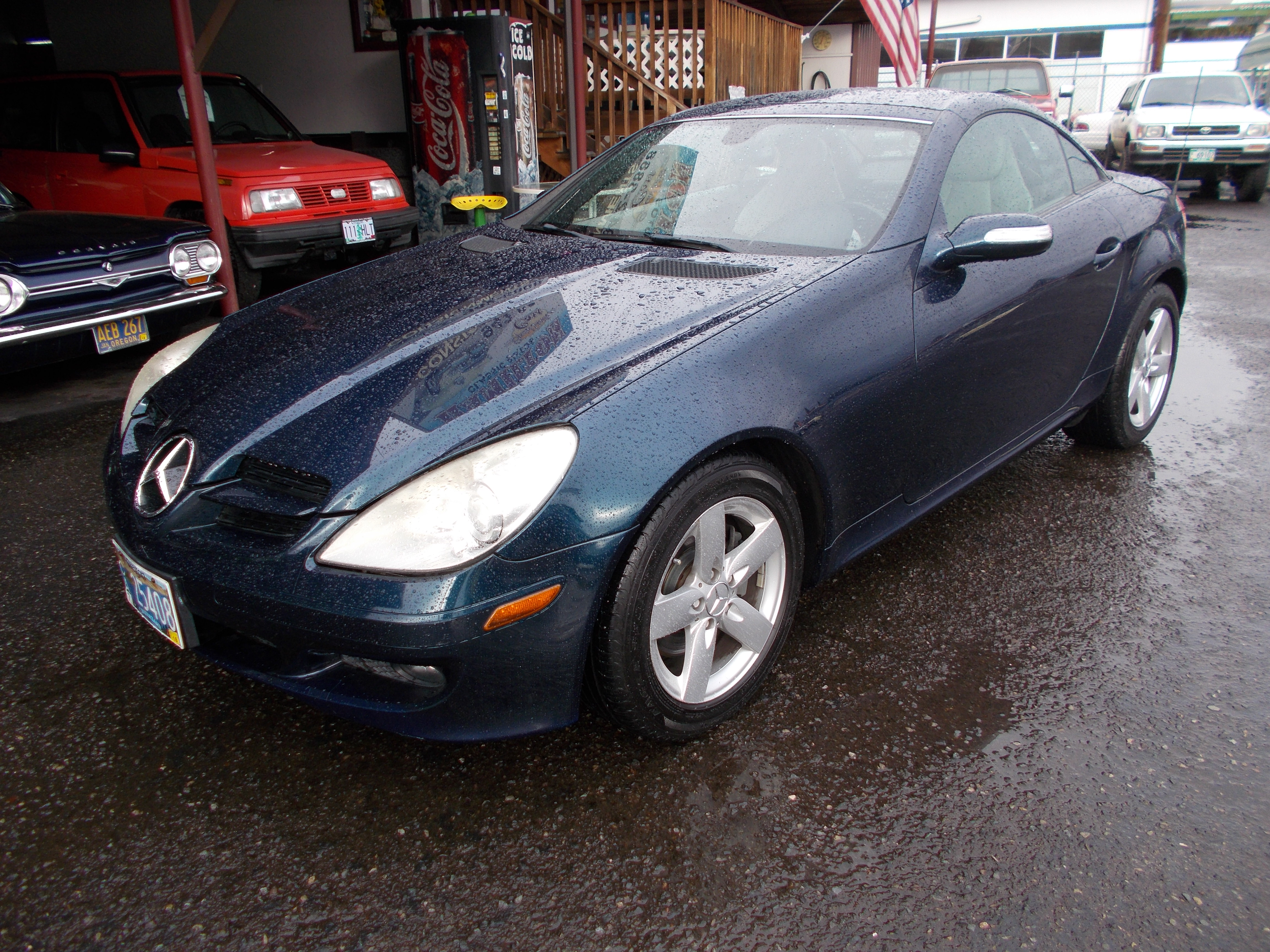 2007 Mercedes SLK 280 convertible. V-6, Automatic. 104,344 Miles. Loaded with Leather, All power options ect. One touch hard top retraction into trunk. No body damage. Very clean car inside and out. # A-2040 $11,950 NOW! $9,950 Trades welcome.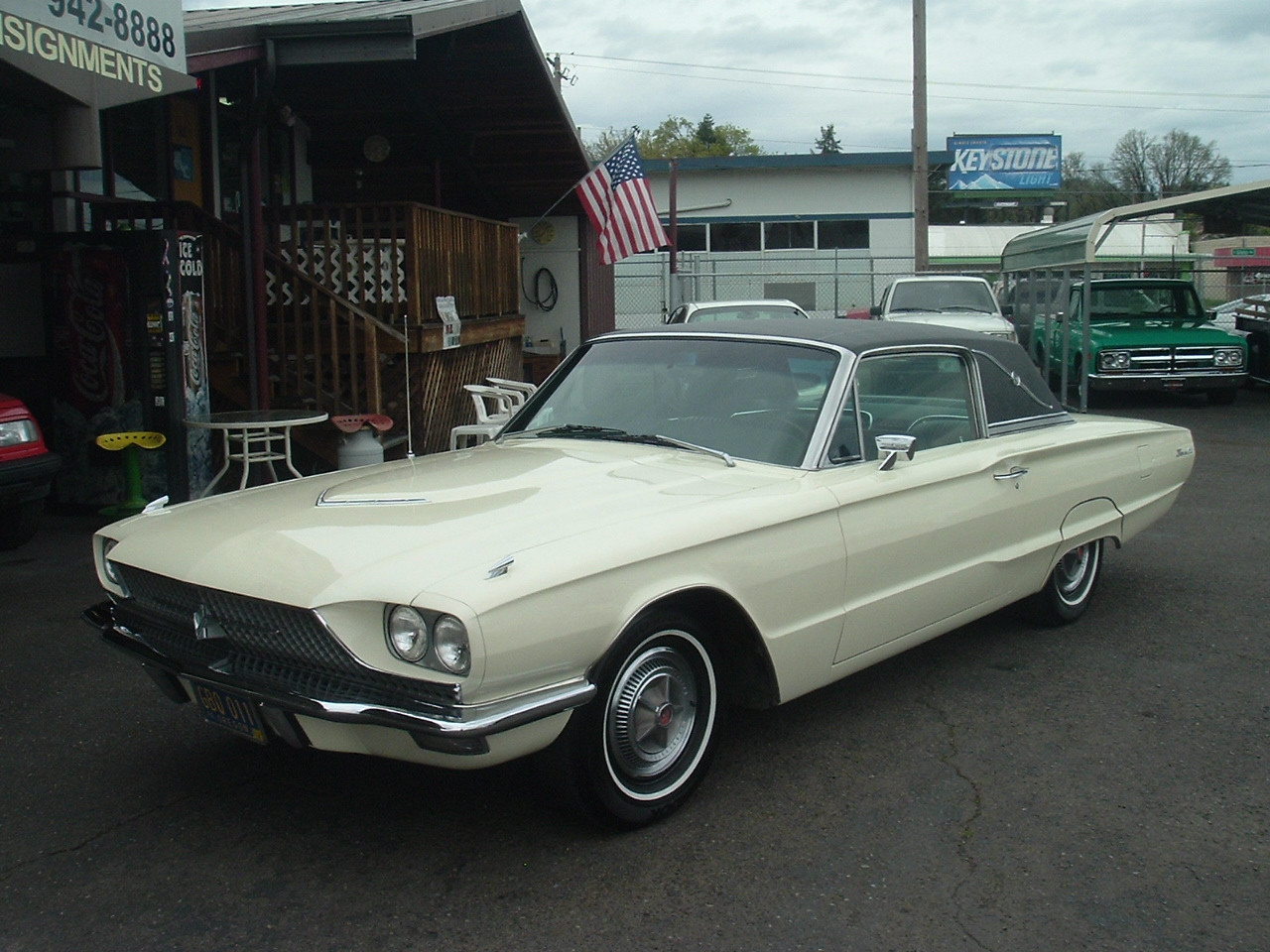 1966 Ford Thunderbird Landau 428 Q code. 29,472 original miles 1 family owned. Original 428 V-8 with C-6 auto transmission. Also have original build sheet. PS, P-front disc brakes, PW, PDL, A/C, New compressor in trunk, Leather interior original and great condition - the carpet has been replace, front seats got new foam and a couple worn panels replaced. Body is super solid and straight, the car has been repainted once in 2005. You can see in one of the last picture a recent scrape the car got down low behind passengers front tire. The small amounts of rust where fixed correctly. The original glass, chrome and stainless excellent. There was around $15,000 spent on car in the last year to be and excellent driver, Here are some of the things done - Motor and suspension - all new belts, hoses, solenoid, battery, Complete brake job, tires (Now white lettered not white wall), front end gone through - 4 new inner and outer tie rods, new front floor pans, New dual exhaust, New Landau vinyl top, Four new door panels, New carpet kit, New windshield and gasket, New door rubbers, New trunk liner. Have most of receipts with car. Super nice Low Mile original Q code car. # A-2039 SOLD!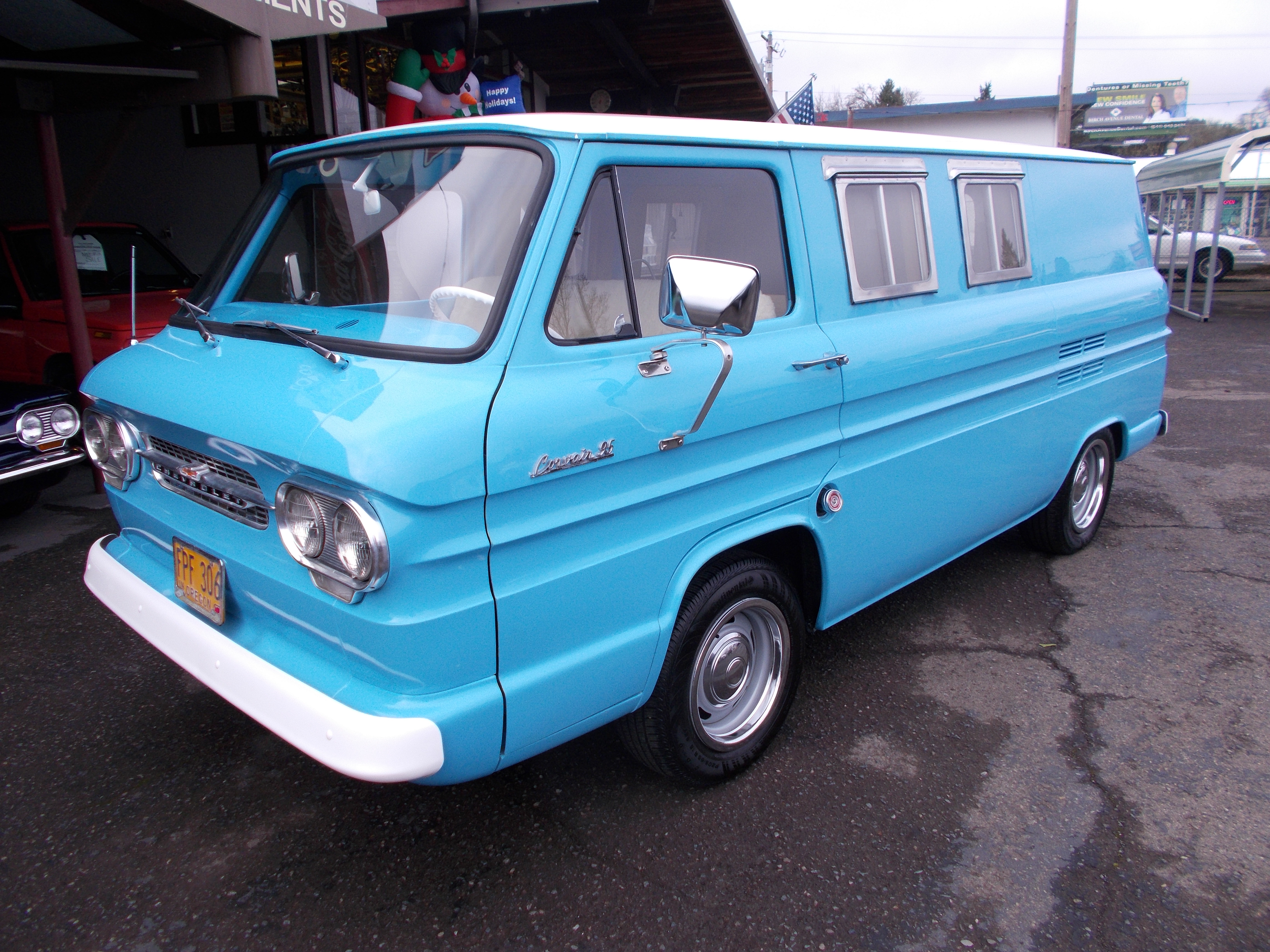 1962 Chevy Corvair 95 Van (Camper Van) Very nice recent restoration with all paper work and pictures before and during restoration. 6cyl. 4spd. Very hard to find one of these Vans that are not all rusty. Owner who restored this Van said there is no rust in this one. It was stripped down and taken apart to paint, all new rubbers in windows and seals. All mechanical gone threw - Motor, Brakes ect. Runs perfect, shifts with one finger, drives like new. Paint and body work is high quality. Interior has been redone. but the seat cover is original and is not in best of shape, arm rests need new covers and sun visors need covers. It has a couch - combination bed. Lots of storage compartments, Counter top with sink, Ice box, door mounted table. New rally wheels and tire. Too much done to list everything but have all paper work. Very few miles on Van since completed. Rare find in this condition ! # B-1780 $17,950 SOLD!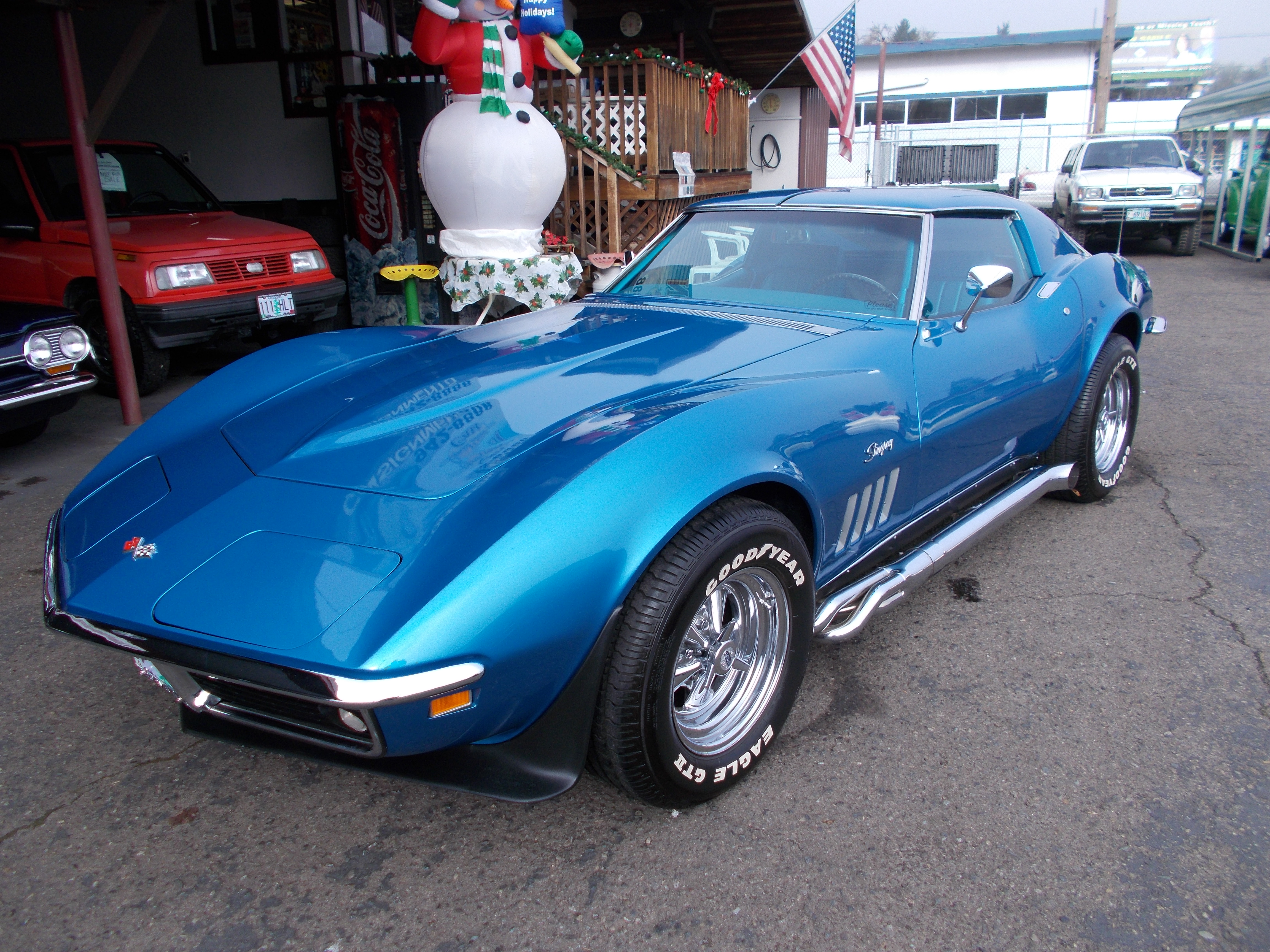 1969 Chevy Corvette T-Top. 350 V-8, 400 auto trans. #'s match. PS, PDB, A/C -No compressor, PW, Tilt wheel, 2-sets T-Top color match and smoked glass. Car had a complete restoration approximately 7 years ago and has low miles since completed. Car looks fresh inside and out and is a high quality restoration. Motor - 350 cid. 375HP, Matching numbers, Bored .030 over, 1.94/1.50 Brodix Race Right Aluminum heads, Crane Cam (Roller) 600 cfm Edelbrock Carb. MSD ignition, Hooker headers w/side pipes. Transmission - Turbo 400 auto, B&M shift kit, 2400 B&M Hole Shot converter. Rear end - 3.08 Pos. Painted by Tony at Straightline Auto Body. # A-2038 $28,500 SOLD!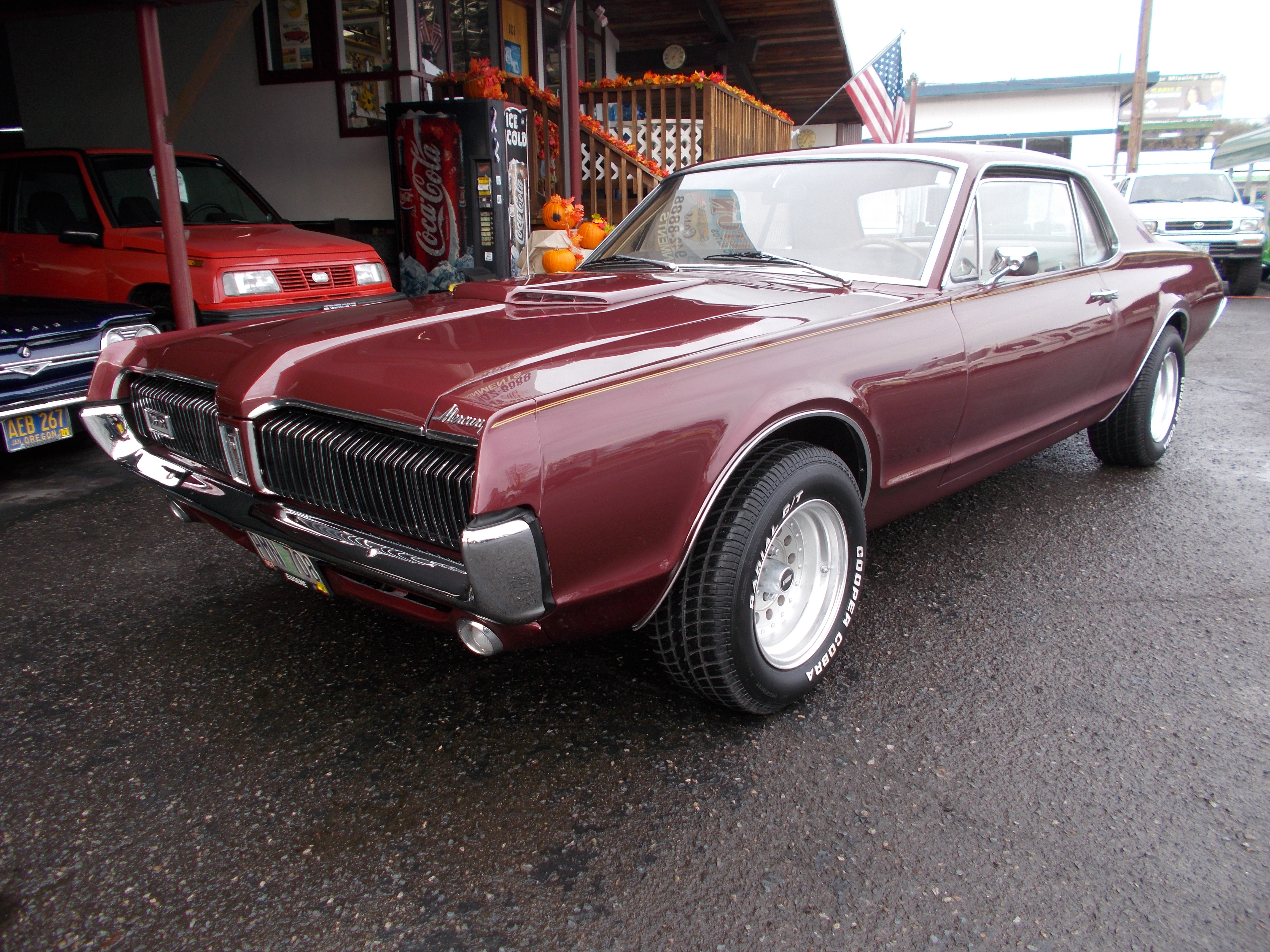 1967 Mercury Cougar. 289 V-8, C-4 auto transmission. No power steering or brakes, Up graded front Disc brakes off Granada, rear drum brakes, Air shock on the rear. Car shows 87,418 miles and is thought to be correct. Car was stripped to bare metal and has fresh paint. New trim and bumpers, all new rubbers and window felt. New windshield and rear window. New seat covers, head liner, carpet and window regulators. Seat frames rebuilt. Heat and sound deflector under carpet. New tires. Motor and truck compartment detailed. 289 motor has electronic ignition, headers and rebuilt 4barrel carb. cooled with new radiator and fan shield. This is a very nice car inside and out ! # A-2036 $14,950 SOLD!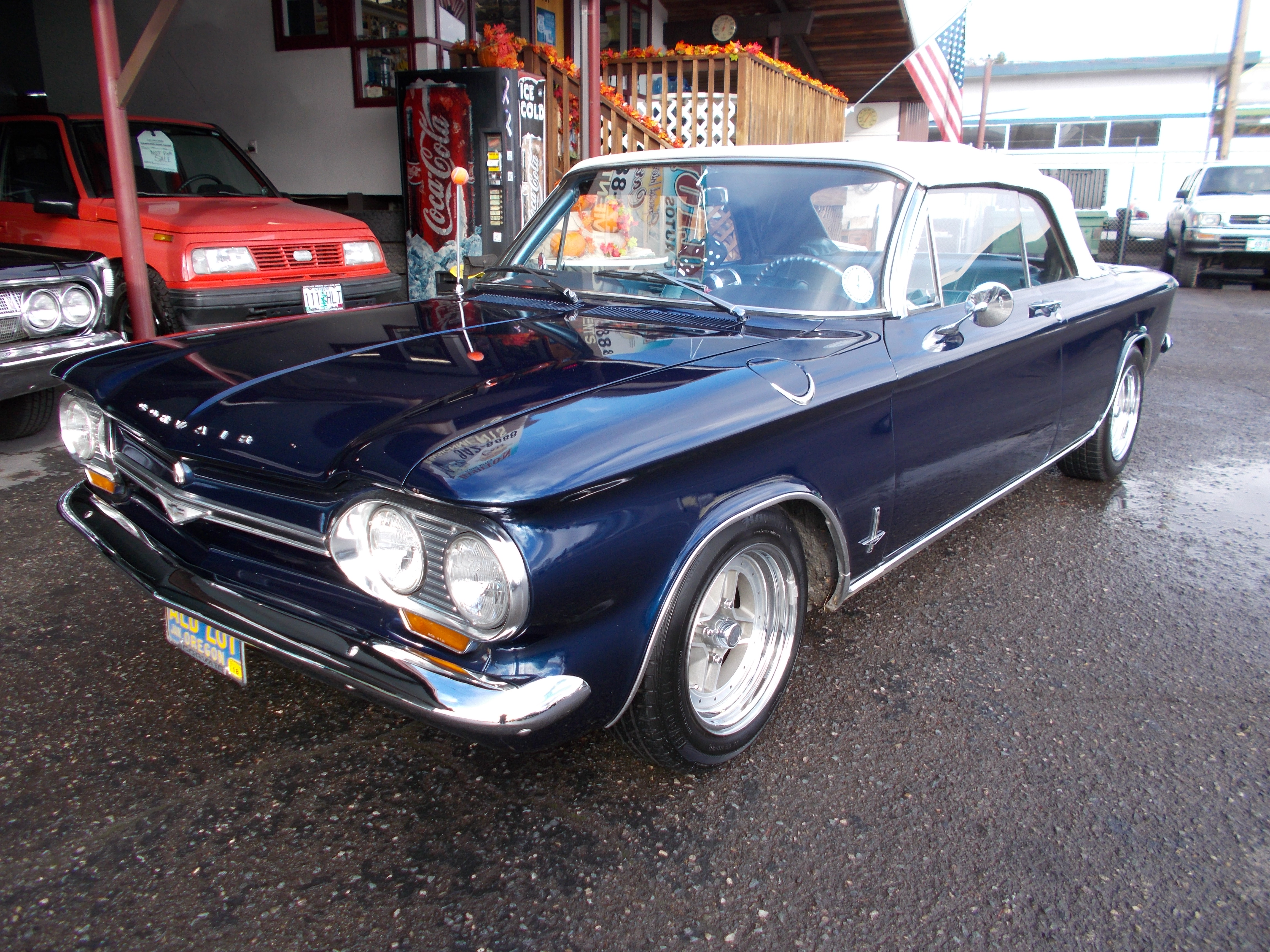 1964 Chevy Corvair Monza Convertible. 6cyl. Complete motor Rebuilt with low miles. Automatic transmission. Paint and restoration was done over 5 years ago. More recent was a complete brake job, Koni shocks, Trumpet exhaust, trans pan gasket, Front bushings, Alternator, Classic car stereo w/Kenwood speakers, Rebuilt carbs by Wolf Enterprise, Good quality Paint - Indigo Blue, body very nice with just a couple bubbles in paint down low on front of passengers door. Newer Clarks interior kit in excellent condition. Power top works great and is in nice condition along with top boot. I have paper work on Brake job. Mostly stock restoration with aftermarket tires, 14" Kelsey Hayes wheels, Retro tach. Very good running and driving car! # A-2035 $12,950 NOW! $11,950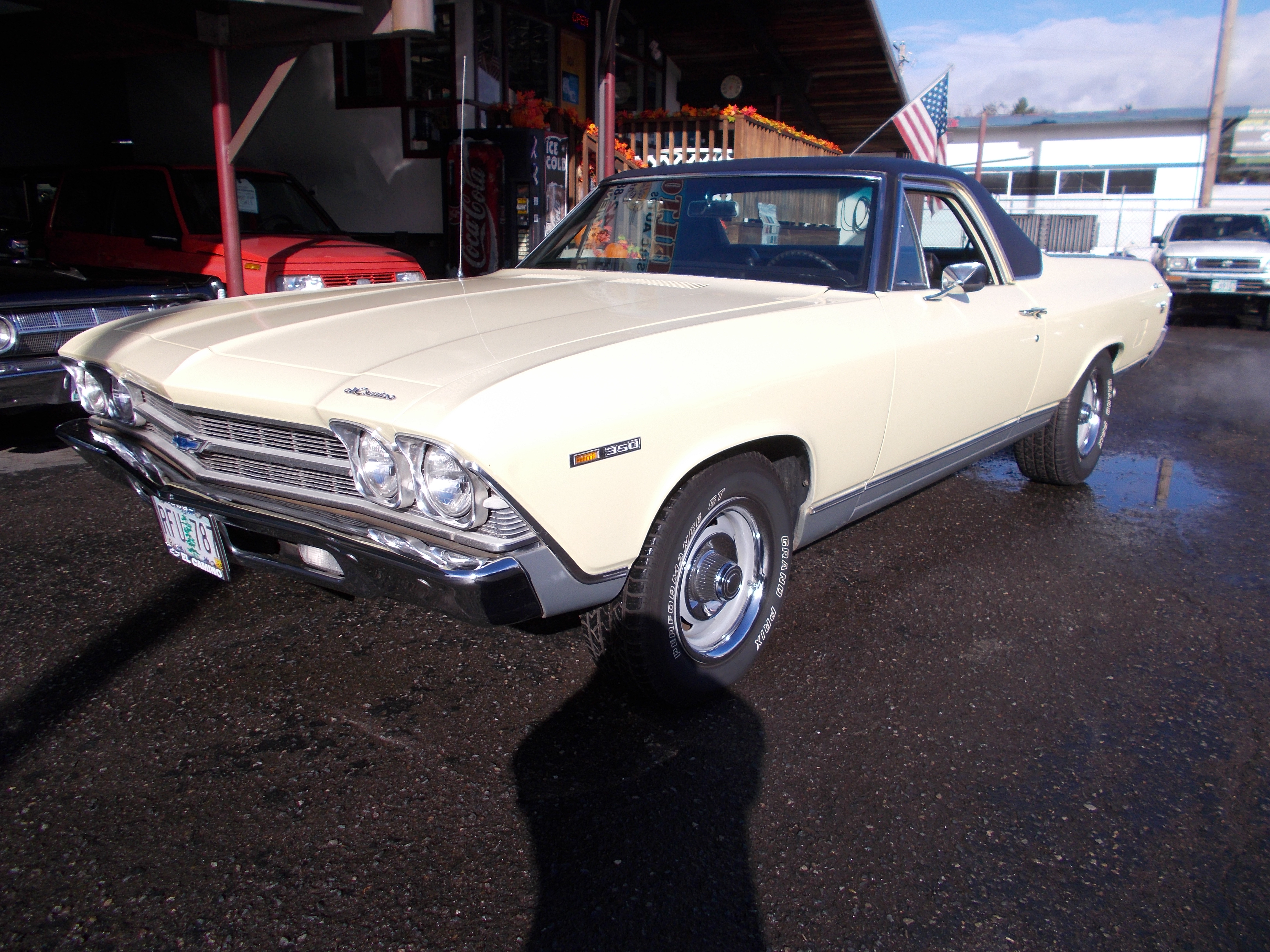 1969 Chevy El Camino. 350 V-8, Auto Trans. 1 Family owned car, Complete restoration. Paint Good quality, body very straight and solid. New vinyl top, Chrome, stainless, glass, Interior, Rubbers and felt all look new. Motor compartment detailed, Arma coat spray in bed liner. Car had over $34,000 spent on restoration, very nice car through out. $19,500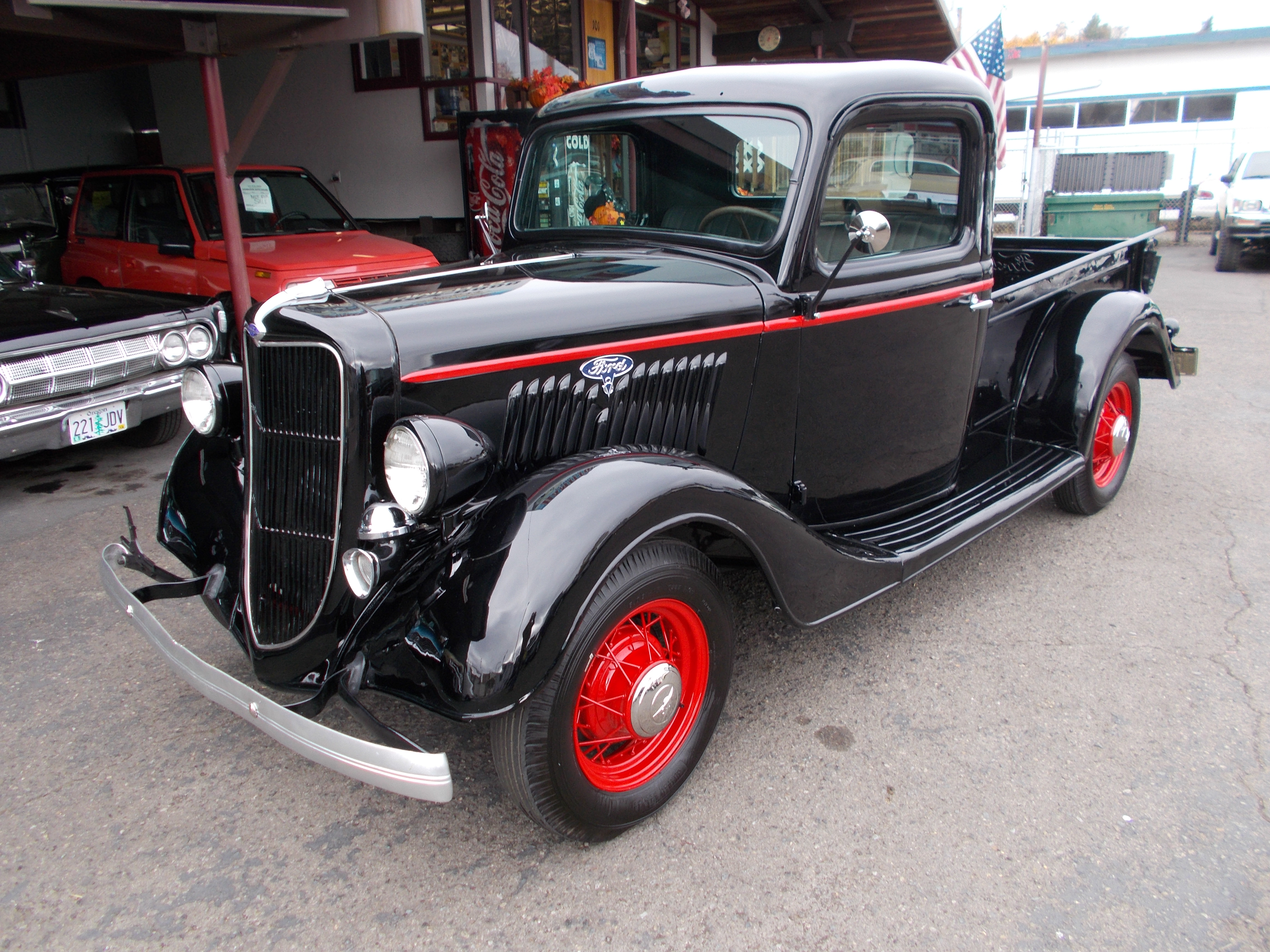 1935 Ford Pickup. Restored all stock, nice truck. Flat Head V-8 rebuilt, 3spd. transmission. The owner restored it trying to keep it as close to original as he could. This is a very complete restoration. Body don't have any rust and has new floor pans and wood. Nice paint and new interior. Have lots of receipts and pictures of restoration. Runs and drives excellent! # B-1779 SOLD!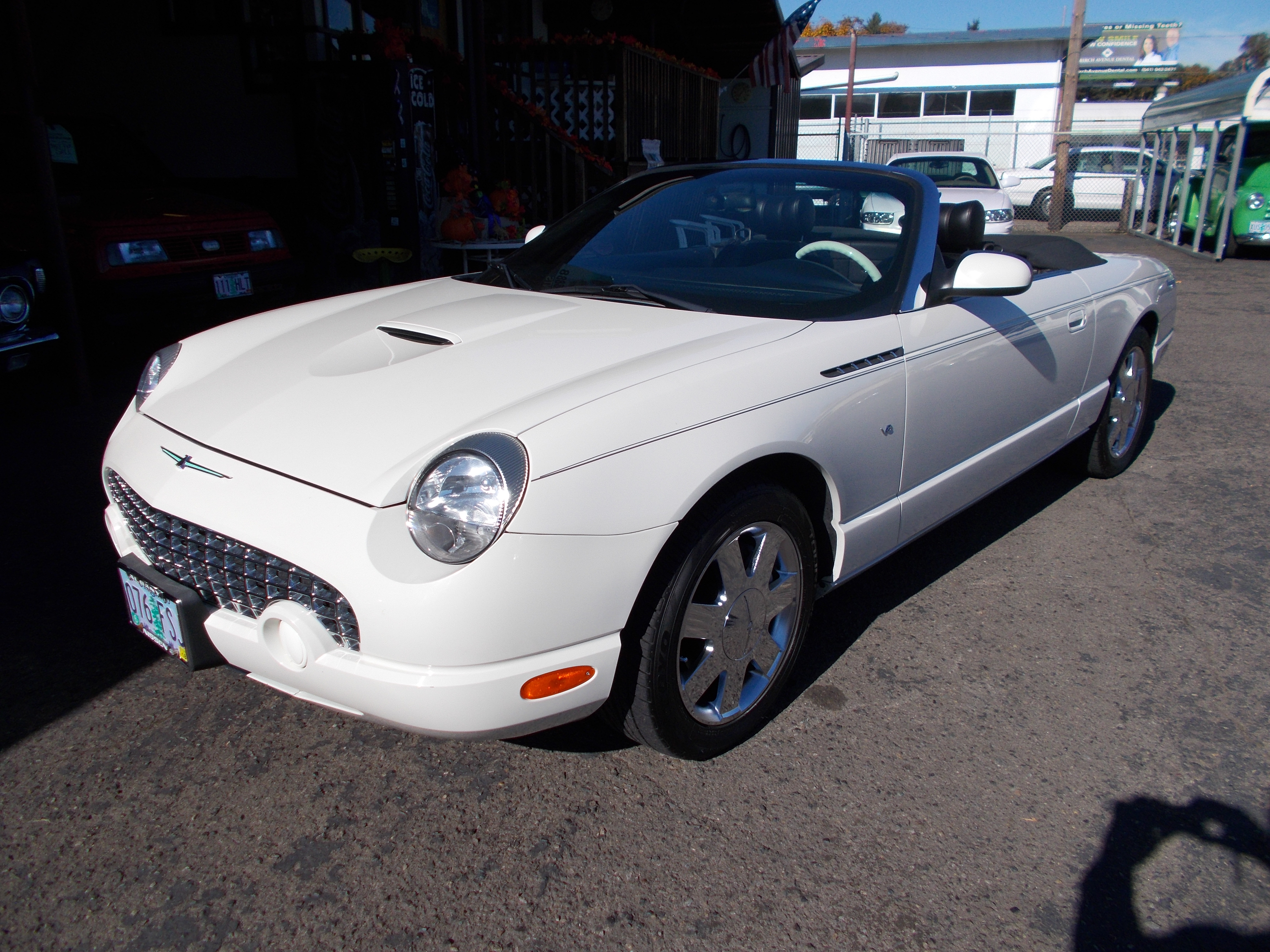 2003 Ford Thunderbird convertible. 3.9 Liter V-8, Auto transmission. Rare color combination - Whisper white ext. w/white and black interior. All factory options. Black soft top no rips or tears, white hard top w/storage rack and cover. New Les Schwab Toyo tires and battery. Car has always been garaged kept and looks new inside and out. 85,945 miles on car and looks new under hood also. Car has been driven 6,500 miles a year for past 13 yrs so it is not a car that has just sat and dried up all the seals, All maintenance up to date. Original sticker price of car was $41,000 # A-2033 Now asking $14,500 NOW! $13,500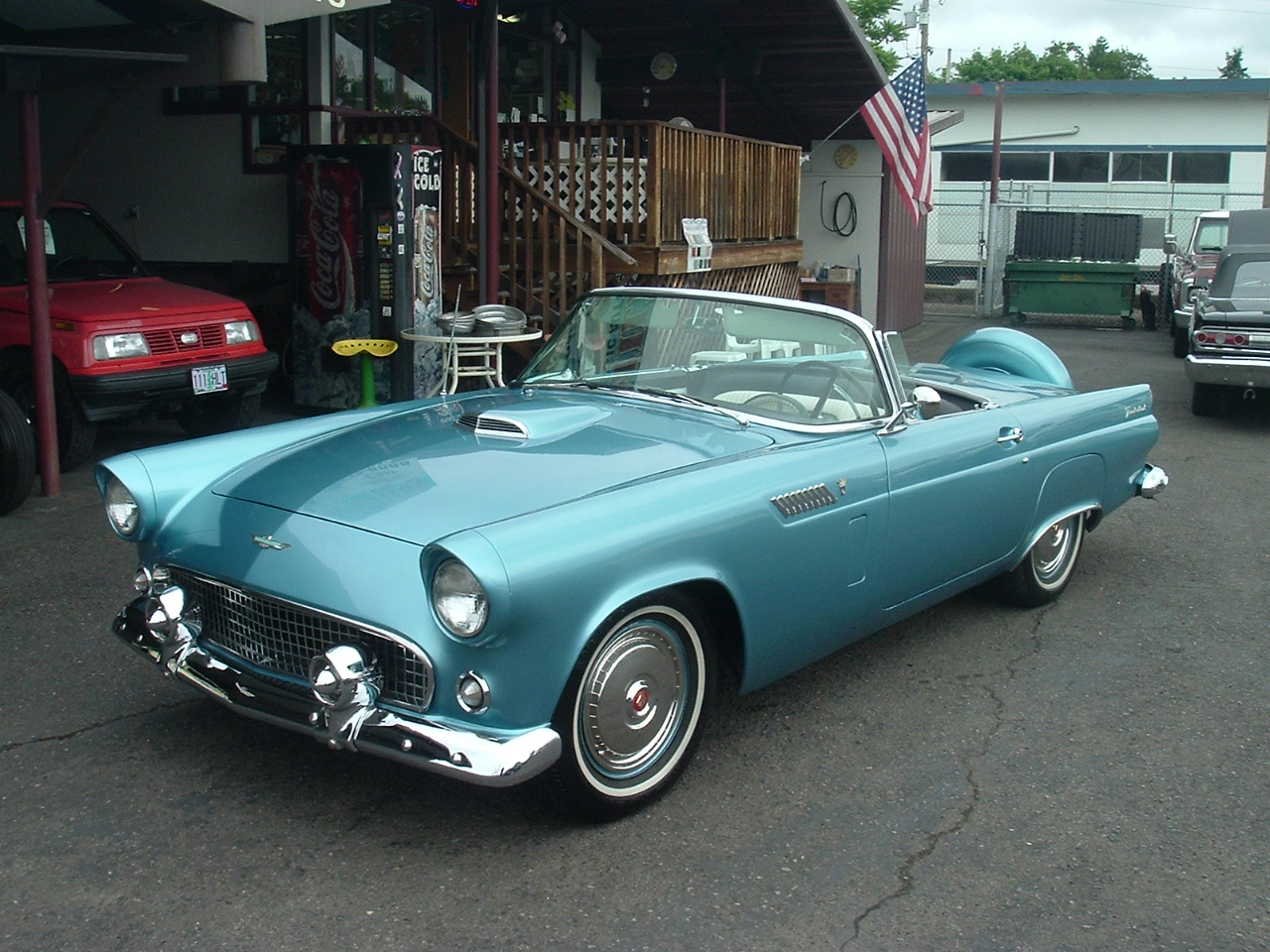 1956 Ford Thunderbird both tops. 312 V-8, Automatic transmission. PS. Car was restored around 15 years ago and still looks fresh and has had many recent things done- Seat covers, arm rests, sun visors and floor mats. New brakes, shocks and rear axle bearing. Chrome front and rear bumpers and parts. Tune up- points, condenser, wires and plugs. Fuel system- Tank, lines, Carb. and fuel pump. Vacuum wiper motor rebuilt. Radio rebuilt. Rebuilt driver door regulator, Car cover. Matching hard top, the soft top is in the car complete but cloth top not in good shape. Excellent interior with power windows and power seat. This car has excellent body and paint and stands tall everywhere you look. # A-2017 $39,950 NOW! $34,950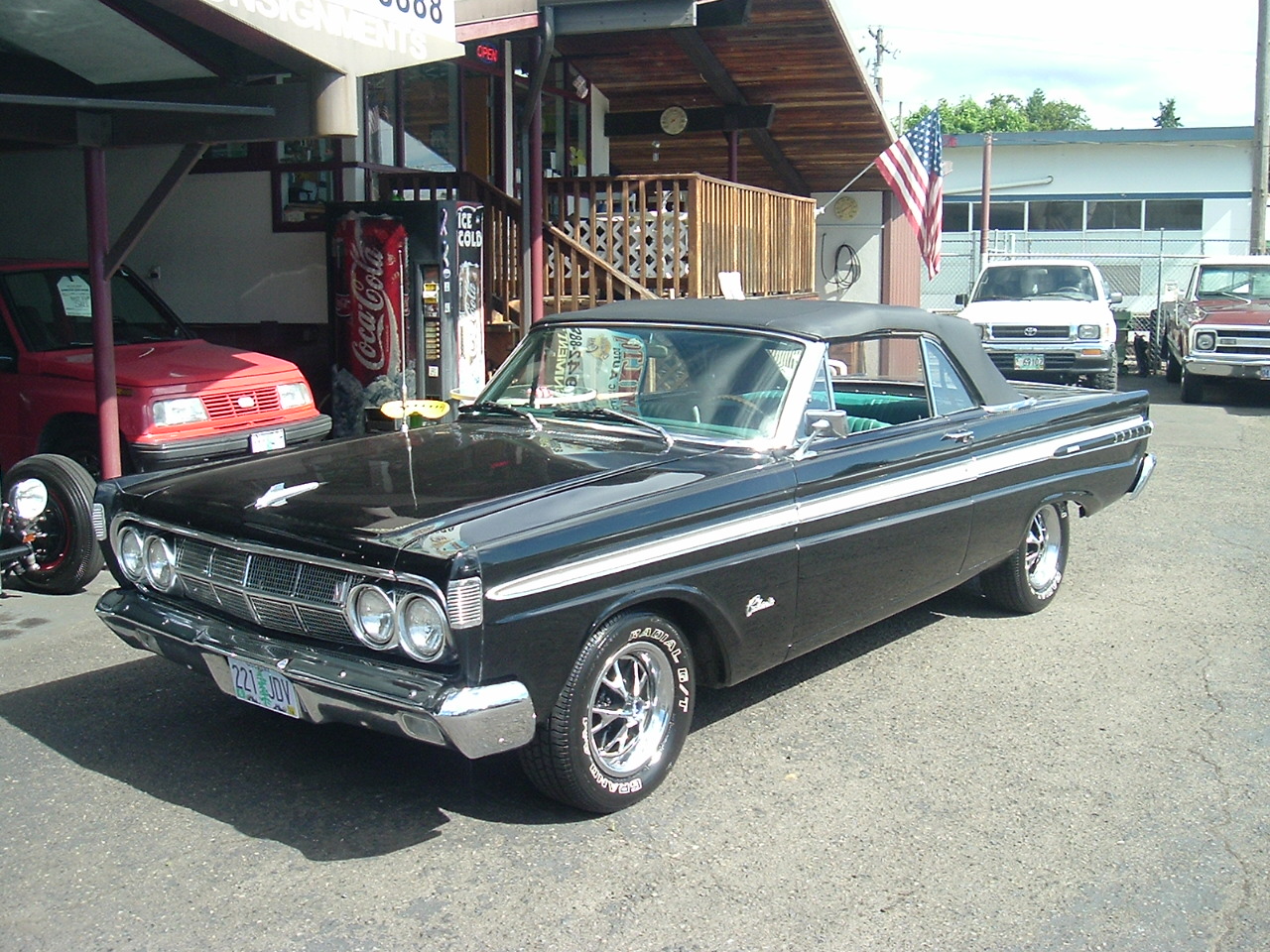 1964 Mercury Comet Caliente Convertible. 289 V-8 rebuilt with less then 1,000 miles. C-4 auto transmission. PS, PB, New power top works great. Paint is less then a year old and body is straight and considered rust free. Interior is original in decent condition, has factory Merc A/C unit under dash not hooked up. New tires on Mustang rally wheels. I have spec sheet on motor rebuilt stock and has 4bbl. carb and new dual exhaust. Production for this car is 9,039. # A-2019 $16,950 NOW! $13,950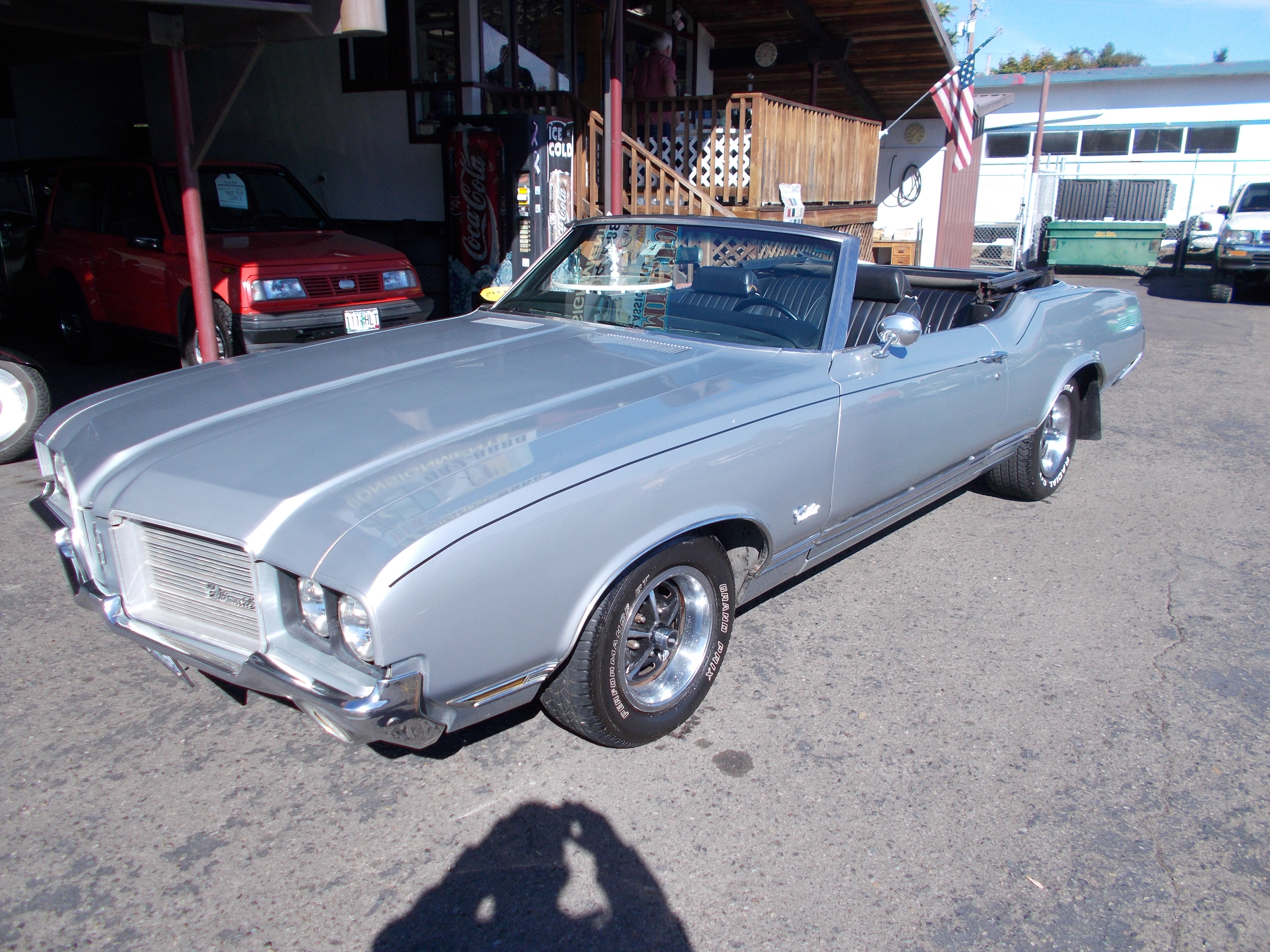 1971 Olds Cutlass convertible. 350 olds V-8, Auto transmission, 1 family owned. PS, PB, PW, P-top, A/C not working. Body is straight, was told that the only body damage ever on car was that the passengers front fender was bumped while car was parked and they replaced it. Car was painted once in the mid to late 90's, paint still looks pretty good, there are some small rust bubbles under paint in spots and the rear drivers quarter panel has a pretty good sized spot of rust down low ( you can see it in pictures ) The floor pans and trunk look good and solid. Interior is original and in pretty good shape for the year of car. The power Top is in real nice condition and goes up and down excellent. Runs and drive great. This is a nice cruiser as is, or one of your easier projects. # A-2032 $8,950 SOLD!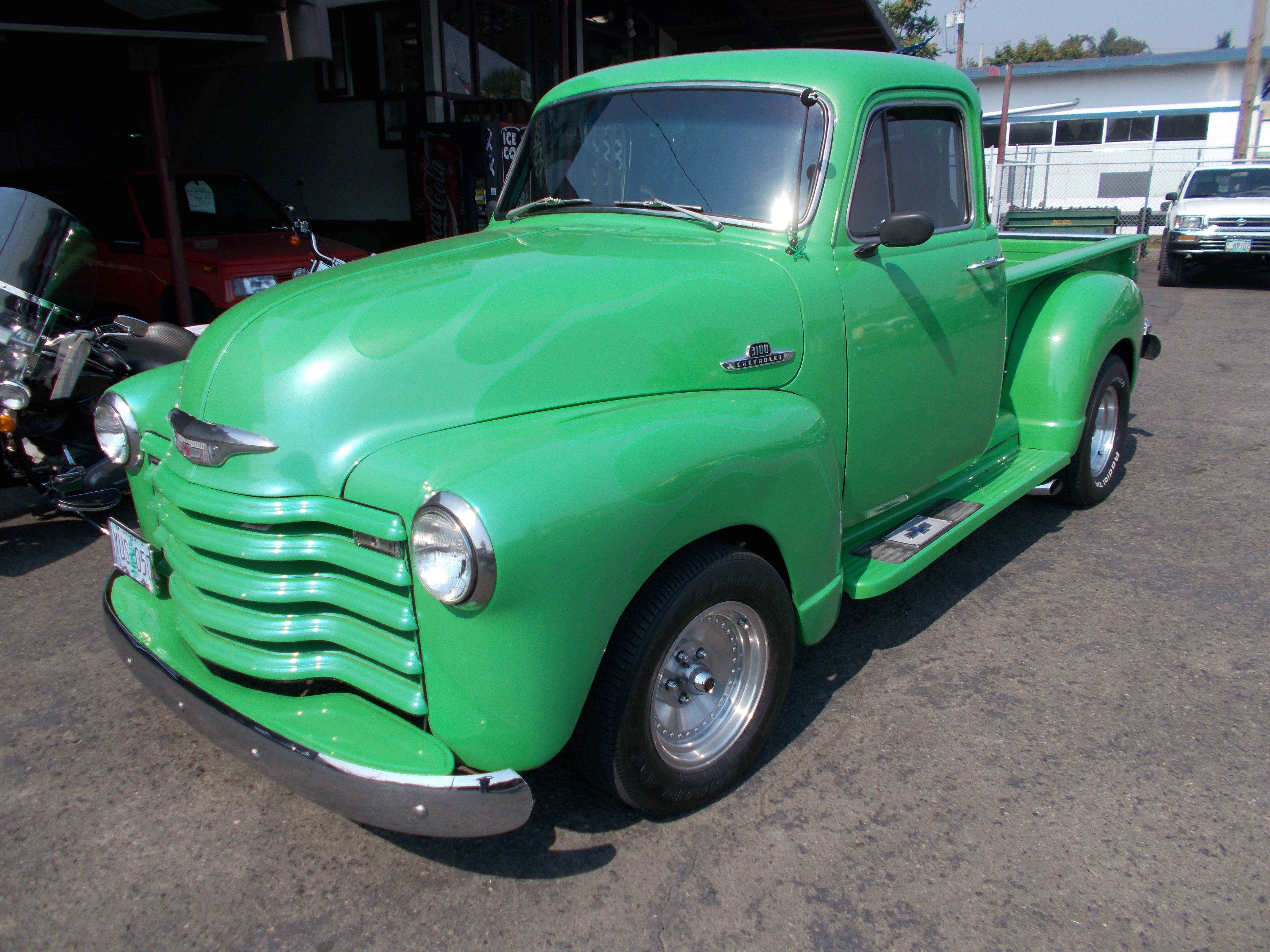 1955 Chevy 3100 Pickup 1st series 5 -window Street Rod. 283 V-8 - power pack heads, rebuilt 3 - 2 barrel carbs w/progressive linkage, Headers, new exhaust, new Napa water pump and 100 amp alternator, new belts and hoses. 5spd manual transmission out of S-10 pickup. Camaro front suspension, Chevelle rear end. New fuel tank installed under bed, New mahogany wood bed, Truck has all new wiring. Interior - 2002 Leather Monte Carlo bucket seats (Drivers is electric) All new Autometer gauges, 1100 watt stereo system. Body - 1955 5/window cab and 55 bed, front fenders and grill are 47-52. This truck is very straight and solid with excellent paint. All chrome and glass excellent. Very nice truck ready to cruise or show! # B-1774 $21,500 NOW! $19,500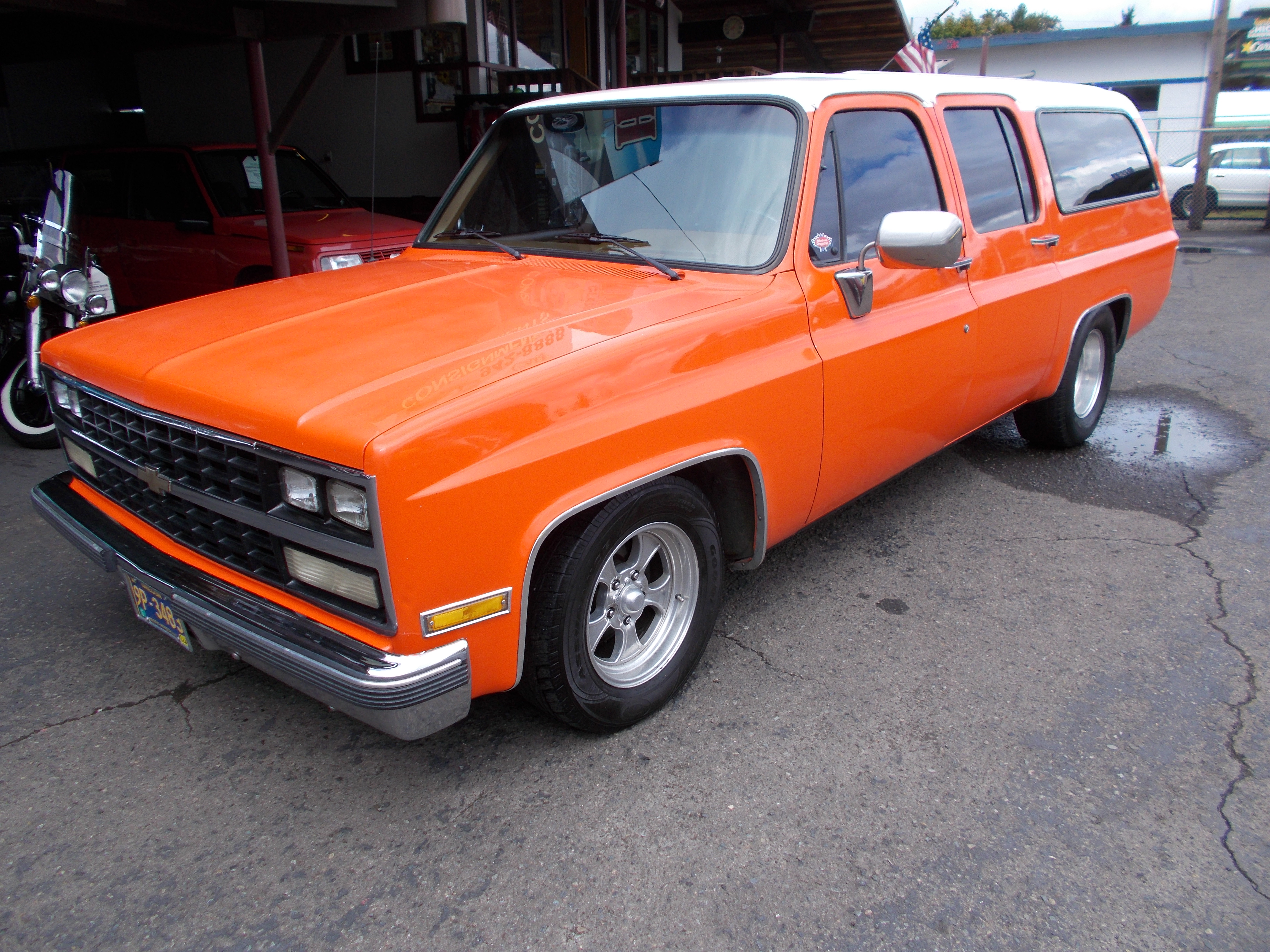 1989 Chevy Suburban 2WD. 350 V-8, 700R4 Auto transmission. PS, PDB, PW, PDL, A/C. Nice solid and straight body w/custom paint, rear roll pan w/custom dual exhaust. New front springs and shocks, New battery, gas filter, EGR valve and wiring harness in steering column. Real clean interior, there is a 3rd seat in the back that dose not match the original interior. American Racing wheels. Drives out excellent. # B-1775 $9,950 NOW! $8,950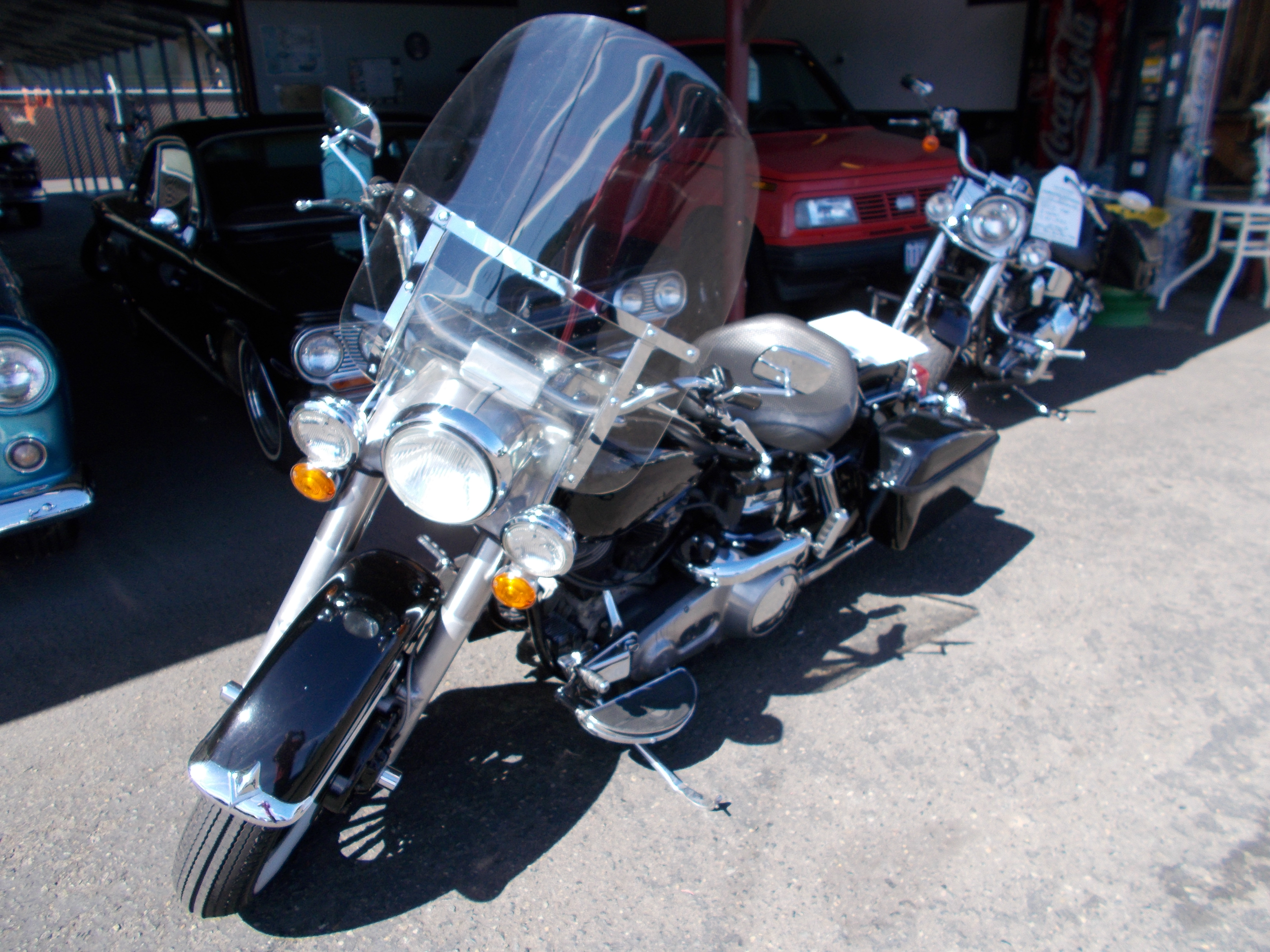 1978 Harley Davidson FLH. 74 cu. in. Shovel Head, Motor updates - New .010 over sized pistons, Andrews 'B' grind Cam, New style Teflon valve seals, Jims big pushrod rollers, SS solid pushrods, SS carb, Dyna electric ignition w/ dual coils, Speedometer was replaced when work was done and show 11,000 miles. 4spd. transmission, Disc brakes front and rear, Swing arm frame, 5.00-16 tires front and rear, 5 gallon tank, 20-50 wt engine oil, Syn. trans oil. Very good condition. # C-236 SOLD!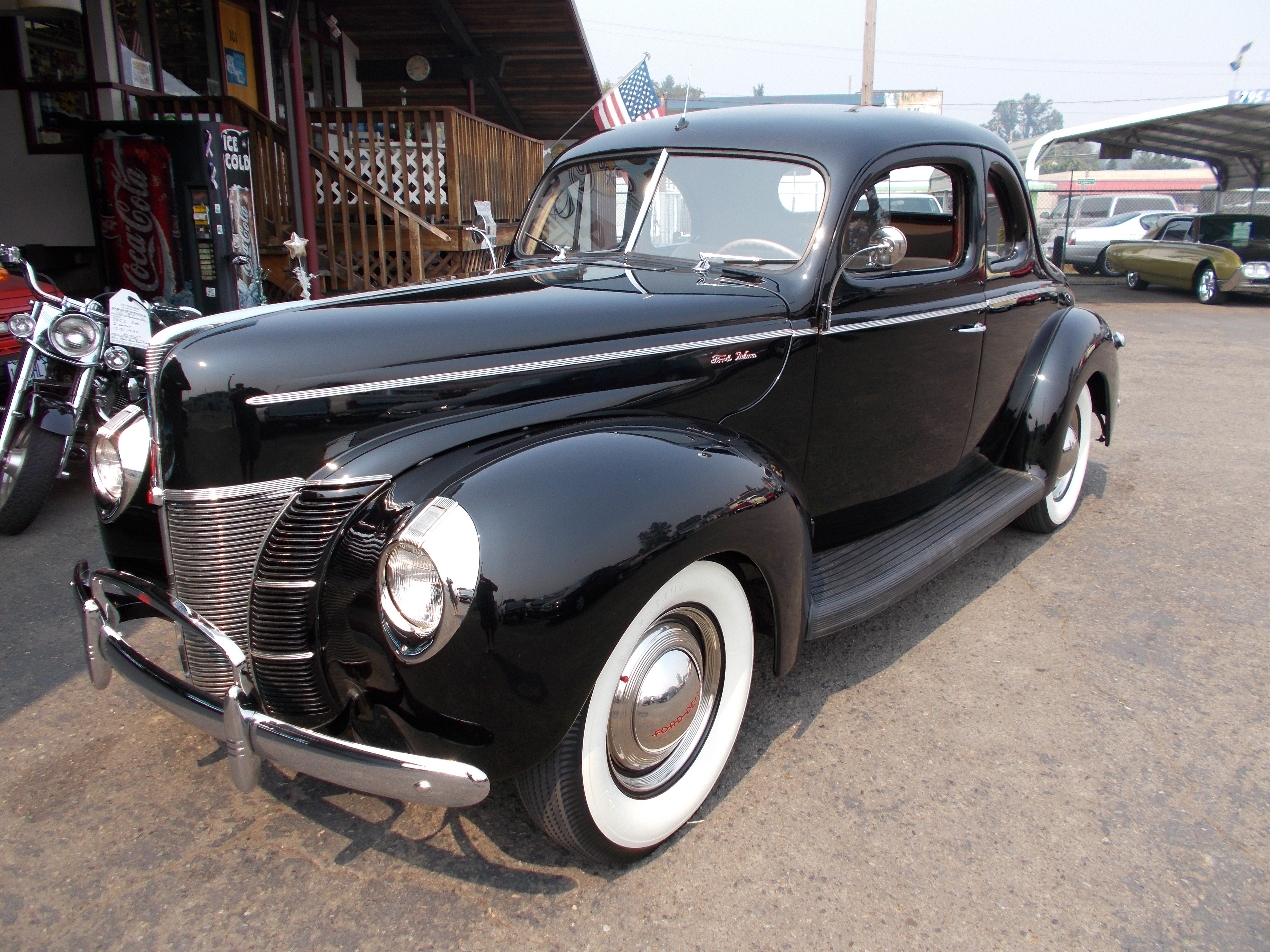 1940 Ford Business Coupe. 2 owner Car same owner past 30 years.This is one of the nicest stock 40 Ford coupes around. Original Flat Head V-8 w/ 3spd. trans. Car was restored 30 years ago and has all of its original steel with no patch panels. All original bumpers rechromed - no reproduction parts. Interior is correct La Baron Bonney mohair with wool carpet, Painted wood grained around door windows. correct paint on dash. This car started with amazing body, so all body lines Fit excellent and car is painted back the original black color - high quality paint. when restored all mechanical things were gone through. New original wiring harness, rubbers, felting ect. basically every bolt and nut on this car was removed when restoration was done. ( No corners cut ) They also restored the original tool kit. The under carriage of car looks as nice as the rest of the car. A Couple of things not stock, car has dual exhaust and there is and inline electric fuel pump hooked up to toggle switch under dash in case original pump were to fail, the original style clock in dash works off battery, the radio dose not work. Car has had the speedometer started over when restored and has 5,820 miles since completed. Car runs and drive like new. No disappointments. # A-2026 SOLD!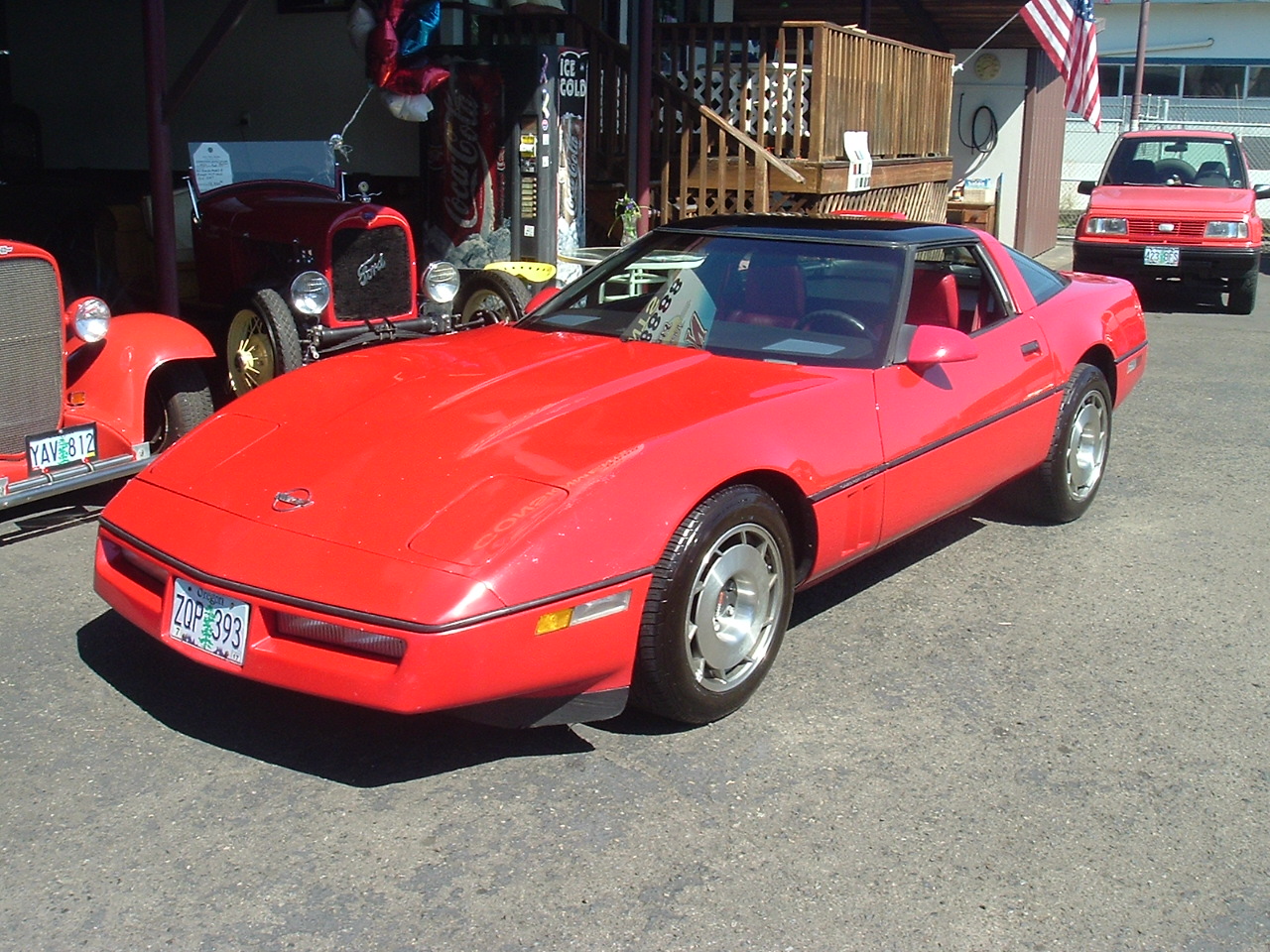 1987 Chevy Corvette. Rebuilt 350 V-8 with less then 5,000 miles. Auto transmission. PW, PDL, A/C, CC, Stereo, Leather seats, smoked top, Body and paint in good condition - Now the clear coat on top of car is starting to peal. New tires and battery. # A-1071 $6,950 NOW! $4,950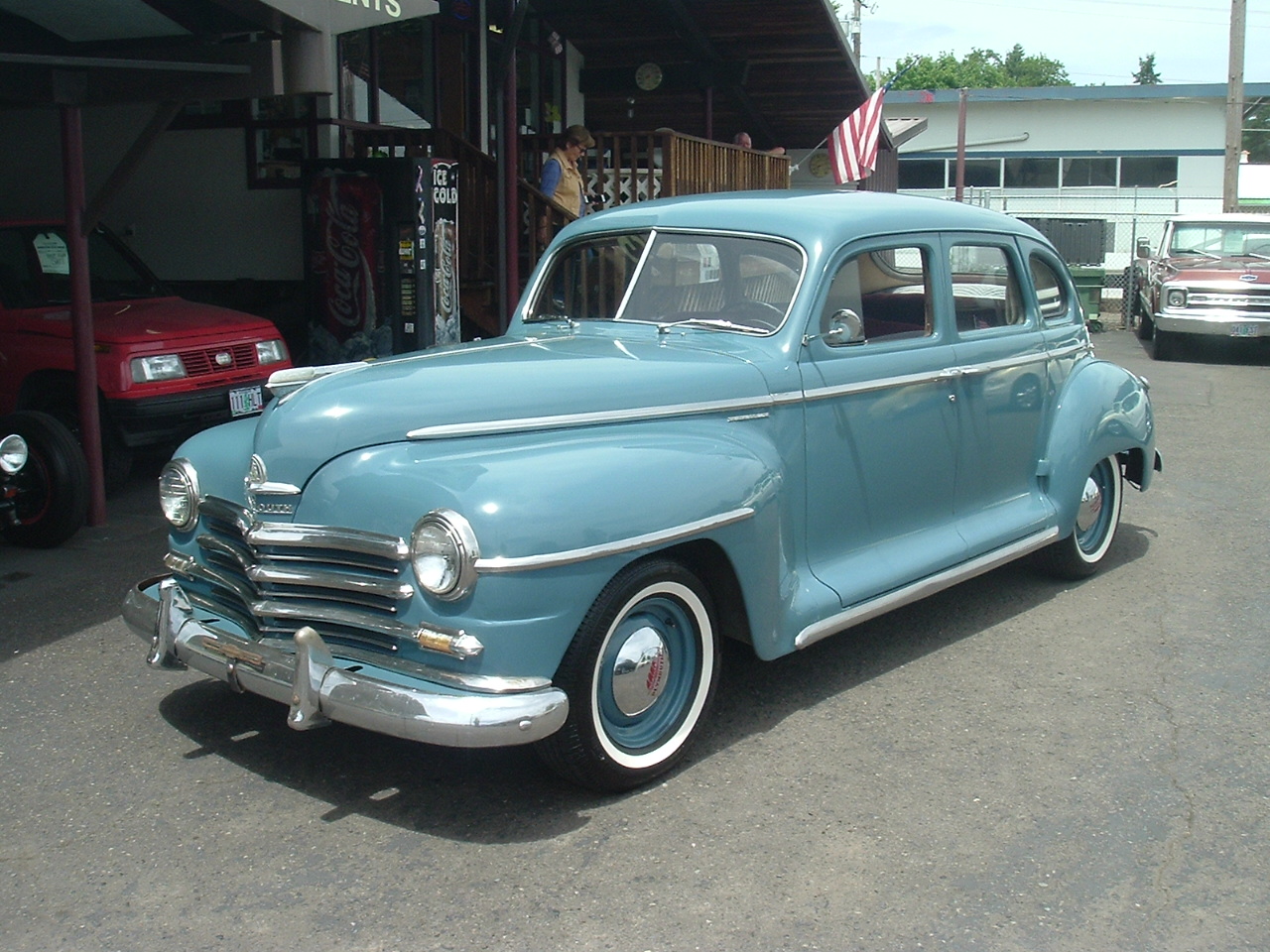 1948 Plymouth 4dr. Sedan. Flat Head 6cyl., 3spd.Trans. W/column shift. Good solid and straight body with good paint. Undercarriage and trunk pan solid. Stainless and chrome original and just fair condition. Newer interior, glass original and good except drivers door glass has crack, Original Gauges, heater and turn signals work good. Motor runs good and don't smoke. New radial tires. This is a nice looking old car and a cheap way to have a cruiser or show and shine classic. # A-2016 $7,950 NOW! $5,950 SOLD!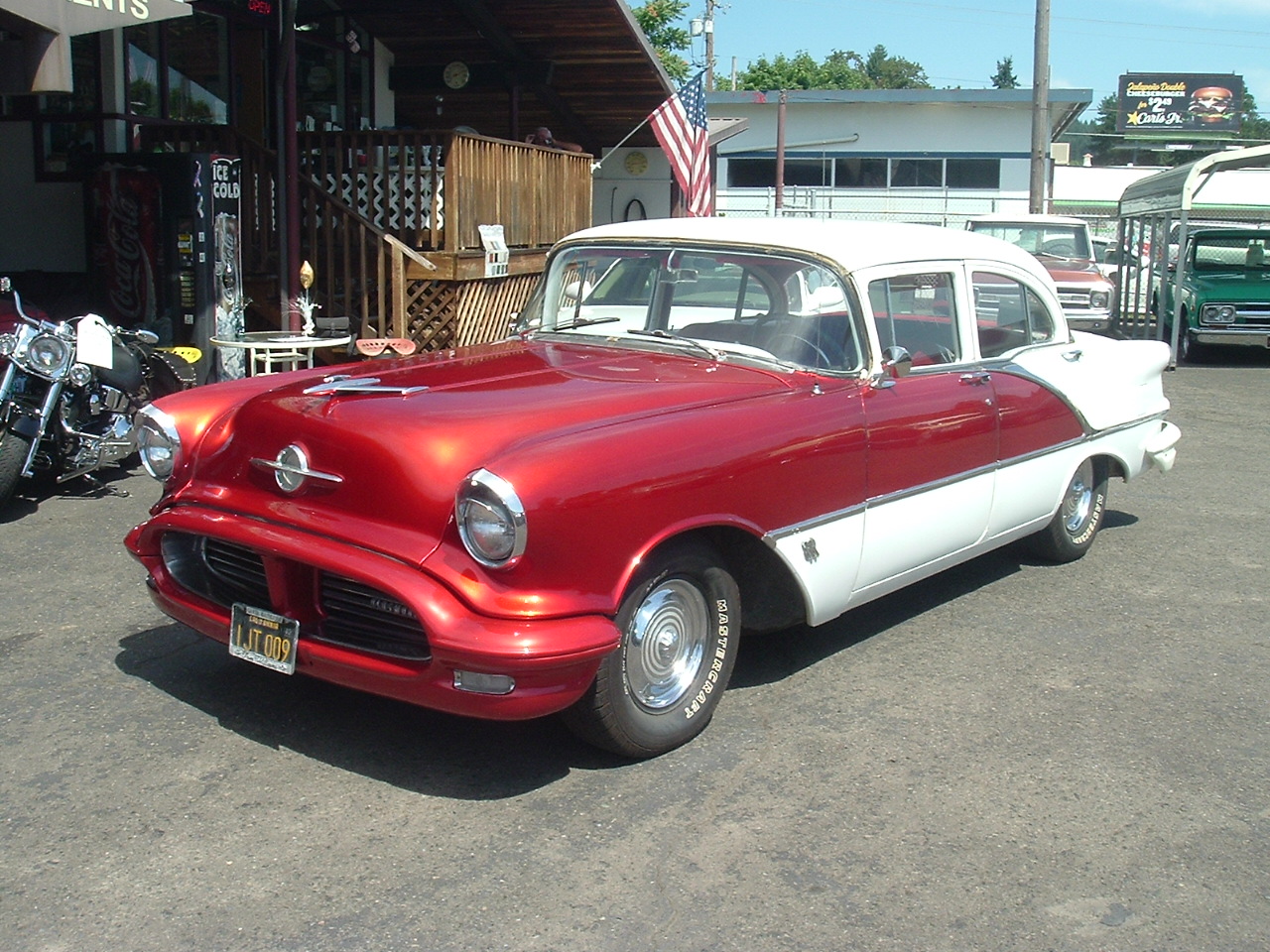 1956 Olds Super 88 4dr. 324 V-8, auto transmission. Motor and transmission rebuilt and have the paper work. Power steering, Power Brakes, Factory A/C don't work but looks to all be there. New cloth interior and Head liner. Body is very straight and solid with nice newer paint. Car has new rubbers for the front and rear windows in trunk with original stainless to be installed. This is a good buy for someone looking for cheap cruiser ! # A-2024 $4,950 SOLD!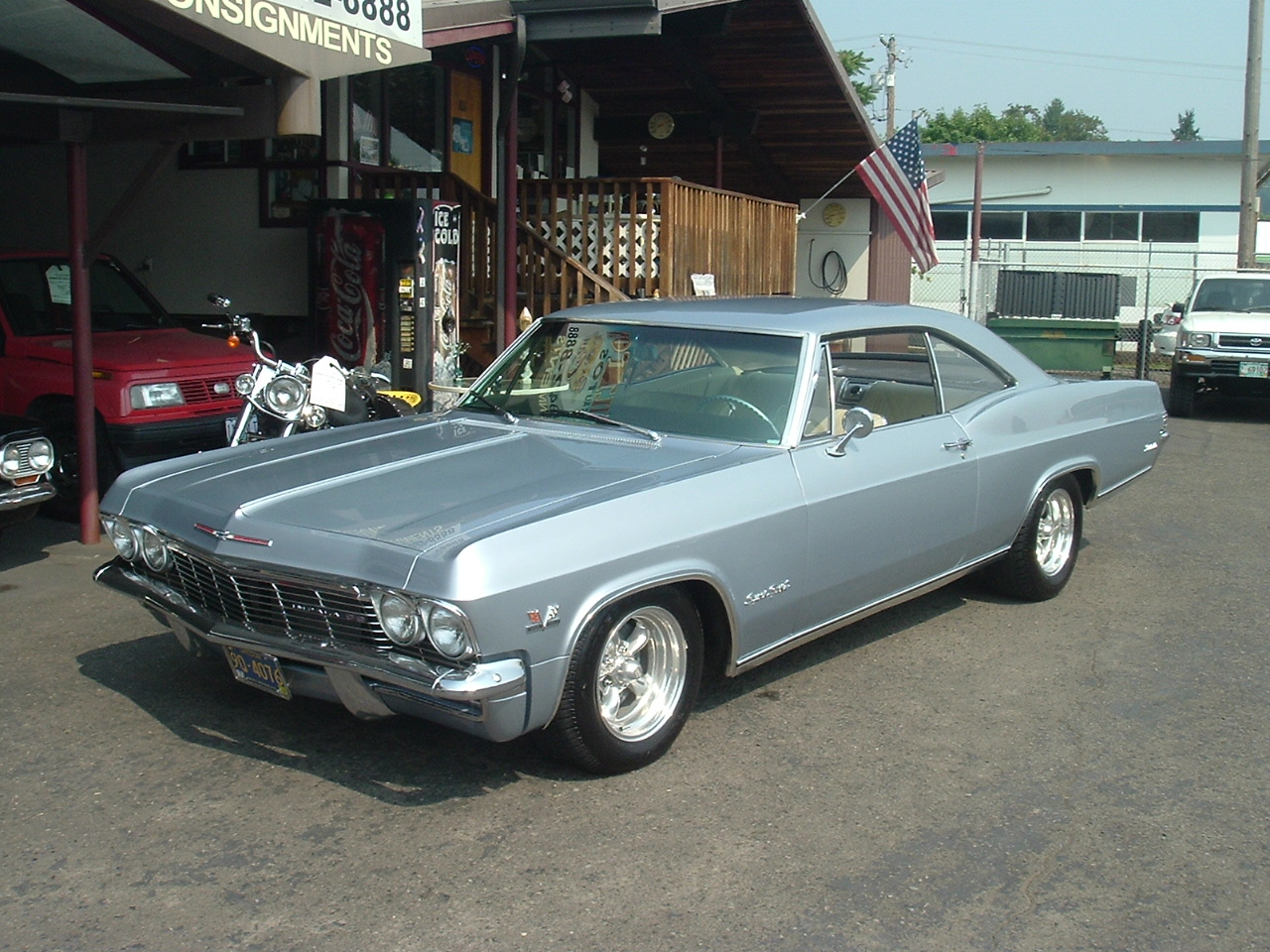 1965 Chevy Impala Big Block. 454 V-8, Muncie 4spd. PS. Car has SS features but is standard Impala. Car was taken down to bare metal 3 years ago and had one small spot of rust cut out of drivers door and rear fender. Very solid car with excellent body lines and paint. Car has Ivory or tan SS interior in excellent condition. All chrome, glass and trim very nice. All new poly urethane bushings. The Muncie 4spd. is rebuilt and is correct era to car 65-68. Here is the casting # off the block - 14015445 and there are pictures of the Data plate and VIN. Very nice running and driving car ! # A-2025 SOLD!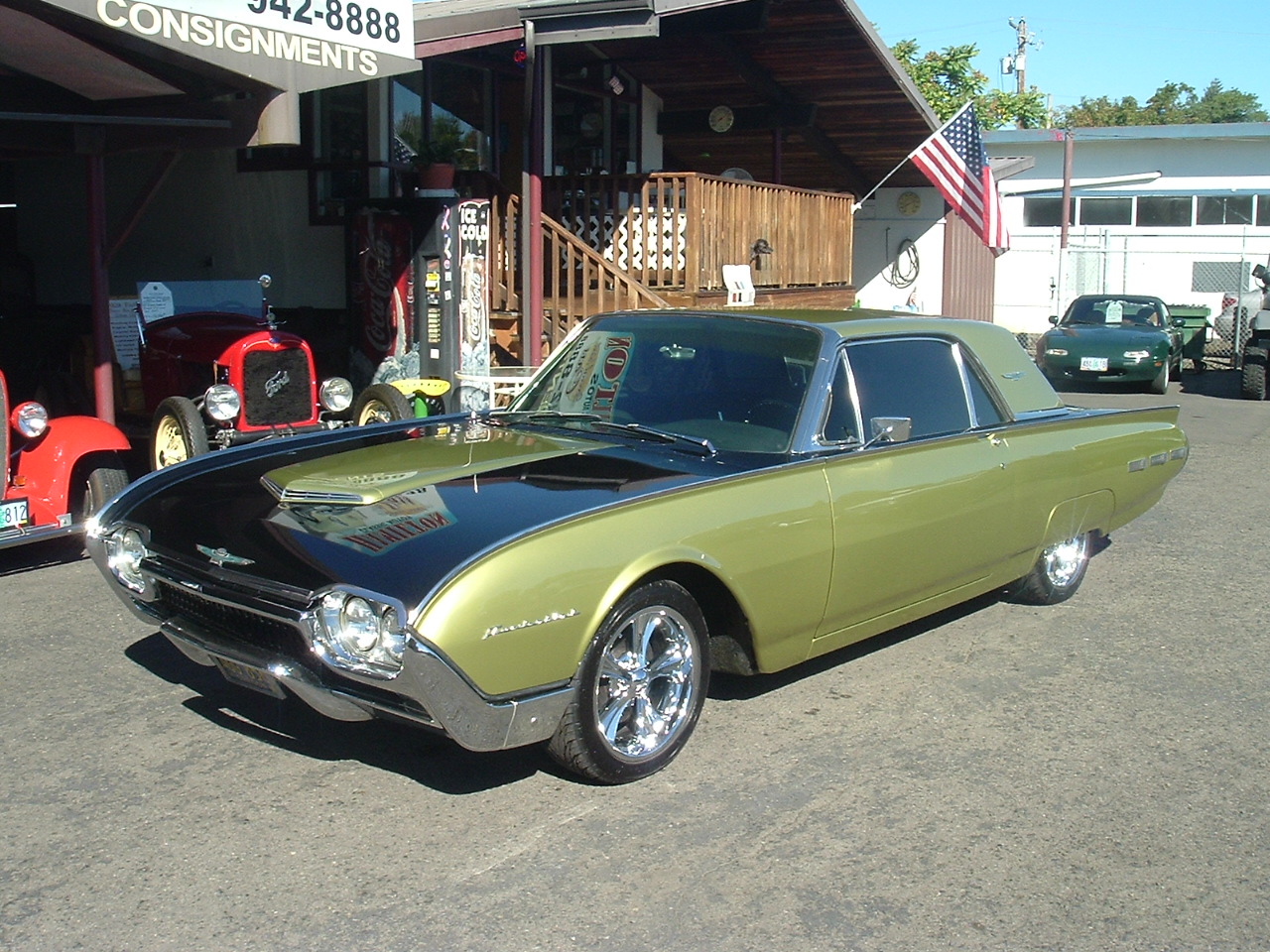 1962 Ford Thunderbird. Rebuilt 352 Big Block V-8 bored 40/over, rebuilt auto transmission with less then 300 miles. PS, PB, PW, PDL, A/C. Painted 2 years ago, high quality body and paint work. All new rubbers and stainless when painted. Interior all original and nice except looks like the front seats have been recovered at some point with correct material. Other things new or rebuilt - Exhaust $1,800, Tinted glass, trunk kit, Heater core and heater control valves, Radiator, Hoses and belts, Alternator, battery, water pump, A/C. Upper and lower control bushings, Ball joints, Strut pods bushings, Shocks front and rear, Complete brake job, 17.5 Boyd Coddington wheels w/ new tires. Super sharp car throughout! # A-1982 $19,500 NOW! $16,500 SOLD!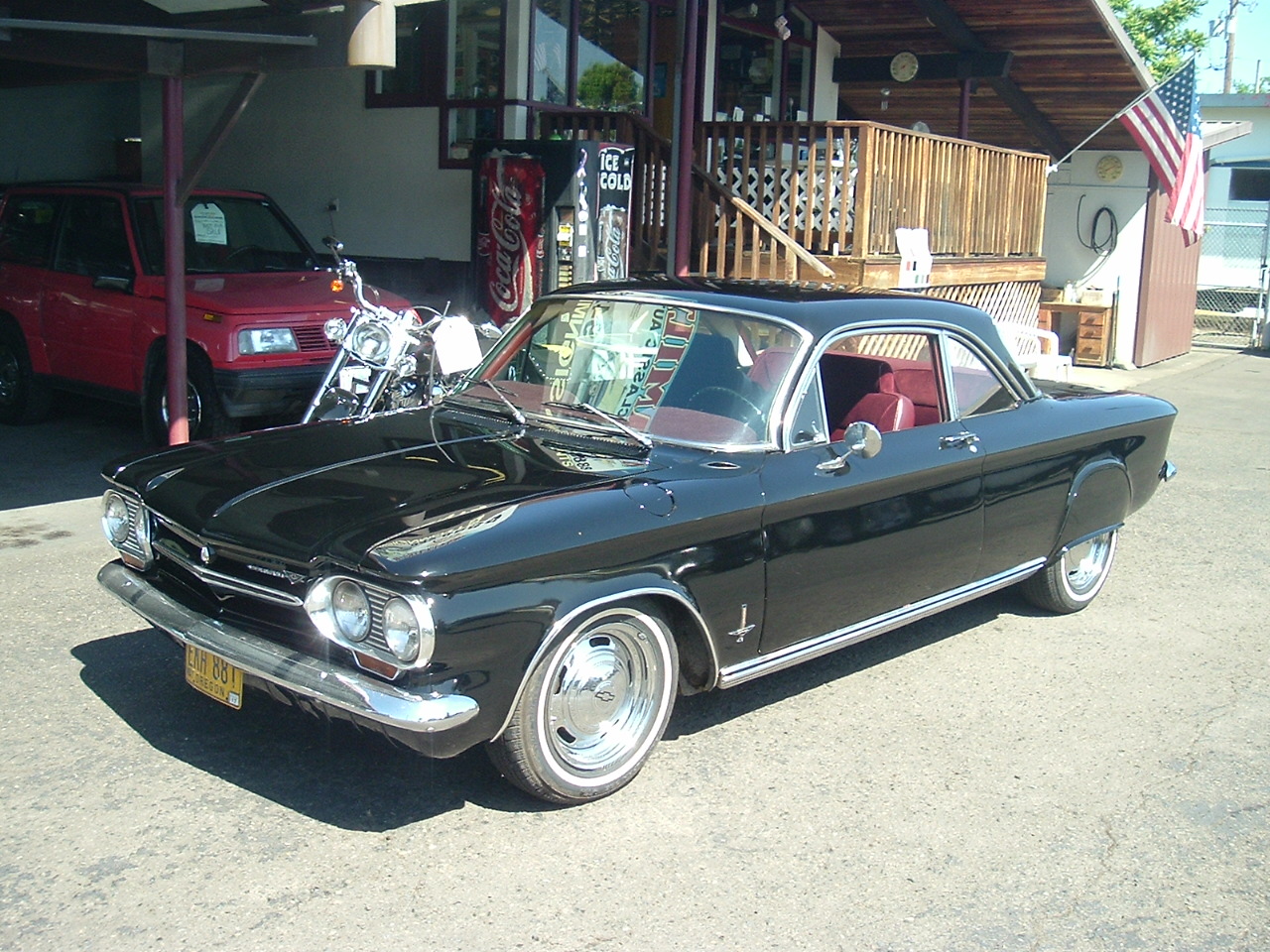 1963 Corvair Monza 900. complete motor rebuild. Automatic transmission. Newer Torque converter and brakes. Recent paint, body is super straight and solid. Custom interior. Custom exhaust. Nice hard to find car ! # A-2021 $7,950 NOW! $5,450 SOLD!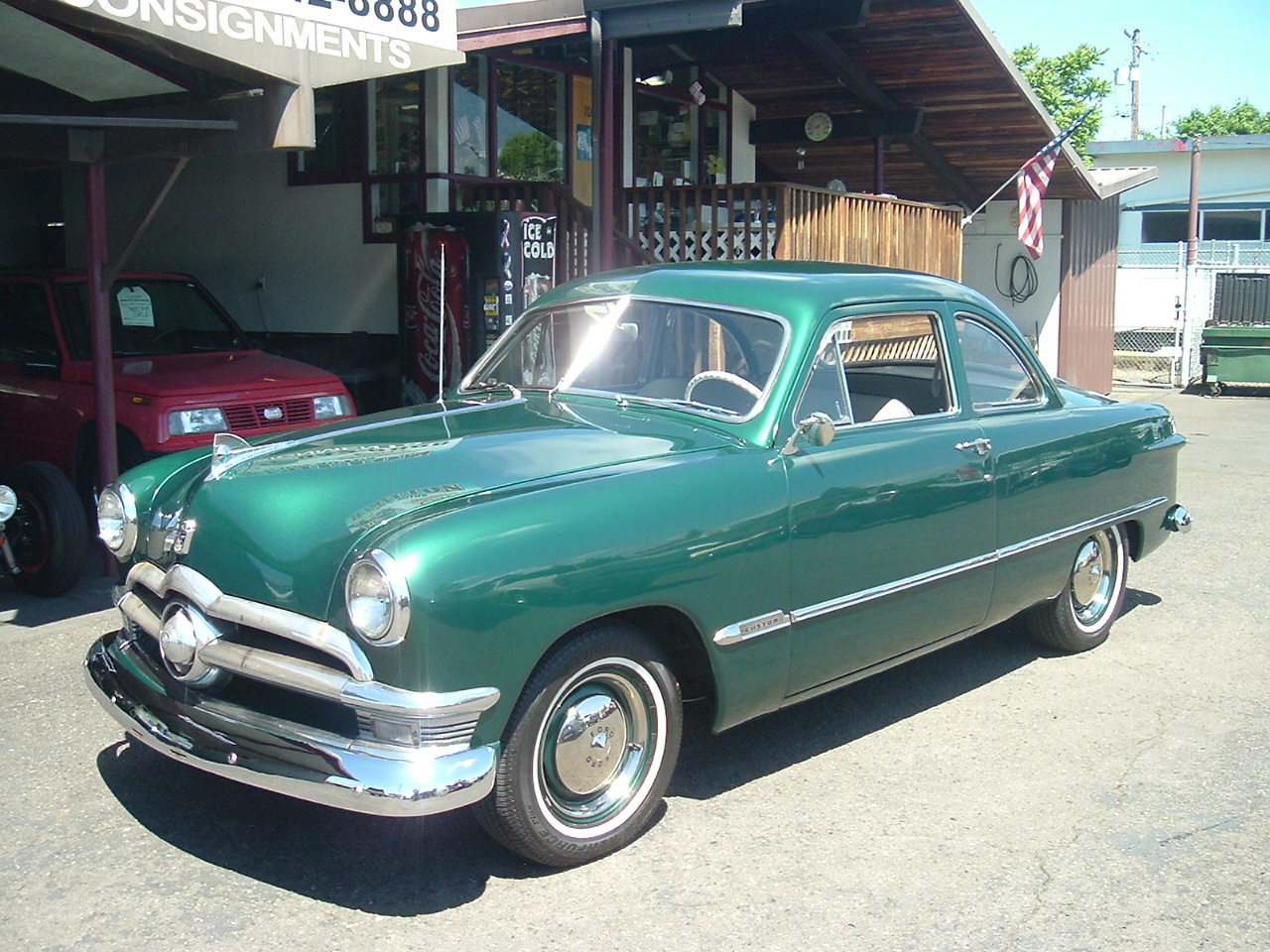 1950 Ford Club Coupe. Flat Head V-8, 3spd manual transmission. Restored approximately 12 years ago and looks fresh. Body and paint excellent and solid with nice lines. Interior to-tone green and gray vinyl/cloth, looks new. nice glass with newer weather stripping. Matching fender skirts. Chrome and stainless excellent, the chrome on grill is weak with the nickel showing through. The flat head motor runs perfect and has dual exhaust. Radial tires. Super nice Coupe through out ! # A-2018 $21,500 SOLD!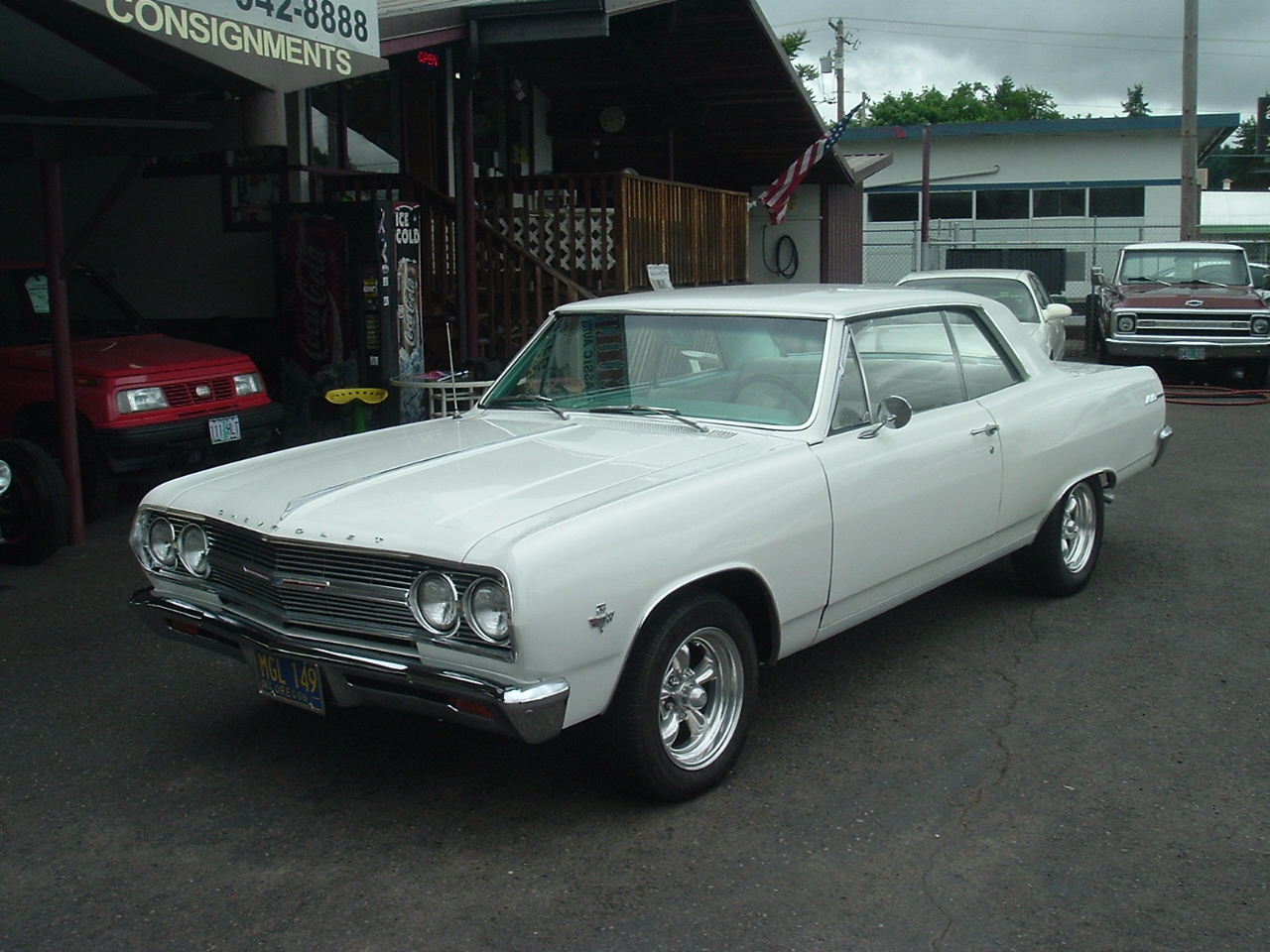 1965 Chevelle Malibu 2dr. Ht. 283 V-8, Power Glide auto transmission. Power steering, Power front disc brakes, Power drum rear. Body is solid with nice paint, floor and trunk pans look excellent. Motor and truck compartments detailed. Stainless and glass all good. Interior is excellent, seats have been recovered recently, not sure about door panels and carpet but look excellent. Newer tires and wheels. Motor has aluminum intake, Edel Brock carb, HEI ignition, Newer dual exhaust. Nice car through out, ready to cruise or show and shine. Here are the motor numbers- In front of head - F0308DE, Casting number off back of block - 3849852. # A-2015 $18,900 NOW! $17,450 SOLD!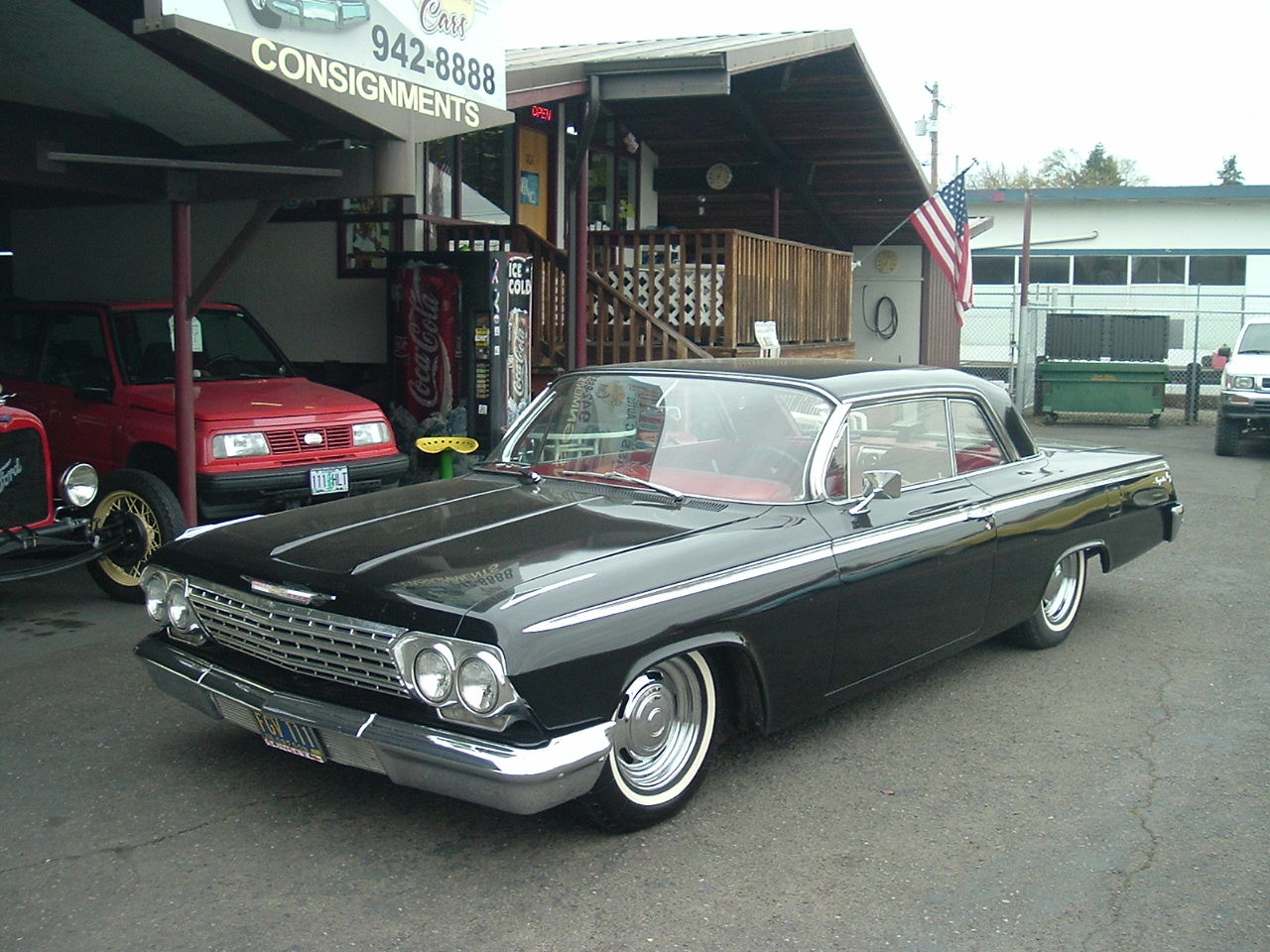 1962 Chevy Impala 2dr HT. 235 6cyl. Power glide automatic. In the truck there are used parts to put power steering and power brakes on car. Car drives and stops good just how it is. car has been lowered but still has nice ride. Body is solid with good line, paint is older but looks good. Glass, chrome and stainless all good, windows fit excellent and seem real tight going up and down. Newer interior in great condition. everything works proper on car and is ready for cruising and show & shines. # A-2007 $17,500 NOW! $15,950 SOLD!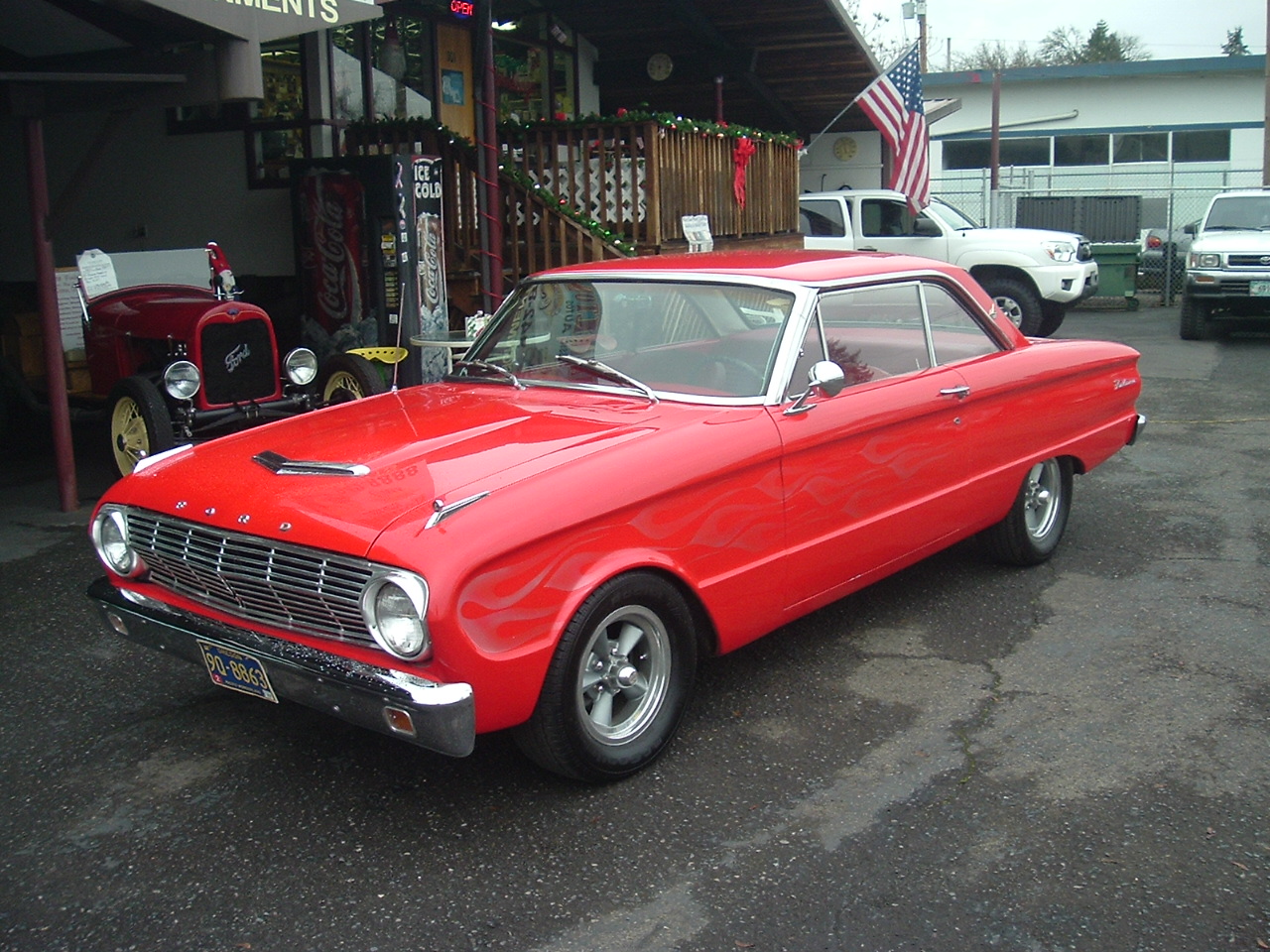 1963 Ford Falcon Futura 2dr HT. 347 Stroker V-8 with less then 300 miles, Top loader 4spd transmission. Power front disc brakes, Heidts complete front suspension, Shock towers removed, Rack steering, New posi rear end, New - Radiator, water pump, fuel pump, Fuel tank, Rear springs, Seat covers and carpet, Clutch, Starter, Carb, Wiring harness, Shocks, Tires and much more. Car was painted 25 years ago and has Ghost frames. Body and paint very good and after all these years it just as a couple rust bubbles above passengers rear tire. Rubbers ,Chrome, glass and stainless all good, Also have all of body side moldings that came on car in great condition. I have pages of thinks done to car not listed. # A-2001 $23,500 NOW ! $17,950 SOLD!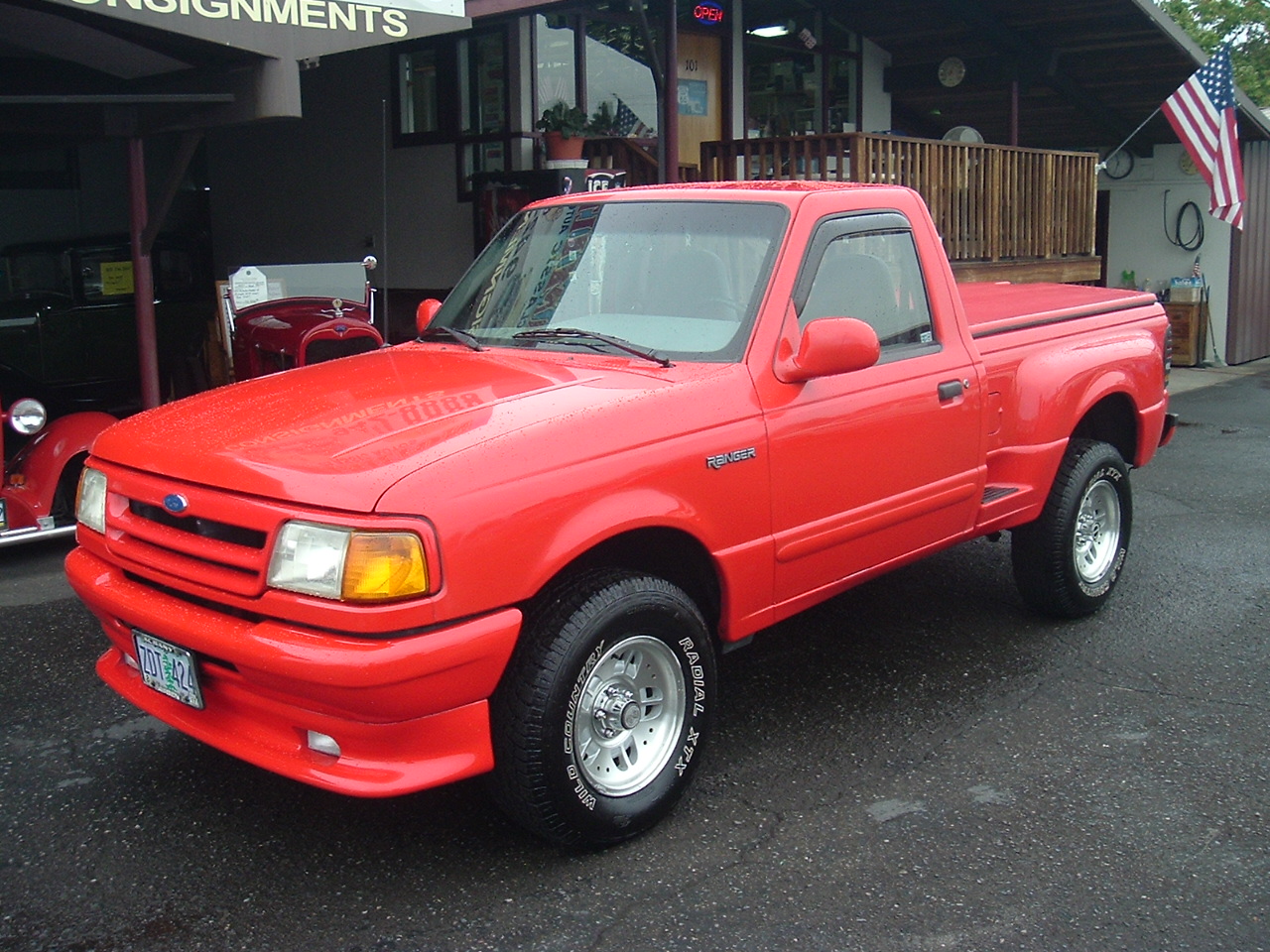 1993 Ford Ranger Splash 4x4, Only 86,368 Original miles. 3.0 V-6, automatic trans. PS. PDB, A/C, CC, PDL, PW, After market CD player. Super clean cloth interior. Original paint nice with no body damage. Hard bed cover and bed liner. Like new 235/75/15 Wild Country All terrain tires. Super nice truck! # B-1755 $6,950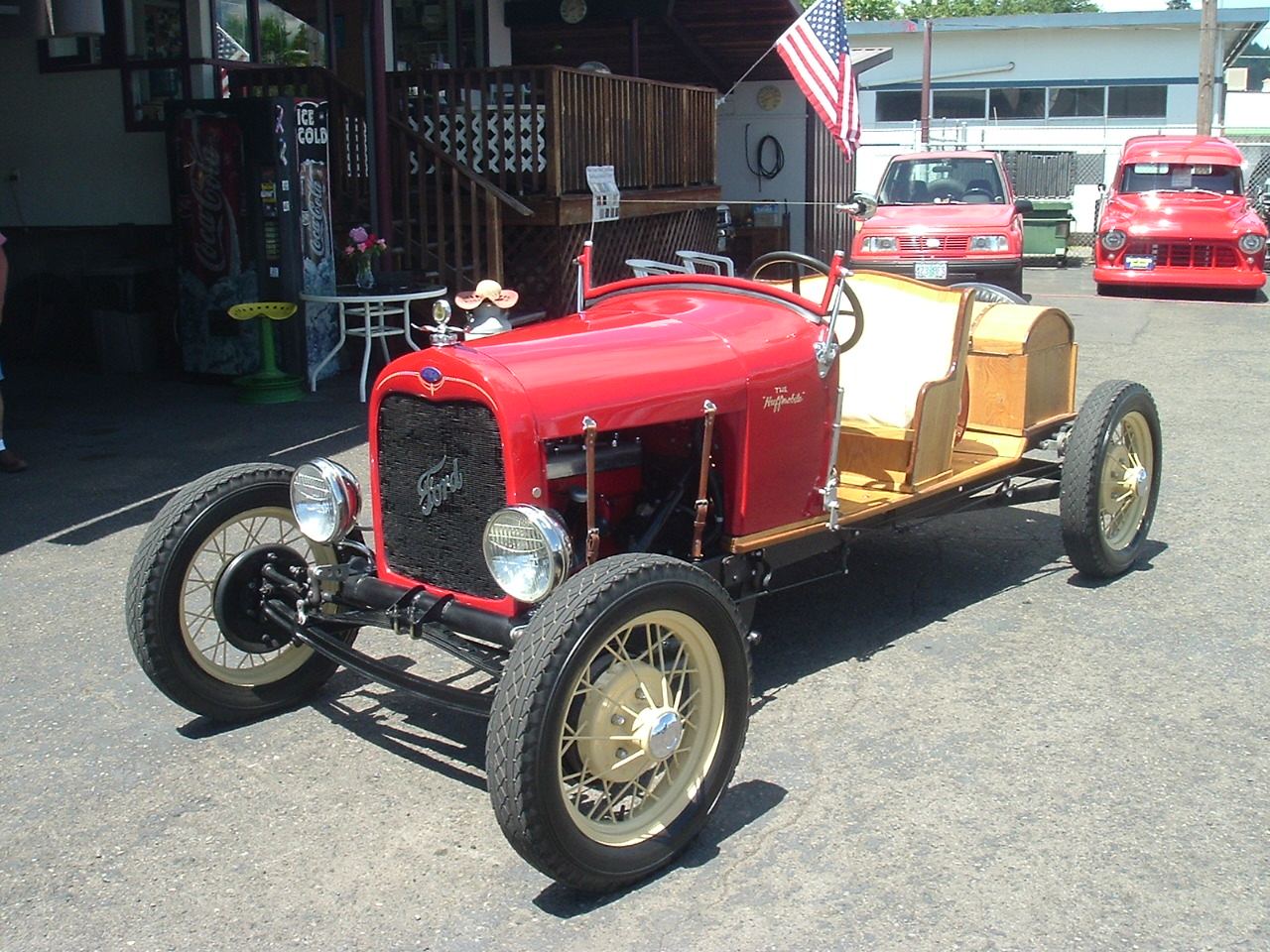 Speedster, Titled as 1927 Ford but all rebuilt Model-A other then 27 cowl. Custom built with only 1,127 miles since completed. Complete rebuilt custom 4cyl. model-A motor - New pistons, Manley stainless steel valves (larger intake valves), New valve springs, one piece valve guides, Mallory Distributor, Redline touring cam, Winfield head 7.5 -1 ratio, Winfield side cover, New babbited rods, New oil pump, Crank shaft counter weighted and balanced, 32 ford water pump, Custom exhaust and down draft intake with custom adjustable main jet Stromberg 97 carb. Has Model-A frame and running gear - Transmission rebuilt, Lowered suspension, After market adjustable friction shocks, Rear end gone through. Body is 1928 radiator, custom built hood and 1927 cowl w/custom windshield. Custom Model-A head lights, Turn signals, All custom wood back. This Speedster has lots of power and can cruise 60 MPH. # A-1968 $12,500 NOW! $10,950 SOLD!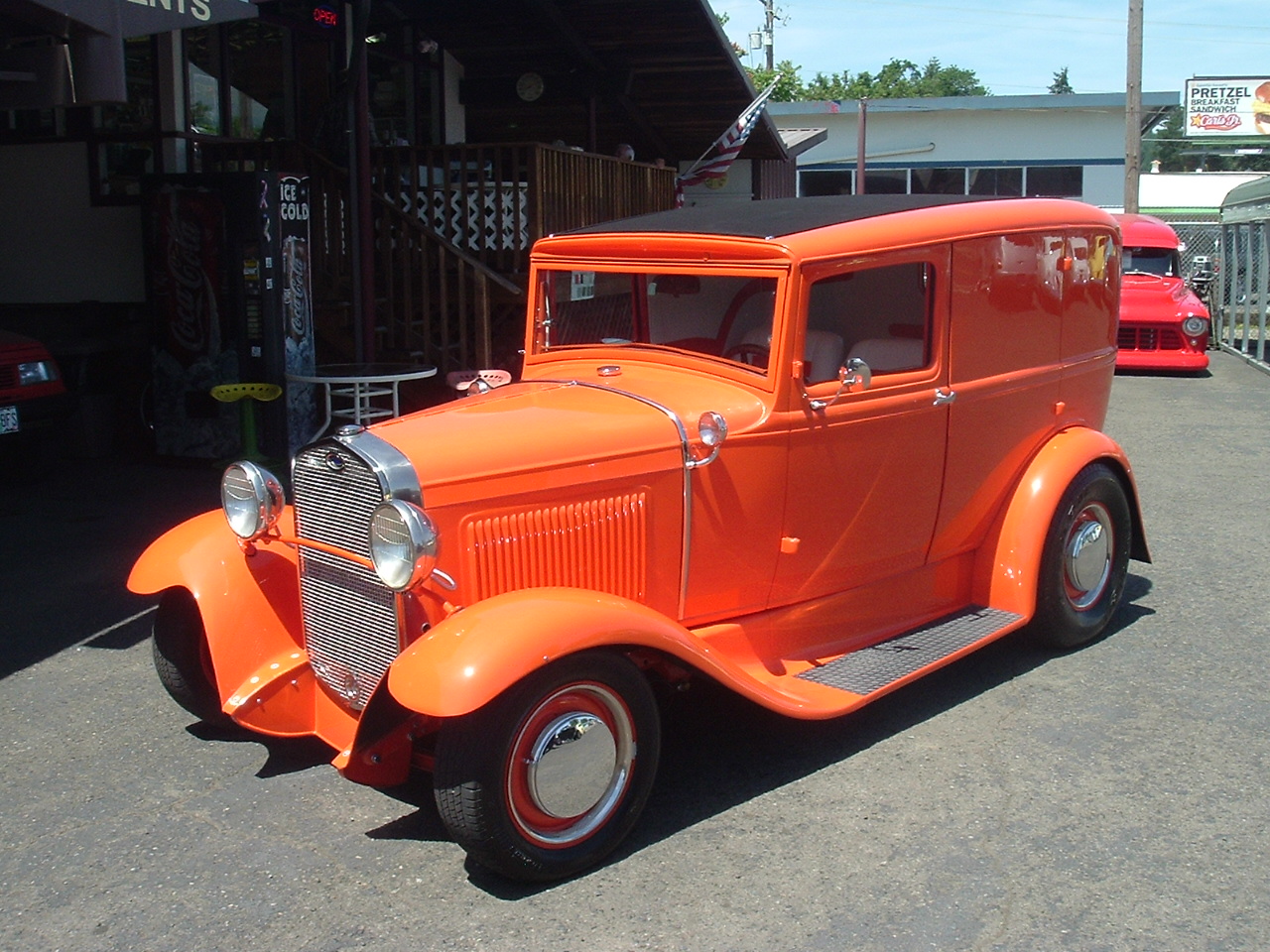 1931 Ford Model-A All steel Slant window Street Rod. Murry body. Custom 4dr. built to look like sedan Delivery. Rebuilt 302 V-8 with 1970 Cobra Heads and high lift cam. (have specs) New on motor - oil pan, timing cover, intake, 750 carb, Alt, fan, Harmonic balancer, Fly wheel, Starter, Dist and wires, Water pump. all with under 300 miles. C-4 automatic trans. Original frame boxed. 4" drop I Beam axle w/Disc brakes. Rear end is Ford 8" w/4bar & coil overs, gear Ratio is 3:78. A new 32 gas tank was installed. Body is all steel and rust free. Paint is single stage Polyurethane. Body is Murry 31 four door slant window with back windows filled in, rear exterior door handles removed but they still open from inside the car. New - Interior, Top, Glass, Hood, Front splash apron, Cowl lights w/turn signals, Wiring Harness, exhaust, Steering wheel, Master cyl. brakes. Super nice driving Custom Model-A ! 278 miles since completed. # A-1966 $34,500 SOLD!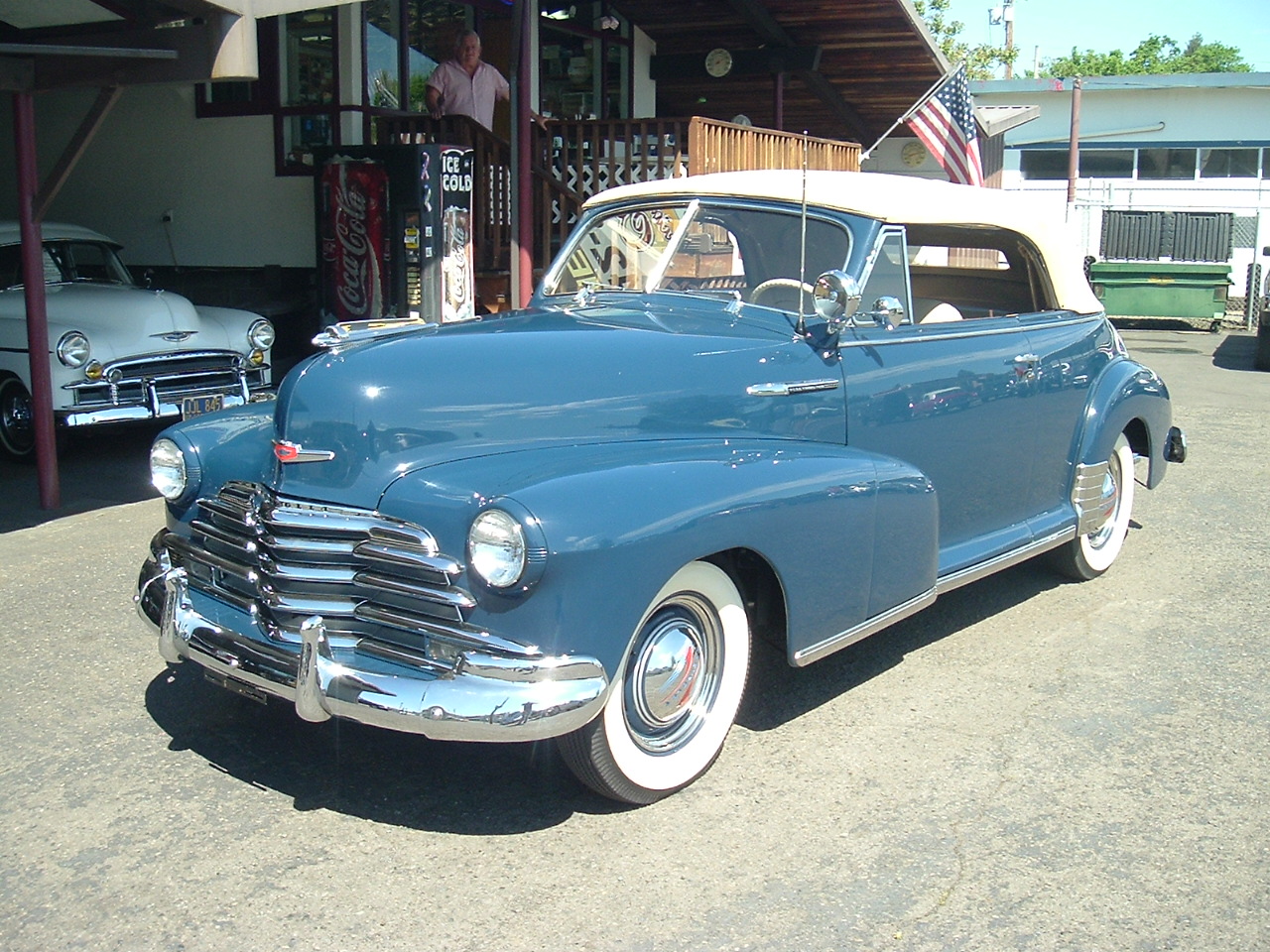 1947 Chevrolet Fleet Master Convertible. Model-2134, There were 28,443 produced in 1947. This car was restored to the highest original quality sometime in the early 80's. Winning first place at both the 1987 A.A.C.A. National Fall Meet in Hershey PA. and 1985 Forest Grove Concours D'Elegance in OR. I have the original car invoice from Keiser Chevrolet in Pottstown Penna. Also owners service policy and jack instructions. Car has 1,605 miles since completed and has always been in heated storage so car still looks fresh. Original 216 motor matching numbers, rebuilt and runs perfect. 3spd. transmission. Body is laser straight and all body lines fit excellent. Paint is top quality. All chrome, stainless, glass, top (power), rubbers ect. look new. Basically everything on car was replaced and looks new. Interior, cloth and leather looks like it was just put in car, its spotless. From the original car Invoice - Optional equipment and accessories include- Trunk Guard, Radiator Ornament, Exhaust Extension, Deluxe Steering wheel, Engine Lite, Trunk Lite, Oil filter, Dash Heater and Defrost, Push button Radio, Spot Lite, Fender Shields, License plate frames, Locking gas cap. Then under extra's is Undercoating and White Wall tires. The cash on delivery price was $1,949.00 The car was restored to its originality, The only change I know of is about 4yrs ago they put a split manifold with dual exhaust. Want one of the best this is it ! # A-1956 $49,950 SOLD !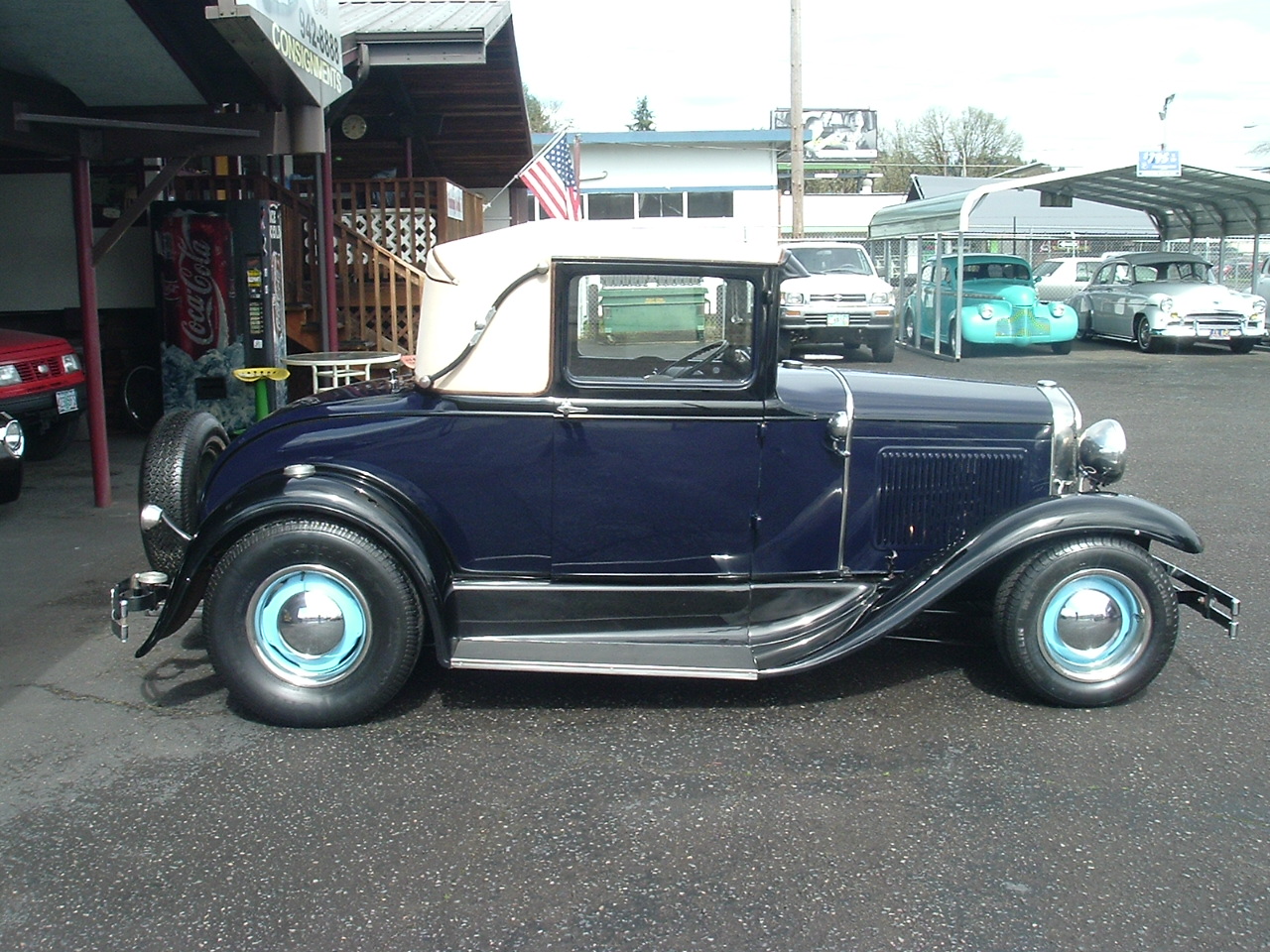 This is how the 1931 Model-A Sports Coupe below came back. 305 V-8, Turbo 400 automatic. 8' rear end with Coil over's and 4 bar. 6' drop front axle with disc brakes. Custom built Model-A frame. Paint and interior left the same. # A-1944 $21,500 SOLD!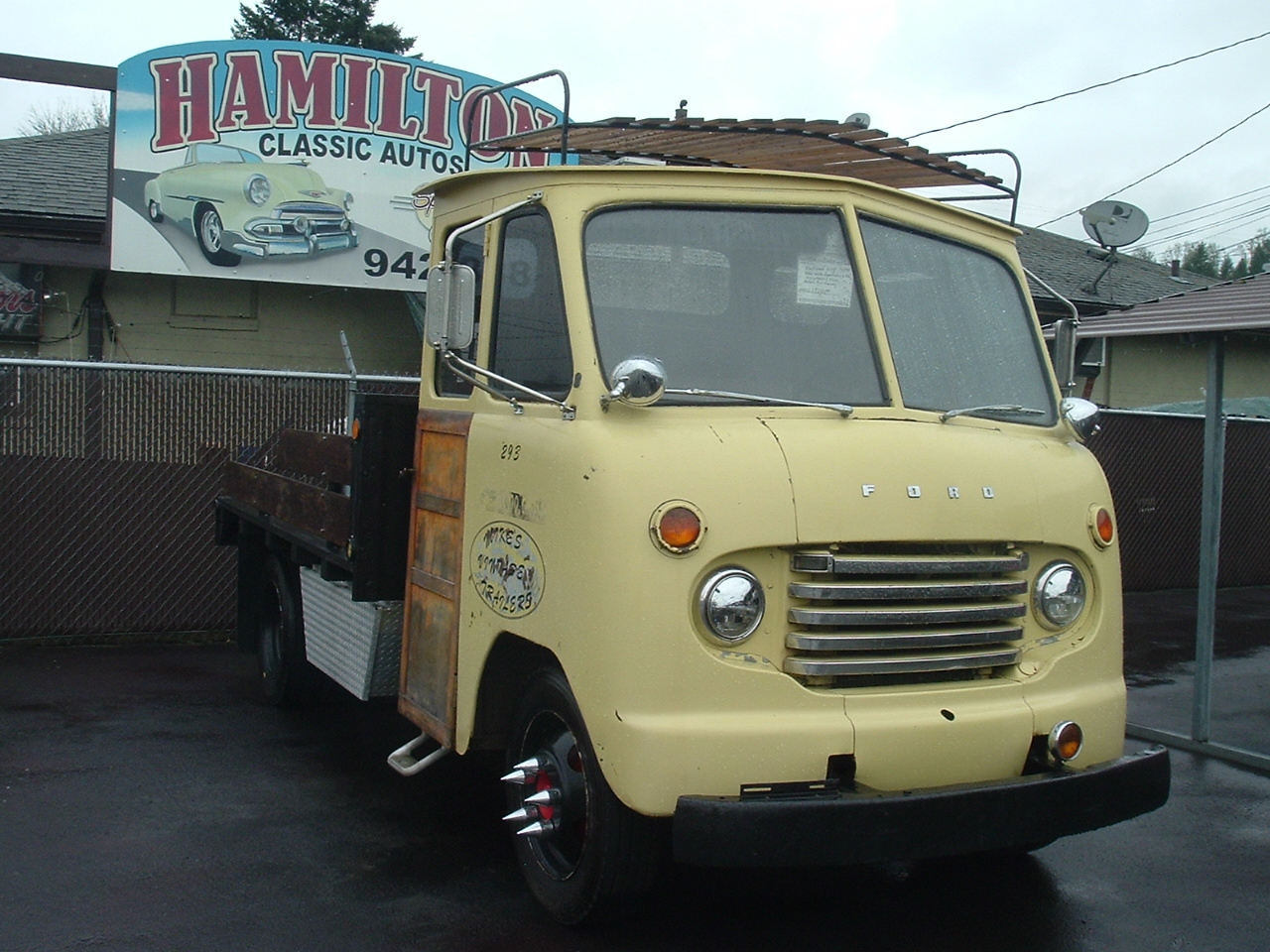 1950 Ford F-5 Parcel Delivery converted to flatbed. Flat Head 6cyl. 226 C.I. 3 spd transmission. Rear end ratio is 5.83 and will travel at freeway speeds. Unknown when converted to Flatbed, Custom wood cab and bed. Custom made drop hitch. It appears that truck has been completely gone through mechanically and runs and drives excellent. # B-1741 $7,250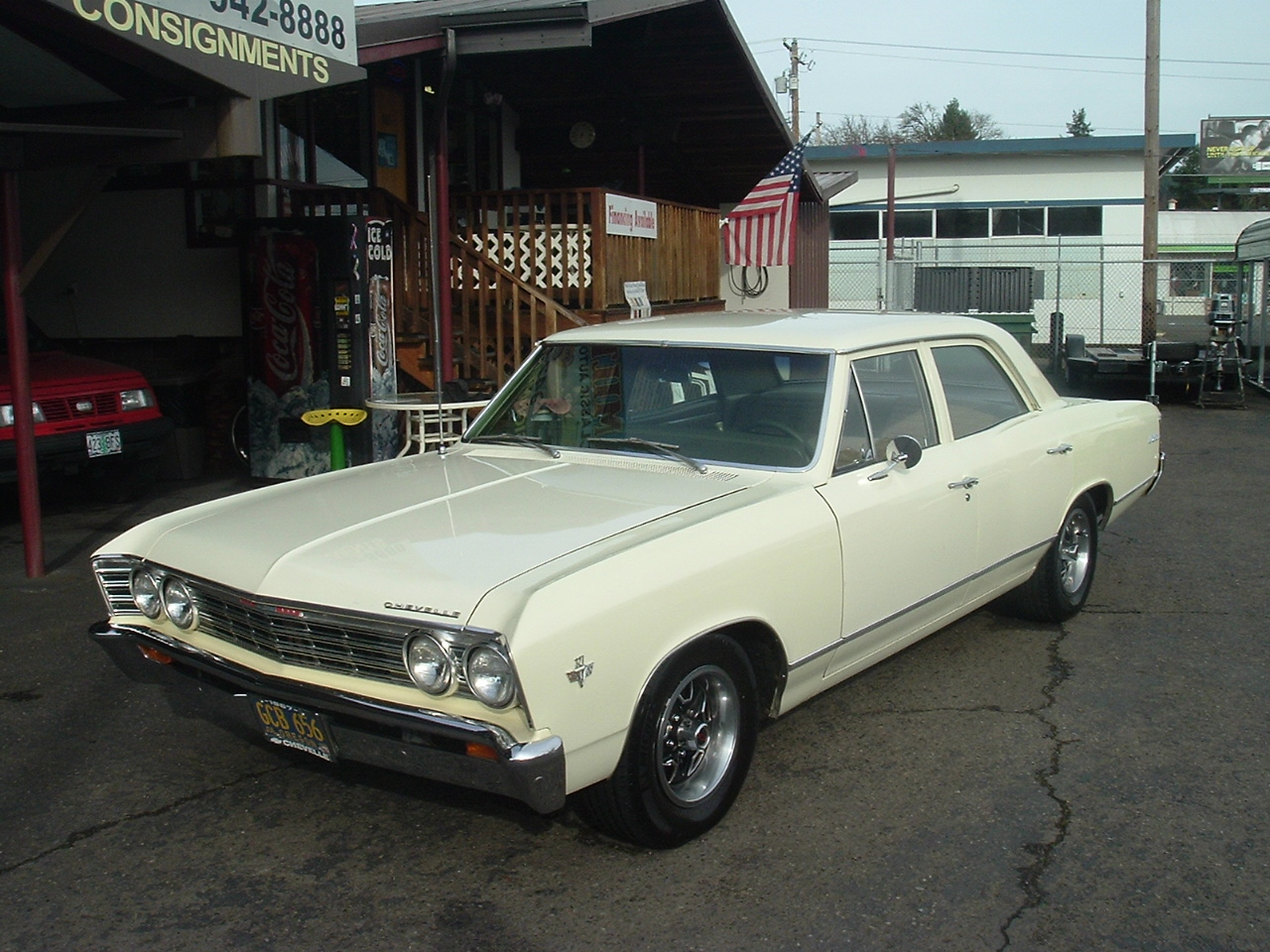 1967 Chevelle Malibu 4dr. Original 327 V-8, Car has 64,031 original miles. Transmission changed to 200R 4spd. over drive automatic and has a complete front disc brake kit from Classic Performance products. Interior is all original and excellent. It dose have after market gauges mounted under dash and different steering wheel. Body is super straight and solid, undercarriage is clean with no rust and all original floor pans and rockers panels. All glass and chrome in great shape. Runs and drives perfect. Have lots of receipts and owners manual. This is one of the most honest old cars I have seen. Hard to find this clean and original other than the up graded brake and transmission. # A-1941 $8,450 SOLD!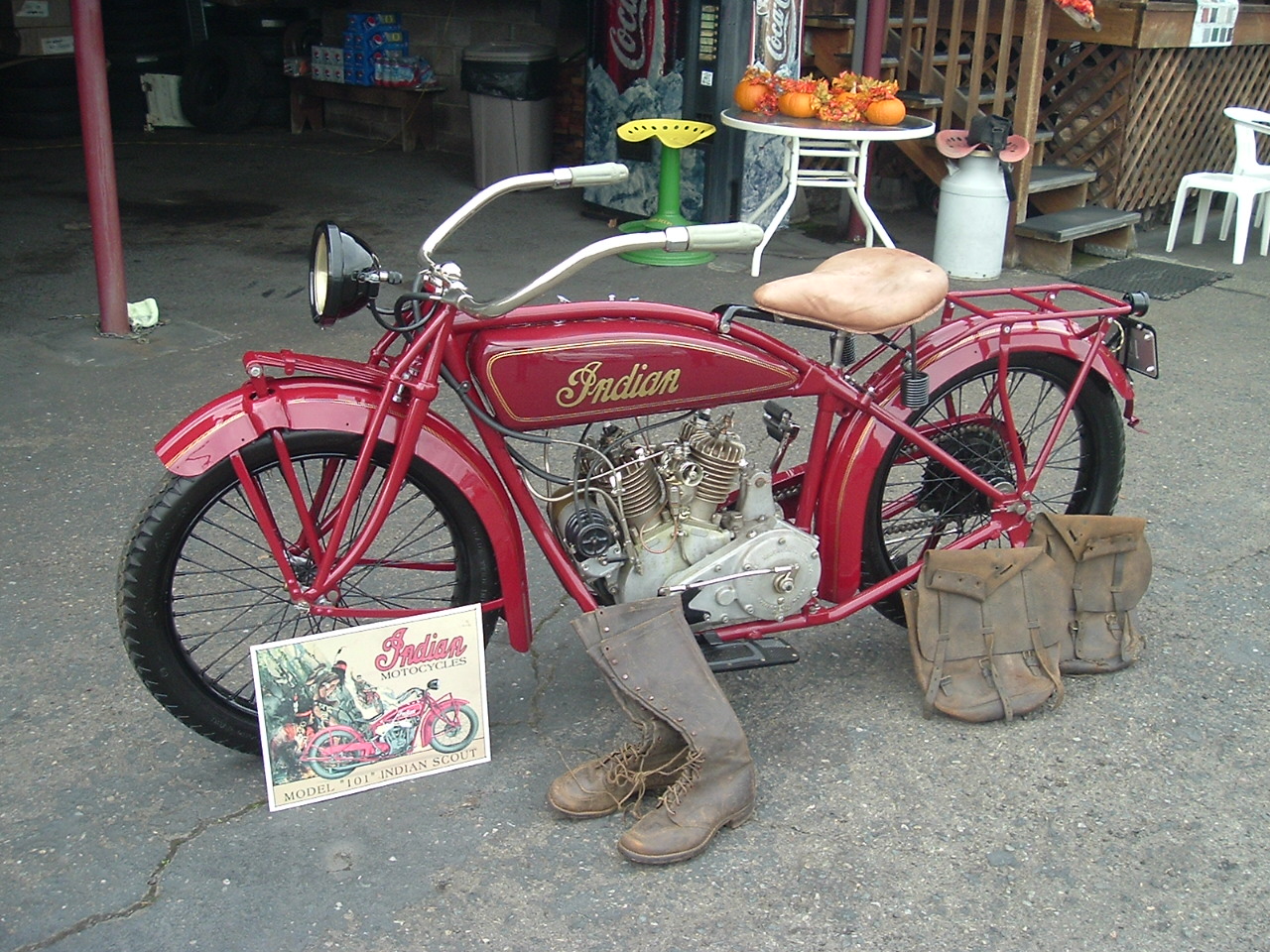 1922 Indian Scout Motorcycle. This is NOT a bike that has been pieced together using other bikes - Jim Doleman discovered this bike in and old house to be demolished in the mid-60s, he past it on to his son Jack in 1970 and has owned it every since. Restoration was done using all of it own parts other than a few bolts and nuts. Motor serial number is - 52T409. This is the original motor and had a complete rebuild in 1998 by Ted Williams in Sacramento California. All parts and supplies purchased thru Starklite cycles in California or Antique motorcycle works in Oregon City Oregon. Through the years Jack began working on the old bike and completed the frame restoration in 2010. In 2015 bike was pinstriped and had a final engine tune up by Terry Cutler in Dallas Oregon before being put up for sell. This is a nice collector bike and is ready to ride or show. Saddle bags and boots go with the bike. Call with any questions 541-942-8888 # C-232 SOLD!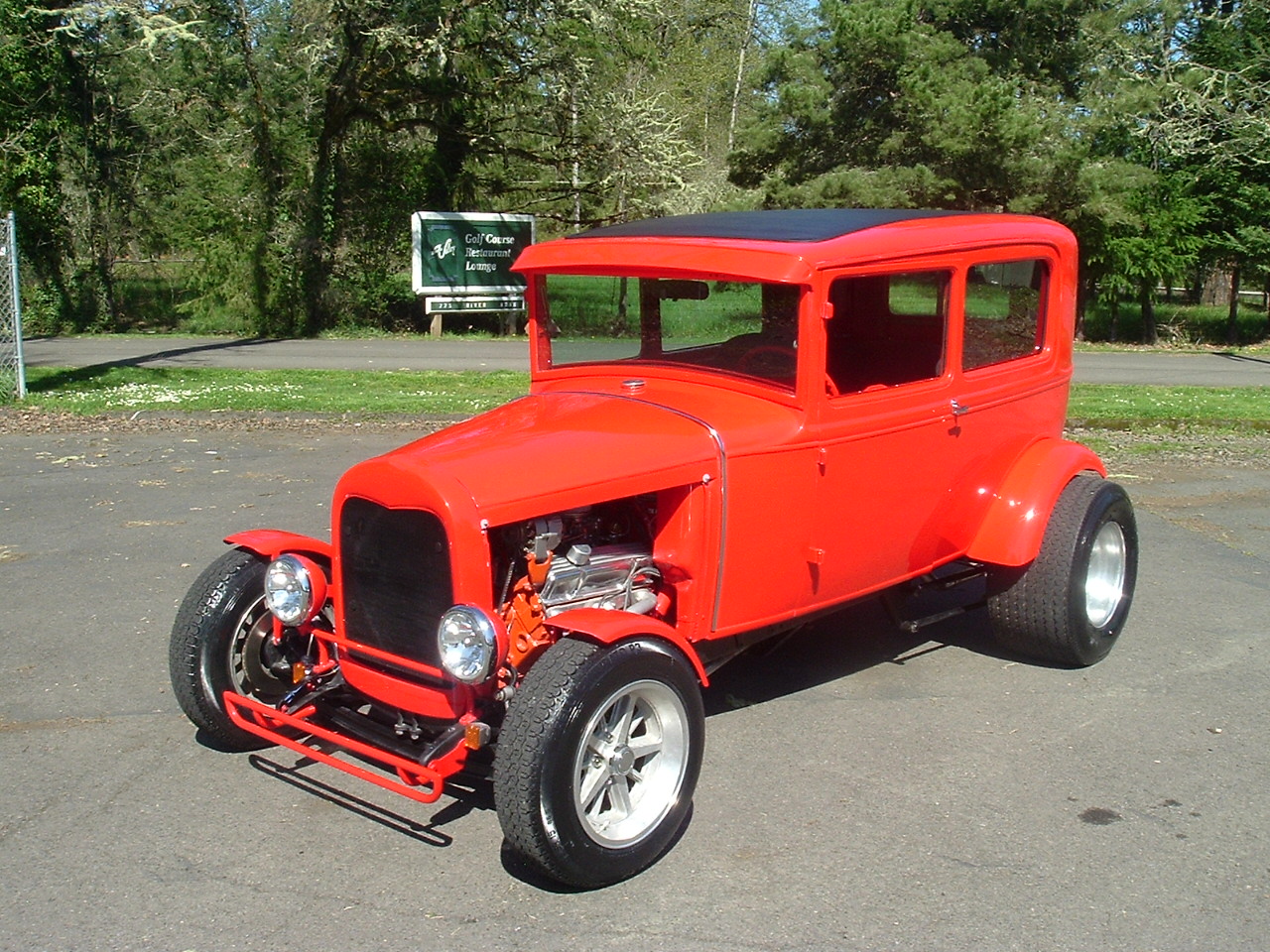 1931 Ford Model-A 2dr Sedan all Steel Street Rod. 350 V-8 rebuilt with approx 1000 miles on it, Turbo 350 automatic trans. Boxed Model-A frame, 4" drop front axle, Disc brakes, 4bar. Ford 9" rear end 4 bar with coil over's. Body is super straight and was never rusty, Custom fenders and all steel floor put in. Color is Versa Red and is Polyurethane paint. 28-29 Model-A radiator and shell. New custom top insert. New fuel tank mounted in the rear. New wiring kit and lights. Custom dash and Stewart Warner gauges. New tinted glass and handles. Seats installed in car ready for you to put interior in. # A-1906 $19,950 NOW! $16,950 SOLD!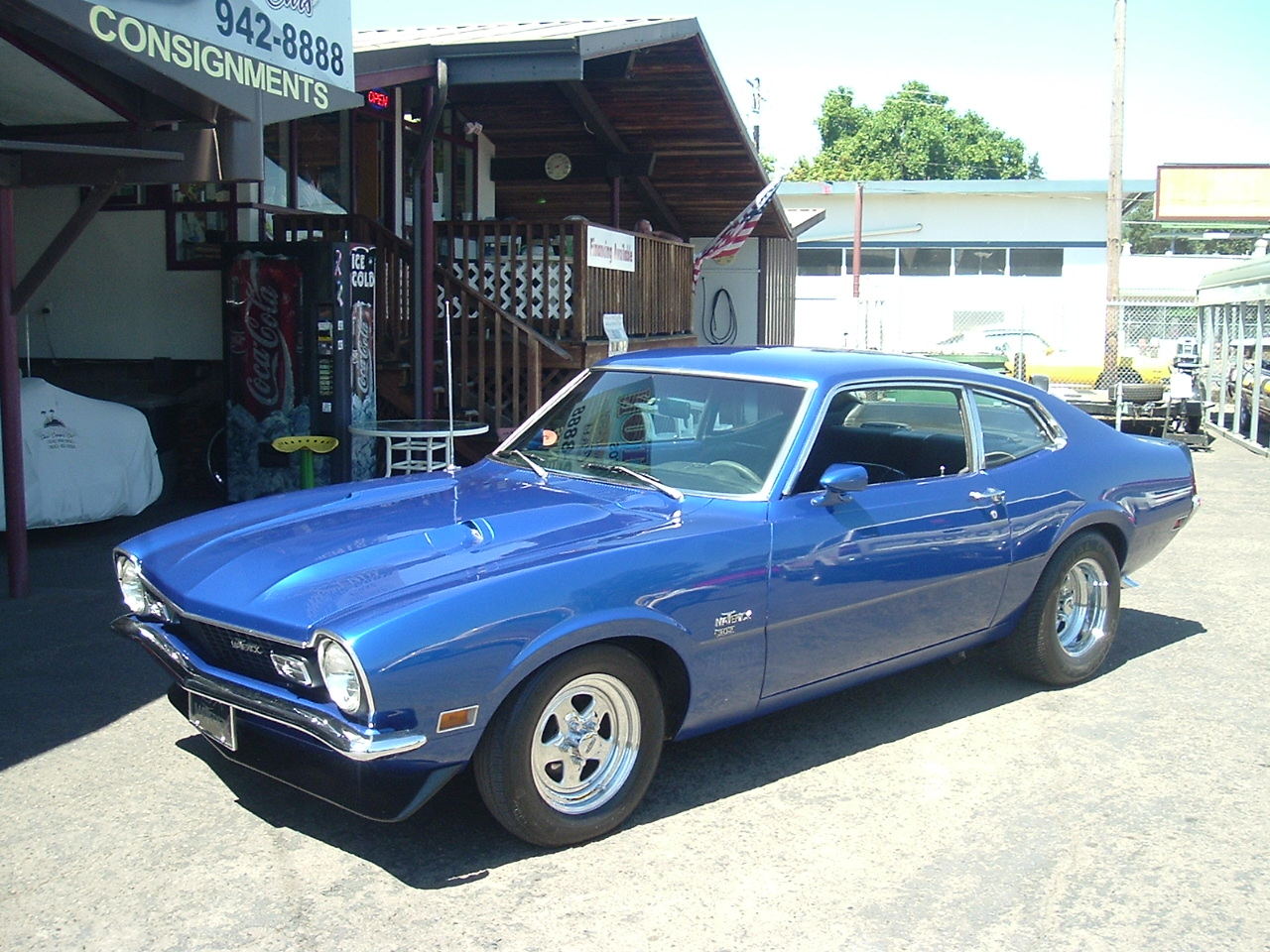 1971 Ford Maverick Grabber. Built 302 V-8, Auto transmission. Car was restored about 11 years ago and has less then 10,000 miles since completed. 71 was the first year for the grabber Maverick. This car has original hood and tail scoop. The original rear scoop is painted to match the car but as a carbon fiber scoop on it now. Interior is original except the bucket seats are out of something else, but all in nice condition. Paint and body in excellent condition. Very sharp looking car and a unique hot rod, not many Mavericks around anymore. # A-1922 $13,950 NOW! $11,950 SOLD!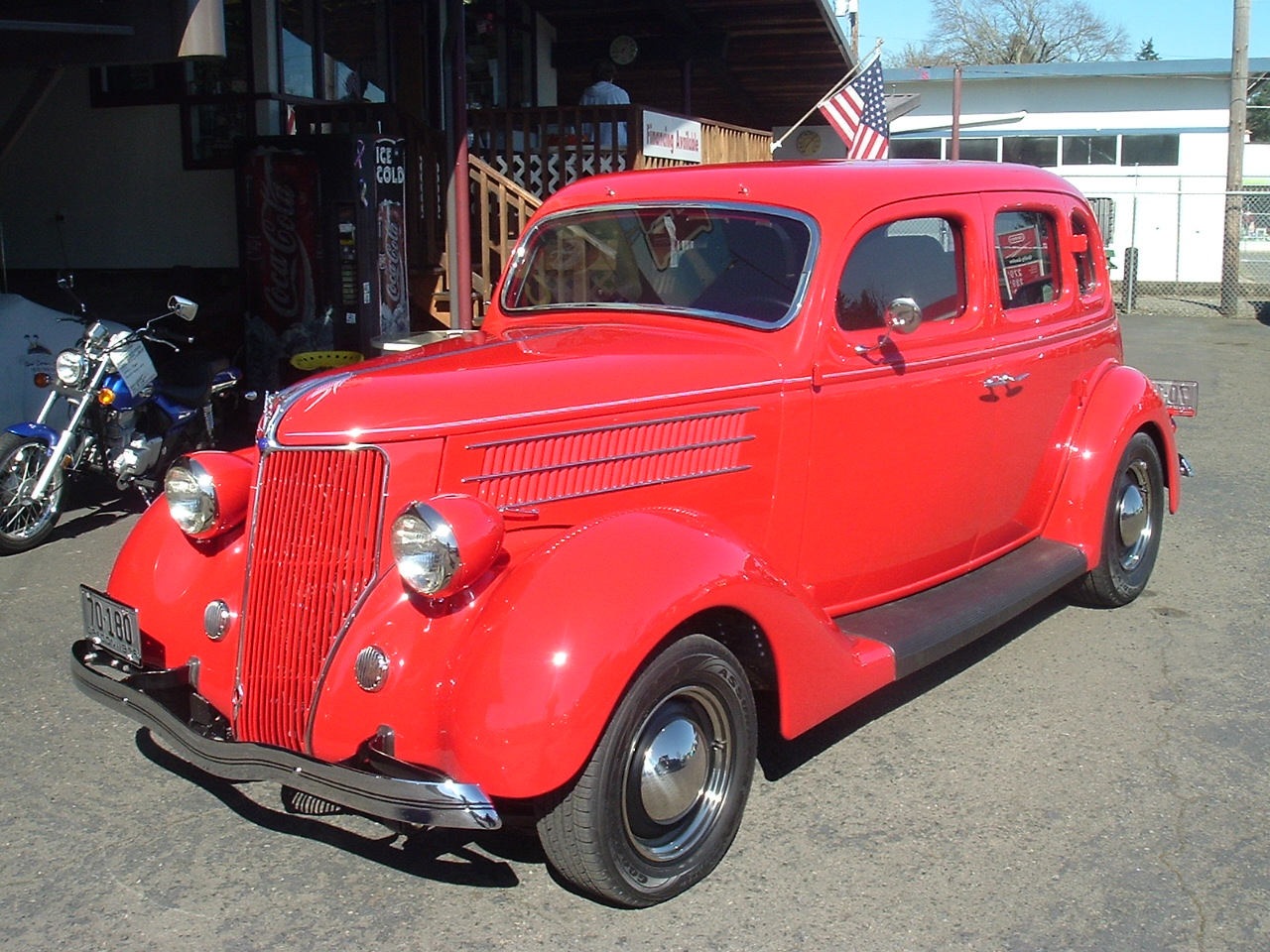 1936 Ford 4dr Sedan Street Rod. All Steel Body and Fenders. Car had complete body off restoration. Frame was sand blasted and powder coated. Body and body lines are as good as you will find. Paint is base coat clear coat and is very high quality. Motor is a 350 V-8 .030 over, Steel Crank, 4-bolt main, Dart II sportsman heads, Cutler Tune Port injection, 1227730 ECM. AUJP prom-programmable, Pro-Charger Supercharger, P-600-B, Schneider Cam, Aeromotive Fuel pump-11101, Fuel filter-13204. Electric exhaust cutouts. Transmission is 700R. Car has 1,891 miles since completed. 1991 Jag rear end, 1984 Jag front end. Body modifications include - 91 Volvo electric sunroof, power antenna and the trunk lid is part 36 and 37 to make more usable and it looks factory. On the interior the dash had 2" added to bottom to accommodate the radio and Stewart Warner gauges. Vintage A/C and Heat, 87 Ford tilt column, Electric windows - gray glass, Black vinyl interior with Leather seats, Front seats are all electric and heated. This car is top quality through out ! # A-1903 $36,500 SOLD!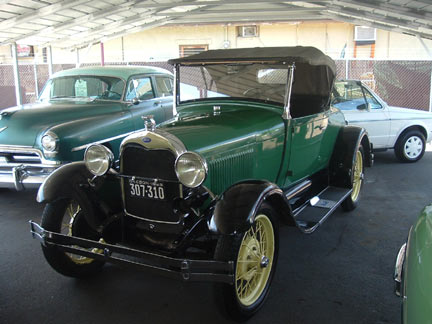 1929 Model-A Roadster Rumble seat. Complete rebuilt motor with updated valves for current fuel. New water pump, oil pump, starter. All new clutch, fly wheel balanced with new ring gear. Transmission rebuilt with enclosed bearings. New u-joint and starter. 41-48 Ford all new Hydraulic brakes. The owner just spent right at $10,000 having all running gear gone through by a Model-A specialist And this car mechanically runs and drives as good as a Model-A can stock with upgraded parts runs and drives better then new. The restoration on the body is over 30 years old so it has a lot of little chips in paint but is still shinny and body is real solid and has no rust problems. Interior is in great shape. This car is ready to go as is or repaint it and have one of the nicest Model-A Roadsters around. # A-1901 $17,500 SOLD!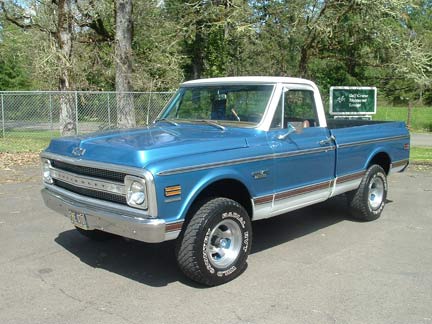 1970 Chevy C-10 Factory CST/10 Short Bed 4x4. This truck had the same owner past 38 years. 1 1/2 year ago he had it painted back the original color, Truck still had original paint and there where no rust problems other then just a little at bottom of rocker panels so they were replace the rest of truck solid original metal. All the stainless trim and light covers replaced. The grill surround and bumpers are original. All rubbers replaced. Truck came with factory bucket seat with center console, Factory tach works great. Factory A/C compressor removed but is available along with the original 350 motor. The interior is original other then he put 1972 door panels and window regulators. The bed has been Arma coated. The motor is a 350 V-8 rebuilt long block, the transmission was rebuilt at the same time and both have 6,764 miles on them. The odometer was reset at the time to read correct with motor and trans miles. When the motor was rebuilt they also added power front disc brake. This truck runs and drives excellent! Hard to find. # B-1699 $23,500 NOW! $21,500 SOLD!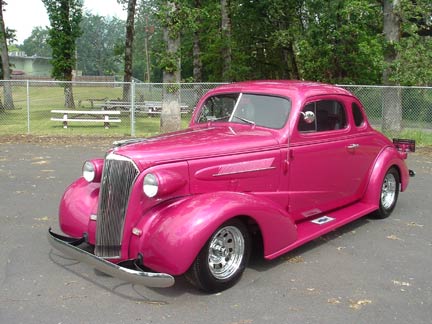 1937 Chevy Master Deluxe Coupe, Street Rod. 327 V-8, Turbo 350 auto trans. with genie shifter. Power rack steering. Four wheel power disc brakes. Custom front cross member with mustang II spec. for front suspension. Car has 1,970 miles since completed. Rust free car with laser straight body and beautiful Raspberry Burst paint. Custom gray cloth interior with power seat. A/C, Digital gauges and clock. Polished custom steering column with tilt. New CD player and speakers. Tinted glass, All new chrome and rubbers. Car is a complete frame off restoration and looks new everywhere. # A 1848 $29,950 SOLD!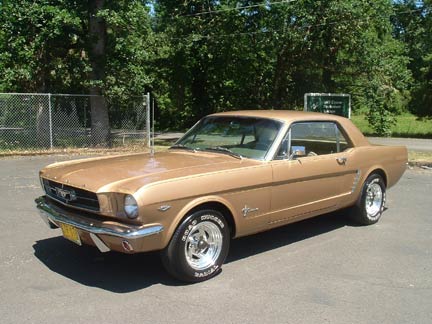 1965 Ford Mustang Coupe, C-Code, 289 V-8, Factory 3spd. manual trans with shift console. This has been one of our personal cars for the past 46 years. It has 81,170 original miles. Never wrecked or had body damage in its life. NO RUST just a little surface rust in truck where paint was chipped. Everything on car is factory original except in 1982 car was painted back original color and real pinstripe and tires and wheels put on, So paint is 30yrs old but looks excellent because car has been always garaged since new and only driven 4,000 miles since painted. All the door jams, trunk and under hood still original paint. Only reason the car needed paint was because it had been waxed so much paint was getting thin on edges. As I said all Chrome, glass, emblems, rubbers ect. original and excellent. Interior is like new anywhere you look and nothing replaced or fixed, instrument cluster looks like new. All heater controls, gauges, wipers, dome light, orig. AM radio work like new. Car runs, drives, and shifts perfect. For the past 11 yrs car has not been drove much so here is what has just been done since bringing down to sell- Tune up, Rebuild carb, New Radiator, New Hoses and belt, New water pump and thermostat, New Fuel pump and filters, New brakes, Master cylinder, wheels cylinders and pack front wheel bearing. Hard to find nicer unmolested Mustang, that's why we have owned it 46yrs.
$14,950 SOLD!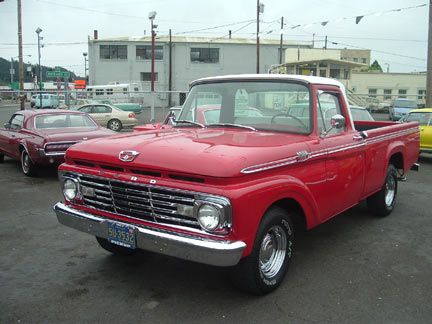 1963 Ford F-100 Long bed Pickup. Rebuilt 223 6cyl. with less than 25,000 miles on it. Just rebuilt recently is the 4spd. transmission, Front end and kingpins. Rebuilt steering box with power assist steering added. The red paint and body work on this truck is laser straight and very high quality. All new chrome and stainless, Bumpers Grill ect. Glass, Rubbers, window channel, regulators and felt all new. Spray in bed liner, inside the bed is very straight too. Interior is all new and all gauges and switches look like new. AM/FM cass with 6" speakers in the doors. Nice tires and wheels. Hard to find a nicer old truck ! # B-1676 $10,500 NOW! $8,950 SOLD!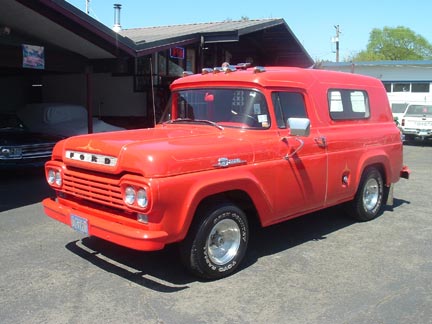 1959 Ford F-100 Panel LOW MILES. Originally it was and Ambulance for Timber emergencies. 223 6cyl. motor, 3spd. transmission column shift. This panel has 28,695 original miles and had the head rebuilt 5000 miles ago. It still has tag on dash for Detroit No Slip rear end. This was always stored inside being and Ambulance so there is no rust and body was straight before repaint. There is and original picture before it was painted and I owned it before selling to the Guy who painted and put the interior in it. The floor in back is carpeted now but the original wood floor is under it in near perfect shape. Drives nice. # B-1670 $9,500 SOLD!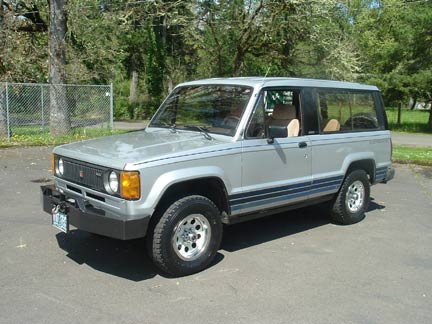 1986 Isuzu Trooper II TURBO DIESEL. 5spd. These Factory Diesel Troopers are hard to find and this would have to be one of the best around. Some history - I've had a classic car dealer for 30yrs and in 1995 this was a trade in on a classic and I kept as one of my personal rigs since it was so nice and rare. It had about 70,000 miles on it then and now it has 169,500. I have all records and receipt. In 2000 at just over 100,000 miles it felt like it might have lost a little power so I took it to Oregon fuel injection and spent $2,700 plus, They put a new Turbo, injection pump, glow plugs, rebuilt and cleaned injectors, tested everything and said motor was as good as new. Not all of this was necessary but I maintain my vehicles regularly. In 2005 I had a local shop check out my A/C, put a new a/c pump in with 134 refrigerant, at the same time the heater box was completely rebuilt with all new doors, seals, heater core just everything new over $1,100 spent and works perfect. Also a new radiator around the same time, it never had any heating problems it was just time to change. I have changed the oil every 3,000 miles with Delo 400 15w-40 and the air filter and fuel filter every 3rd oil change so every 9,000 miles. There are lots of other things done through the years like Complete brake job and master cylinder, Clutch cable, rebuilt alternator ect. Trooper has original paint and interior in excellent condition, I put custom fit seat covers over the buckets too save them there are no tears, still has all the original decals. No need to ask about rust it don't have any and has always been garaged. All gauges, lights, A/C ect. works like new. I put a 6,000 pound Warn winch in custom built bumper on many year ago but never used it. Have original front bumper also that would bolt right back on in factory holes. This Trooper will not use oil and runs and drive like a new one. SOLD!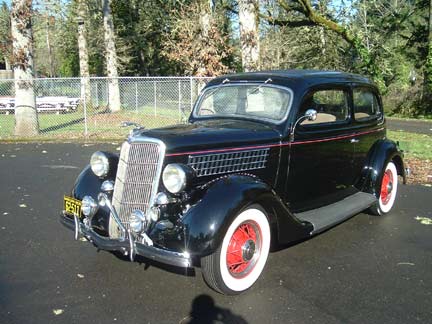 1935 Ford 2dr. Sedan slant back all steel. Complete frame off restoration done approximately 20 yrs ago. Car is very solid and straight, don't appear to have had any patch panels. Flat head V-8 rebuilt in 1995 not a lot of miles on it and runs excellent. 3spd transmission and clutch shifts excellent. Has original running gear except Brakes up graded to hydraulic, turn signals and tube shocks. It has fog lights and a truck for rear. Original gauges work except fuel gauge. Wipers work, Heater works good and has defroster on drivers side. The paint is very good with a small spot on passengers front and rear fender where it was bumped and scratched lightly and touched up. Chrome is all very good, grill is straight and chrome is pretty good not perfect. Original restored tan interior excellent. The top rubber is in very nice shape, the running board rubber shows some wear but still look good. This is over all a very nice car and drives excellent. # A-1729 $24,500 SOLD !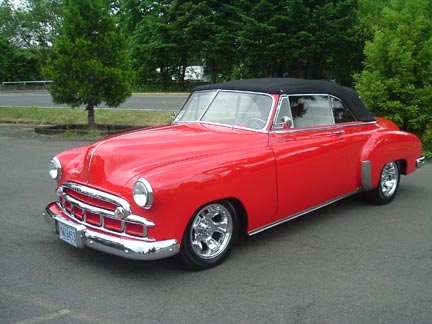 1949 Chevy Convertible Street Rod. Fuel injected LT1 Corvette 350. 4L-60E Automatic overdrive transmission. Mustang II front with disc brakes. Ford rear end with drum brakes. Dual master cylinder and all new pluming from total cost involved. Ron Francis Fuse panel and wiring. Interior is Gray leather, Ididit tilt column, Dakota digital dash, Secretaudio sound system mounted in glove box with 6 disc changer in trunk, A/C and Heat controls also in glove box. Electric Mercedes cloth top with bars chromed. Body and paint near perfect with no rust anywhere. Under the hood fire wall is smoothed with no wires showing. All chrome, stainless, rubber, glass, felt ect. all new. No corners cut when building this car. 3,314 miles on car since completed. Drives and sets right no disappointments. Also have folder full of specs and papers for car. # A-1699 $42,500 Now ! $39,500 SOLD !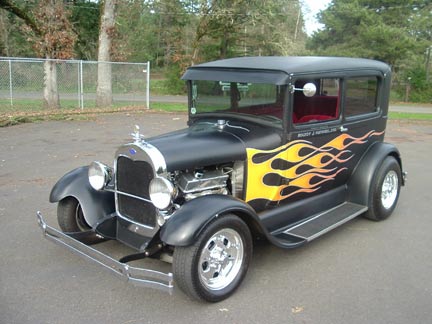 1929 Model-A 2dr sedan old school street rod. Target master 350 V-8 with approx 20,000 miles on it. 5 spd. manual trans. out of 89 Iroc camaro with center force clutch. A-frame partially boxed with 4 cross members. Split front wishbone. 57 nomad rear end original posi with 411 gears. Triple flow custom radiator with electric fan. All steel car with new-running boards, hood rails and radiator shell. Filled roof welded in steel. New tinted glass, felt, guides and seals. Original rebuilt window regulators. Orig. fuel tank remove and custom 10Gal. Stainless steel tank with baffles mounted on rear of car. Dropped head light bar with chrome headlights and ahooga horn. Paint is flat black industrial enamel with flames. Interior is red mohair seats, door panels and headliner, overhead console with AM/FM cass. Wabbits rosewood dash with dolphin gauges. 46 olds column with Stainless Banjo steering wheel. Car has heater but never plumbed. A very nice car looks and drives right ! # A-1676 $34,500 SOLD !