Hamilton's Auto Sales
Specialty Interest Cars
101 North 9th. Street
Cottage Grove, OR 97424
Phone 541 942 8888
Please

US
---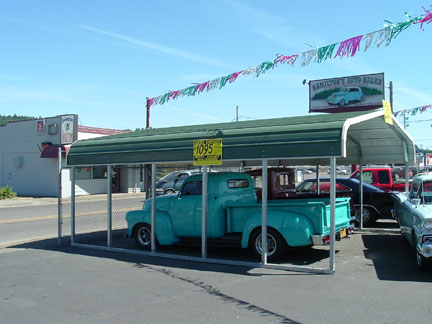 Hamilton's Auto Sales also sells Carports and Enclosed Carports to help you store your vehicle. These are well built West Coast Metal Buildings, with Free installation anywhere in Oregon. Call- (541) 942-8888 for more information.
Consignments Needed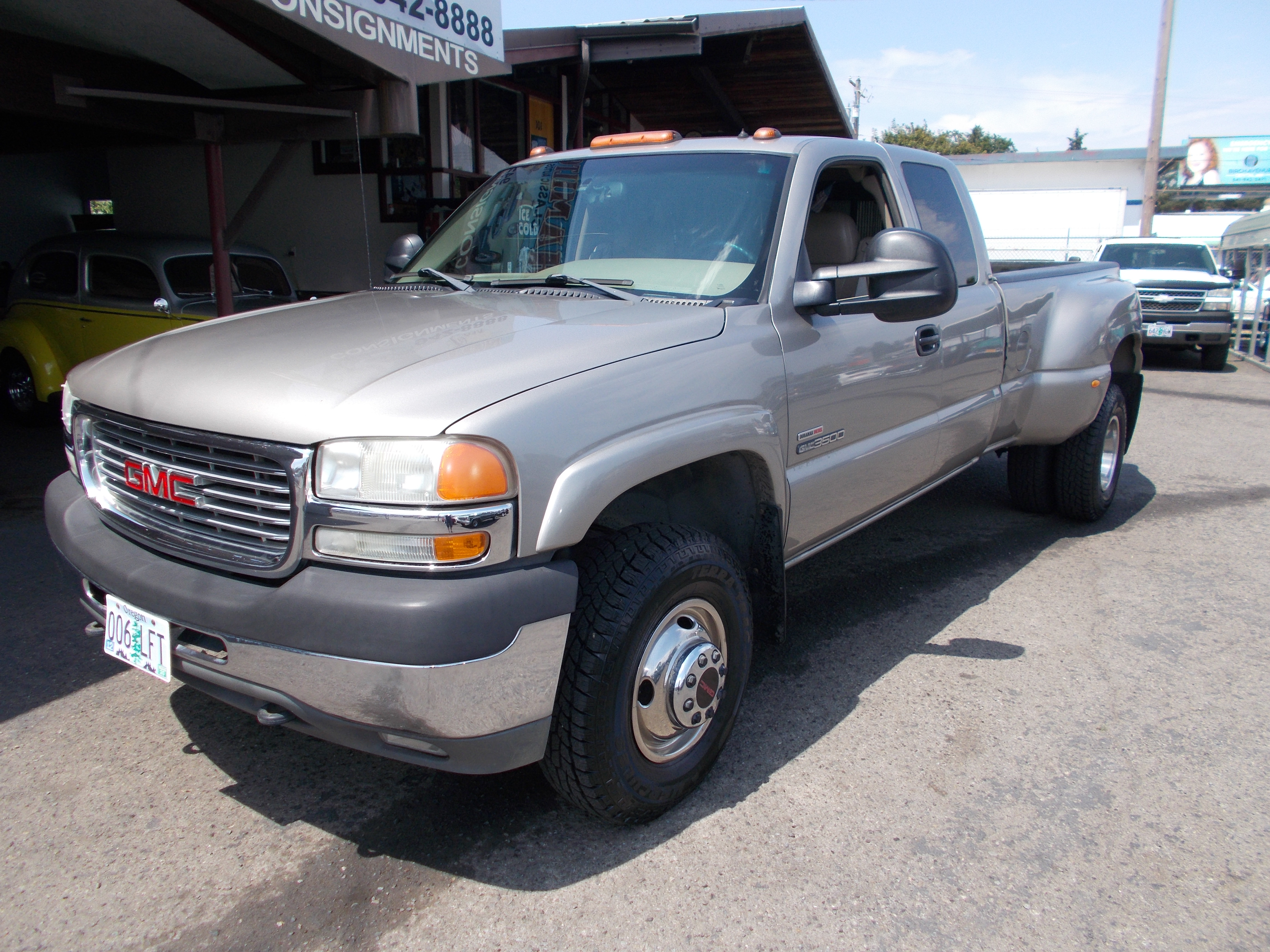 2002 GMC 3500 Duramax Diesel Dually 2wd. Duramax Diesel, Allison auto trans. 204,197 miles. Injectors, injection pump and more all done have pictures of receipts in add. good clean truck. Leather interior, like new tires. A/C blows cold. Truck Runs really strong. # B-1819 $10,950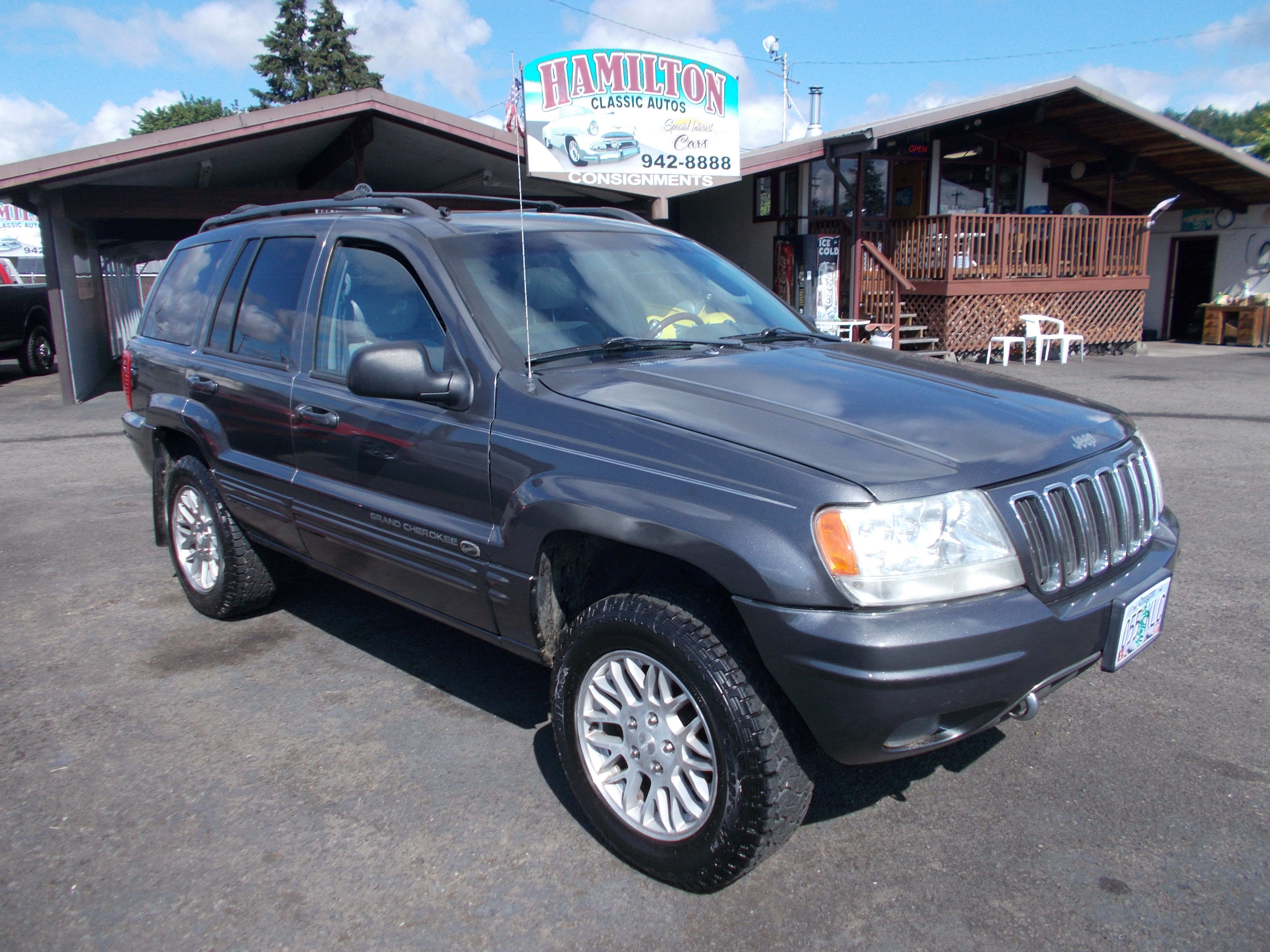 2002 Jeep Grand Cherokee Overland Quadra-drive. Full time 4wd and Low range. 4.7L V-8, Auto Trans. 208,032 miles - 70,000 of that tow miles. Loaded with heated Leather seat and sun roof. All power options. A/C, CC. And older guy owned it and went through all maintenance before bringing it to sell - All new brakes front and rear, New Starter and Battery, All differentials serviced. Motor serviced, new tie rod ends, new license tags. Excellent tires, Jeep is ready to go and is in really nice condition through out. # B-1817 $3,950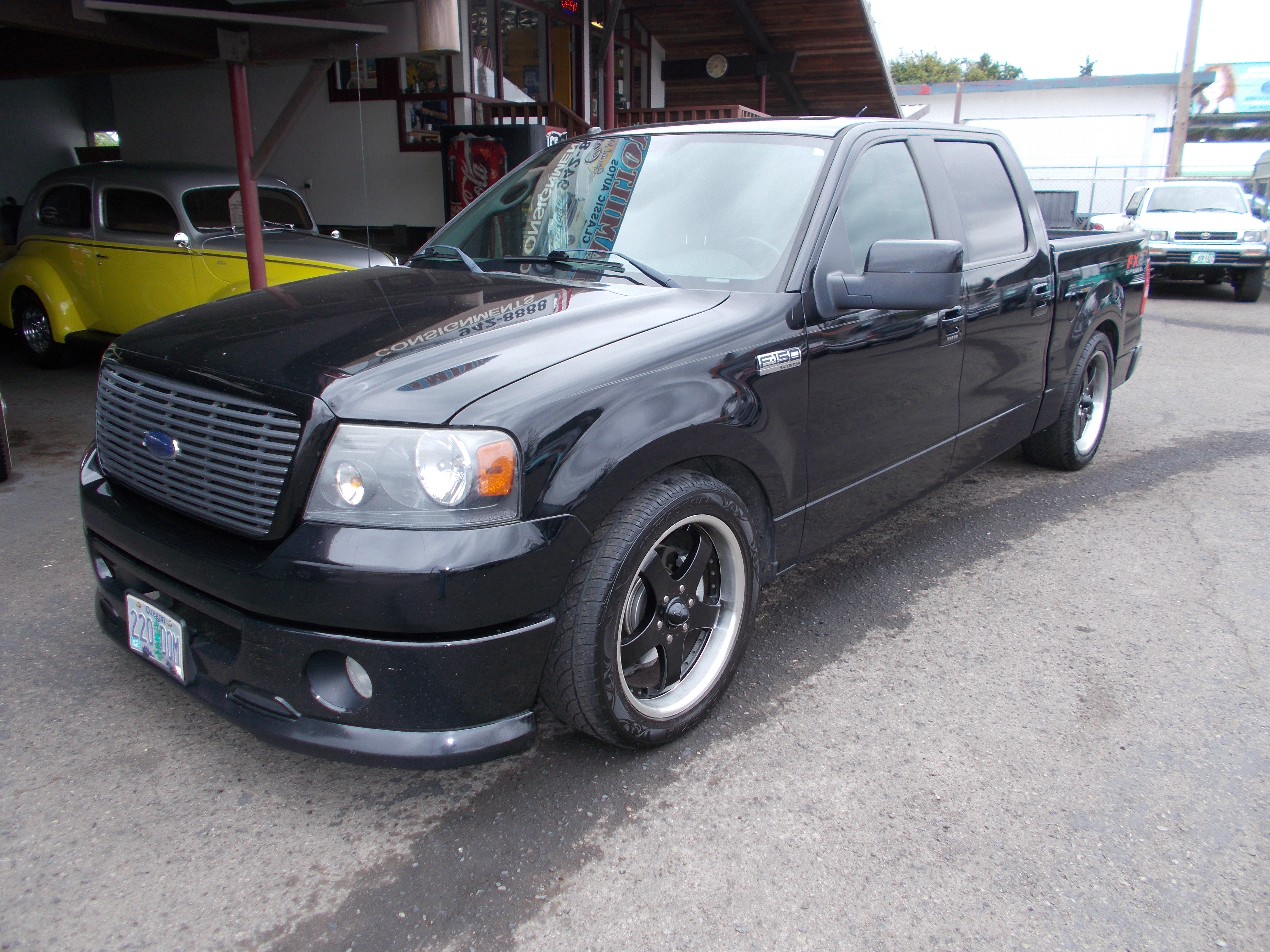 2007 Ford F-150 Crew FX2 Sport. 5.4L V-8, Automatic transmission. Also has original set of wheel and tires.. All new brakes with in last 3000 miles. Well taken care of truck. Very nice interior, no major wear. Paint and body nice with a few chips and couple small dings. 160,575 miles. Runs and drives excellent. # B-1818 $11,900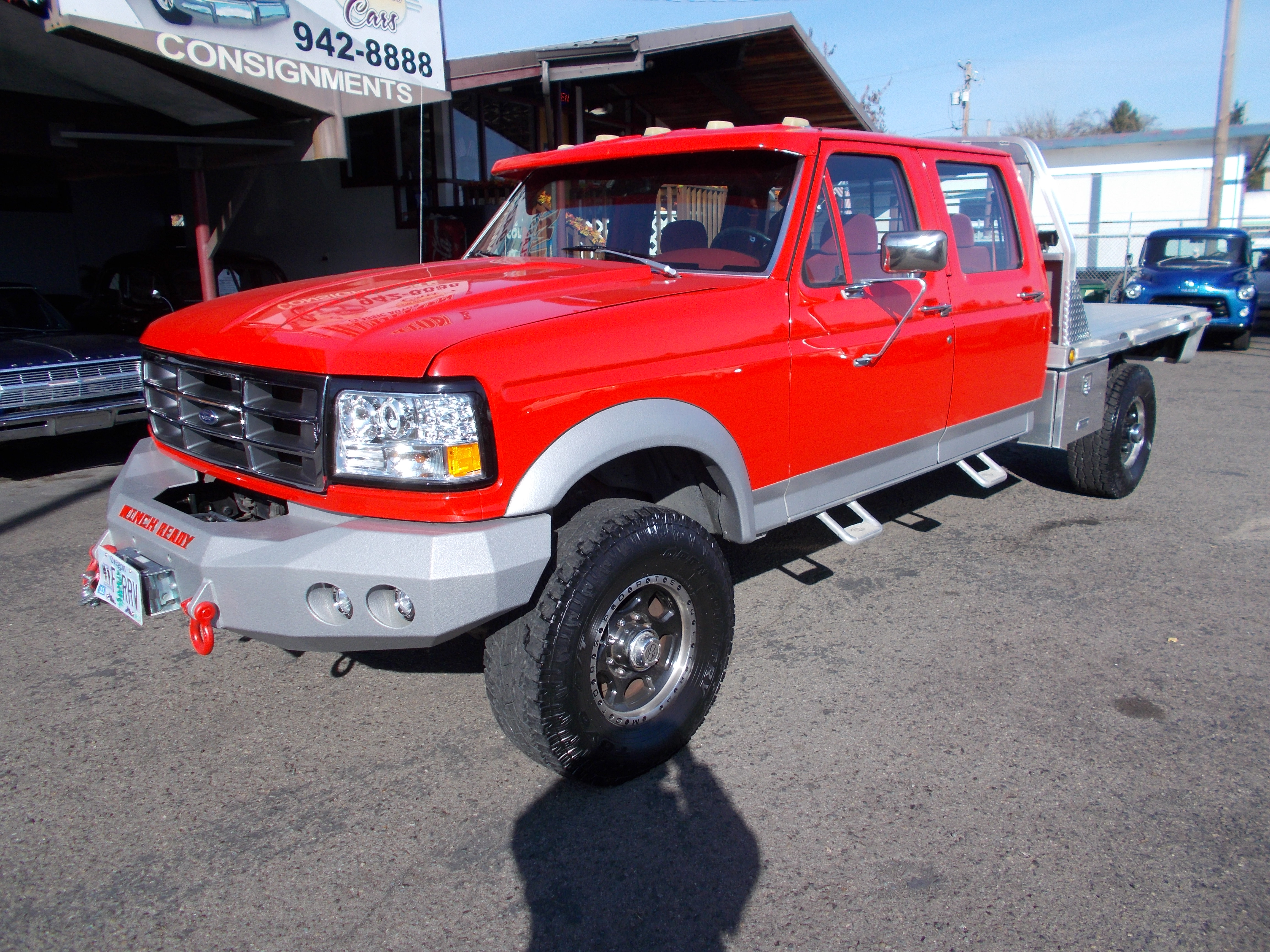 1992 Ford F-350 Crew Cab 4x4 Flatbed. 460 V-8, 5spd. manual transmission. Amazing truck with over $20,000 invested. Paint is top quality on laser straight body. Front bumper and rest of silver trim is Arma coated. All original interior in excellent condition. Some extras include, light package, New cowl hood, winch bumper w/15,500 lb winch never used, 4" lift with newer wheels and Toyo tires, 4 position adjustable shocks, New Hillsboro Aluminum Flatbed with Goose neck hitch, 5 position trailer brake controller, Dual aluminum tool boxes, Aftermarket stereo w/remote. Motor is all original with just normal maintenance. Have a folder full of receipts. This is a must see truck! # B-1807 $14,950 NOW! $13,950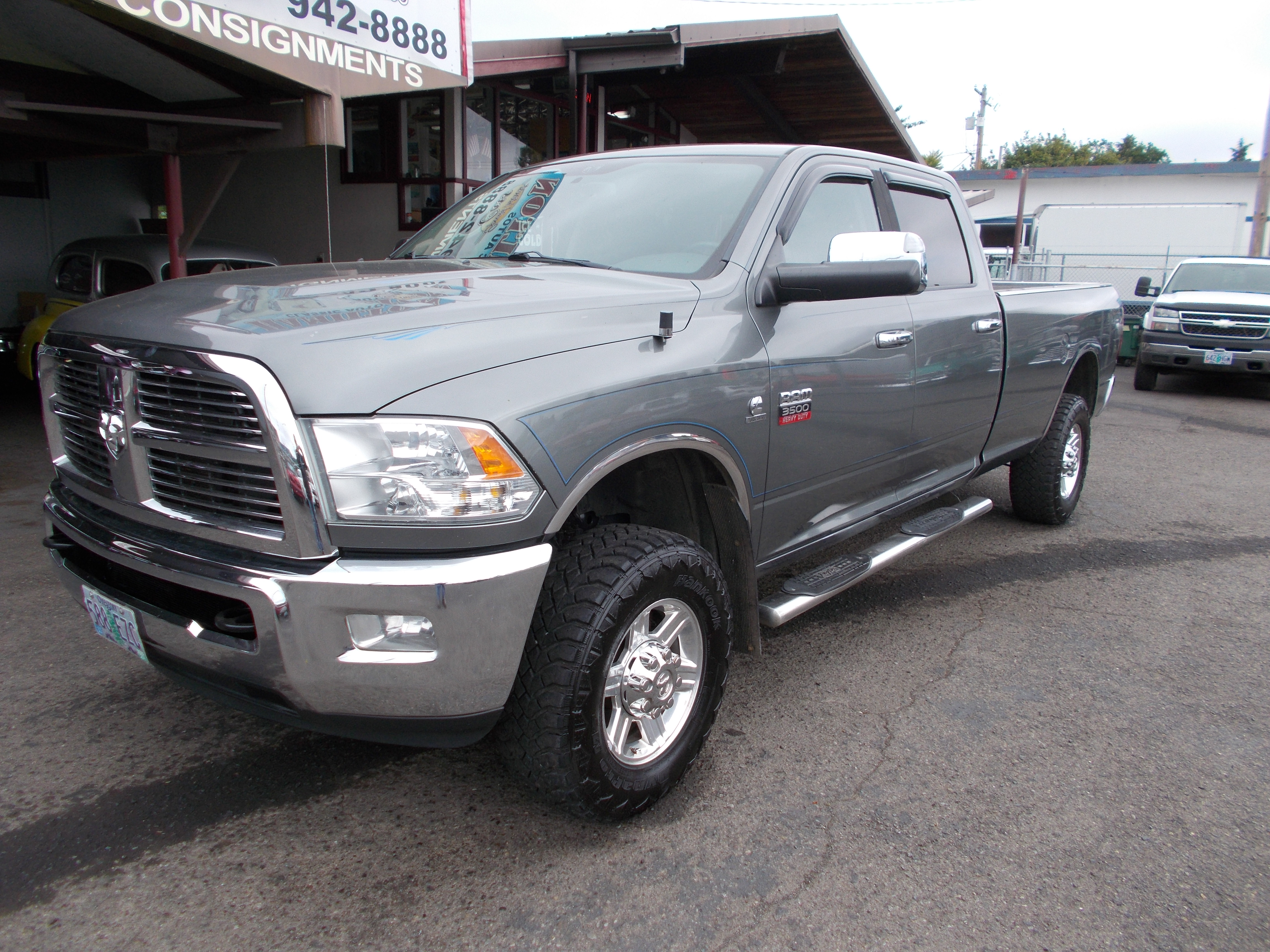 2011 Dodge Cummins 3500 4x4 Laramie. 6.7L Diesel. New, not rebuilt auto transmission w/ less then 10,000 miles on it. Truck has 271,070 mile and has had excellent maintenance. The front end has been gone thru including new wheel bearing and steering box with in the last 2,000 miles. Replaced water pump. Truck is loaded w/power heat & Air Leather seats, Power rear window, moon roof. Also has XRT PRO - Programmer. Body and paint very good with a couple small dings. Excellent tires. This truck has not had alot of hard use mainly highway miles and not a lot of towing. # B-1816 $16,950 SOLD!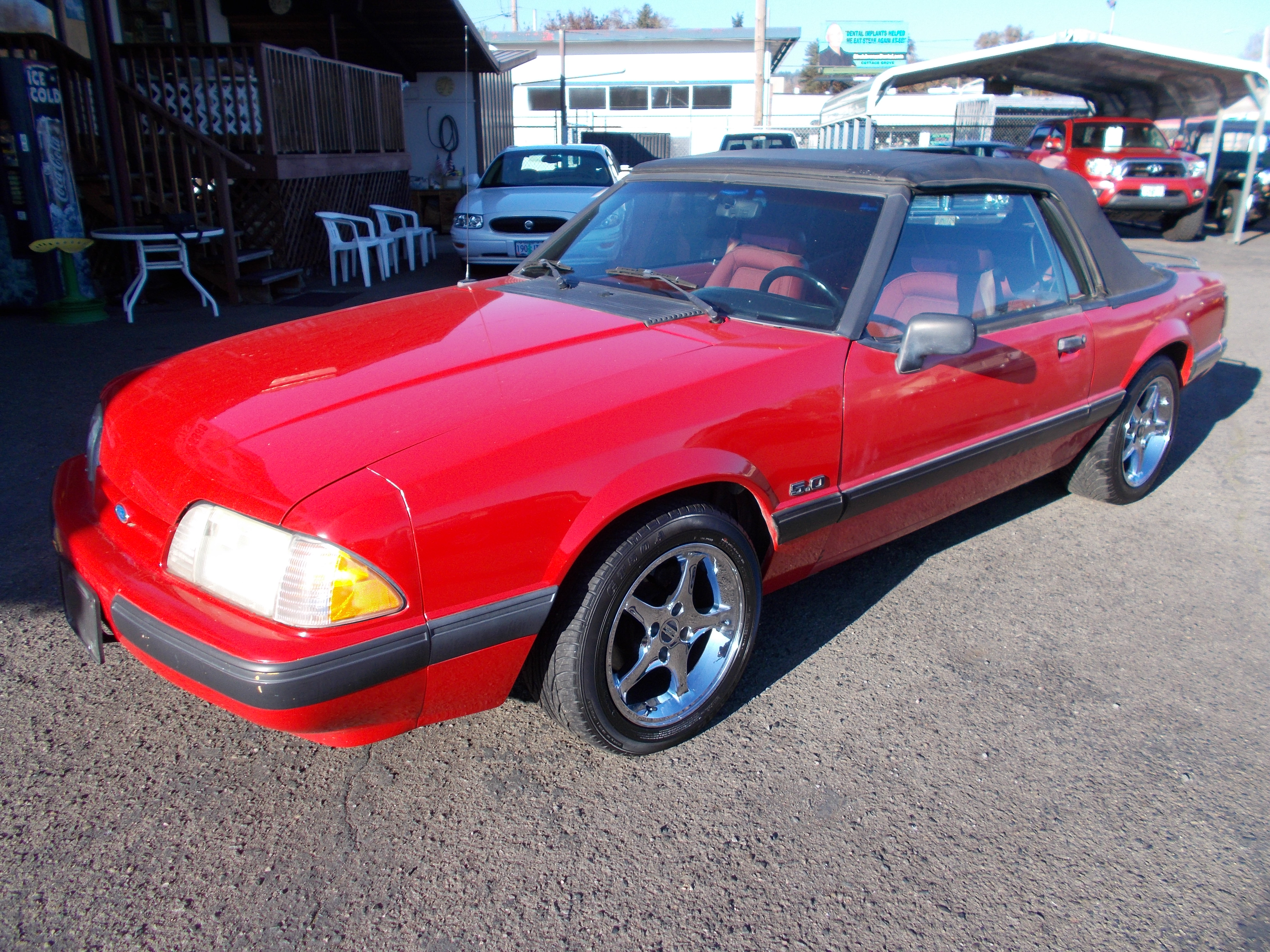 1991 Ford Mustang Convertible LX. 5.0 Liter V-8, Auto trans. PW, PDL, CC, A/C. CD player. Good running car, Body is good and paint is fair. Original interior above average. Top was replaced 5 years ago including glass window. With in the last year it has had a new water pump, Alternator and window motor. Nice wheels with near new tires. Car has 141,413 miles. Nice driving car ! # A-2087 $3,950 NOW! $3,450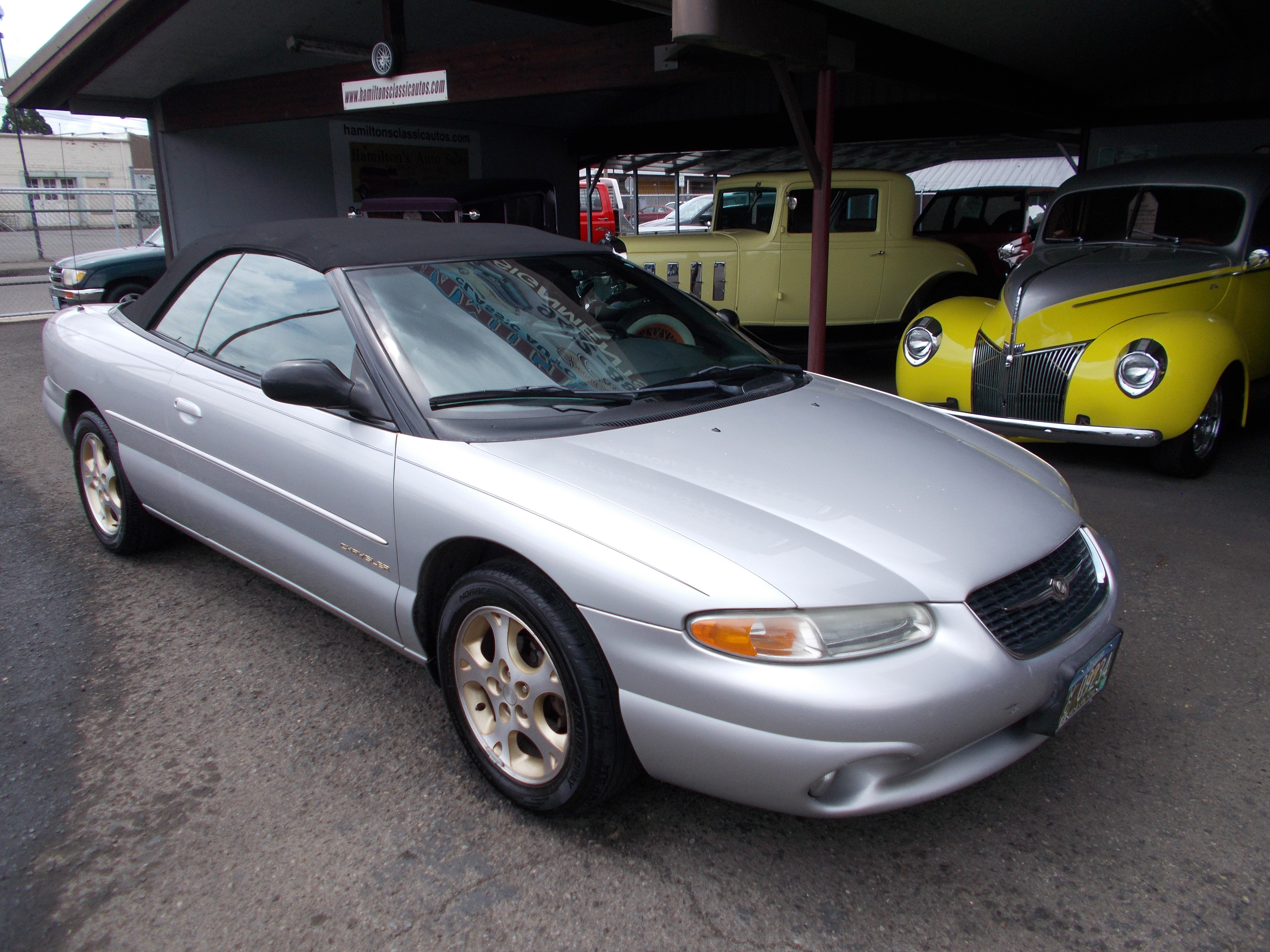 2000 Chrysler Sebring JXi Convertible. 124,593 original miles. 2.5 L V-6, Auto Trans. Loaded with all power options and black Leather interior in real good condition. Body is straight with nice original paint. Nice black cloth top. Runs and drives out excellent ! # A-2144 $3,950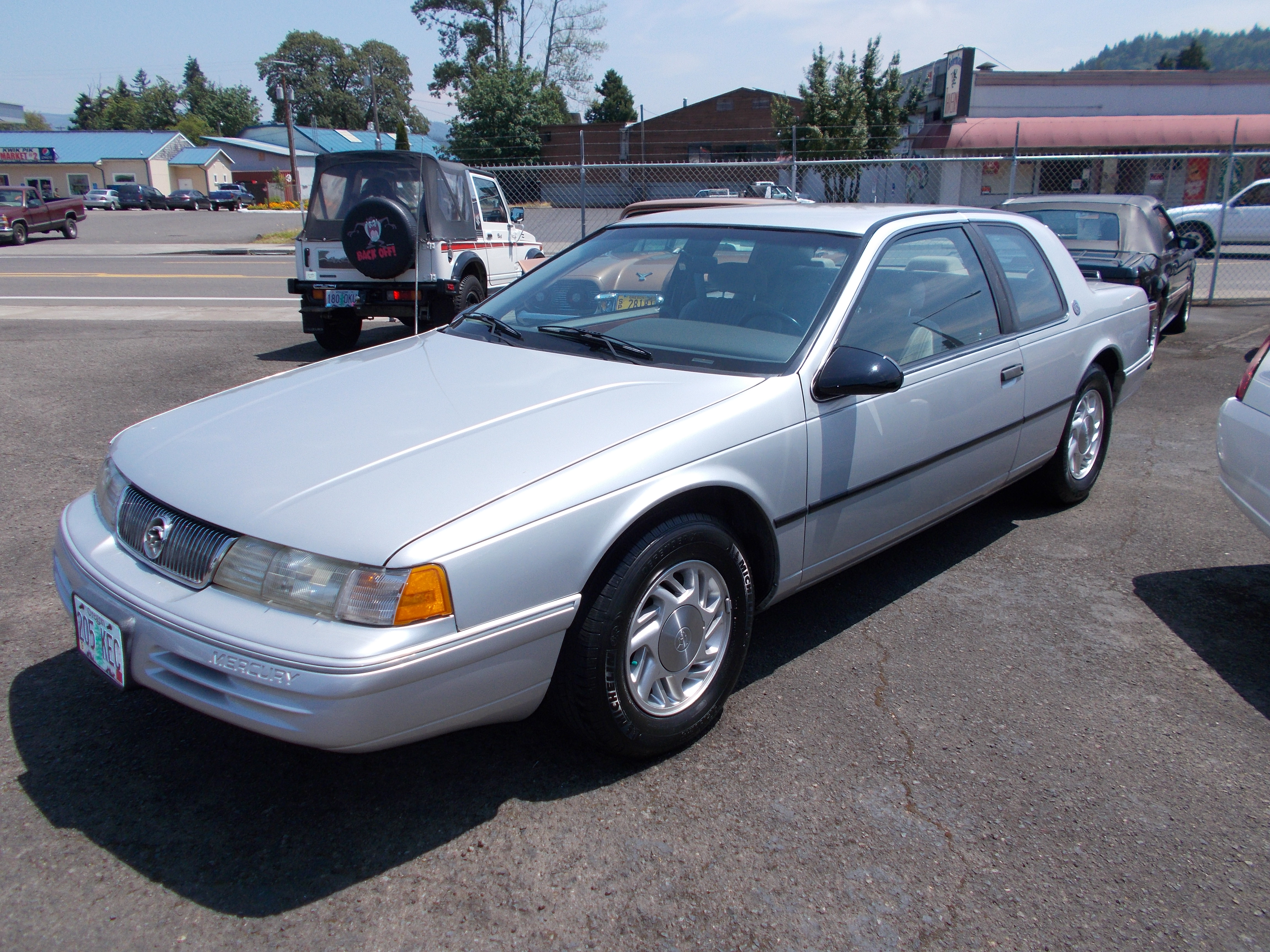 1992 Mercury Cougar LS Special Edition. 3.8L V-6, Auto trans. 125,189 orig miles. A/C, CC, PW, PDL. Almost new Michelin tires. Car is super clean inside and out. Interior looks near new condition. Runs and drives excellent. # A-2105 $2,750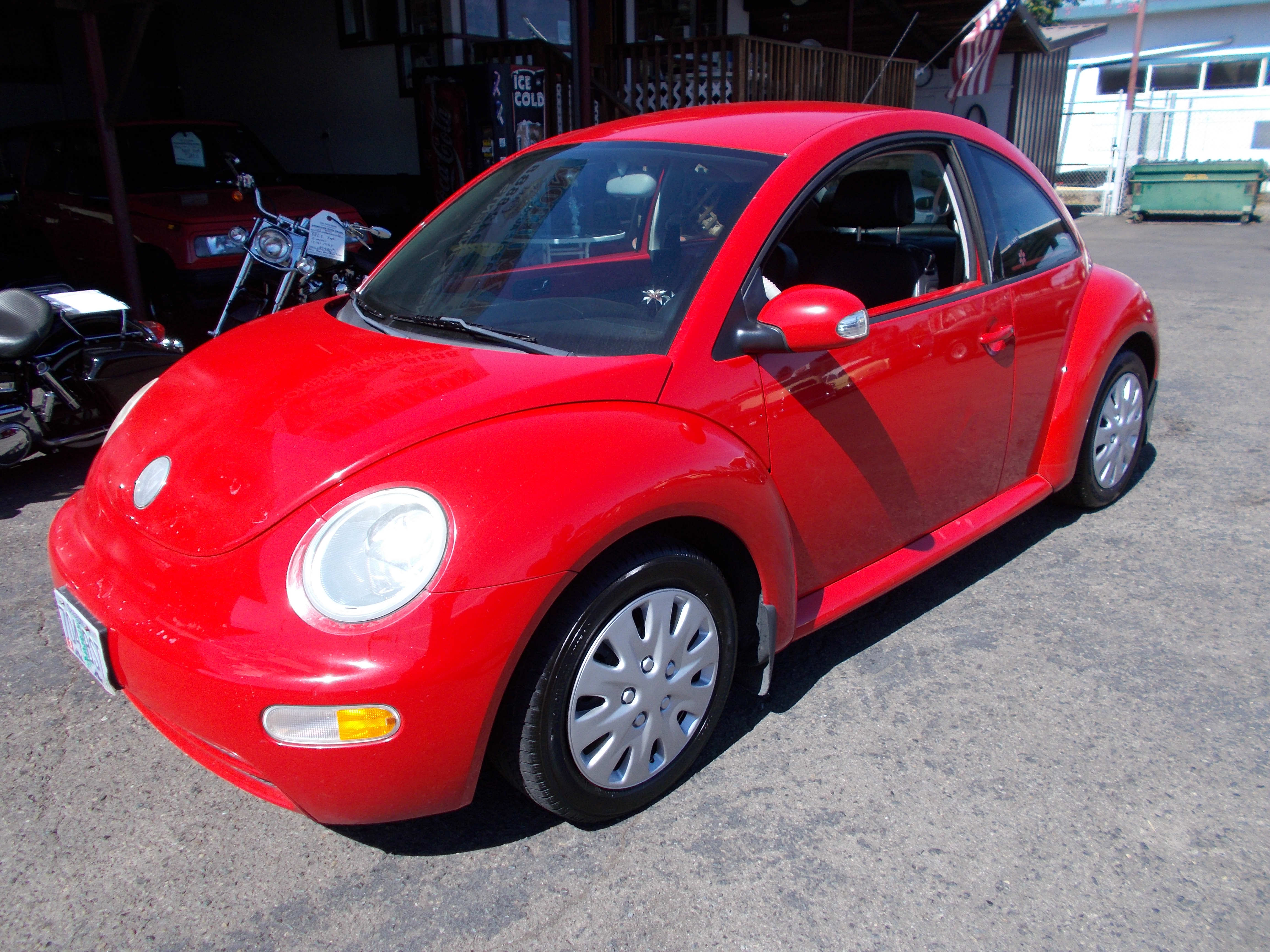 2005 VW Beetle. 4cyl. Automatic. 120,888 miles. Good clean car inside and out. A/C, PW, PDL, After market CD player, tires have good tread. # A-2029 $ 3,950 NOW! $3,450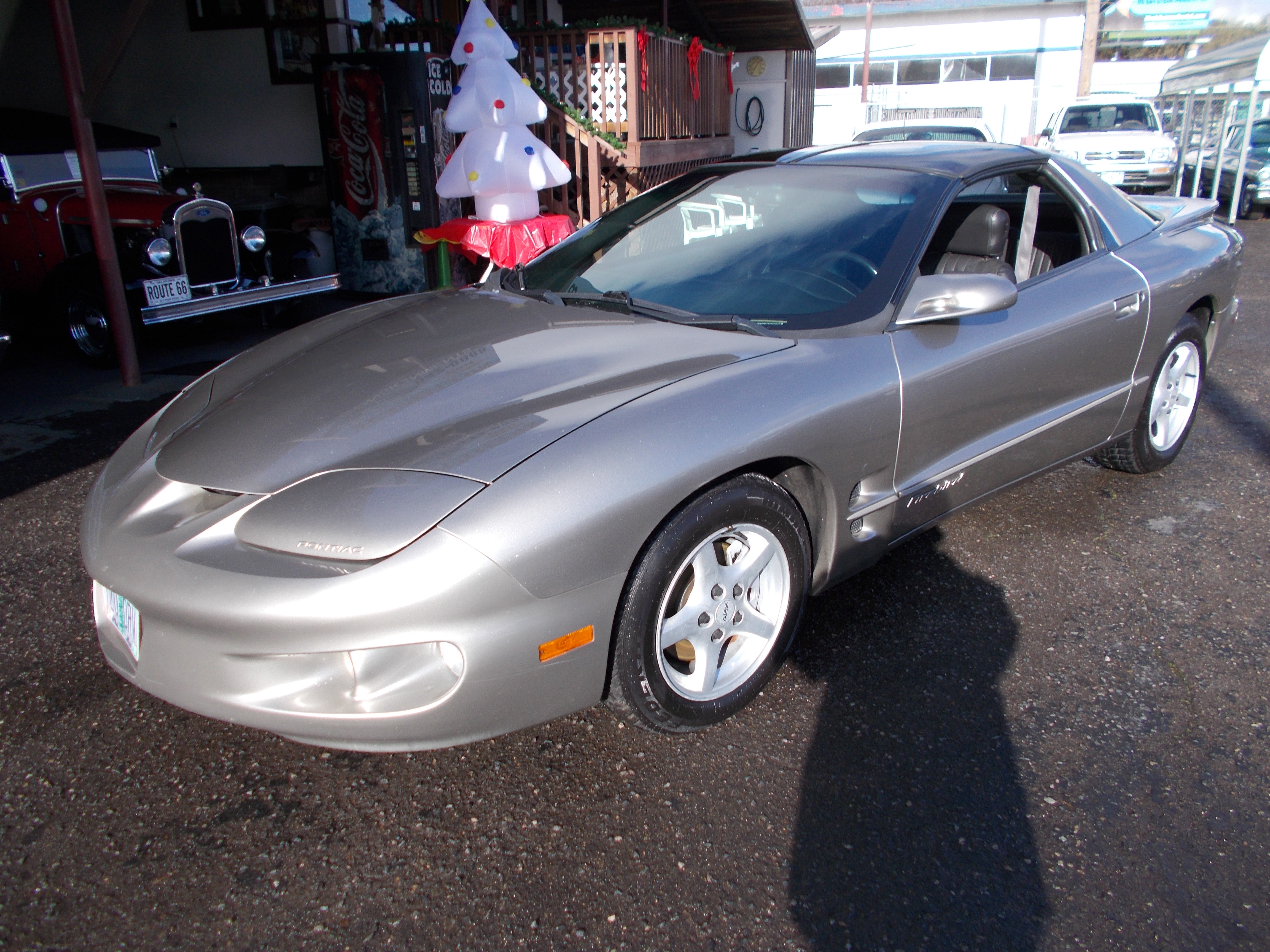 2001 Pontiac Firebird T-Top. V-6, Auto transmission. 81,955 orig. miles. All power, A/C, CC, CD, Like new tires. Real clean car through out. # A-2090 $5,450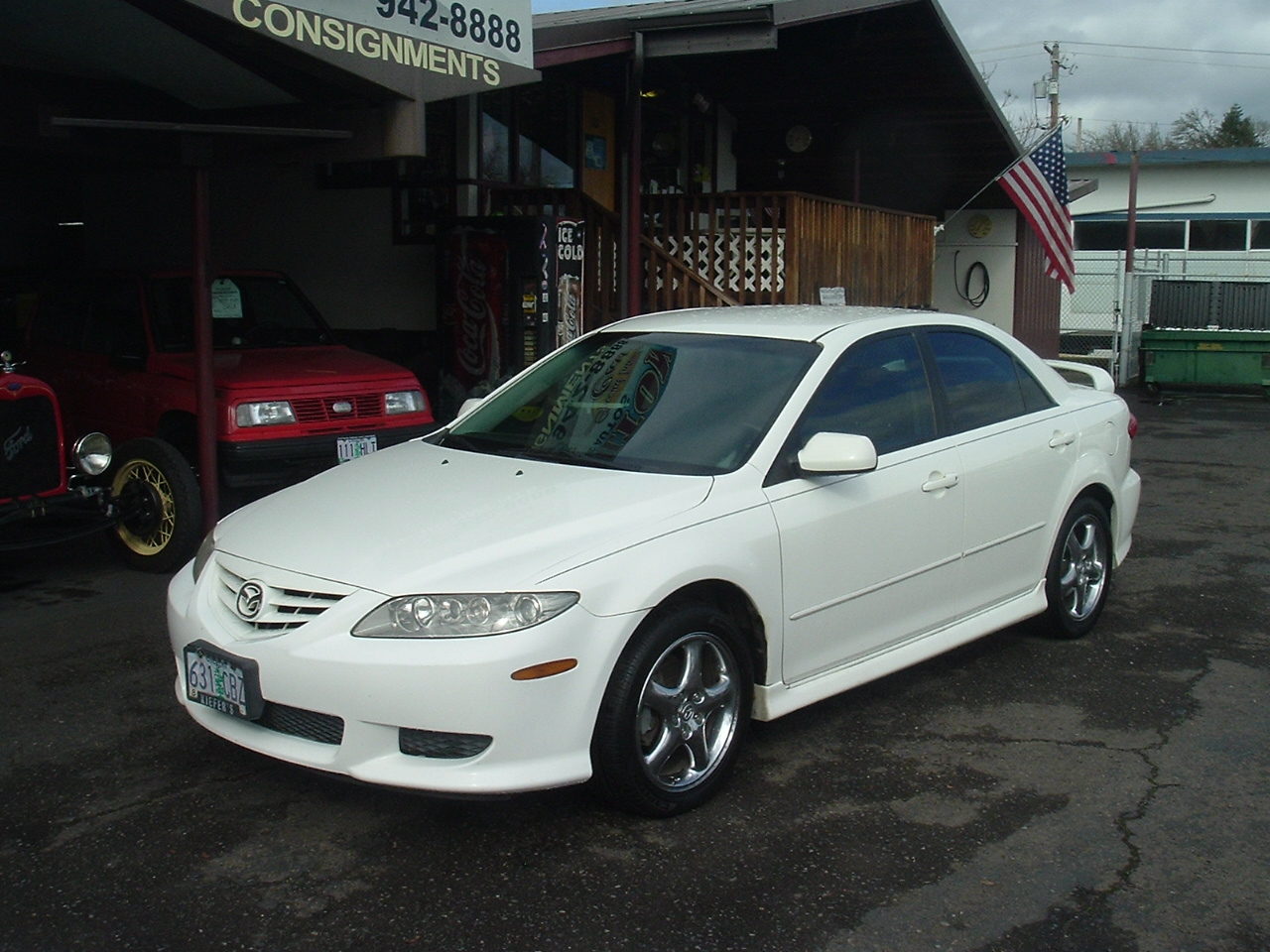 2005 Mazda 6, 4cyl, Automatic. Car has 179,415 miles but motor went bad so got a motor with 123,000 miles out of wrecked car I do not have proof of miles on new motor. It was installed by a mechanics shop here in town and runs excellent. Good body and paint with a couple little dents. Interior is nice has wear on drivers seat from sliding in. PW, PDL, A/C, CC, factory AM/FM CD Player, Tires 75% or better. Nice looking car. # A-1913 $5,950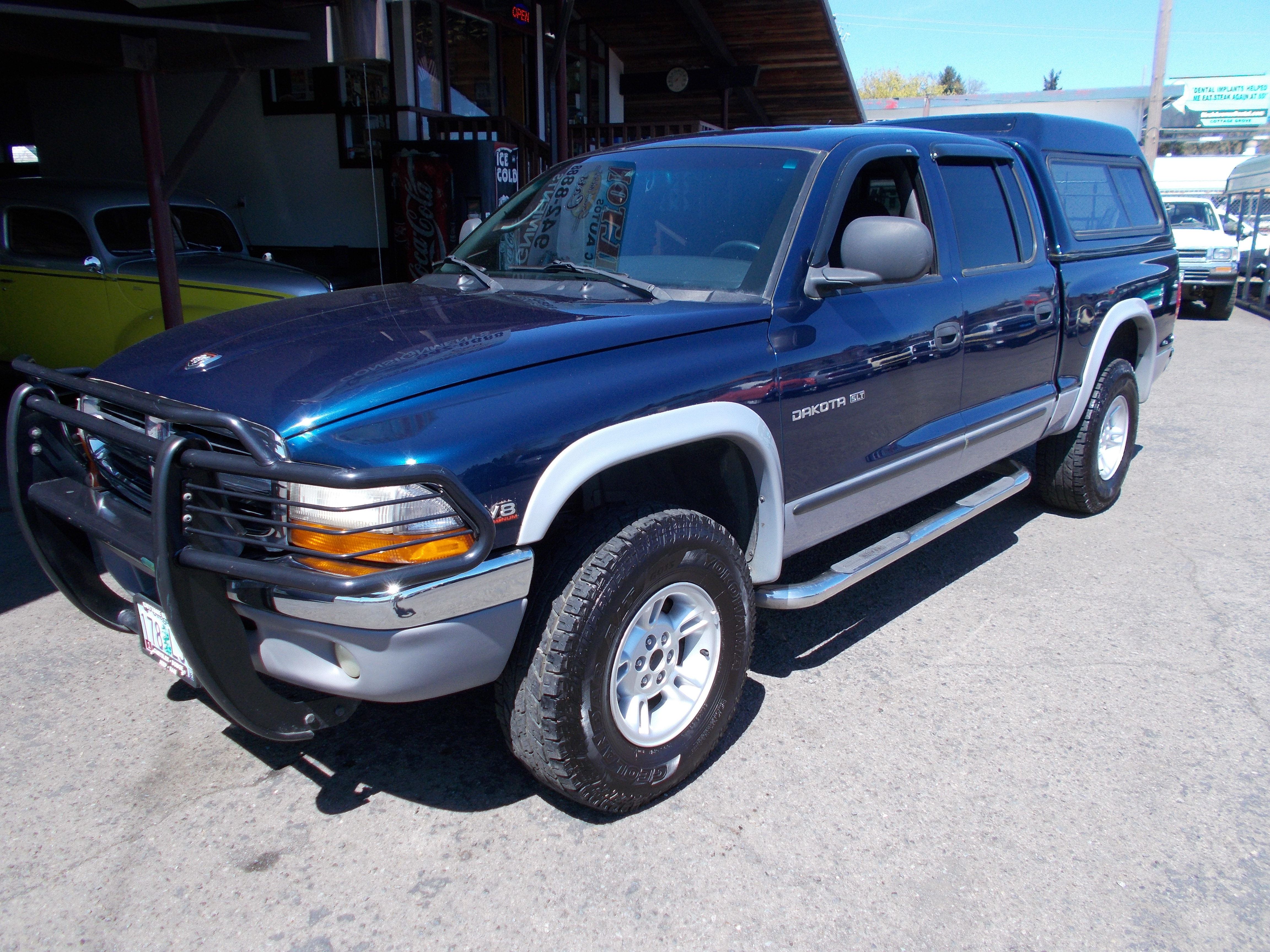 2000 Dodge Dakota Club Cab 4x4 SLT. 5.9 Liter V-8, Auto trans. 131,341 miles. Truck is in excellent condition inside and out. PW, PDL, A/C, CC, Factory CD/Cass stereo, Matching fiber glass canopy, bed mat, tow package, running boards, brush guard, fog lights, 31x10.50 tire w/good tread. Older gentlemen owned and used like a car. # B-1813 $7,750 SOLD!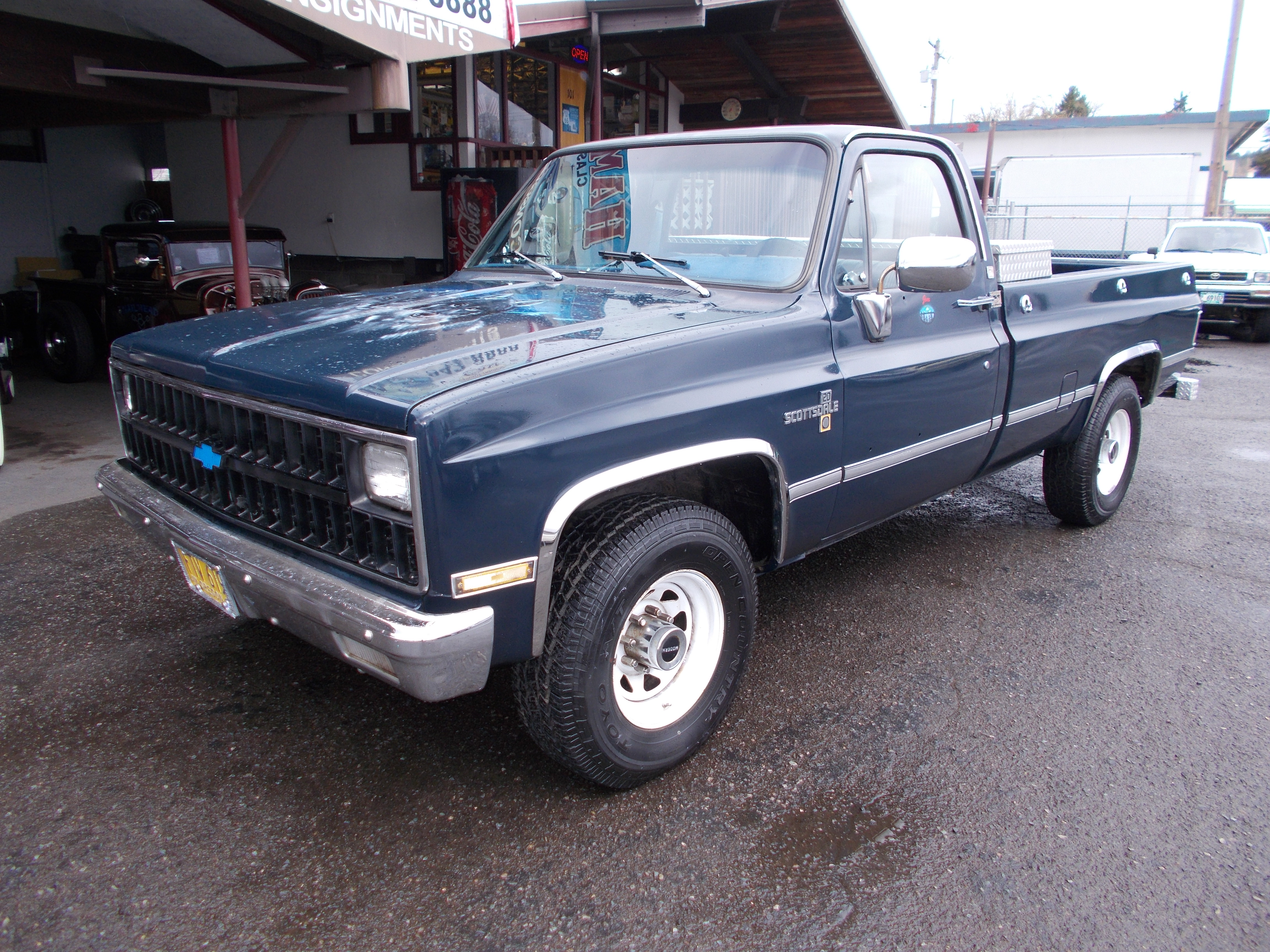 1982 Chevy C20 2wd pickup, 350 V-8, PS, PDB. Auto trans. Nice clean 3/4 ton truck for its age. Good paint and body that don't look to be rusty. Clean interior, motor compartment and bed. Excellent tires. Runs and drives excellent. # B-1812 $2.950 SOLD!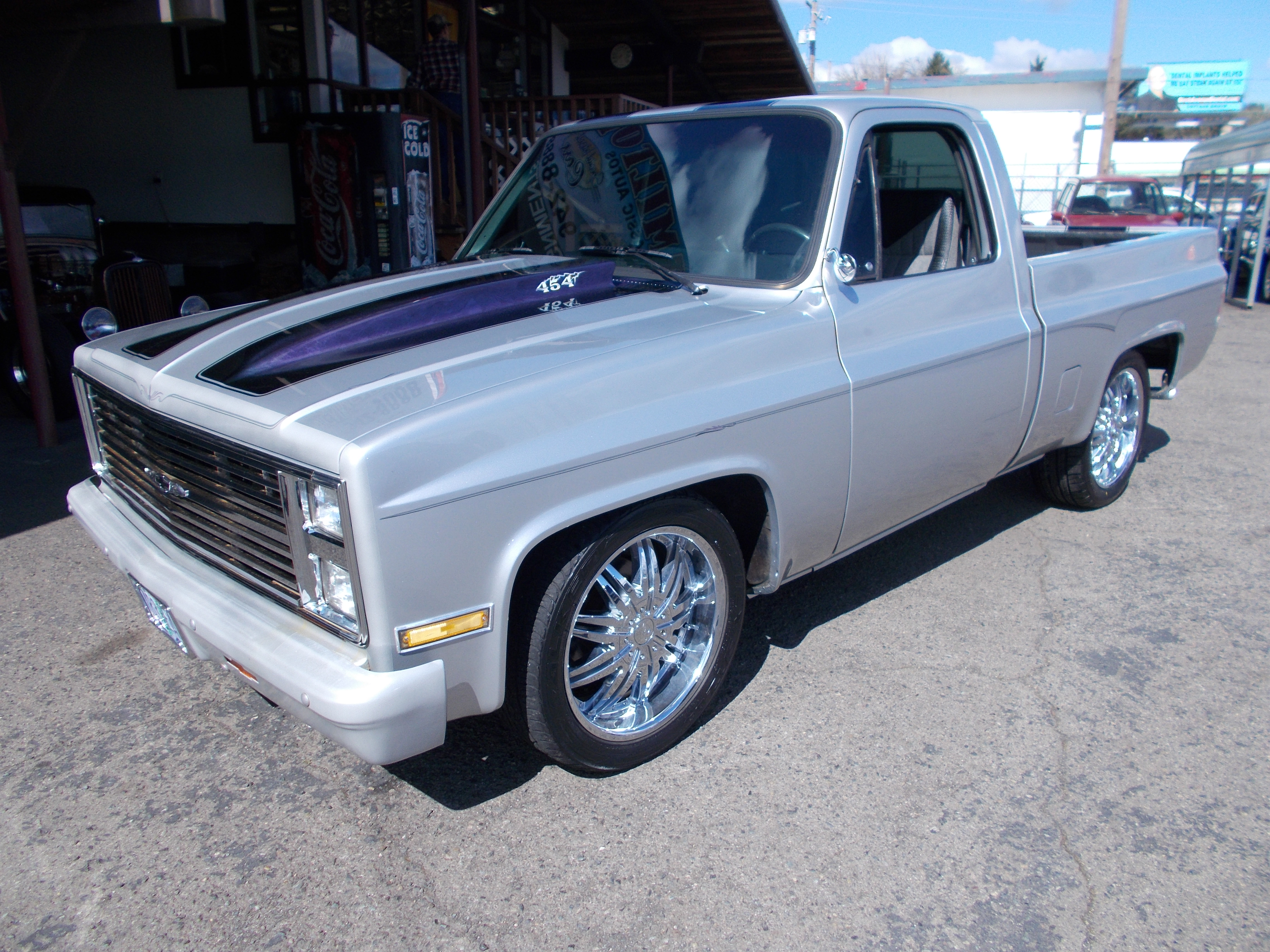 1987 Chevy C-10 SB. 454 V-8, Automatic O/D, Nice restoration done approximately 10years ago, pretty much looks fresh. Motor is a 454 TPI out of a 92 Suburban, also out of same rig is the O/D auto transmission, tilt column and instrument cluster that reads 156,745 miles that is correct miles for motor and trans. Drop spindles with 20" rims and tires, rear tires zero miles, front tires very good. Interior is new with custom seat and upholstery, A/C, PW, Remote entry, CD stereo w/ 4 speakers. Much more done to truck! Runs and drives excellent. # B-1810 $14,950 SOLD!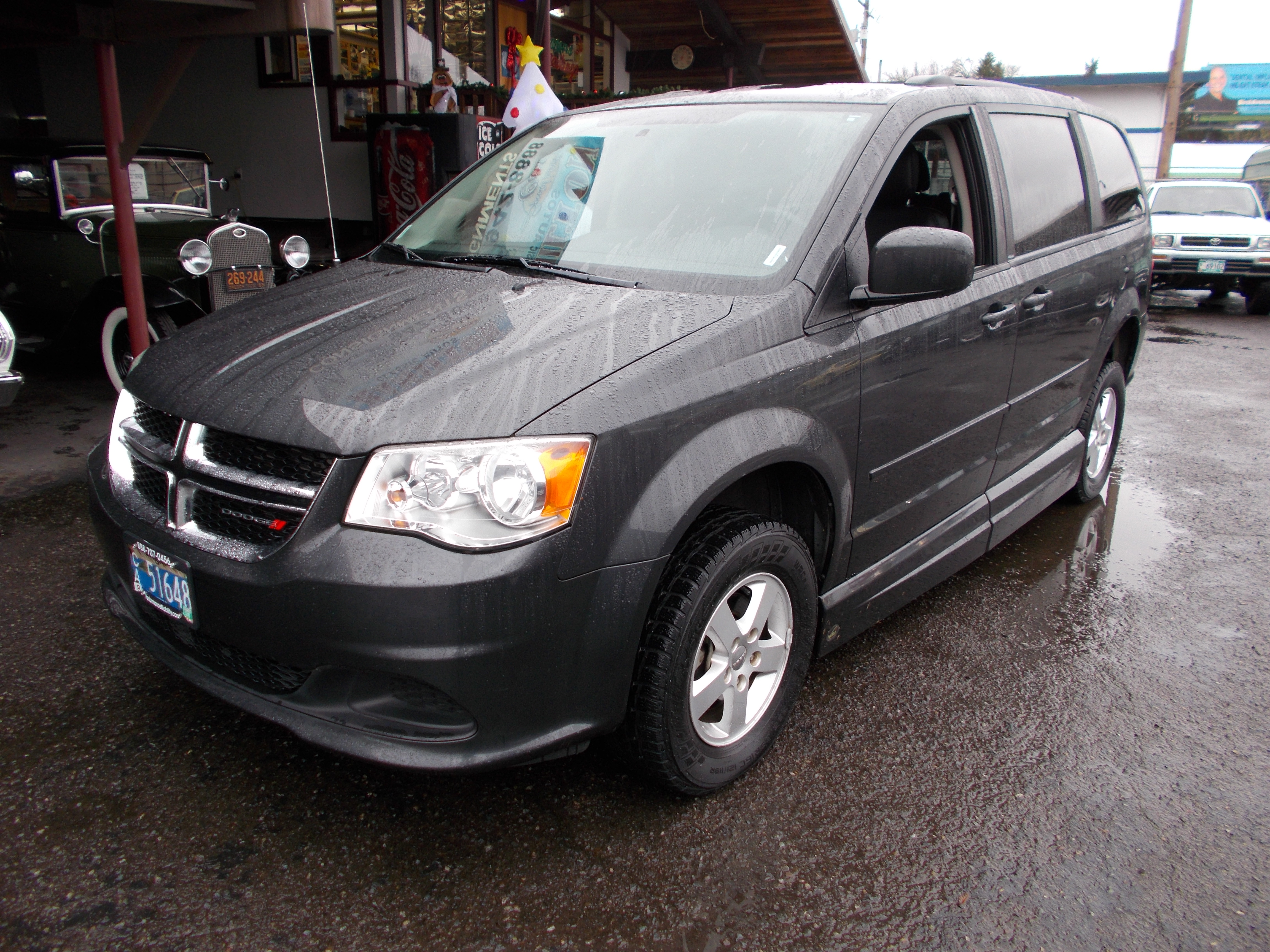 2012 Dodge Grand Caravan SXT. Wheel Chair Conversion. 3.6 Liter V-6, Auto Trans. 52,802 Orig. miles. Loaded with options, plus at 44,203 Miles Performance Mobility installed and VMI - wheel chair conversion costing over $20,000. I have a picture of receipt for conversion stating all the Van had installed. Condition of Van is excellent inside and out and has close to new tires. This is a very nice setup for someone in need. # B-1787 $33,900 NOW! $19,500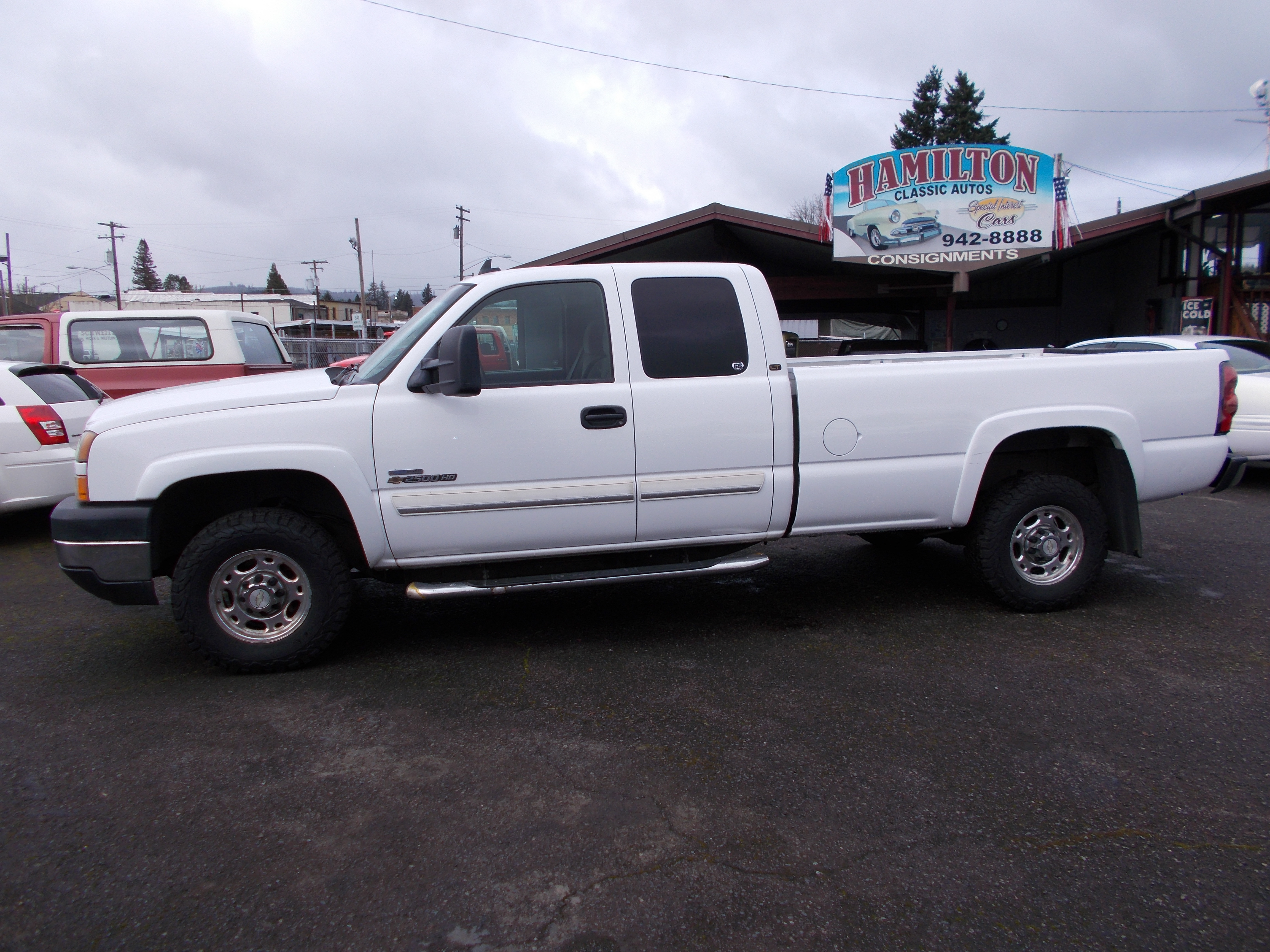 2007 Chevy Silverado HD 2500 Duramax Diesel 2wd. Duramax Diesel, Allison auto trans. Miles are correct at 158,715 Well maintained, and all stock other then K&N air filter. Real nice condition inside and out. Like new tires. # B-1809 $13,500 SOLD!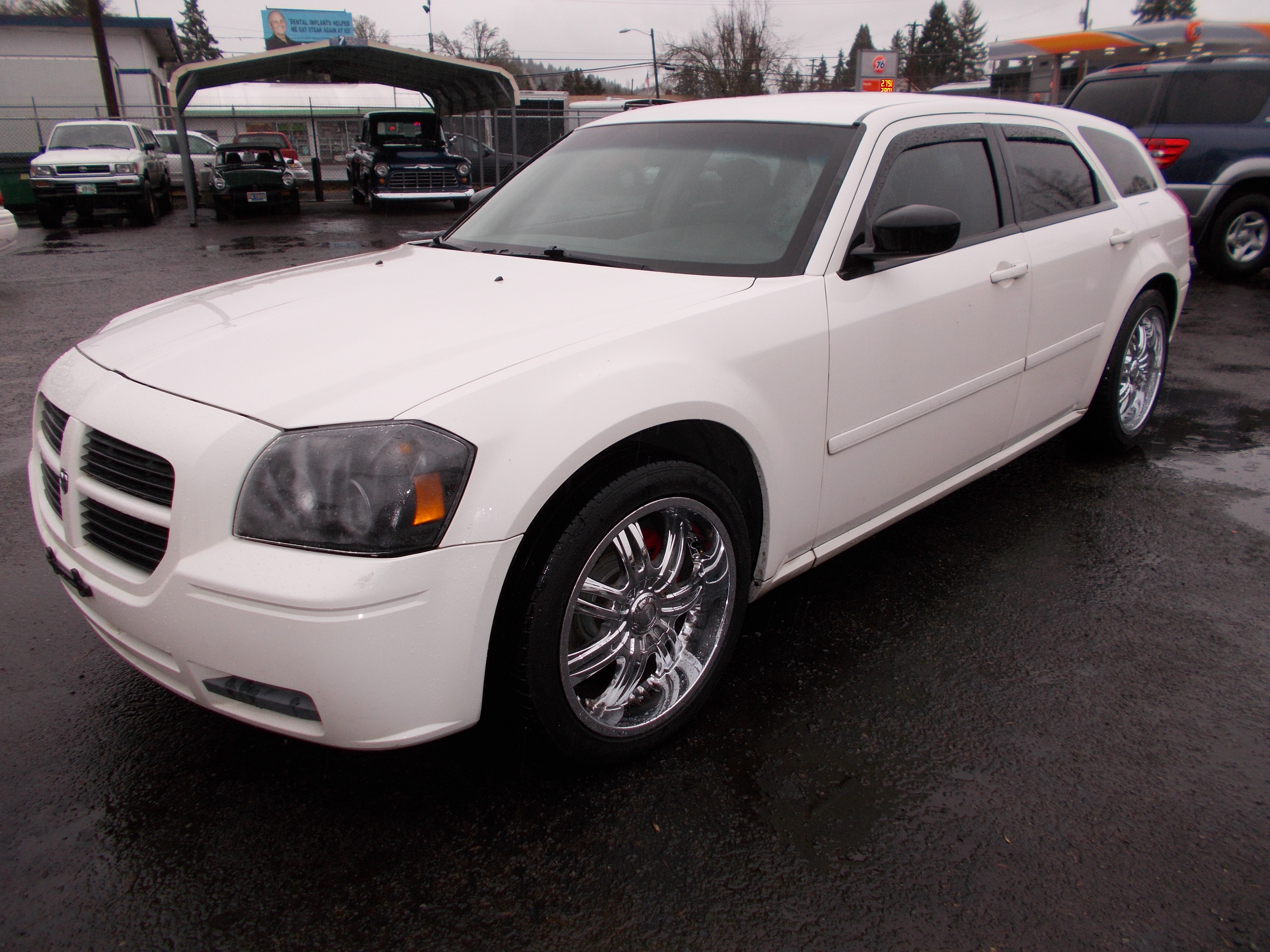 2006 Dodge Magnum. 2.7 L V-6, Auto transmission. Good looking car with 20" Rims and tires. No major body or paint damage, good interior with PW, PDL, CC, A/C, CD player. 228,400 miles and runs excellent. # A-2133 $3,950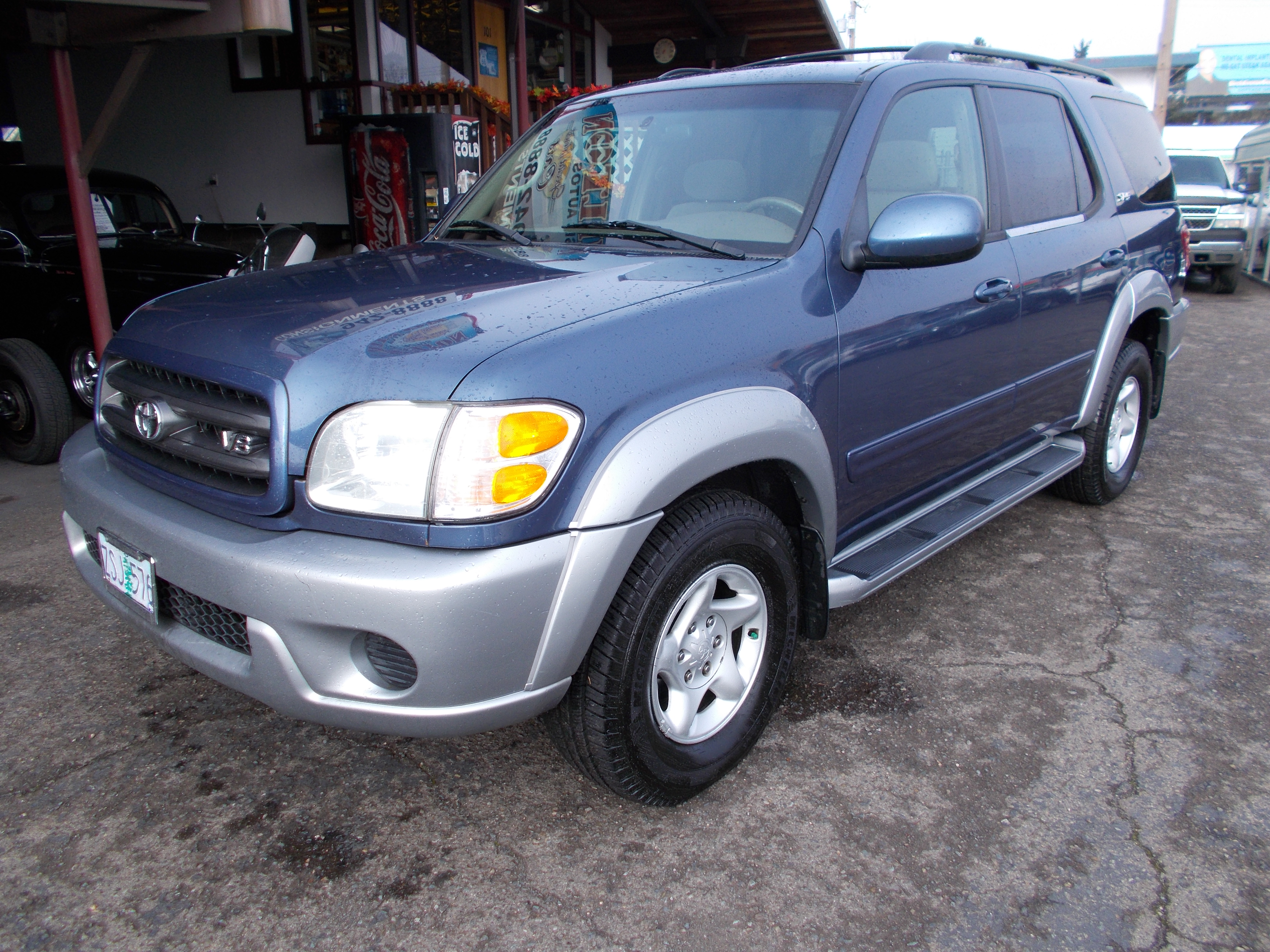 2001 Toyota sequoia SR5 2wd. 4.7 L V-8, auto trans. 2 owner rig with excellent maintenance, owner can't find receipts but most everything was done at dealer so could just run VIN thru dealer to check everything. Excellent condition, there is a few little scrapes on exterior, interior excellent, Tires like new. 187,507 miles and will make someone very reliable transportation. # B-1808 $4,750 NOW! $3,750 SOLD!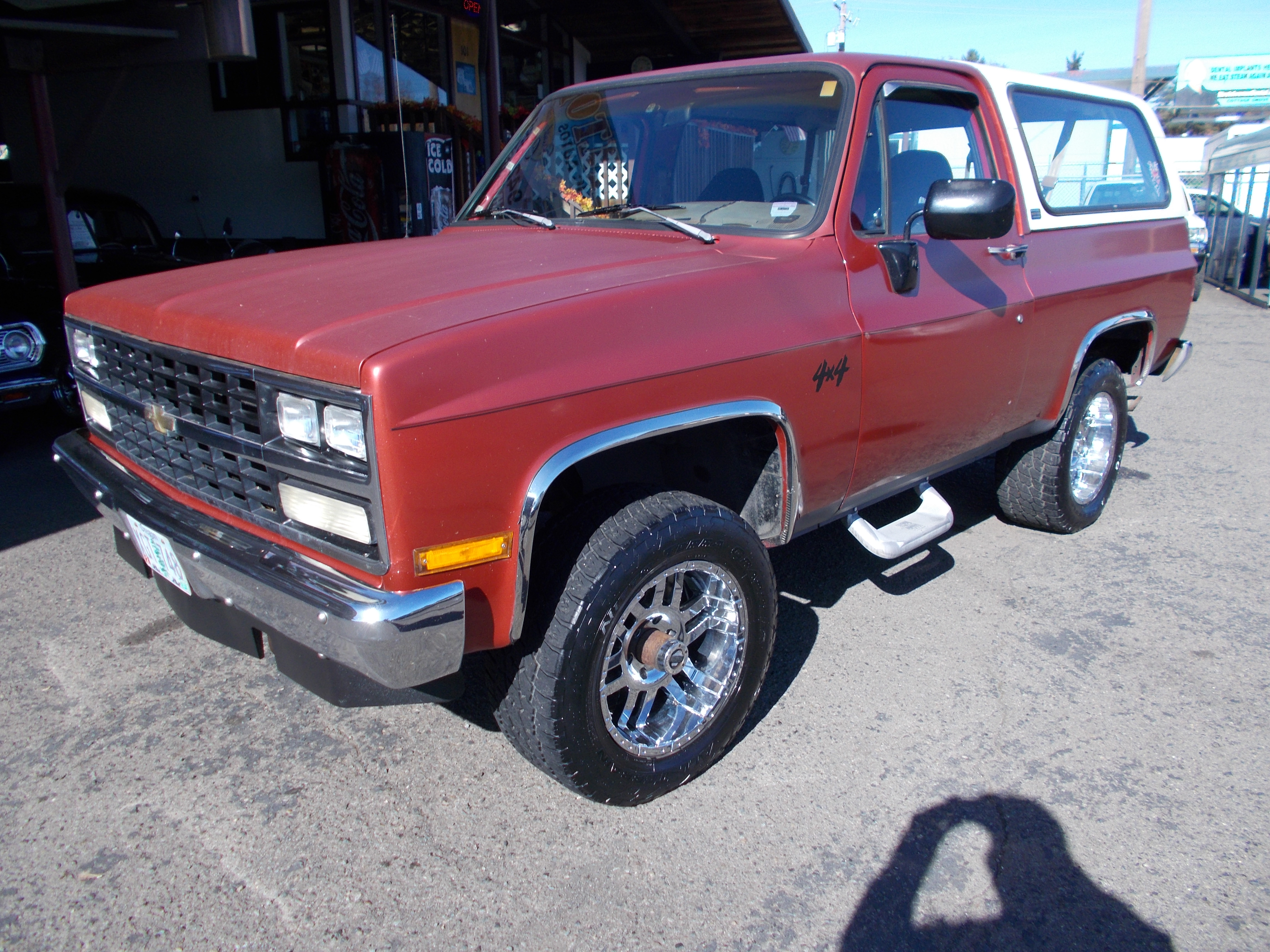 1991 Chevy Blazer Full size. 350 V-8, 4spd. manual trans. 2-owner Blazer with 159,928 original miles. PS, PDB, A/C all there and hooked up but don't blow cold. These are hard to find not all rusted out. This one is super solid and straight. Second owner bought it with 40,000 miles and said it had never been in a wreck or in a fender bender. Original color is bright red, the interior color is stock red, exterior painted once off color. Have paper work for brakes, wheel bearings and clutch all done at mechanic shop. Has after market tires and wheels in good shape, also has original rally wheels with good studded tires on them. Half convertible hard top. These blazer are hard to find in this condition and values are jumping up. # B-1805 $6,950 NOW! $5,450 SOLD!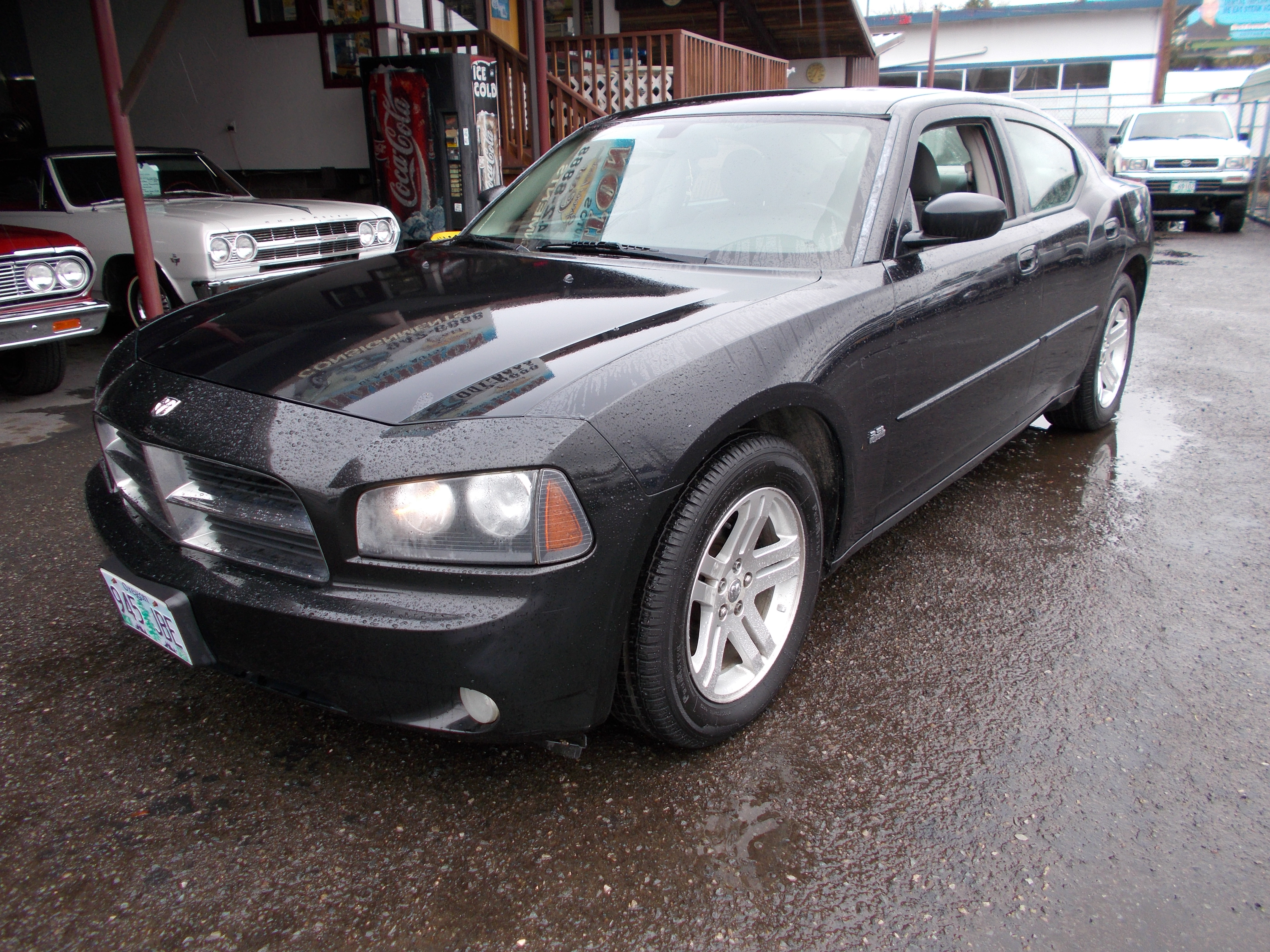 2006 Dodge Charger SXT. 3.5 Liter H.O. V-6. Auto Transmission. 139,103 miles. PW, PDL. A/C, CC, CD stereo, Sun Roof, Cloth int. Car is in good condition inside and out and has like new 18" tires. # A-2100 $5,950 NOW! $3,450 SOLD!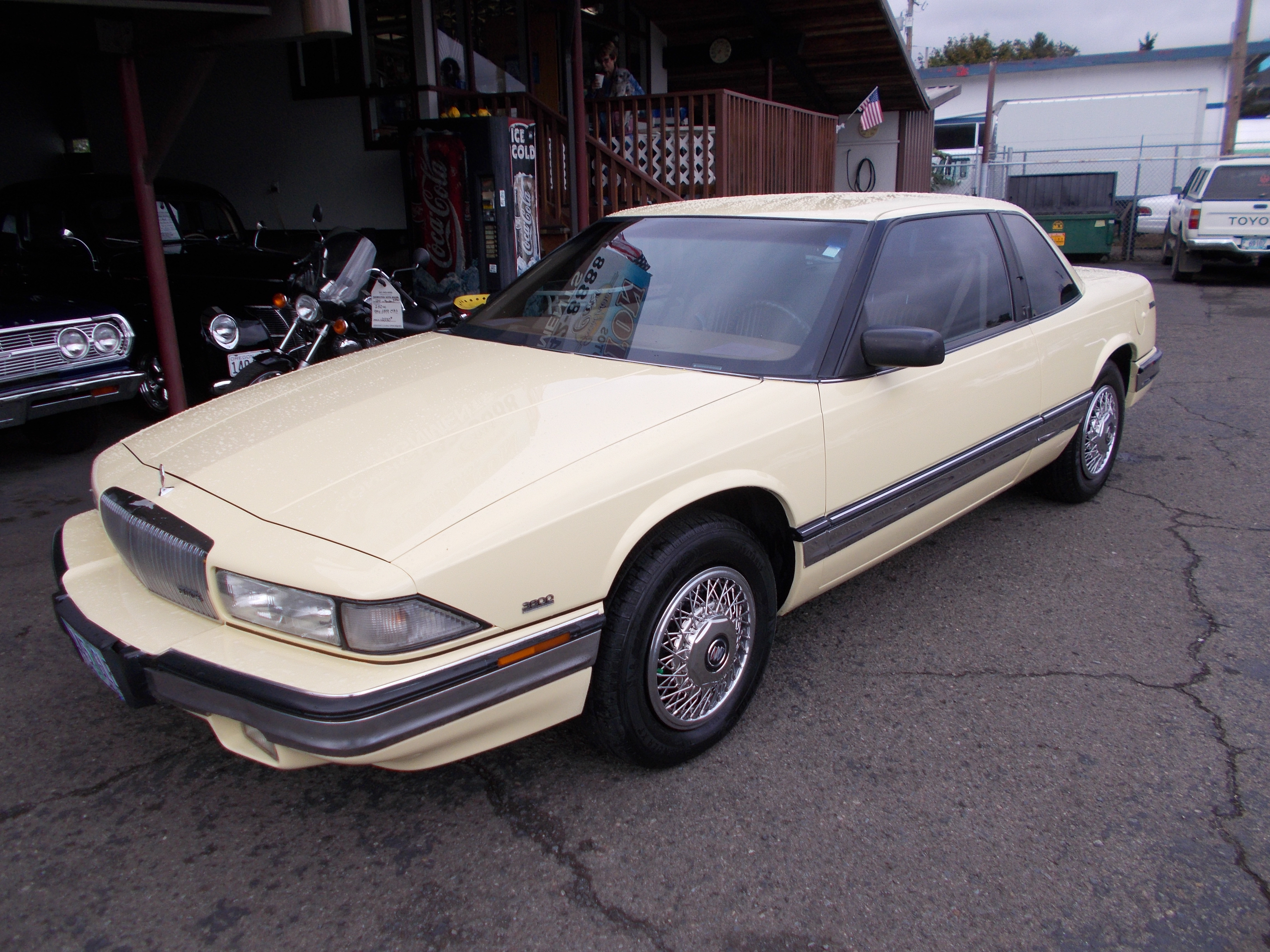 1991 Buick Regal Limited. Super nice car repainted once. 3.8 Liter V-6, auto, Loaded with options including Leather interior in excellent condition. 126,110 miles and runs out excellent. # A-2126 $5,450 NOW! $2,950 SOLD!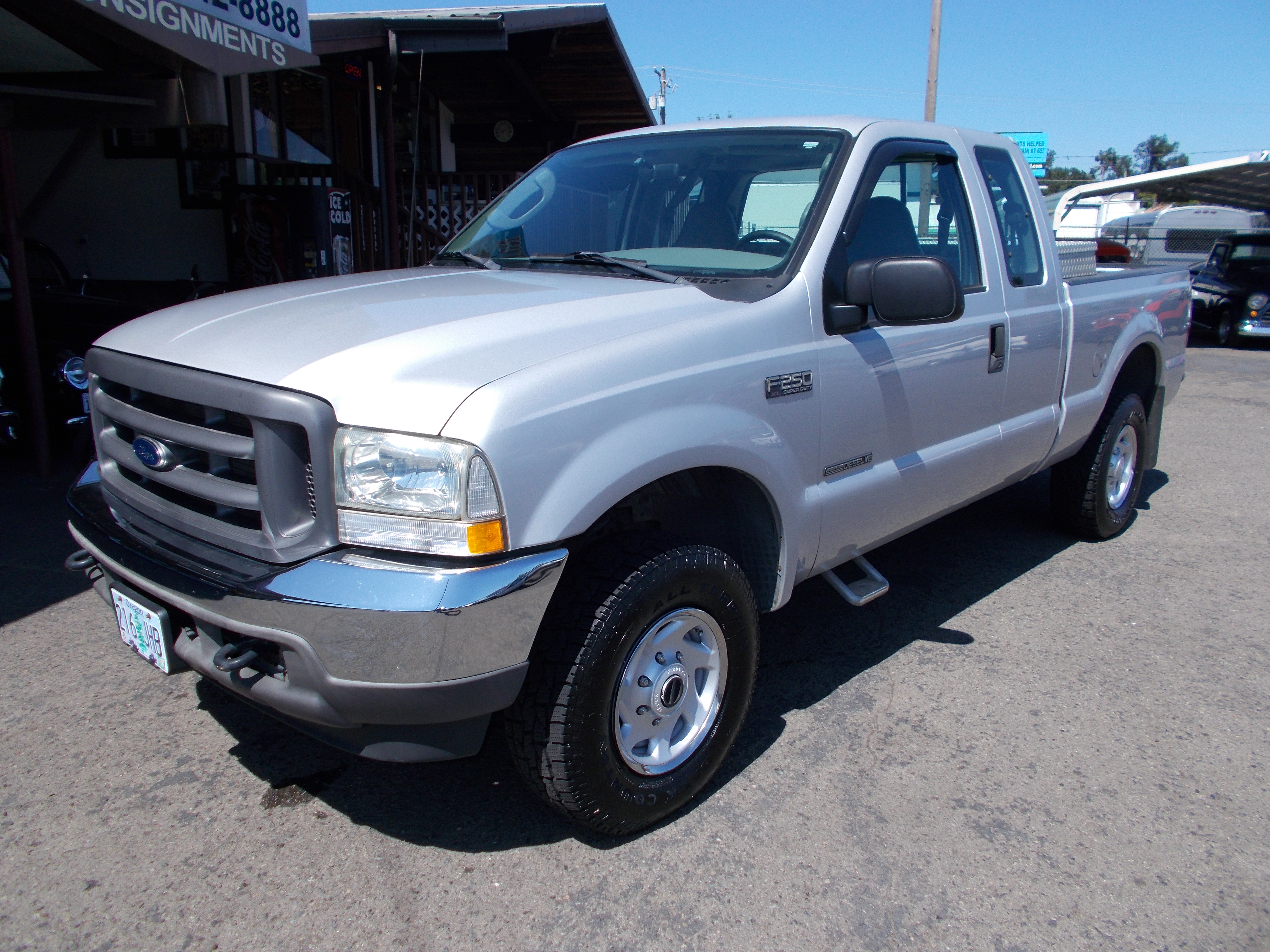 2003 Ford F-250 Super Duty XL 4x4 Super Cab. 7.3L Power stroke Diesel. 6spd. Manual trans. Only 64,648 original miles. Base truck w/rubber floor mat. A/C, After market CD stereo. Real clean truck with a couple small dents. interior excellent. Good tires. # B-1802 $18,900 NOW! $16,500 SOLD!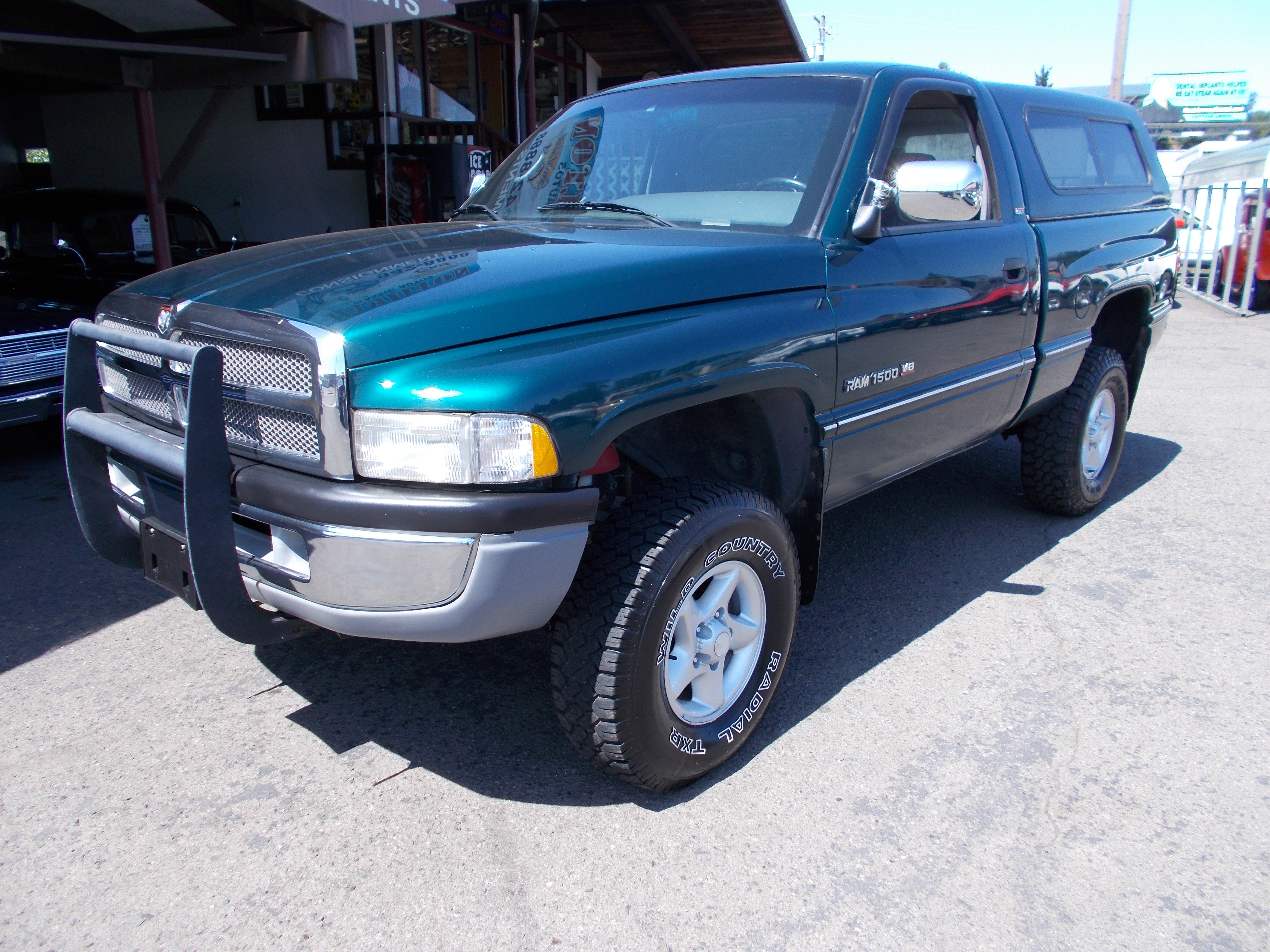 1997 Dodge Ram 1500 4X4. 318 V-8, 5spd. manual transmission. 152,168 orig miles. one owner truck. Cold-A/C, PW, PDL, CC. Lift kit, Good tires, Matching Canopy, Bed Liner. Good running clean truck inside and out. # B-1801 $3,450 SOLD!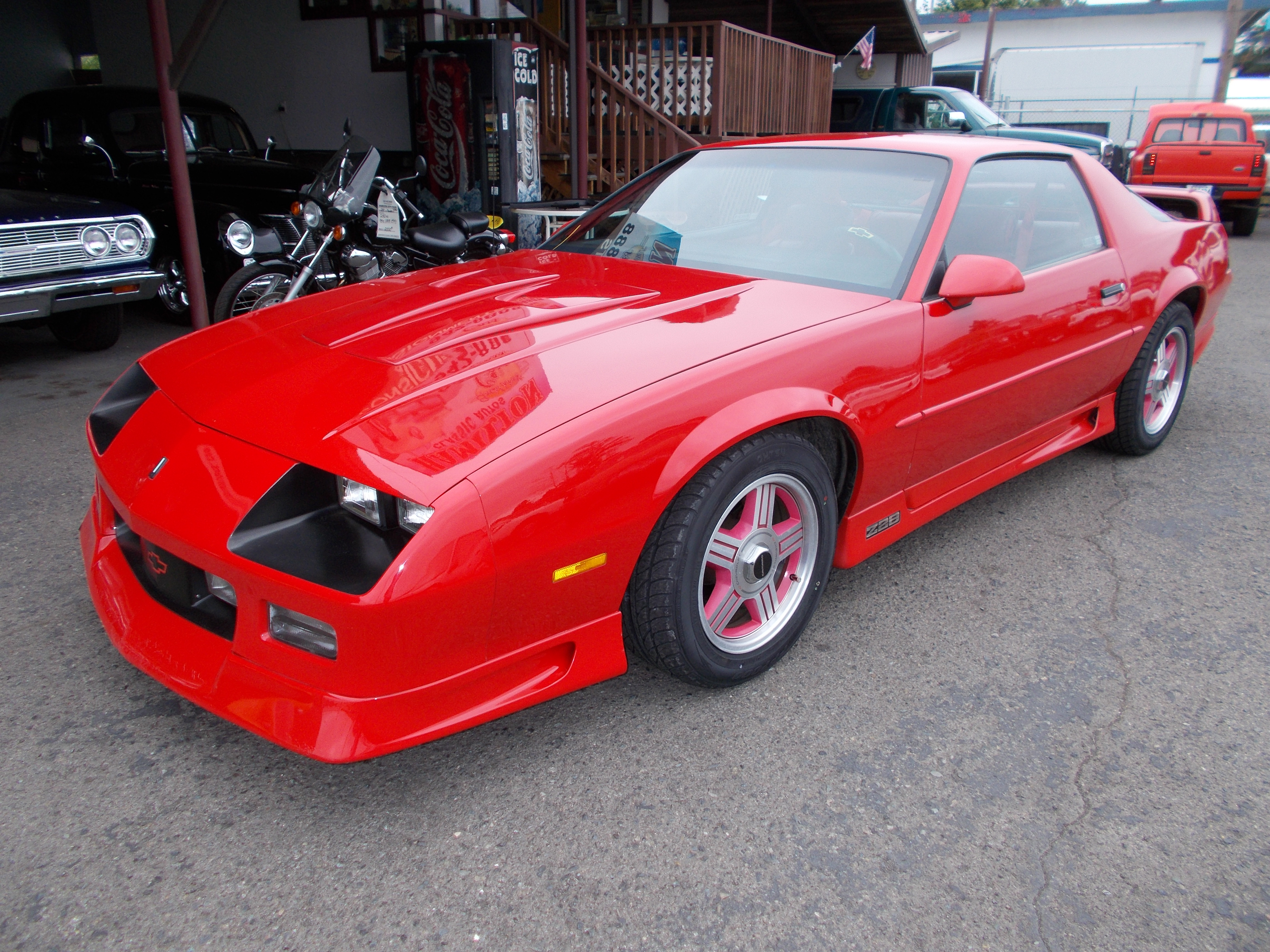 1991 Chevy Camaro Z-28. 305 V-8, 6spd. manual trans. 85,334 orig. miles. PW, PDL, A/C, CC, Leather int. Real clean car with excellent original paint, The front spoiler has some stress lines down low and a couple chips in paint. Interior is excellent with a little wear on front leather seats, needs new head liner-trim pieces for head liner excellent. Brand new tires. This is and excellent old Camaro. # A-2121 $7,950 SOLD!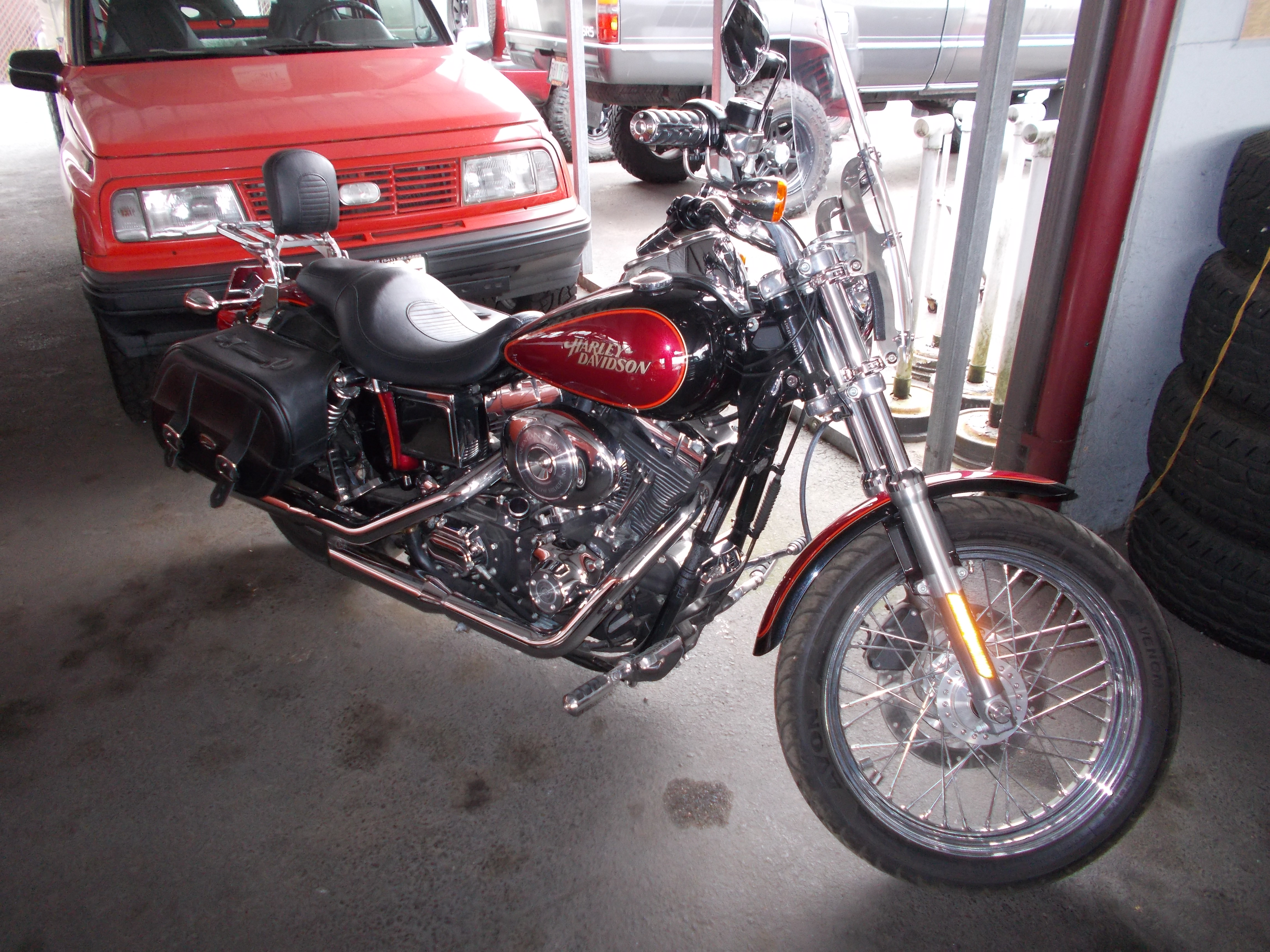 2005 Harley Dyna Low Rider. 88cc. Almost spotless Harley with 15,756 miles. Excellent condition with good tires. Runs like new! # C-239 $8,450 NOW! $7,450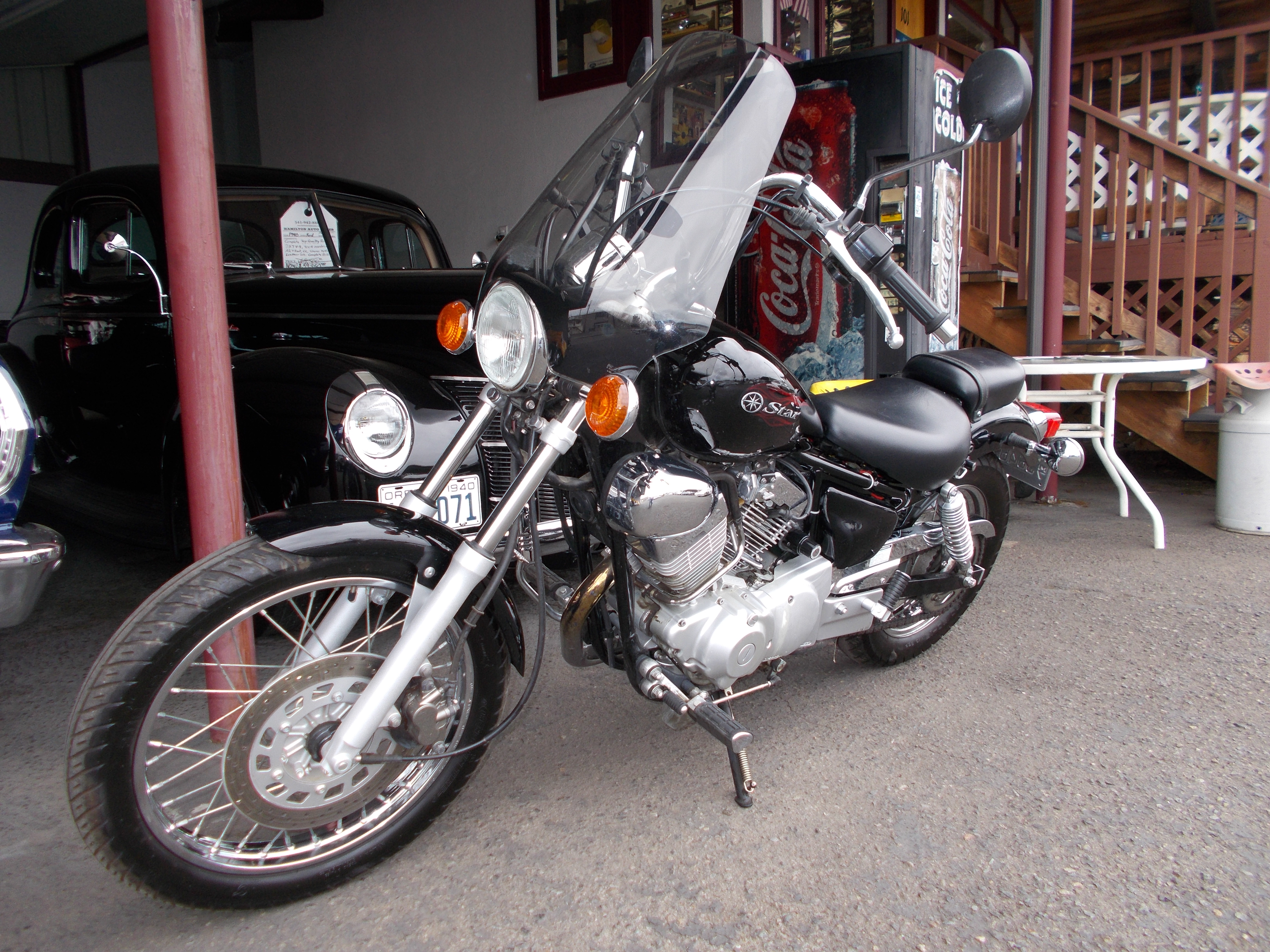 2011 Yamaha 250 V-Star. 250cc with only 1,508 miles. Super light weight bike in excellent condition. # C-240 $2,450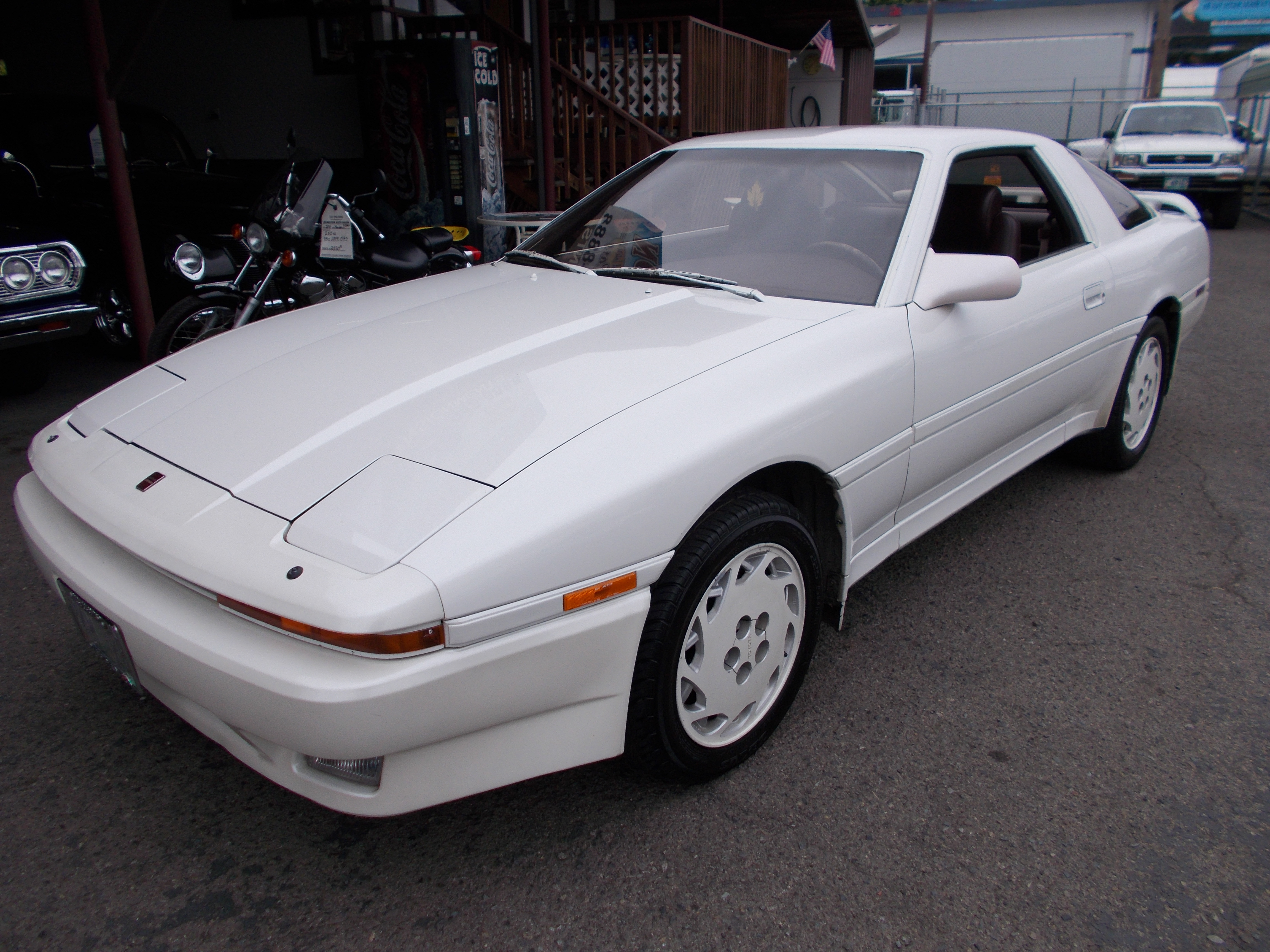 1987 Toyota Supra Turbo. 90,563 original miles. 6cyl. Turbo, Auto Trans. Loaded with A/C and Leather interior. Car is straight with nice original paint. Interior excellent with just a little wear on seats. Super nice hard to find car in this condition! # A-2118 $10,900 NOW! $8,950 SOLD!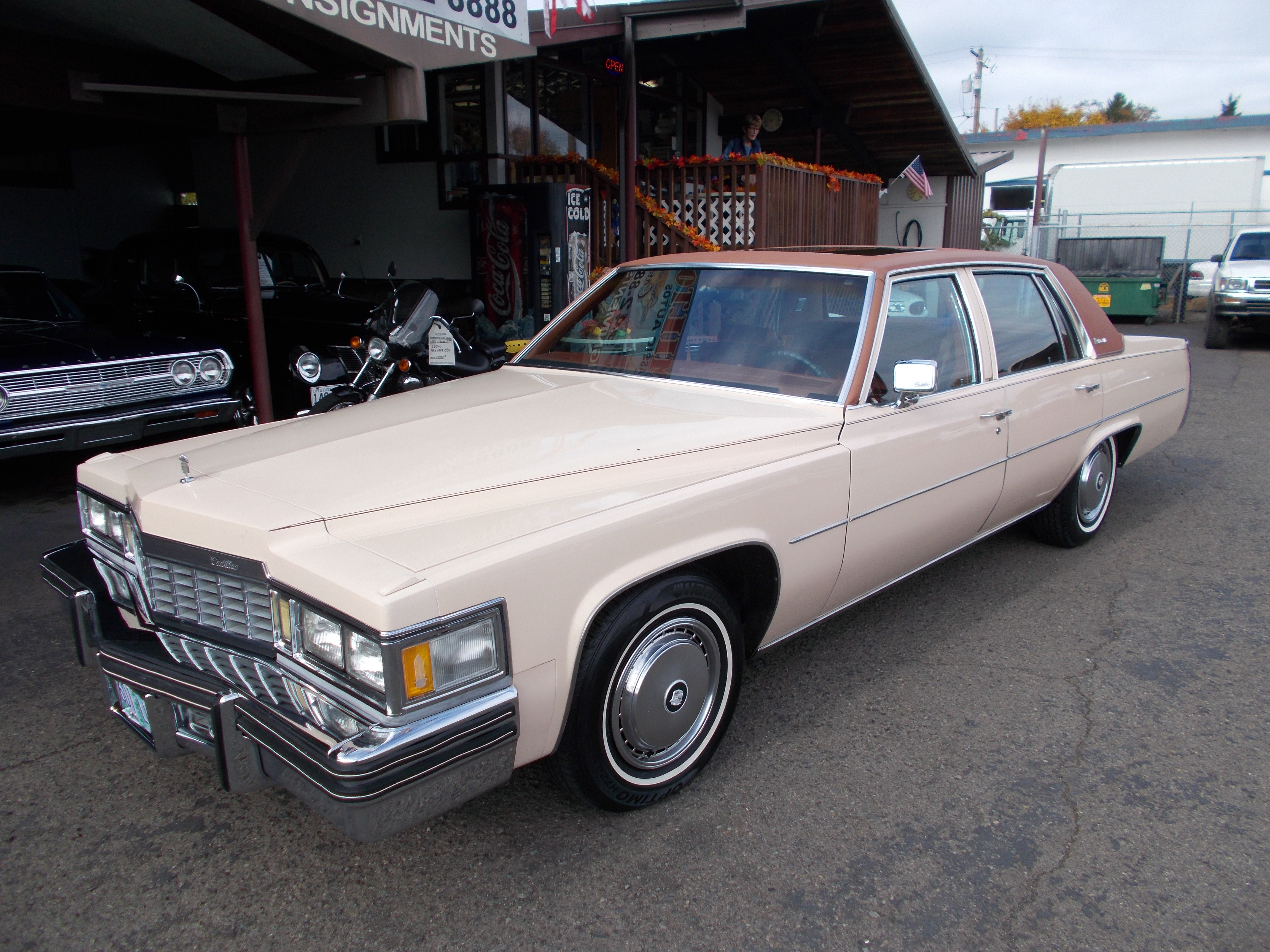 1977 Cadillac Sedan Diville, 36,654 original miles. 425 V-8, auto transmission. Original Eastern Oregon car no rust, original purchase agreement and manual. Car has all power options including sunroof, 8-track stereo that works w/box full of 8-tracks and A/C. All power works proper and original A/C converted to 134A, Blows cold. Car has like new tires. Interior is excellent original condition. Body has no dents or rust and has been repainted once. Vinyl top good, just shows some sun fade. Only thing I know of wrong is power antenna is broke off. This would be a hard car to find with these low miles and excellent condition. # A-2129 $6,450 NOW! $5,950 SOLD!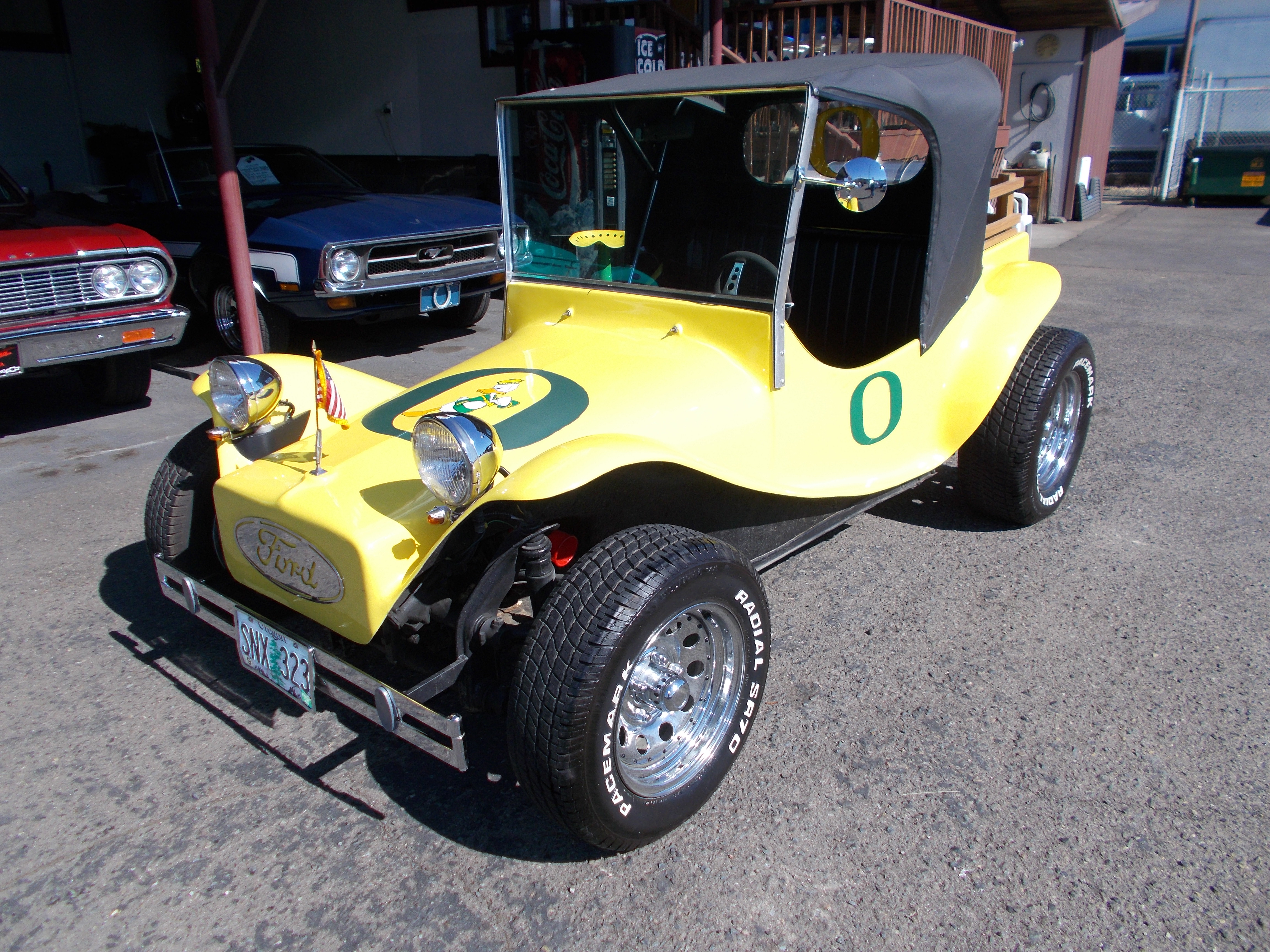 1970 VW Bug Buggy. Manx style T-Bucket dune buggy. Street legal. 1600cc motor, 4spd. trans. Changed to hydraulic clutch. $400 pedal cluster, after market gauges. Excellent fiber glass and paint, nice top and interior. Runs perfect. This is a nicely done conversion. # A-2108 $7,450 NOW! $6,850 SOLD!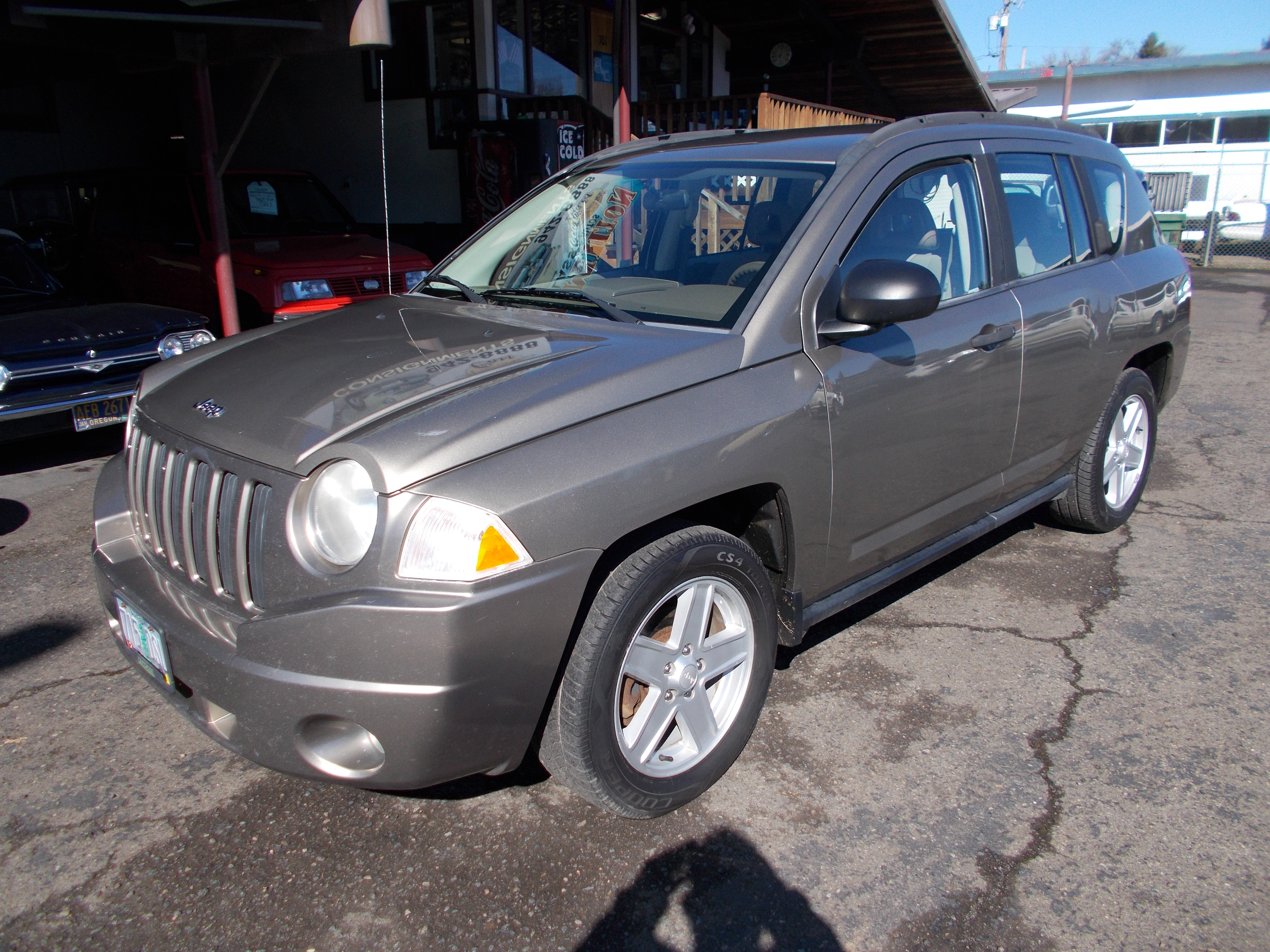 2007 Jeep Compass 4WD. 2.4 Liter 4cyl. 5spd. manual. CD player, Tow package, alloy wheels, Tire have good tread. Nice clean jeep with 171,224 easy miles. No body damage, a few scratches. Real clean interior. Runs and drives excellent! # B-1783 $5,450 NOW! $3,950 SOLD!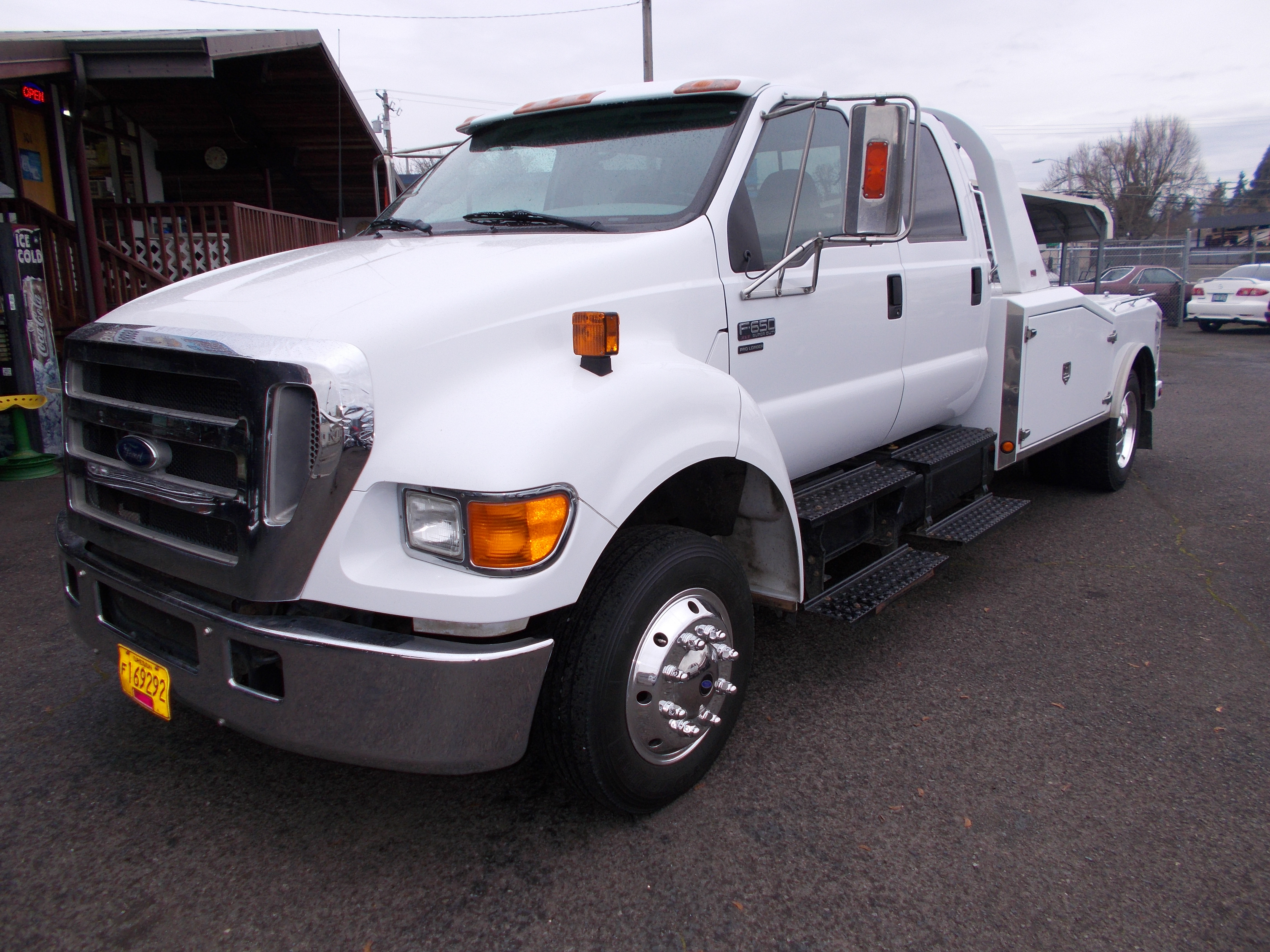 2004 Ford F-650, Cat C-7, 7spd. manual trans. Has the Large fuel capacity. Electric over Hydraulic brakes. Only 100,791 miles. Very nice truck, motor kept stock. A/C, PW, PDL. Super clean cloth interior with rubber floor mat. Very nice body and paint, no damage. Tool boxes in bed have lighting. Tires all good. Very clean well kept truck! # B-1791 $34,500 NOW! $24,900 SOLD!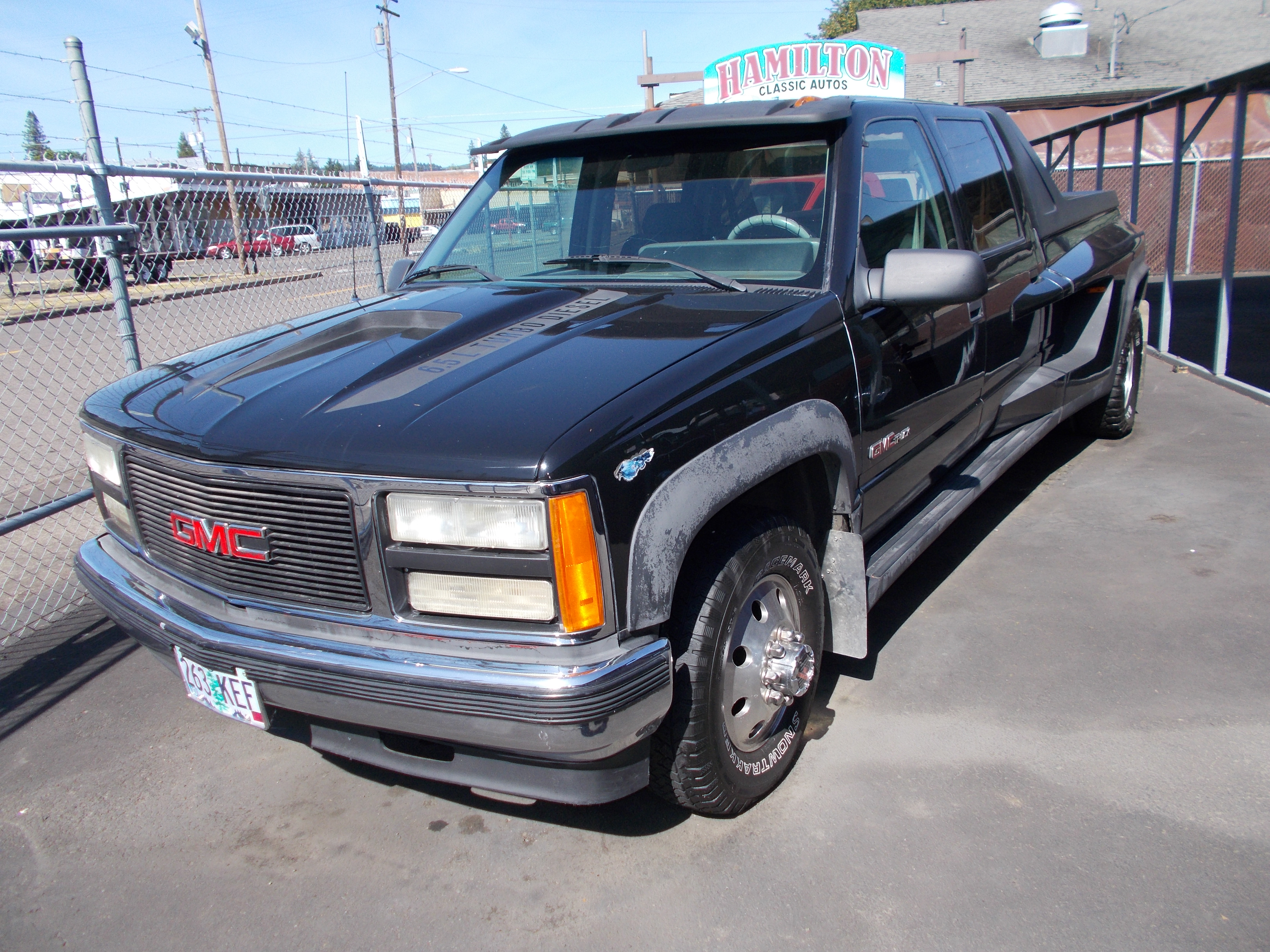 1993 GMC Sierra 3500 Dually. 6.5L Turbo Diesel, Automatic trans. Not sure on miles odometer shows 054,288 doubt they are correct. Body and paint in good condition with no major damage. Interior is in nice condition with just the head liner having some tears, Leather seats. PW, PDL, A/C is all there and hooked up, button works but A/C don't engage, It is R12 unit so probably hasn't been charged. Tires are just fair. Good running truck starts right up every time. # B-1793 $8,950 SOLD!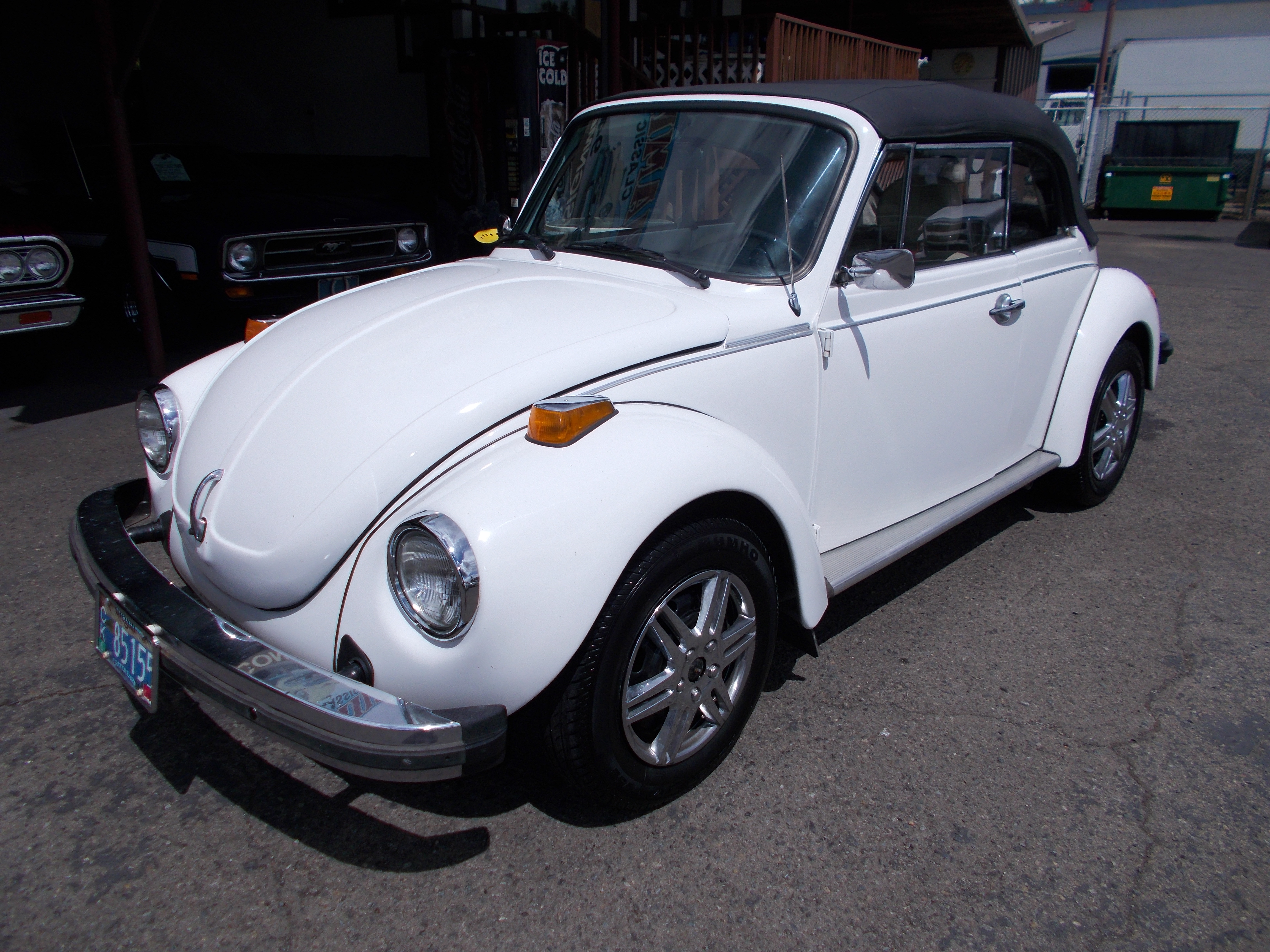 1977 VW Bug Convertible. Rebuilt motor, 4spd. Paint and body straight and clean, Interior and top real nice with top boot. Nice clean motor compartment. Runs and drives excellent! # A-2107 $7,750 SOLD!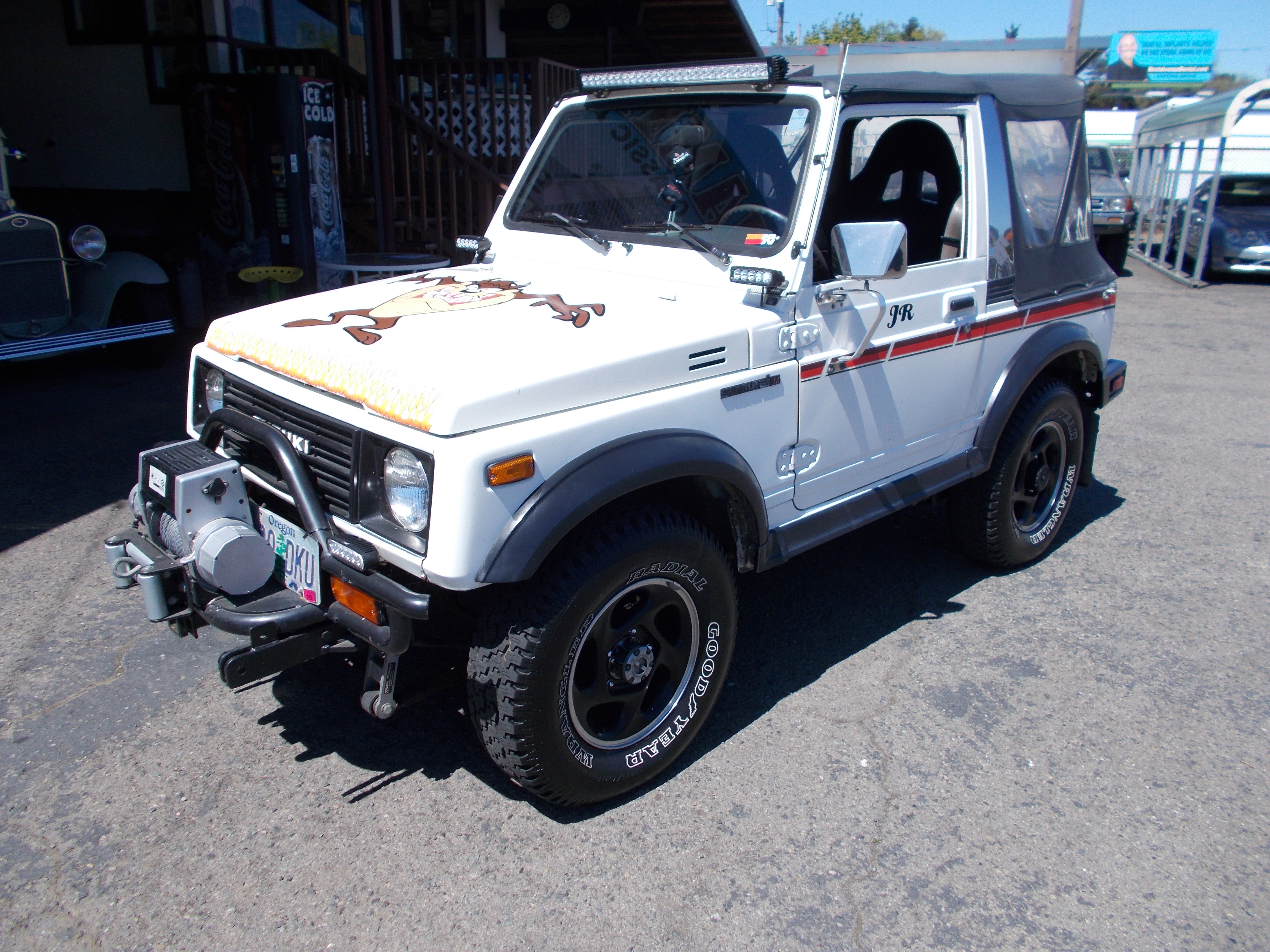 1987 Suzuki Samurai Soft top. Upgraded 1.6L 16 valve motor, 5spd. This is very clean inside and out rig. I don't see any rust issues and it appears to be nice original paint other then drivers front fender. The Taz and flame are just stickers that would peal right off. Like new tires and wheels. Winch, custom bumpers. I'm hoping to have a better write up on it soon, and older gentlemen owned it and says everything has been gone thru mechanically but he is in the process of moving and can't find any paper work at this time for me to look at. I will say this if you like these I have seen plenty of them and this is one of the nicer ones you will find. Runs and drives excellent. # B-1796 $6,450 SOLD!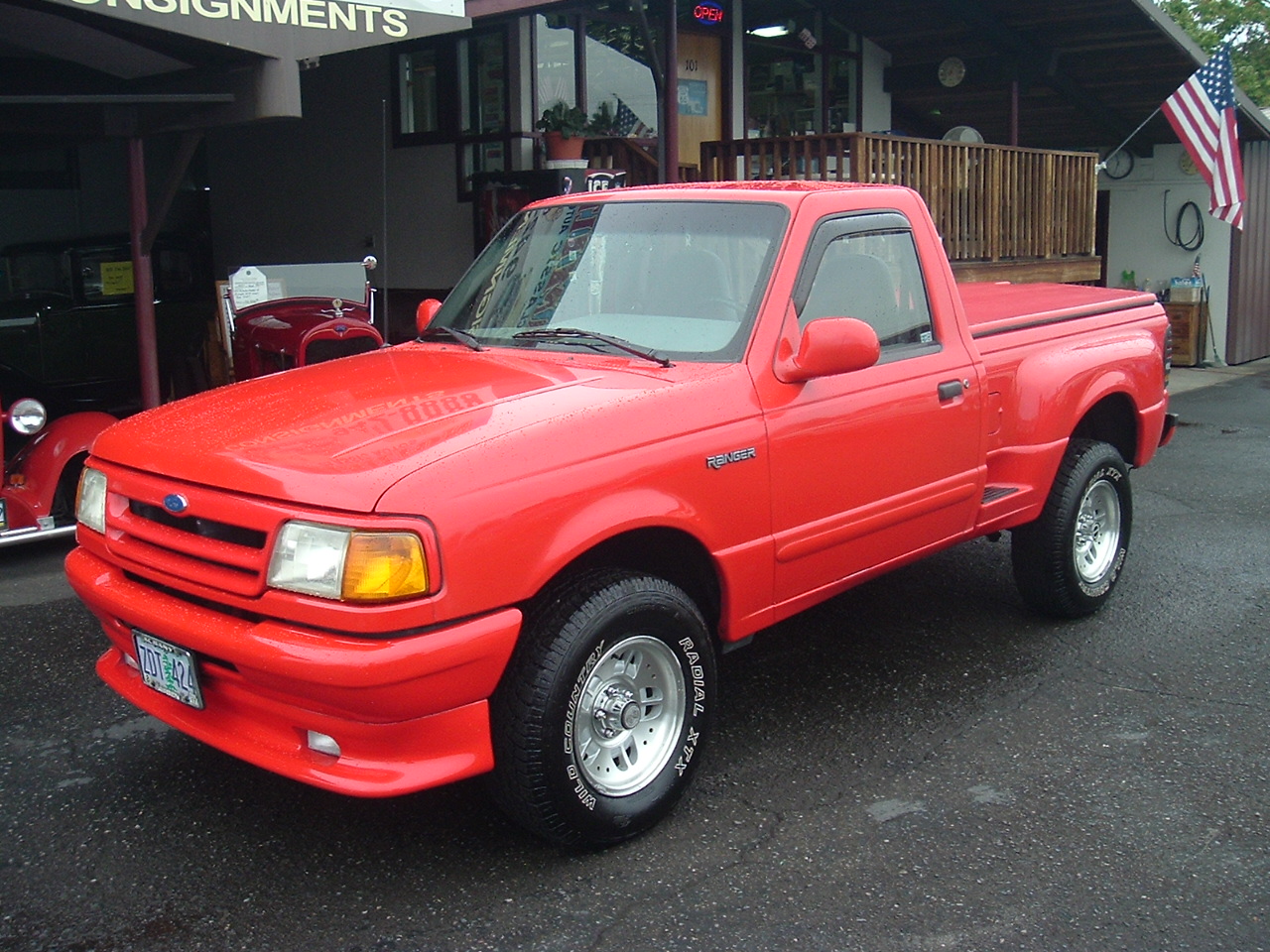 1993 Ford Ranger Splash 4x4, Only 86,368 Original miles. 3.0 V-6, automatic trans. PS. PDB, A/C, CC, PDL, PW, After market CD player. Super clean cloth interior. Original paint nice with no body damage. Hard bed cover and bed liner. Like new 235/75/15 Wild Country All terrain tires. Super nice truck! # B-1755 $6,950 NOW $5,950 Make Offer! SOLD!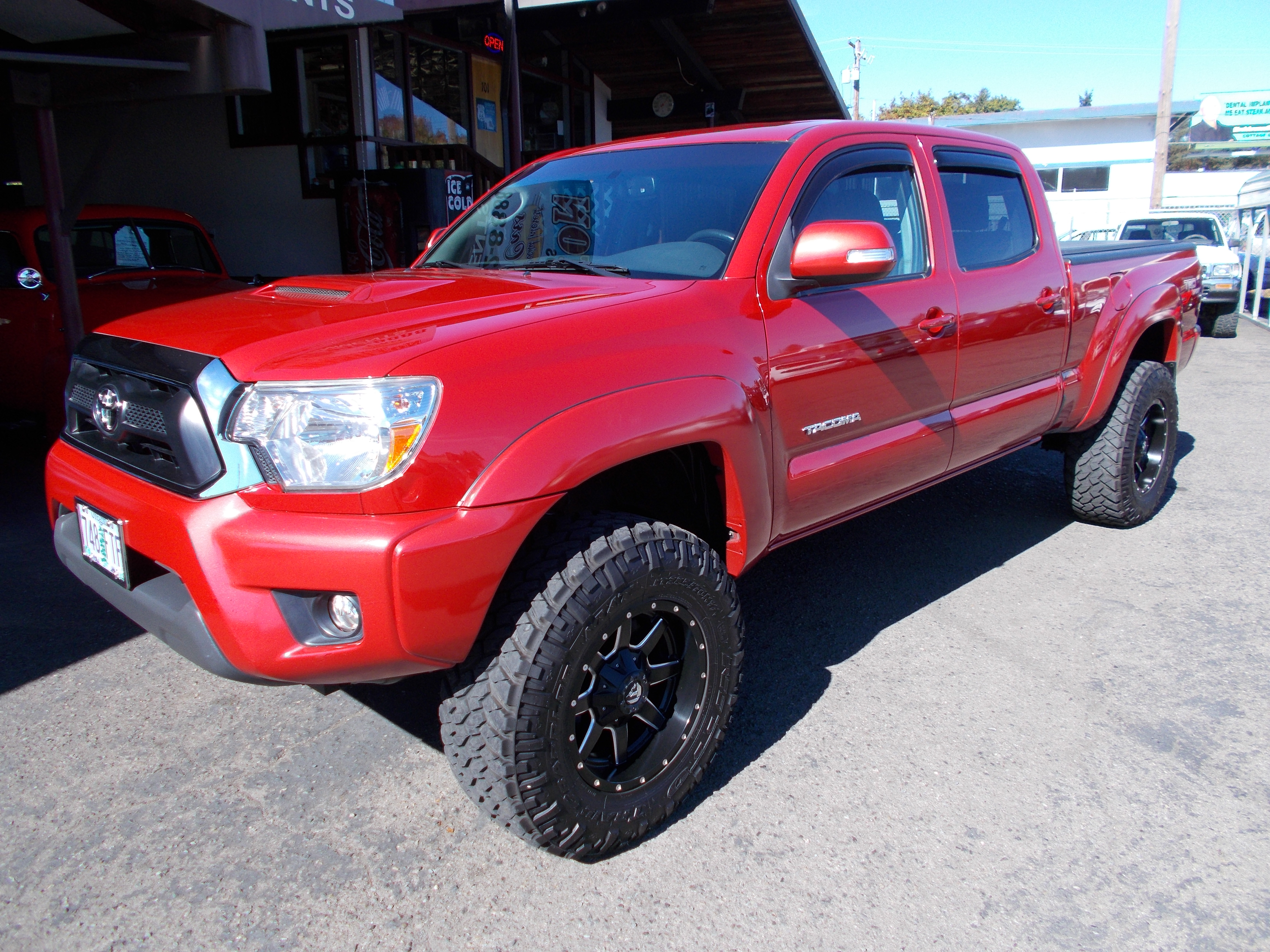 2012 Toyota Tacoma Double Cab TRD Sport LB 4x4. Only 33,200 miles. 4.0 V-6, Auto. This is a private sell We are helping with for my son. My son got this truck from original owner who is a friend of the family. Truck was all stock with original tires and appox 24,000 miles when he got it. Always garaged and used lightly. There has never been any paint work and truck is in excellent condition inside and out. Weather-Tec floor mats. Roll away bed cover. Tow package. There is about 5,000 miles on truck since it was lifted - 3" Toytec Lift kit with Bilstein 5100 coilovers. Truck has been in 4WD but never off roaded hard in any way. Call Dave with any question or I can put you in contact with my son. SOLD!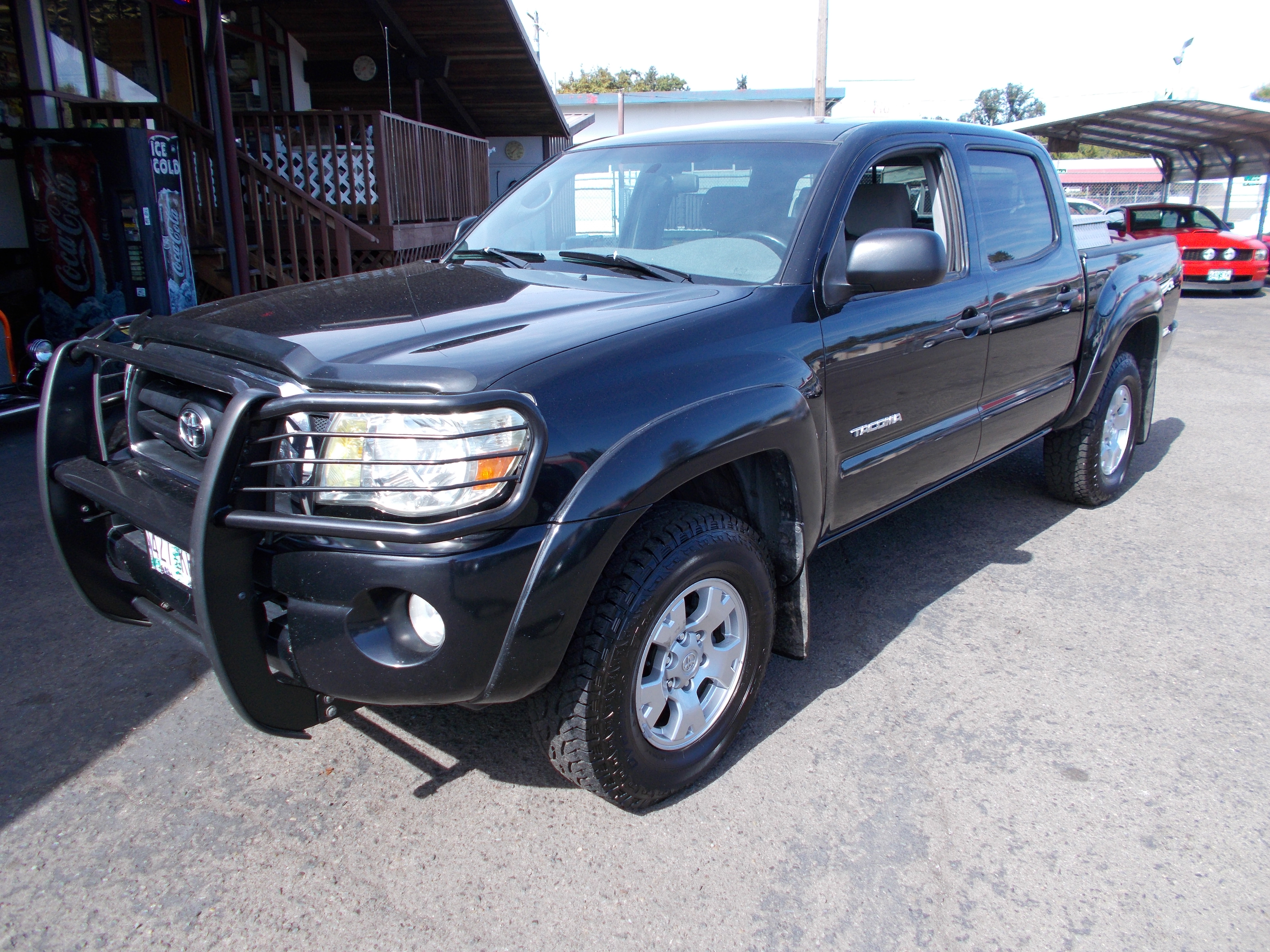 2005 Toyota Tacoma Double cab 4x4. 4.0 Liter V-6, Auto transmission. 154,828 miles. Real clean gray cloth interior. Paint and body in very good condition. The tail gate was stolen off truck but insurance is in process of replacing it. Has new tail gate now painted to match. Newer tires. # B-1783 SOLD!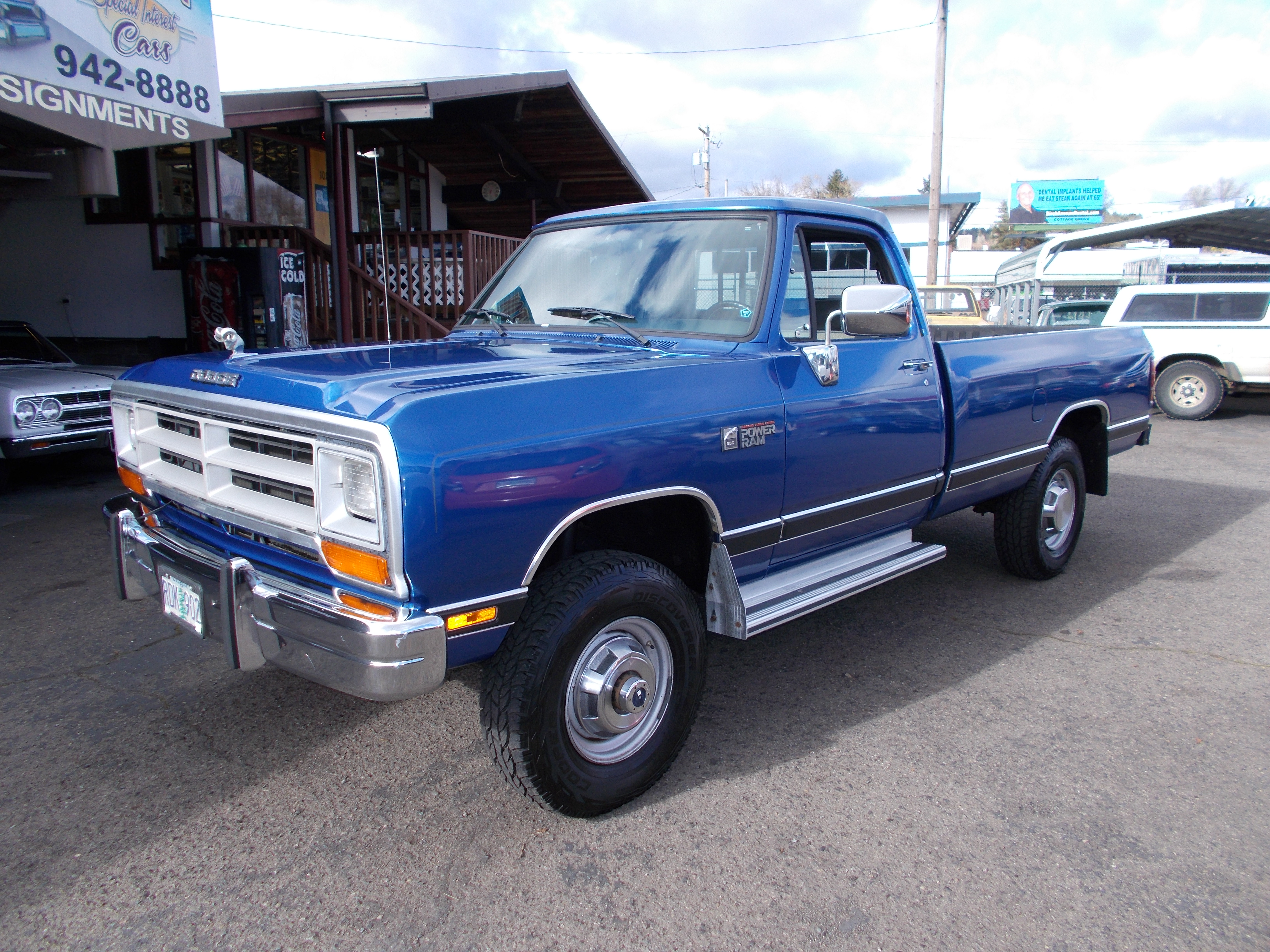 1990 Dodge Power Ram 2500, Cummins Turbo Diesel 4x4. 5.9 liter 12 valve, 5spd. manual transmission. 1- owner truck with 206,978 miles. This is one of the nicest old Diesel trucks you will find ! Always maintained perfect. Never any rust or body damage, original paint went bad so 10 years ago had a nice quality repaint back the original color. Interior looks close to new. Has aftermarket CD stereo, Like new tires, sliding rear window, spray in bed liner. Very hard to find old truck in this condition. # B-1792 $12,500 SOLD!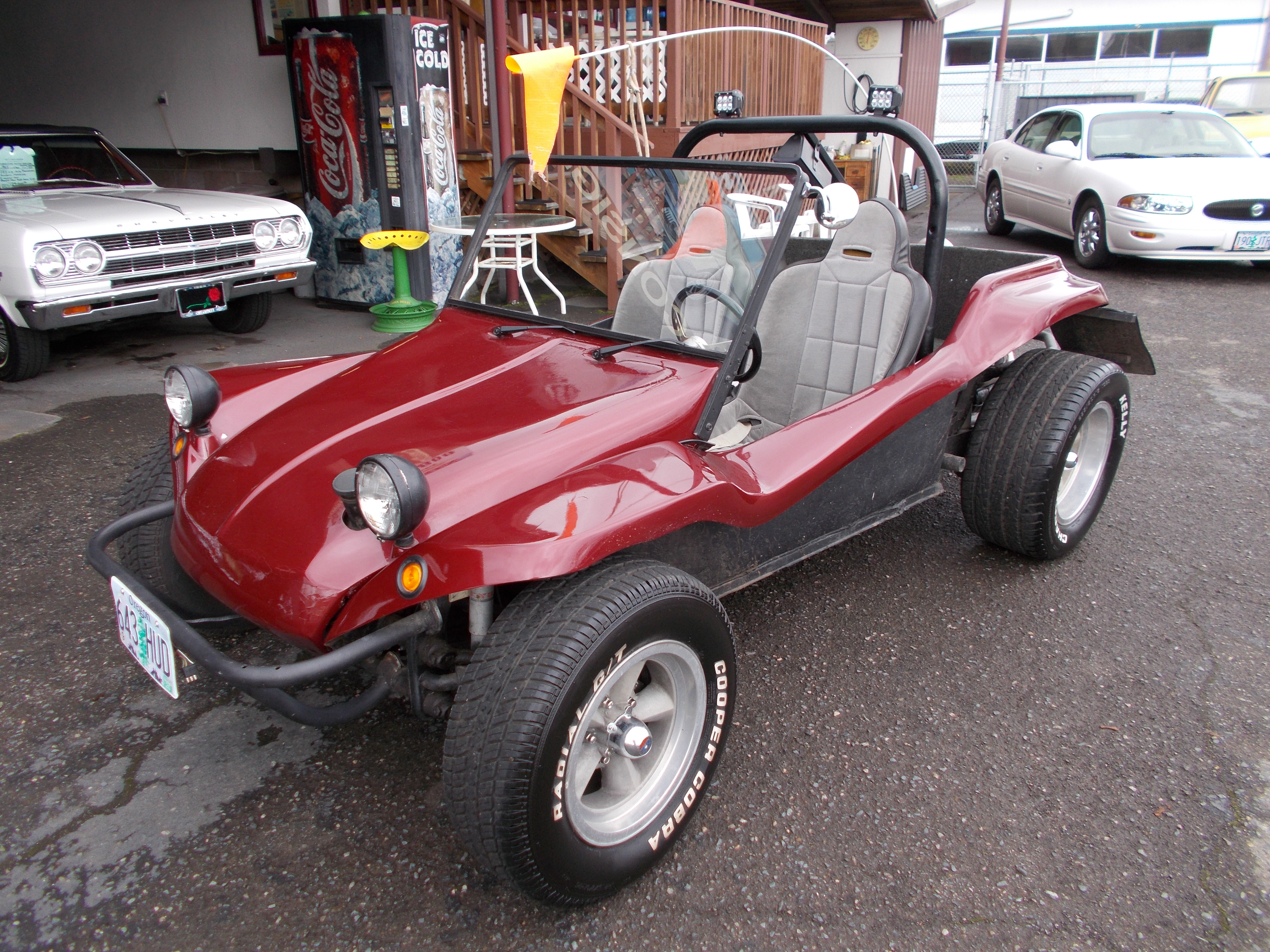 Manx style Dune Buggy, Titled as 1956 VW, clean title. 1600cc motor, 4spd. New clutch, carb, and tune-up. Runs out great. Clean little Buggy inside and out. Like new tires, Stereo. Tow ready including tow bar and 4 plug wiring. # A-2099 $4,950 SOLD!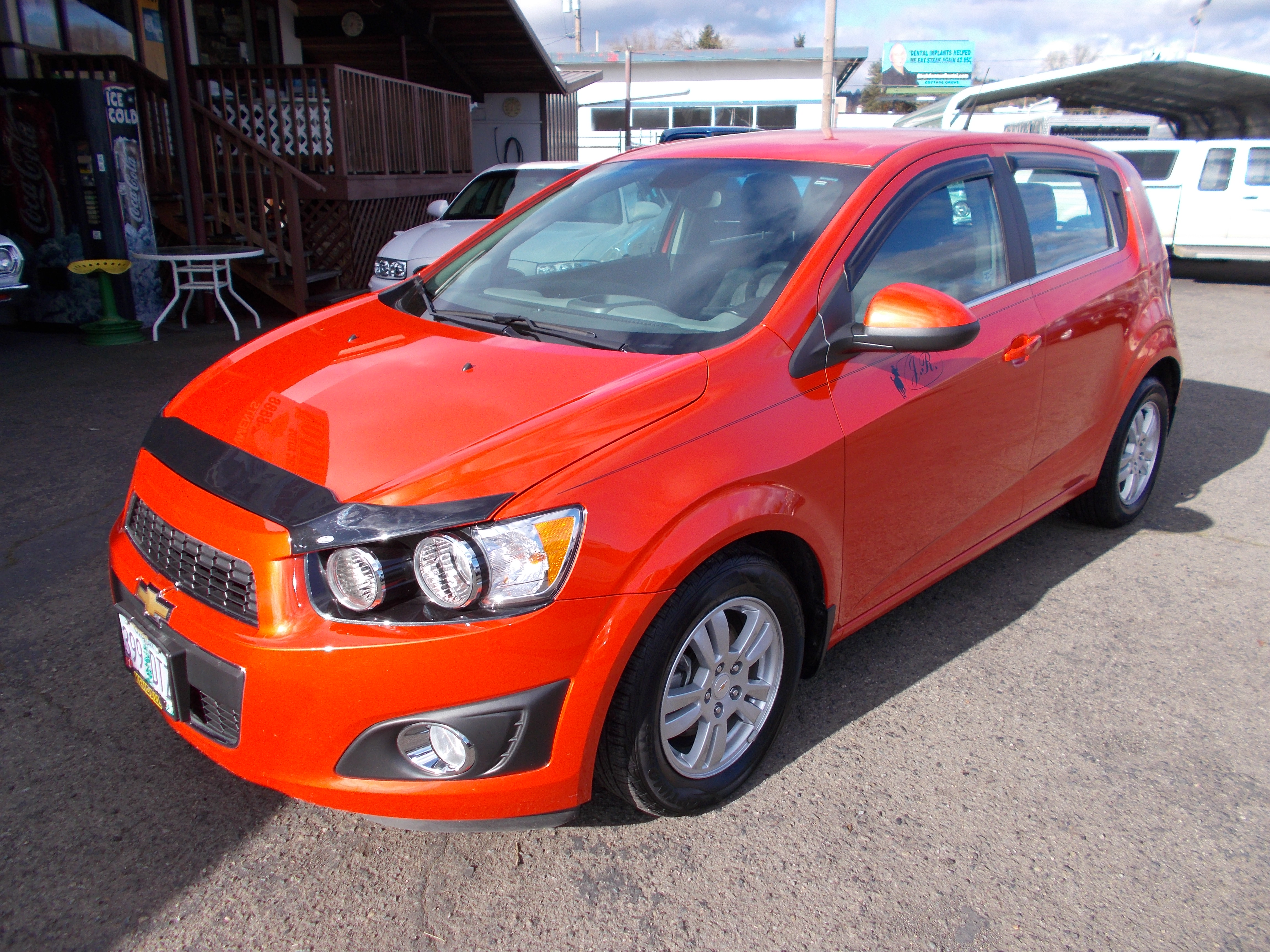 2012 Chevy Sonic LT Hatchback. 1.8 Liter 4cyl. 6spd. auto transmission. 1-owner with 26,482 original miles. Super clean car always garaged. Loaded with options - see pictures there is one of original window sticker for all options. Car is pretty much new condition. # A-2098 $9,450 NOW! $7,450 SOLD!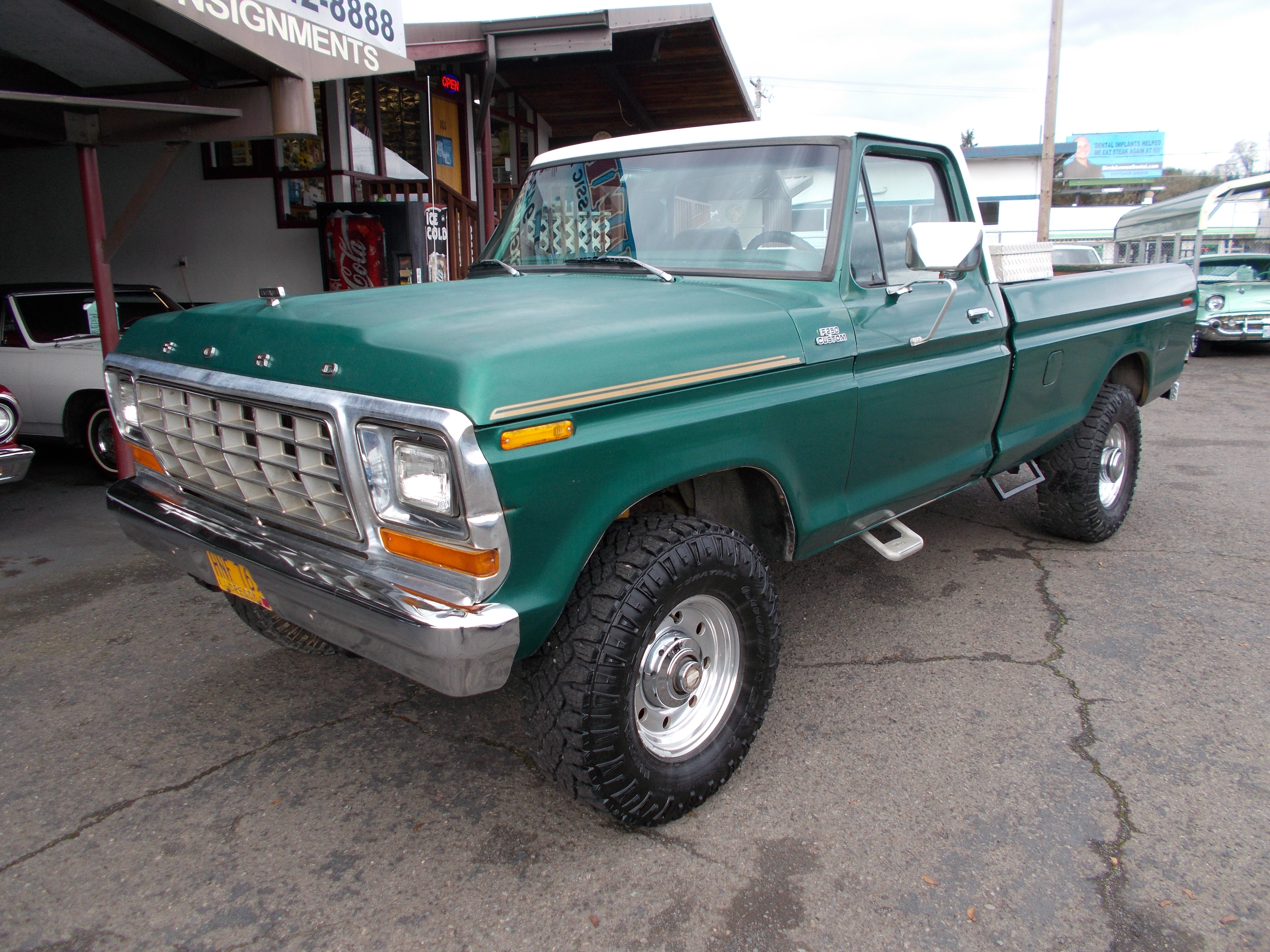 1979 Ford F-250 Custom, Explorer 4x4. 300 6cyl. 4spd. 2 owner Local truck. Super straight and solid original body and paint. Behind the passengers rear tire just in front of the bumper there is a little rust and there is a close up of it in the pictures. Other then that just some surface rust. Interior is good, it has been changed to bucket seats w/center console. CD player and a couple after market gauges. Dual tanks. Tires are near new - LT 235/75 16, less then 5,000 miles. These trucks are hard to find in this solid of condition. Ready to drive and looks good as is, or excellent truck to restore and bring big money. Runs excellent! # B-1789 $6,750 SOLD!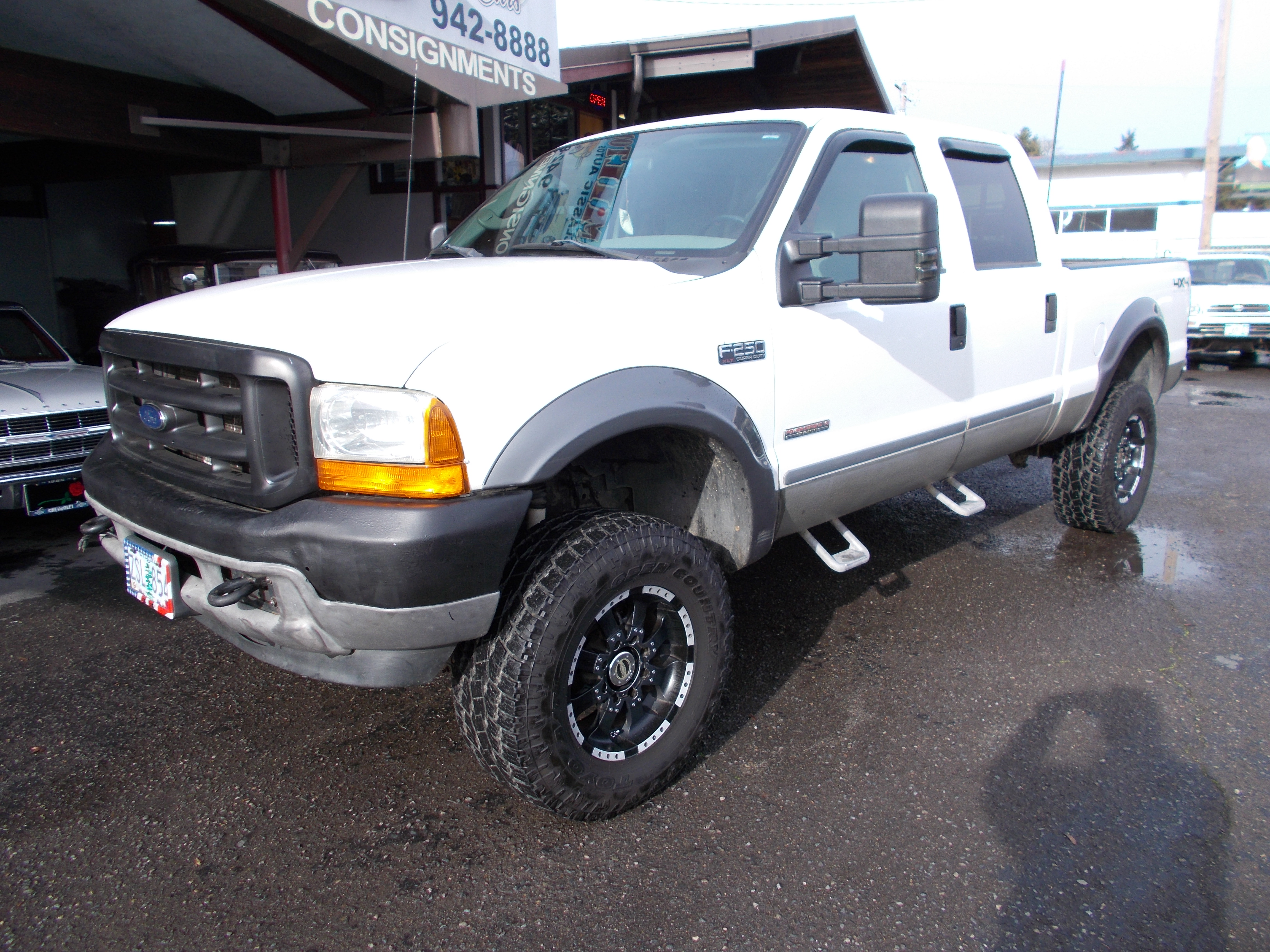 2003 Ford F-250 Super Duty, 4x4 Crew Cab. 6.0 Liter Diesel, 6spd manual. Good straight and clean truck. Lifted with good tread on 35x12.50 18' Toyo A/T tires. PW, PDL, P-seat, CC, A/C, After market CD player & Gauge pack, Spray in bed liner. $1,700 in recent work there is a picture of receipt in listing. Good running and driving truck. # B-1786 $11,750 NOW! $9,950 SOLD!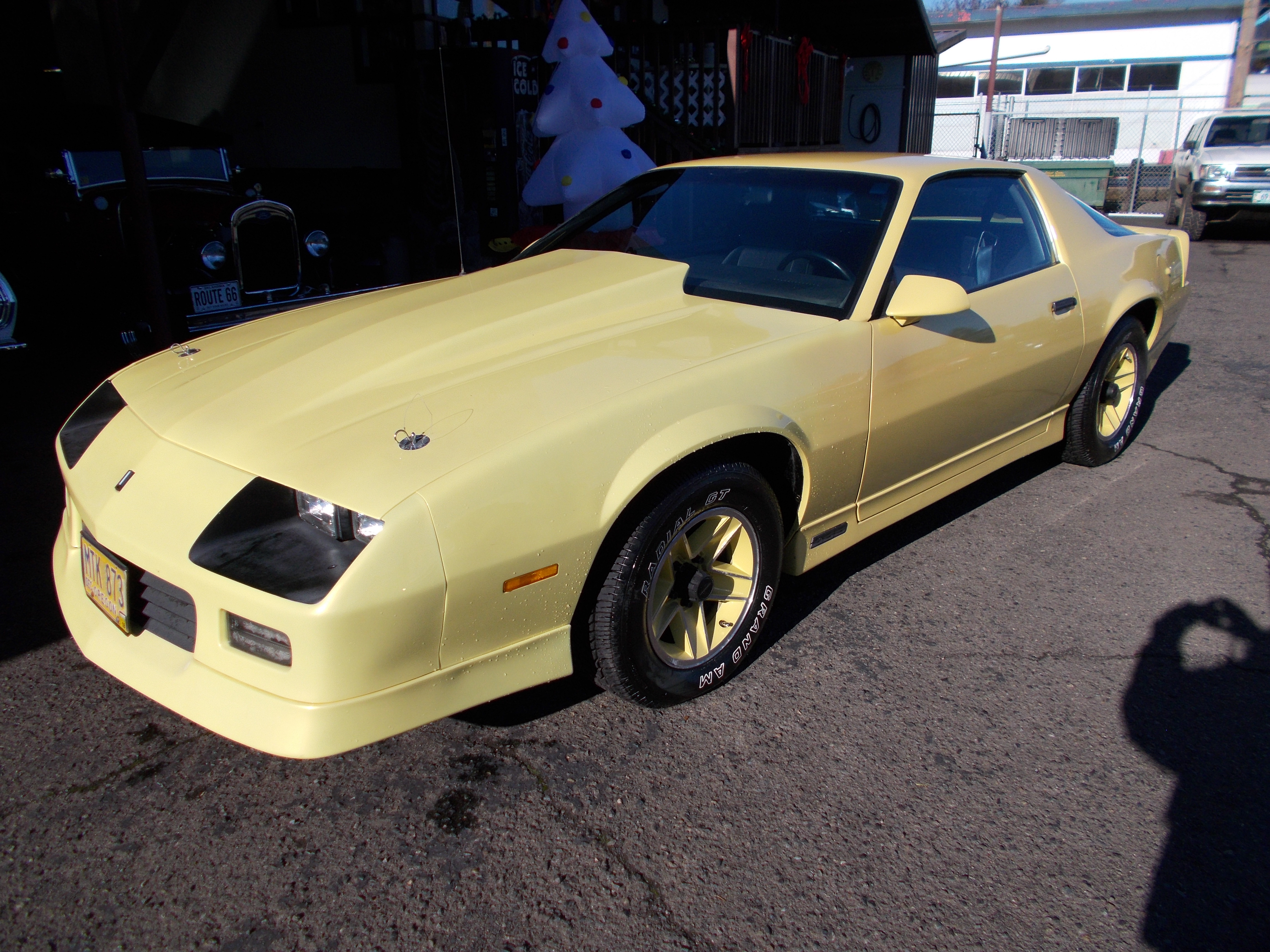 1985 Chevy Camaro Z28. 400 SB chevy V-8. Auto trans w/shift kit. Real clean Hotrod. Body is straight with nice newer paint, Aftermarket hood. Interior is original and real nice condition, Head liner is sagging. Is and original A/C car but pump removed from motor. Motor has aftermarket intake and carb, Headers, ignition, Cam. Motor runs real strong I'm sure its all been gone through but owner has passed away and don't have any specific information on it. Tire are like new. Drive's out excellent! # A-2088 $3,950 SOLD!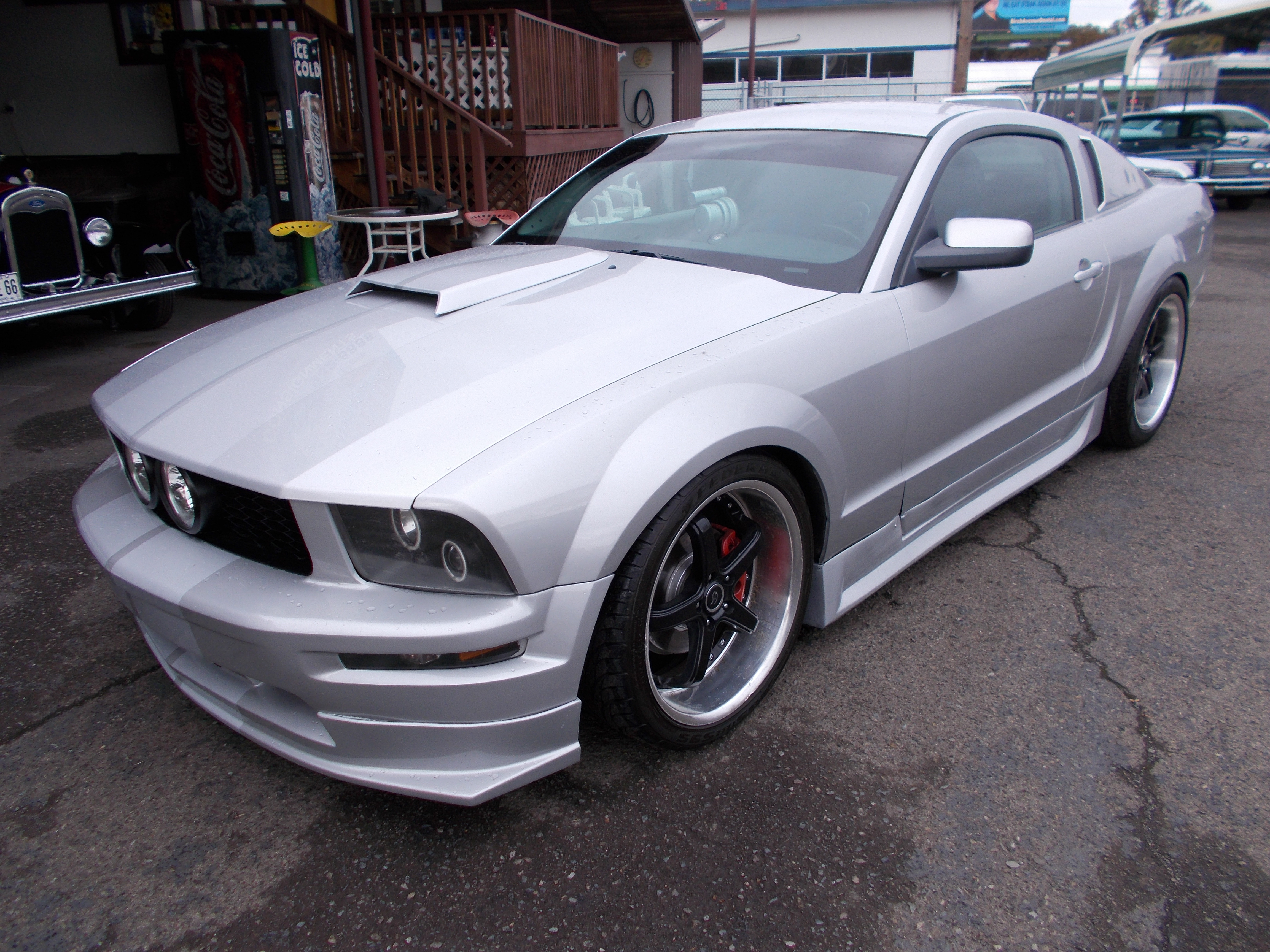 2008 Ford Mustang. 4.0 V-6, Auto transmission. I don't have all specs but car has a lot of extra's. Suspension work, Carbon fiber, grill, Motor compartment, exhaust work, stereo and interior (no back seat) 20" wheels with like new tires. ghosts strips. Super sharp looking Mustang with 103,782 miles. # A-2083 $8,950 SOLD!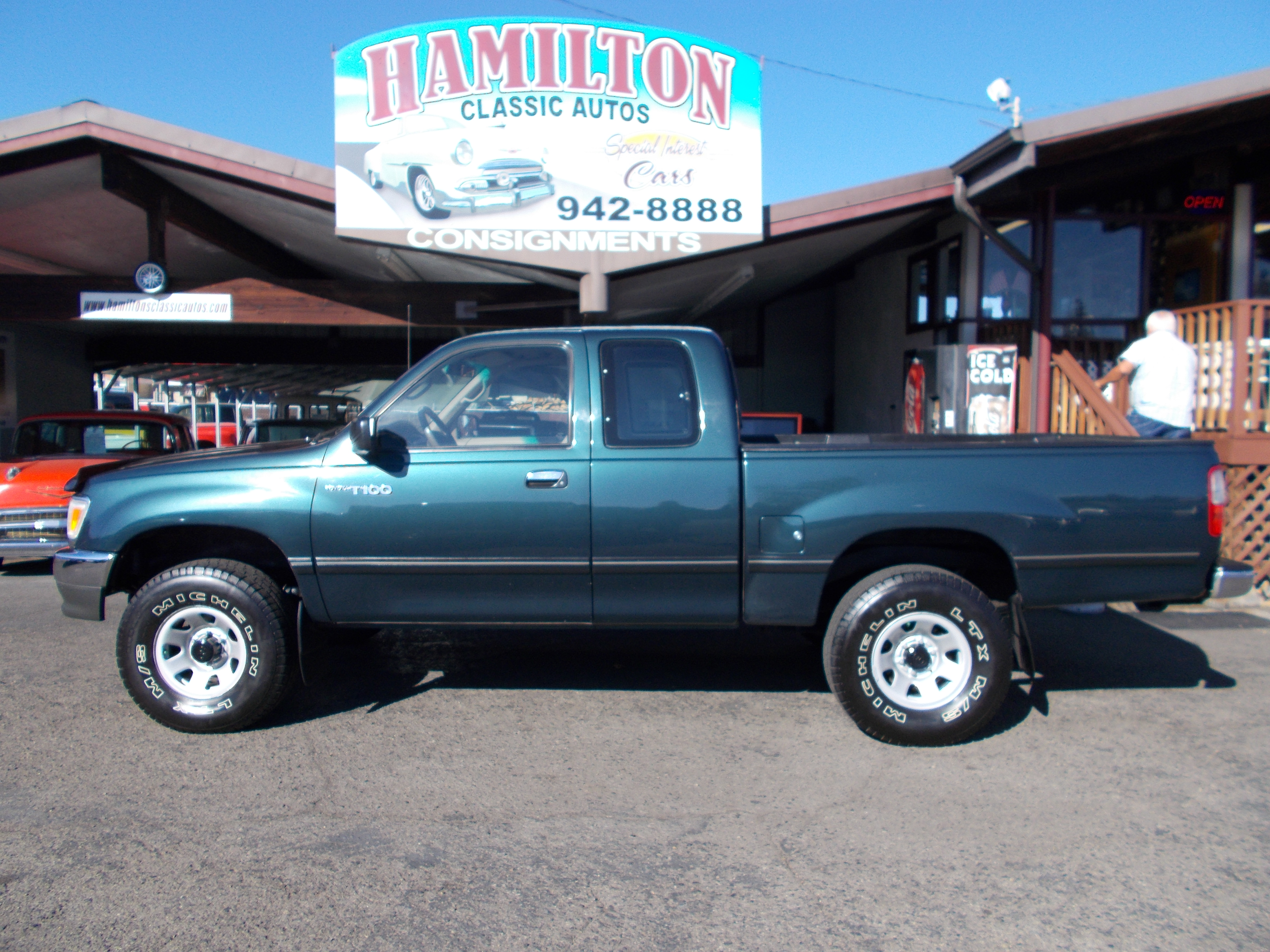 1995 Toyota T-100 xcab 4x4. 3.4 liter V-6, 5spd. manual transmission. 150,379 original miles. Excellent maintenance. Have receipts of work done with in the last 9,000 miles - New Timing belt, water pump, Clutch kit, Front brakes and calipers, service A/C and clean blower fan. New Michelin tires. A/C, CC, Tilt wheel, After market CD player, Sliding rear window, Bed liner, Tow package. Interior is excellent and clean with just the normal wear hole on drivers seat cover. Body and original paint very good with some scratches and couple small dents. This truck runs and drives like new! $9,450 SOLD!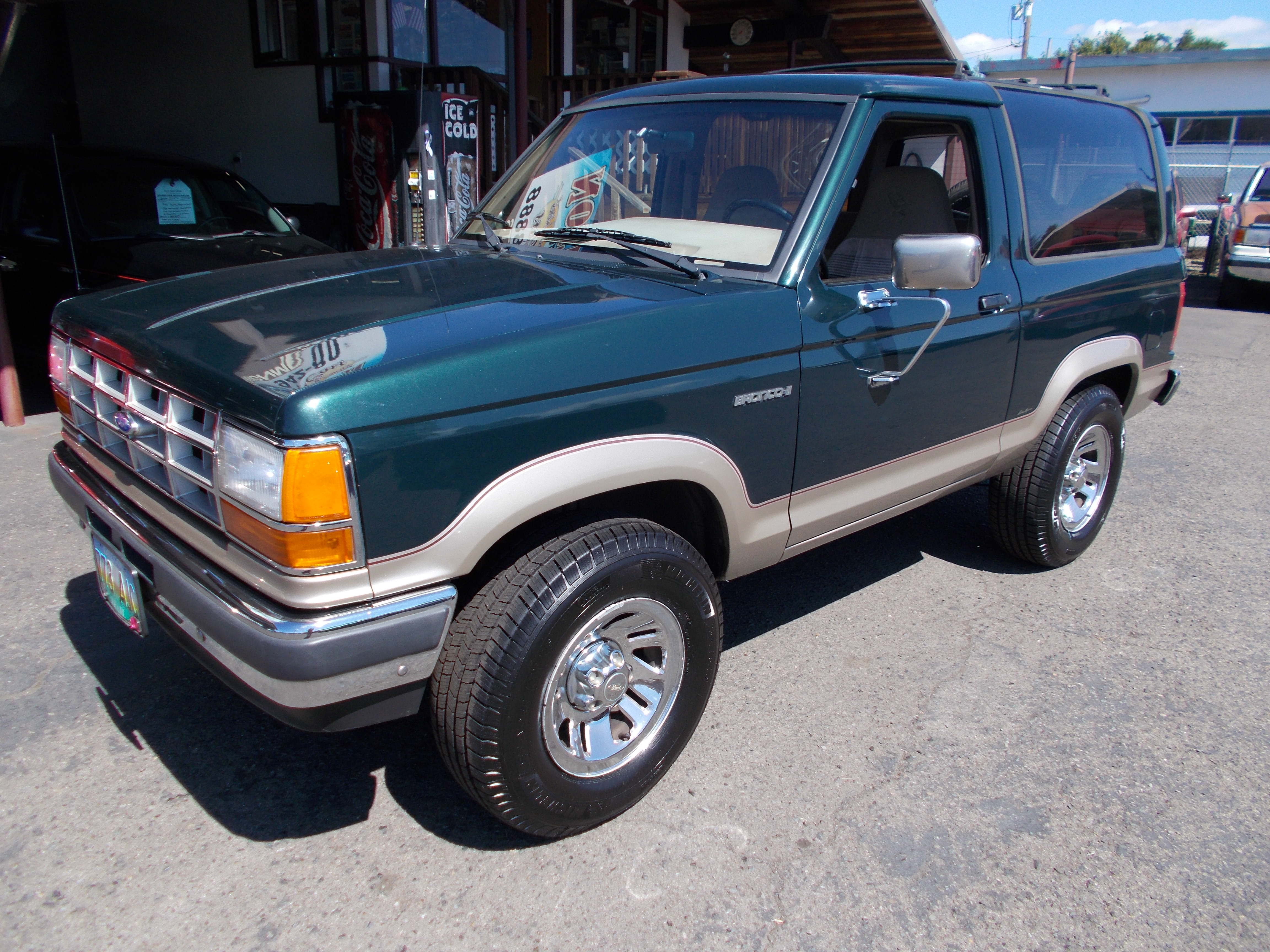 1989 Ford Bronco II Eddie Bauer, 2WD. Original and super clean with 85,797 orig. miles. Inside and out this is the cleanest original Bronco II I have seen. 2.9 V-6, Automatic transmission. A/C, CC, PW, PDL, after market CD player, New tires. This rig runs and drive as good as it looks. Hard to find with these low miles and excellent condition ! $3,750 SOLD!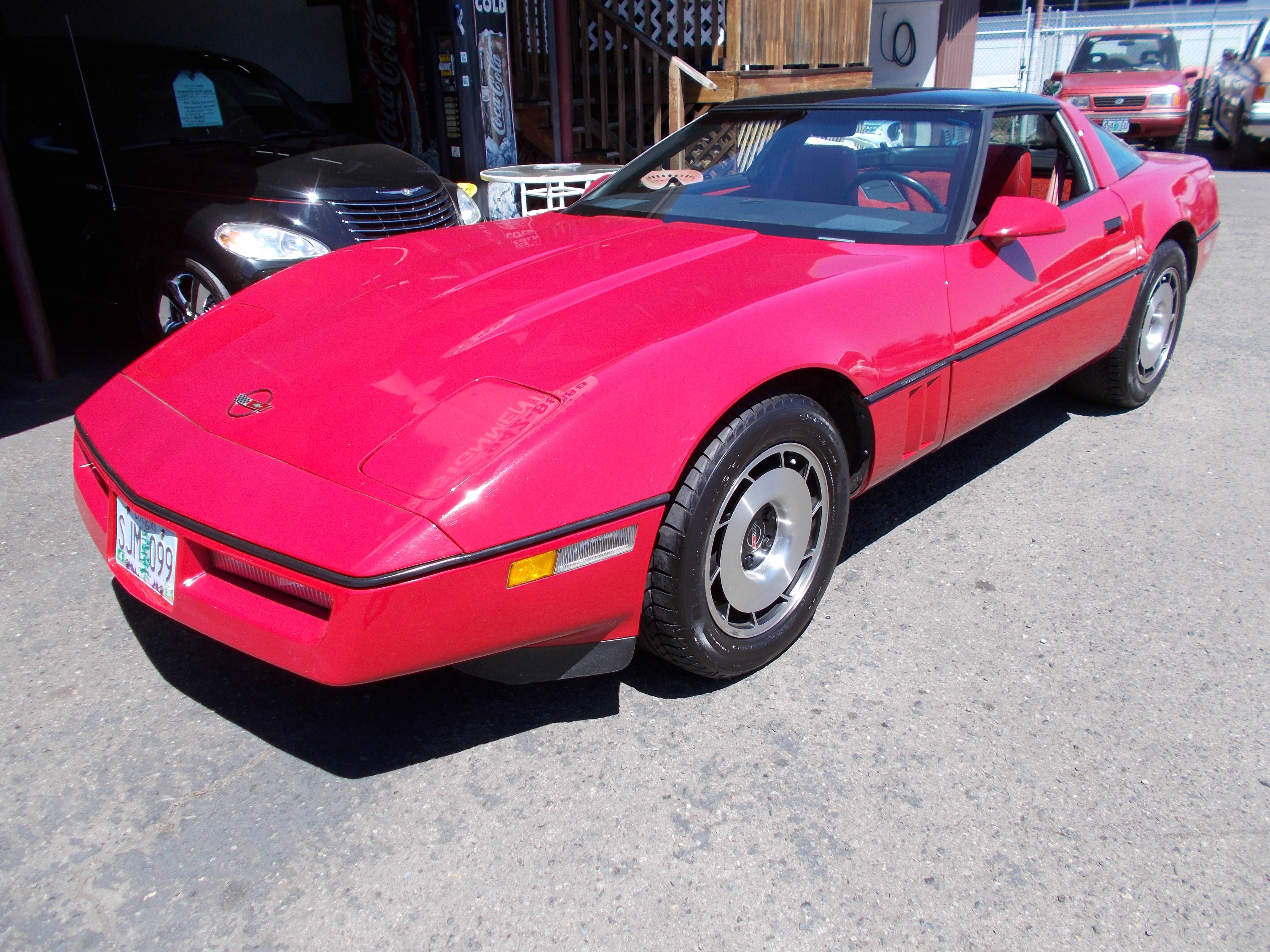 1984 Chevy Corvette. The car has 51,707 original miles. Adult owned, the car had to have a new Long Block at 43,695, Marvin Smith Auto Repair did all the work and we have all the receipts. The paint appears to be original and very nice with no body damage. The original interior looks as good as new. All power and A/C work correctly. Tires are excellent. It would probably be hard to find a better 84 Vette. # A-2061 Motivated seller won't last at this price! SOLD!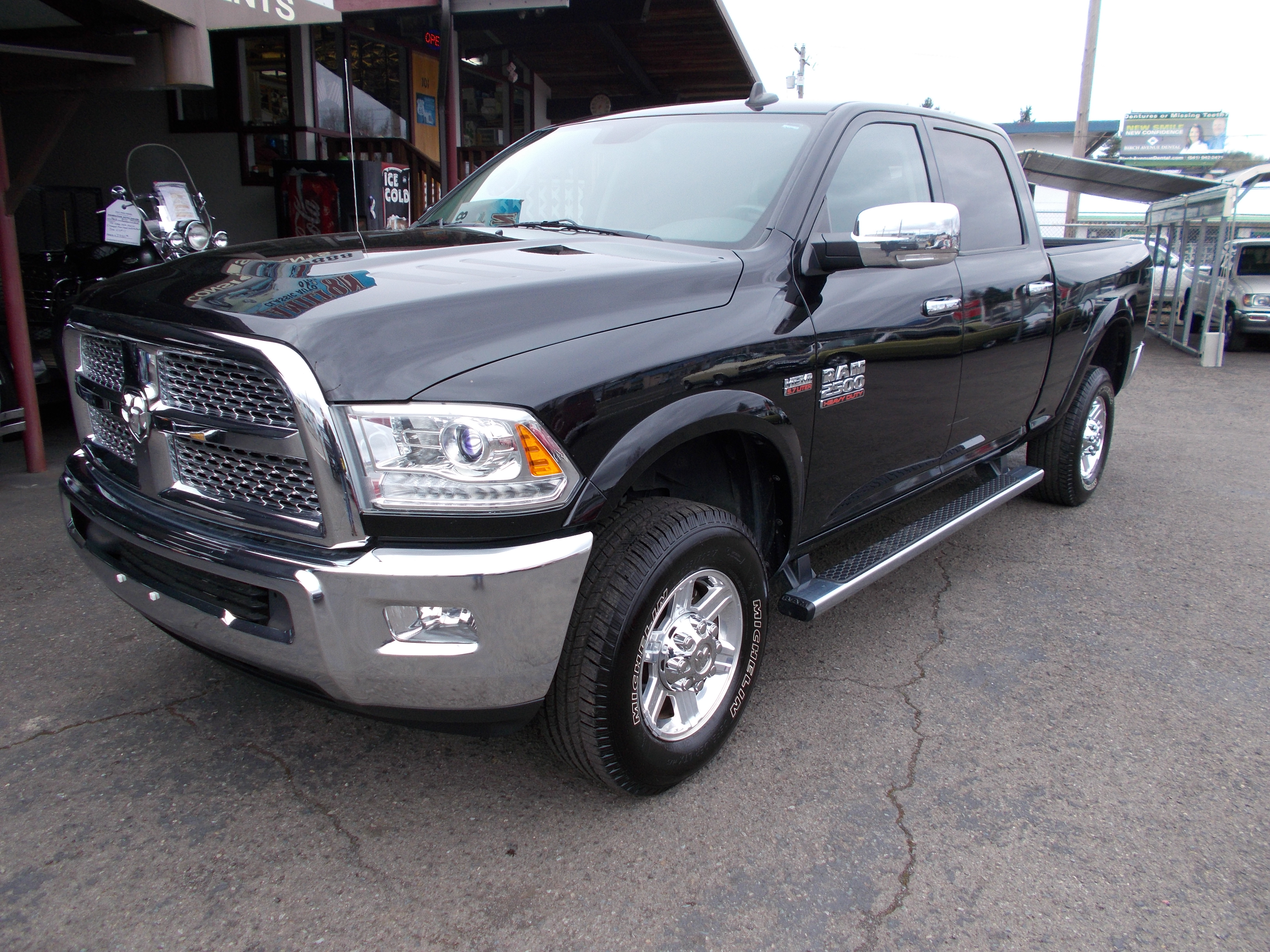 2013 Dodge Ram 2500 Heavy Duty Laramie Crew cab 4x4. 5.7 L Hemi V-8, 6-spd. auto transmission. This truck has 93,380 easy HWY miles and don't have any flaws to speak of. Almost new Michelin tires. All maintenance done at Lithia in Springfield OR. I have the original window sticker posted with the addition pictures for all option on truck. Just click on picture of truck to view them. # B-1784 $28,950 NOW! $26,900 SOLD!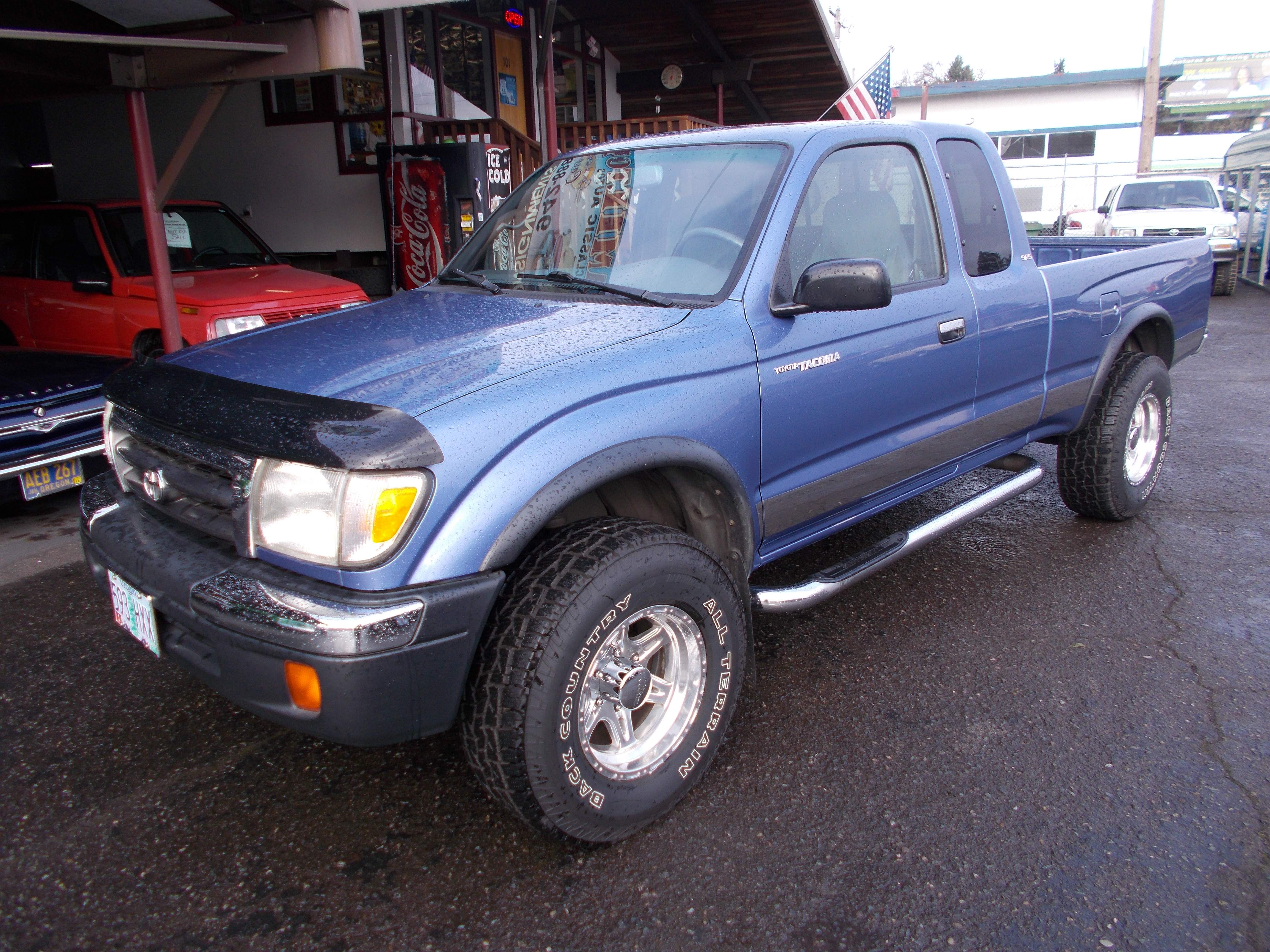 1999 Toyota Tacoma Xcab 4x4 SR5. 3.4 Liter V-6, Automatic trans. This is one of the cleanest older Toyota's you will find. Adult owned, truck has 238,688 miles but has been maintained and treated like a car. A/C, CC, Tilt, Sun Roof, PW, PDL, Sliding rear window, Factory AM/FM Cass, Bed Mat, Tow package, Nerf bars. With in the last 5,000 miles as got New tires and wheels, Brake job - new calipers, rotors ect. Truck has no body damage and excellent paint. Interior is in excellent condition, clean seats under seat covers. It would be real hard to find a nicer old Tacoma ! # B-1781 $9,950 NOW! $8,950 SOLD!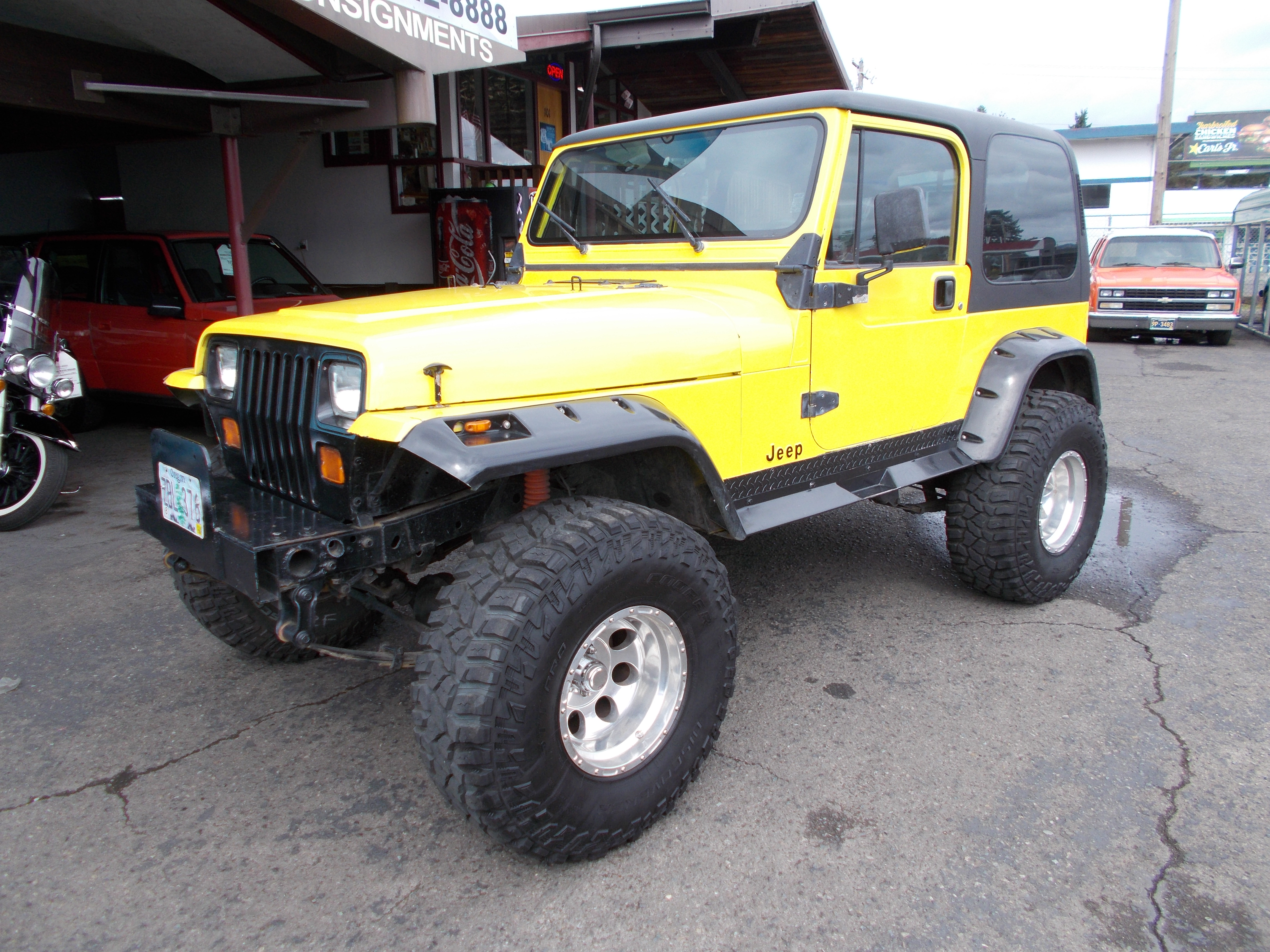 1994 Jeep Wrangler Hard top. 4cyl. 5spd. I have receipts on recent motor work for $1,500. Brand new 35x12.50 Cooper Discover SST tires. Good clean body. interior good no carpet or rubber mat. Has after market CD player and speaker bar. Good running Jeep. # B-1777 $8,950 NOW! $7,950 Make Offer! SOLD!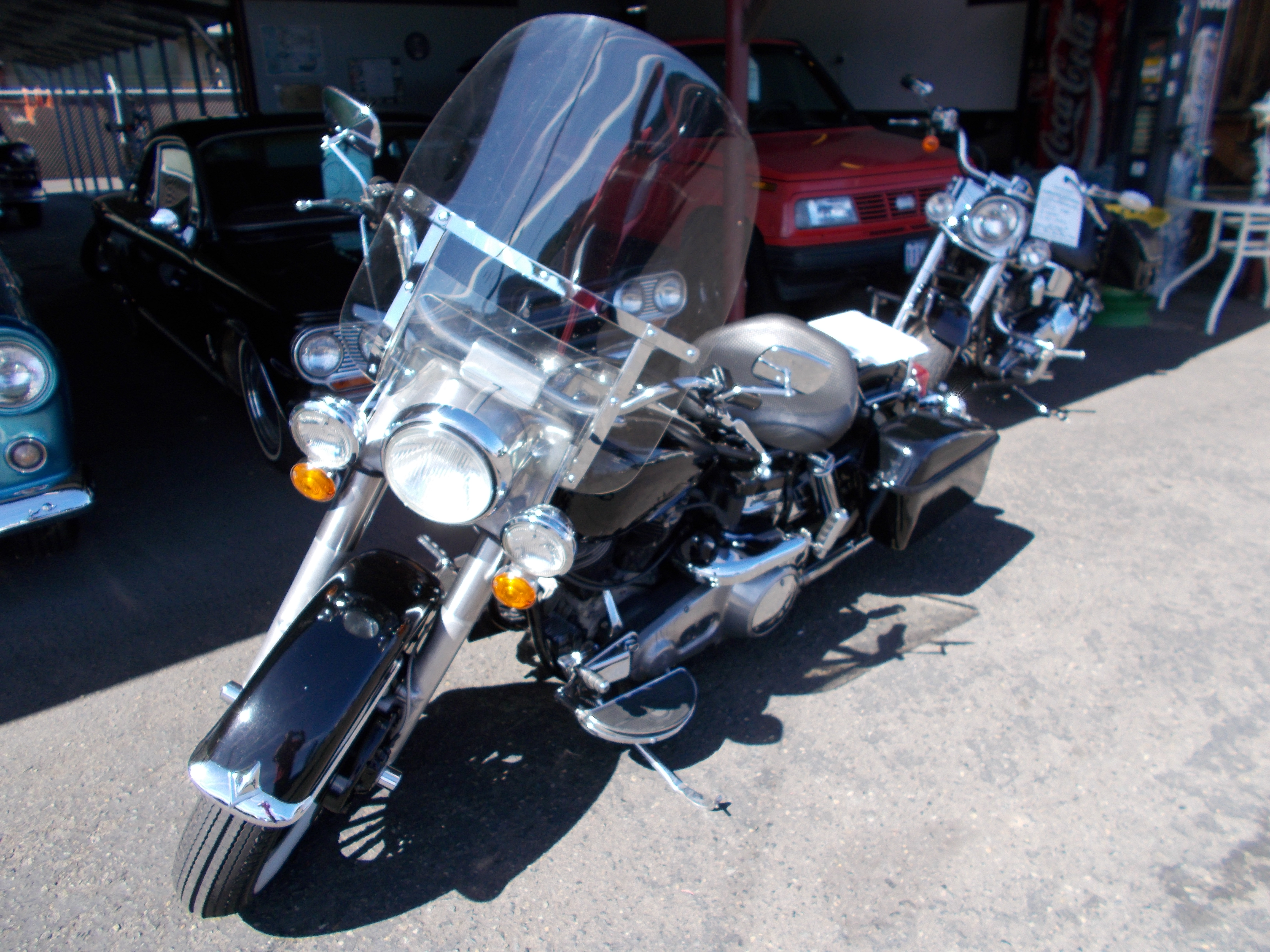 1978 Harley Davidson FLH. 74 cu. in. Shovel Head, Motor updates - New .010 over sized pistons, Andrews 'B' grind Cam, New style Teflon valve seals, Jims big pushrod rollers, SS solid pushrods, SS carb, Dyna electric ignition w/ dual coils, Speedometer was replaced when work was done and show 11,000 miles. 4spd. transmission, Disc brakes front and rear, Swing arm frame, 5.00-16 tires front and rear, 5 gallon tank, 20-50 wt engine oil, Syn. trans oil. Very good condition. # C-236 SOLD!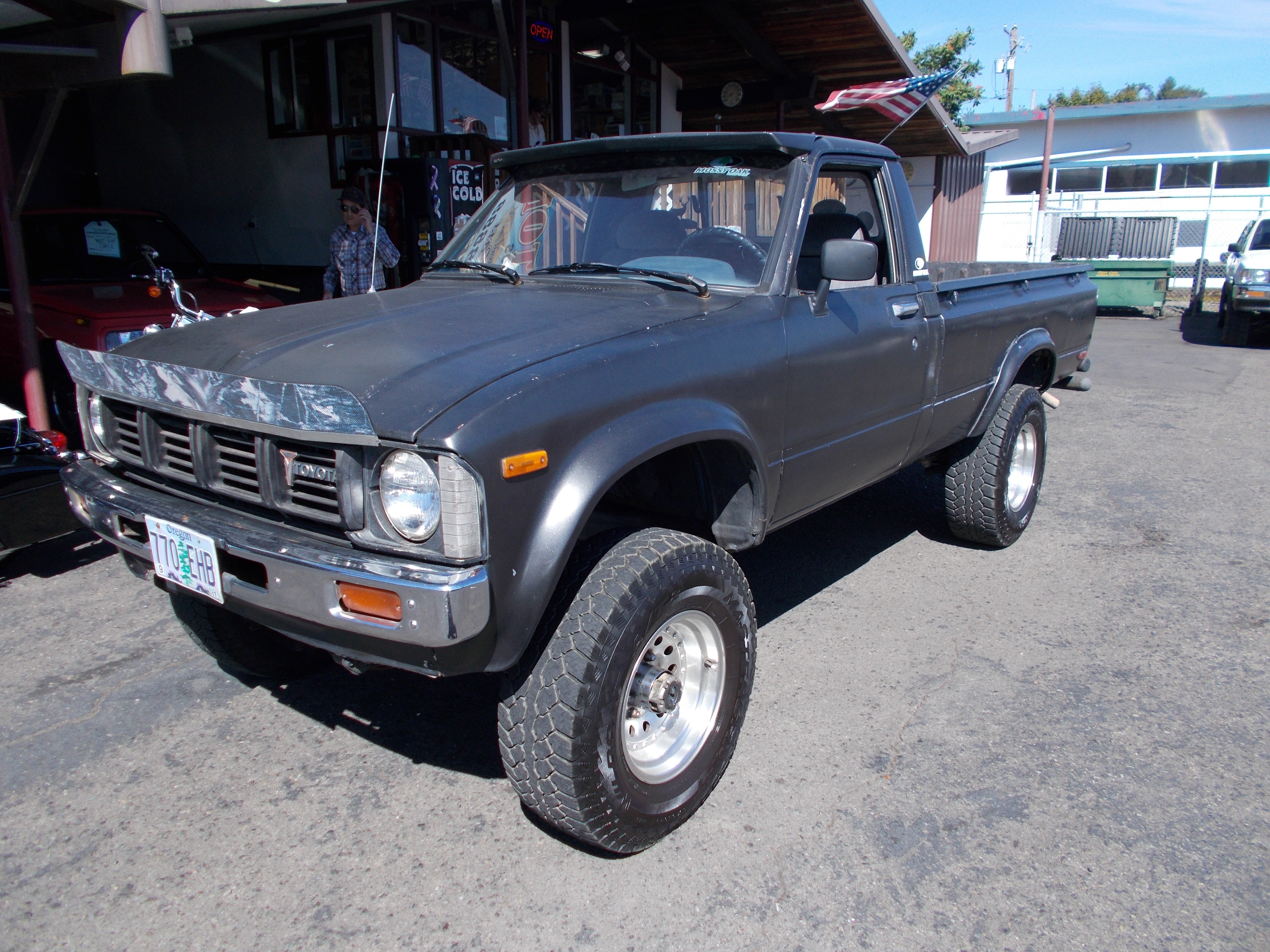 1979 Toyota Pickup 4x4. 20R 4cyl. w/ Weber carb. 4spd. transmission. Good straight truck for the year. Clean interior, Newer tires. 4x4 works good and runs and drive great. # B-1773 $3,750 SOLD!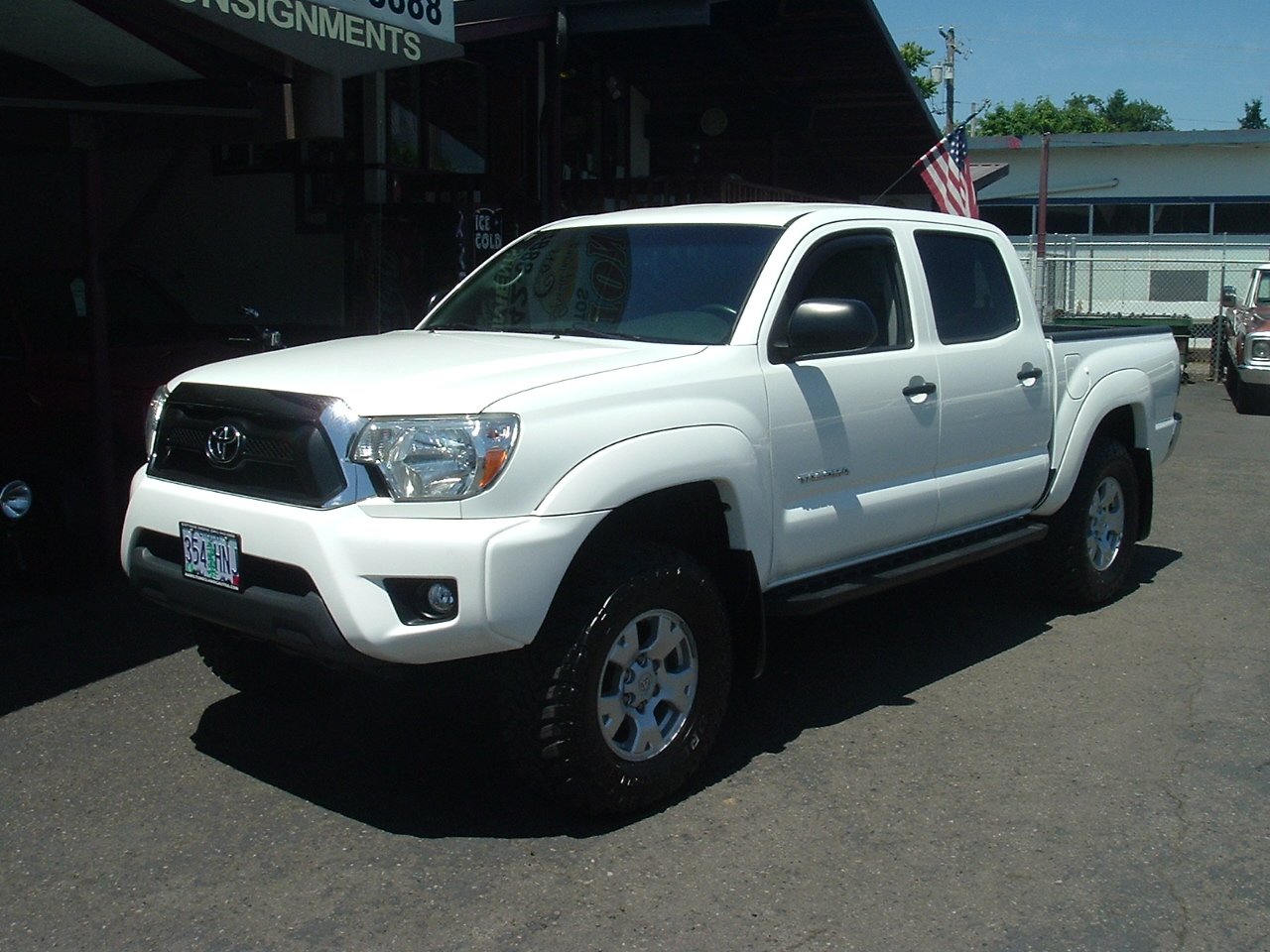 2012 Toyota Tacoma 4x4 Double cab SR5 short bed. 4.0 Liter V-6, auto trans. Truck has 56,343 miles and is in excellent condition. This truck is at our classic car dealership but it is my sons truck and will be sold as private sell. He is willing to take something on trade of value up to around $5,000 so let us know what you have and we can tell you if interested. Truck has leveling kit with Toyo MT 265/75R 16" Tire with 7,000 mile on them they look pretty much new, he just drove mostly pavement back and forth to work. Also has Kenwood stereo with up graded speakers and amp. PW, PDL, P-mirrors, A/C, CC, tow package, factory bed liner and rubber bed mat. Super clean truck through out. $28,950 SOLD!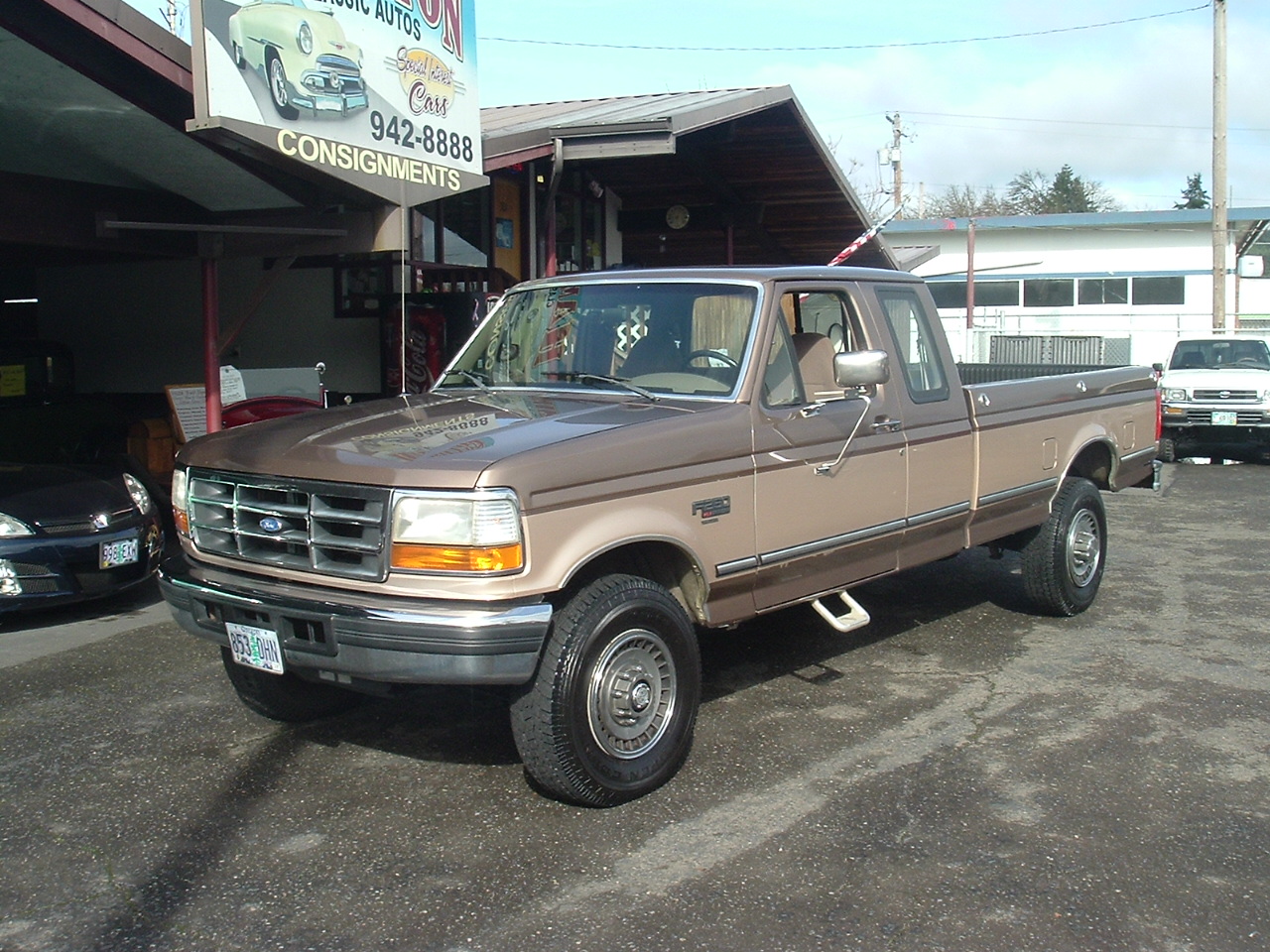 1993 Ford 7.3 Turbo Diesel, 5spd. transmission. Extra cab XLT 4x4. Only 89,367 original miles. 1 owner with most all paper work from same mechanic. Its had the complete fuel system gone thru including both fuel tanks new. PW, PDL, A/C, CC, AM/FM cass, sliding rear window, tow package, tires excellent. The condition of this truck is amazing, Interior like new, exterior excellent with a few chips and light scratches. Runs and drives like new. Very hard truck to find in this condition. # B-1762 $9,450 SOLD !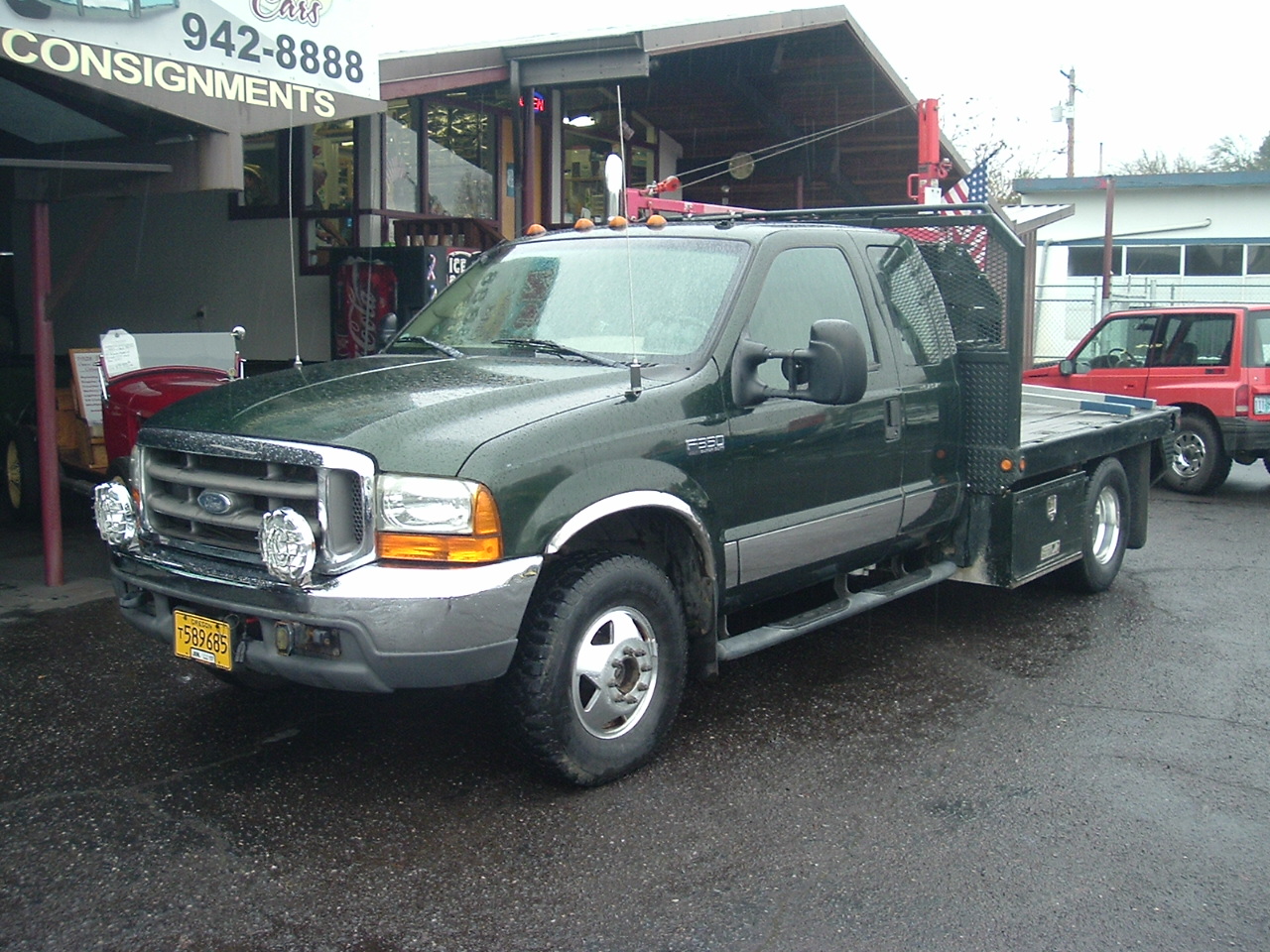 1999 Ford Diesel F-350 Super Duty XLT Super Cab 4x4 Dually Flatbed. 111,638 original miles. 7.3 power stroke, 6 speed ZF manual trans, Turbo mounted aftermarket exhaust brake, cab controlled engine fan clutch, gear venders auxiliary overdrive, heavy duty air bag suspension on all four corners, Heavy duty upgraded sway bars front and rear, 5th wheel hitch, multiple electric air compressors with storage tanks for compressed air. Winches, aftermarket differential cover with temp gauge, pyrometer, turbo pressure and many other gauges to monitor drive train. Real nice condition through out. # B-1761 $19,500 NOW! $15,950 SOLD!
1978 Chevy EL Camino. 350 V-8, automatic transmission. PS, PB, PW. Straight body, Clear coat peeling on paint. Clean interior seat been recovered. After market gauges, New tires and ralley wheels. Good running condition. # B-1753 $3,950 NOW! $3,450 SOLD!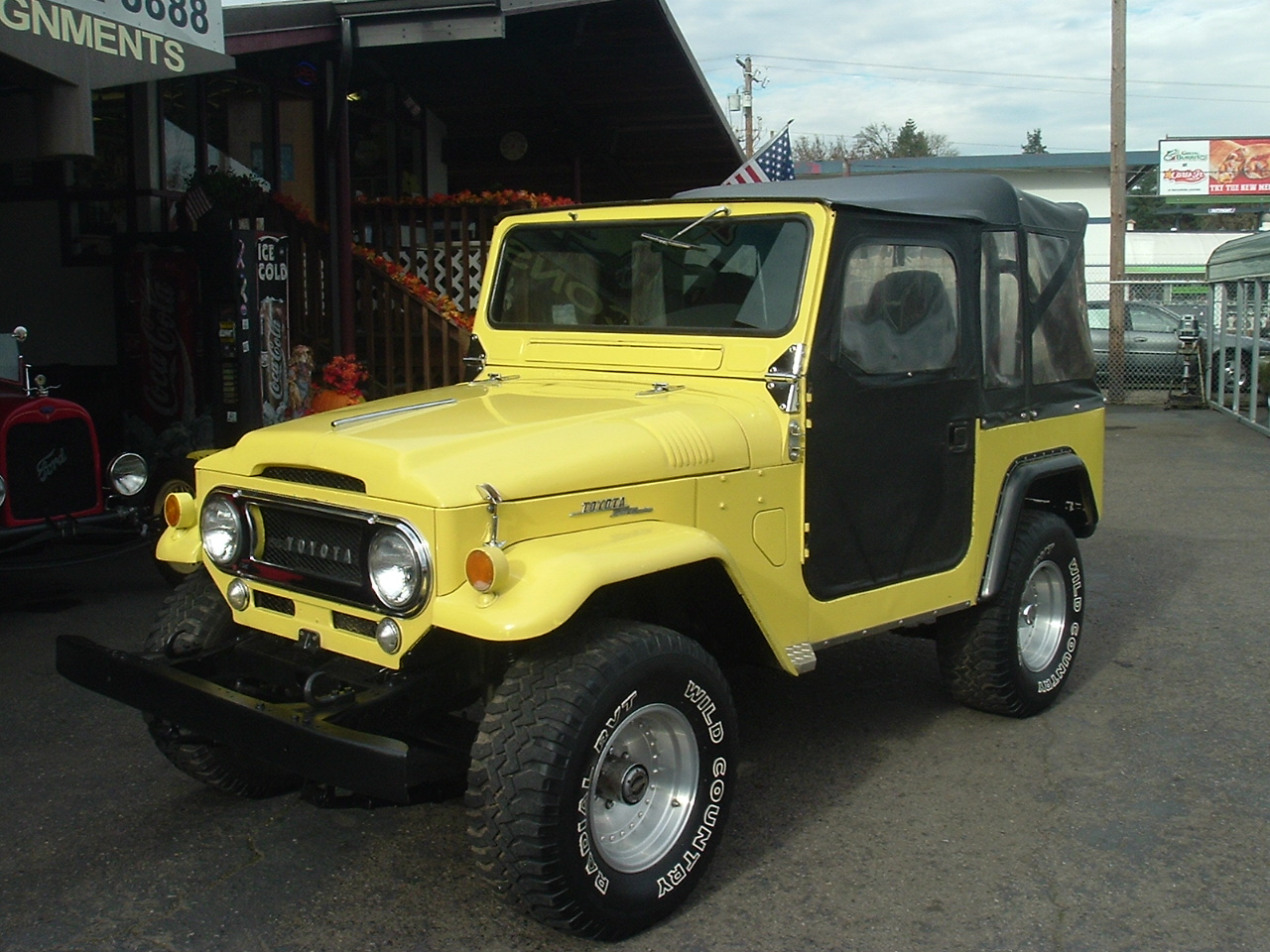 1965 Toyota Land Cruiser 4x4. 350 V-8, Turbo 350 automatic. PS, PB, Restored in early 80's. same family own every since always kept under cover. It has a good solid body and the paint looks good but is showing its age. Interior has buckets front and rear seat, Top looks to be newer and is in good shape. Motor has new Carb. and run good and don't smoke. Transmission shifts good. Some things that need attention - The wipers not working, Heater switch works but blower hardly runs, and the vacuum canister on top off transfer case don't engage front end. # B-1758 $9,750 SOLD!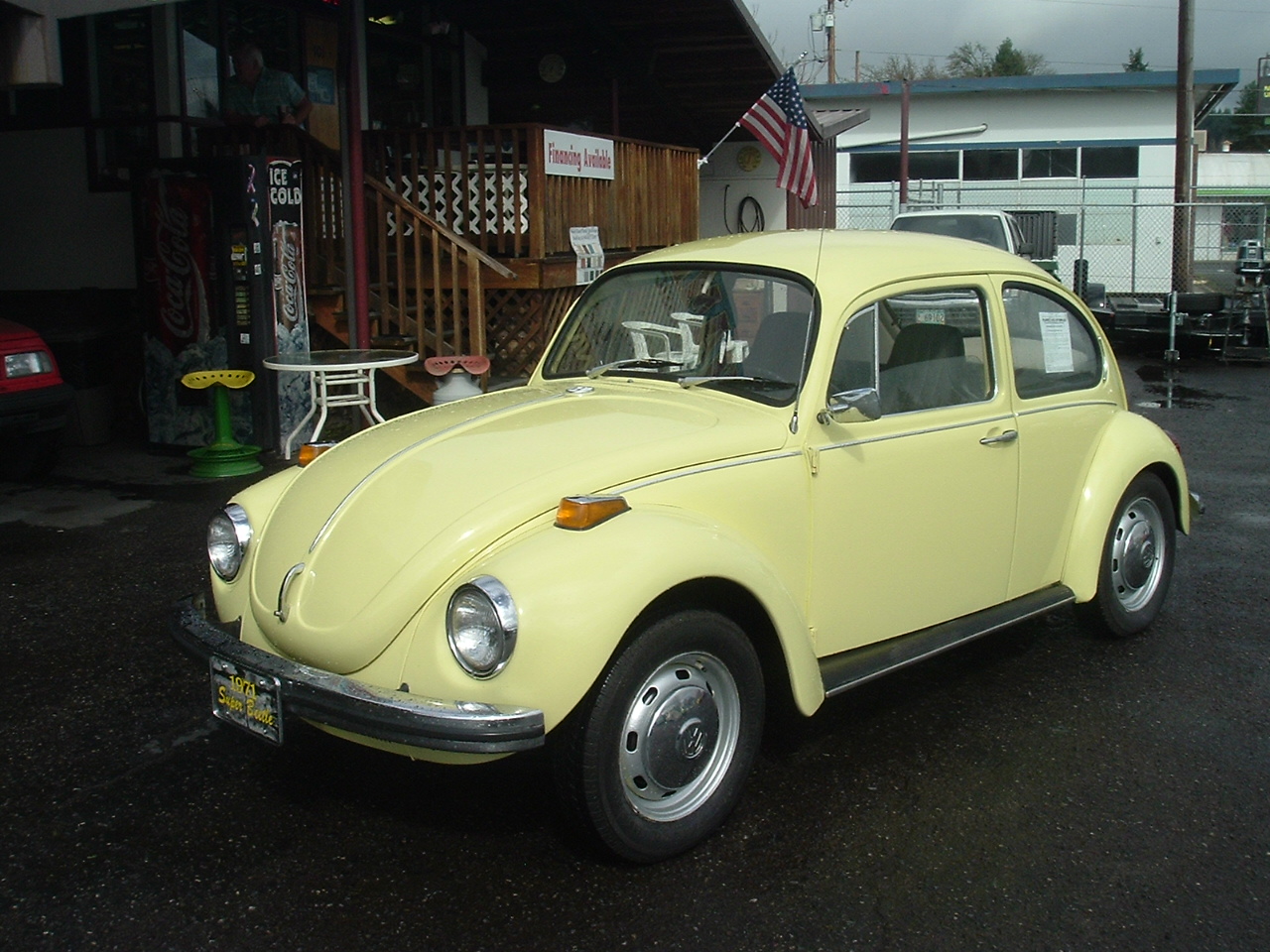 1971 VW Super Beetle. 1 Family owned Arizona car with 132,408 original miles. Car was painted once 5 years ago because of fade, no body damage or rust. Everything else on car is suppose to be original except CD player and speakers. Super clean car everywhere you look including engine compartment. Everything on car works proper including heater. Runs and drives excellent! # A-1947 $7,950 SOLD!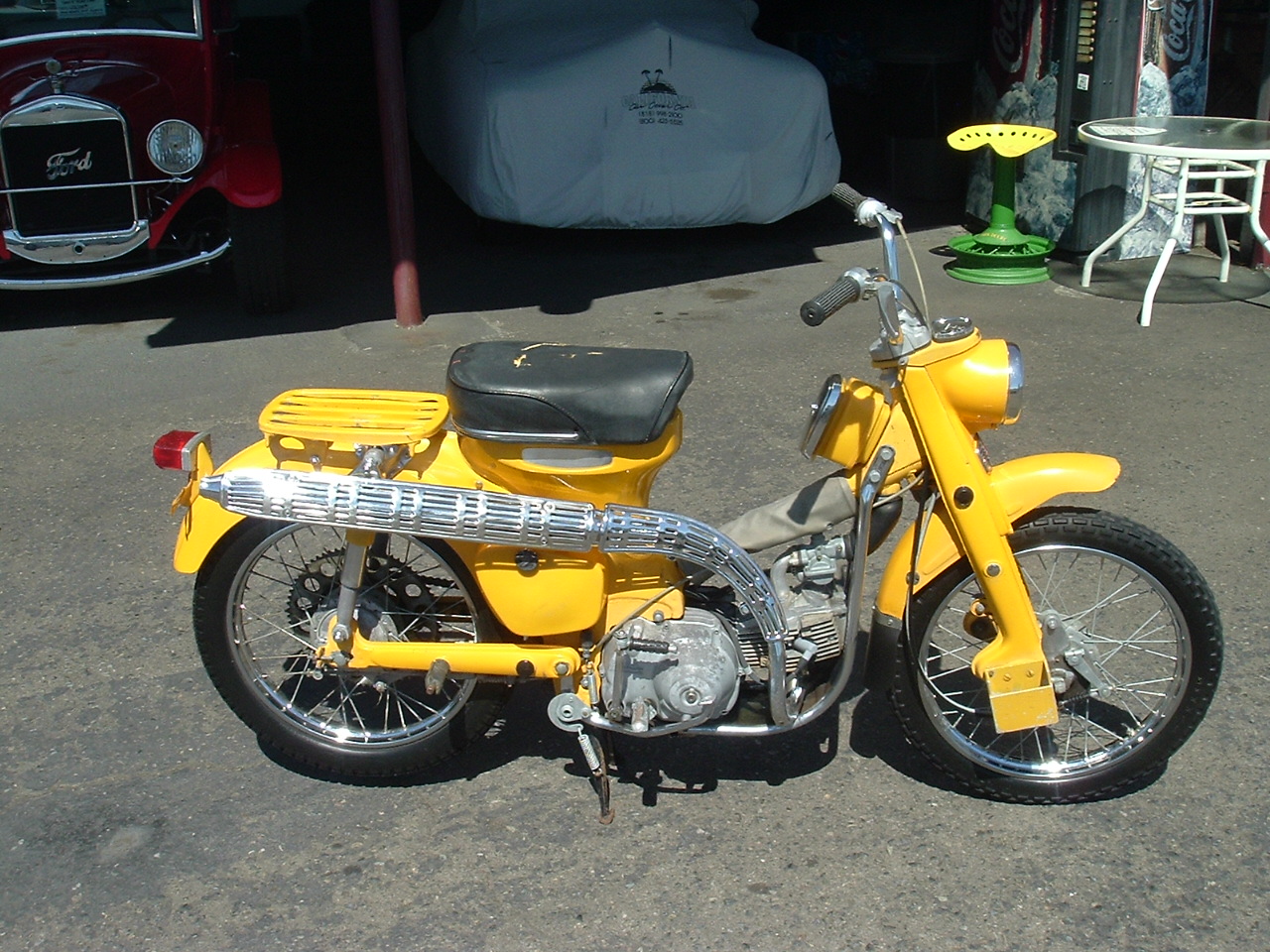 1965 Honda Trail 90. Two owner, same owner for past 25 years. Very nice original condition, just spent $200 on maintenance. Both High and Low gear sprockets. 4spd transmission. 4,866 miles. Runs excellent, ready to ride. I have the original Title. $950 SOLD!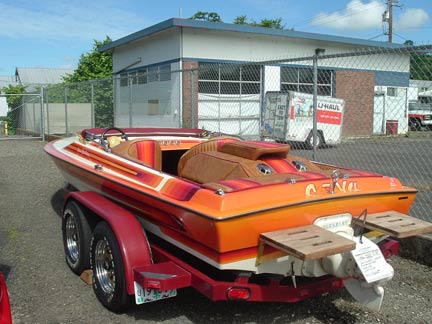 1986 Bahner Ltd Edition 19' Jet Boat. One owner just like new condition. All original with just 230 Hours. 454 V-8, Berkeley Jet. Comes with all the original manuals and papers. Always Garaged. Exterior and interior in near perfect condition. The haul of the boat is as clean as the rest of the boat. Everything on boat works as it should. Trailer is in excellent condition. Hard to find a boat this well kept ! # C-224 $9,250 NOW! $7,250 SOLD!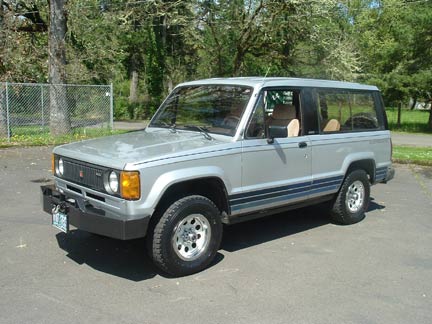 1986 Isuzu Trooper II TURBO DIESEL. 5spd. These Factory Diesel Troopers are hard to find and this would have to be one of the best around. Some history - I've had a classic car dealer for 30yrs and in 1995 this was a trade in on a classic and I kept as one of my personal rigs since it was so nice and rare. It had about 70,000 miles on it then and now it has 169,500. I have all records and receipt. In 2000 at just over 100,000 miles it felt like it might have lost a little power so I took it to Oregon fuel injection and spent $2,700 plus, They put a new Turbo, injection pump, glow plugs, rebuilt and cleaned injectors, tested everything and said motor was as good as new. Not all of this was necessary but I maintain my vehicles regularly. In 2005 I had a local shop check out my A/C, put a new a/c pump in with 134 refrigerant, at the same time the heater box was completely rebuilt with all new doors, seals, heater core just everything new over $1,100 spent and works perfect. Also a new radiator around the same time, it never had any heating problems it was just time to change. I have changed the oil every 3,000 miles with Delo 400 15w-40 and the air filter and fuel filter every 3rd oil change so every 9,000 miles. There are lots of other things done through the years like Complete brake job and master cylinder, Clutch cable, rebuilt alternator ect. Trooper has original paint and interior in excellent condition, I put custom fit seat covers over the buckets too save them there are no tears, still has all the original decals. No need to ask about rust it don't have any and has always been garaged. All gauges, lights, A/C ect. works like new. I put a 6,000 pound Warn winch in custom built bumper on many year ago but never used it. Have original front bumper also that would bolt right back on in factory holes. This Trooper will not use oil and runs and drive like a new one. SOLD!